Valencia CF are one of the most successful teams in Spanish Football. They have won multiple Spanish League, Cup and European titles in their history including a fantastic spell between 1999-2004 where they also reached two Champions League finals along with two La Liga titles, a Copa Del Rey title & a UEFA Cup. Unfortunately, the team's rank in Spanish football has declined significantly over the last decade and they currently sit teetering on the edge of the relegation spots of La Liga.
Introduction
My aim? To bring Valencia CF, a stalwart of Spanish Football, back to glory and win a trophy by the end of the 2019 season. This coincides with their Centenary year as a football club, having been founded in 1919. With weekly progress reports for you, the Nerd Lowdown readers, where I will either be celebrating eventual glory, or crying tears of bitter failure – with a bottle of whiskey in hand either way.
There are a couple of reasons that I felt Valencia were a prime candidate for this little series/experiment, and to be honest I have made this decision without even looking at their state of affairs in the game currently. This could be my first mistake leading to ultimate failure… *gulp*. Valencia are not exactly flushed with cash right now, and while they have a bit of talent in their ranks, this means I cannot go out and spend with force. I'll also need to ensure financial stability within the club too. If the accounts go too far into the red, I could be winning every game by a landslide and I'll still be down the job centre sharpish. With some tight budgetary controls and a stadium that seats 55,000 I'd like to think that by end of season one (providing I make it that far) I can be a bit more flexible to push for glory.
Given Valencia's struggles and having a few big heads in their squad, I'll have to work tentatively to ensure there are no squad revolts. Some of these players are arguably Champions League quality and if other clubs come sniffing around. Valencia have a track record of offloading some big names for big money and if needs be. If the price is right, we'll see what happens. But if I lose the dressing room, it's game over. I'm hoping for a solid academy too, so that if I do lose stars I may not need to spend money to replace them.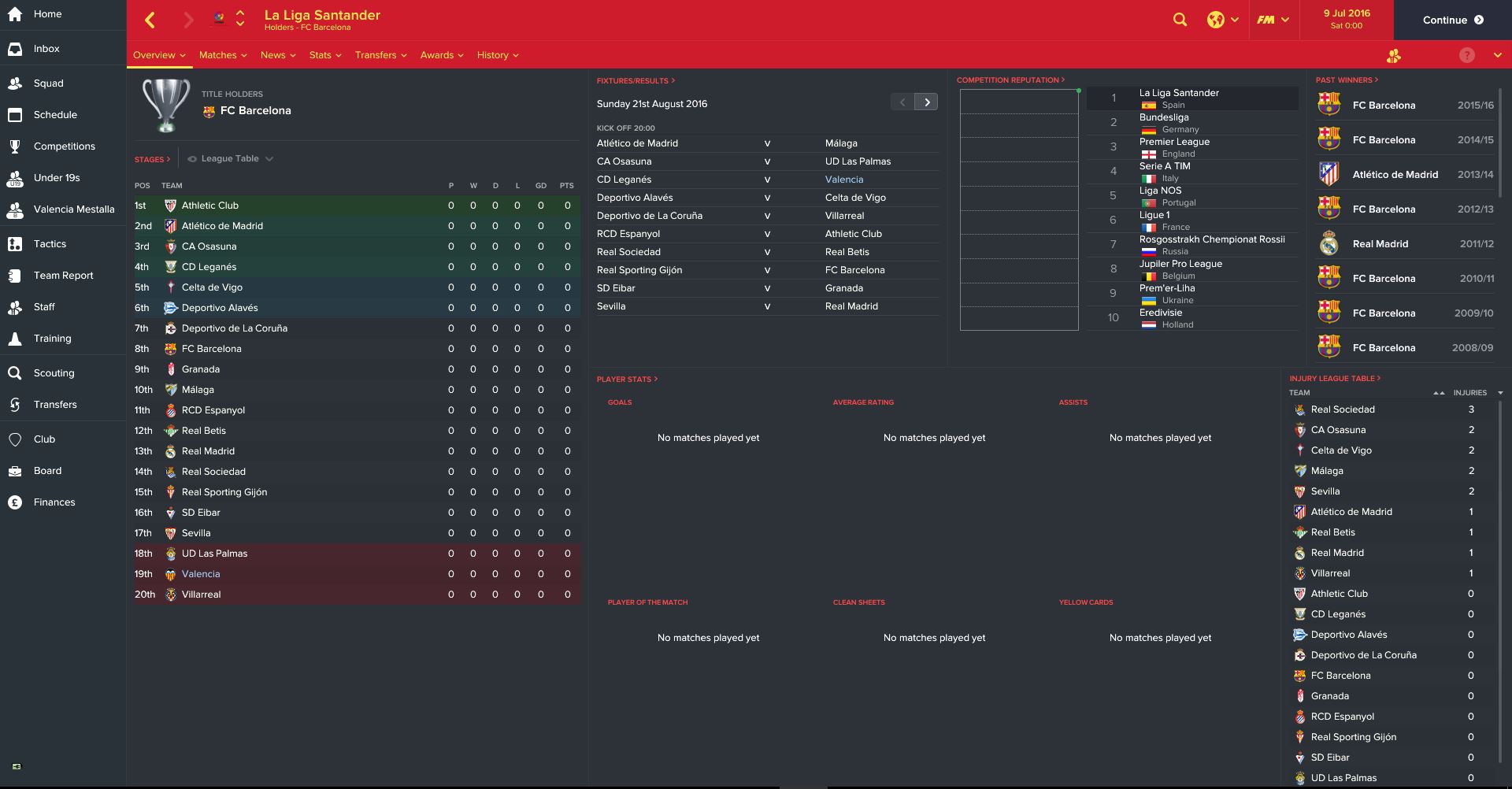 Big Competition
La Liga of course contains the likes of Barcelona, Real Madrid & Atletico Madrid who feature Lionel Messi, Cristiano Ronaldo & Antoine Griezmann respectively. There will be very stern competition if I do manage to make it to the sharp end of the table and start scraping elbows with the big boys. The likes of Athletic Bilbao & Villareal are no pushovers either.
Lastly, Valencia CF's nickname is Los Murciélagos, or The Bats in English. Here at Nerd Lowdown, we're big fans of Bats and Batmen in general, so it feels fitting to choose a team with such a nickname. Oh, and DC Comics did try to sue the club over the use of a bat on their club crest – so that helps, right?
Bienvenido a la Mestalla. The Fallen Bat Rises.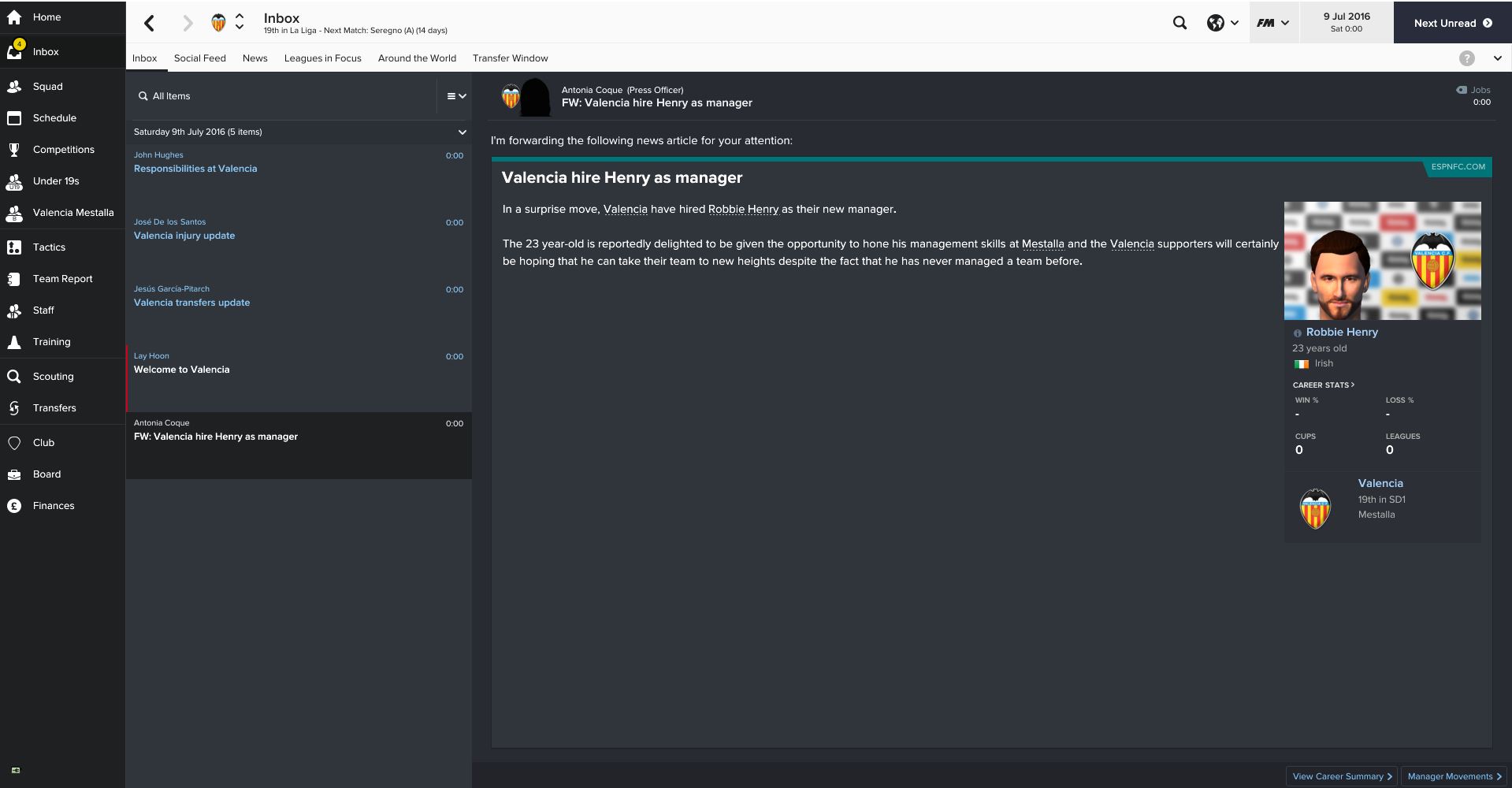 Somehow I thought modelling my manager's mug on a facial scan of Ryan Reynolds may offer me more success… Stay tuned for Episode 1!