After a break of 4-5 days I'm back to bring you The Ultimate Journey. If you did read last blog post then you would be aware that we were offered by two clubs-Wits and Ajax CT. Well most of you would have recognised which one we did finally end up at.
Club History
Well for starters the full name of the club is Ajax Cape Town! This is a club which has a major shareholder in AFC Ajax. Ajax CT were formed in the 1999 by two famous men in South Africa-Rob Moore and guess who… John Comitis remeber him? Well the other notable bits about Ajax CT were that as they are a part of the Ajax family they had a lot of youngsters coming through the ranks and one of them was-Steven Pienaar (Ex Ajax and Everton)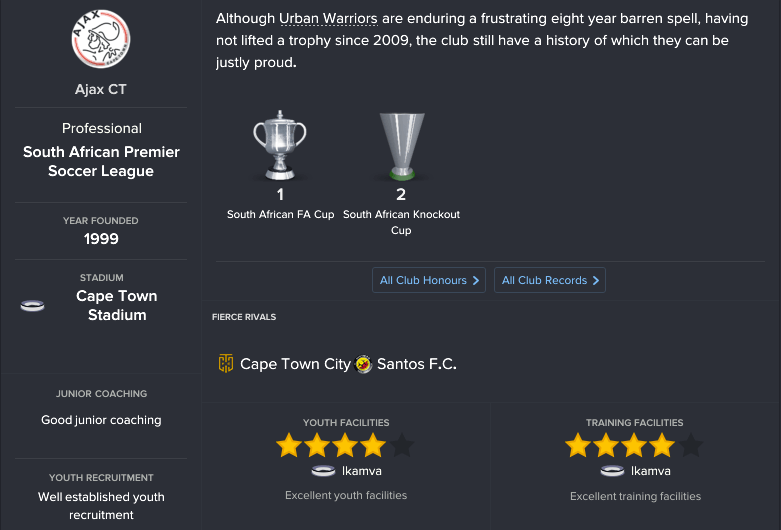 As you can depict from the picture above that are youth facilities was excellent as well as the training ones. This really got me pumped up to be invested with the players coming in through the Youth Intakes here at Ajax CT. There is another thing that captures the eye is that in the rivals section-Ajax CT are fierce rivals with Cape Town City F.C. off course our former club and yet I'm the manager of Ajax CT, probably they were happy with the mess I created at Cape Town City F.C.
Squad
When I first met with the squad I was quite pleased with how things were set up in the team with having 2 great goal keepers, enough cover in the back 4 areas, many players filling DM(Defensive Midfielder) and wide positions and a couple of strikers up front.
Here is what my Assistant thinks are the best players at the club-
Brandon Peterson(Goal Keeper)
Mosa Lebusa(Left Back)
Prince Nxumalo(Striker)
With these reports and having a first thought about my team I decided that I would be more conservative with my approach at this club as there we were letting in goals right left and centre.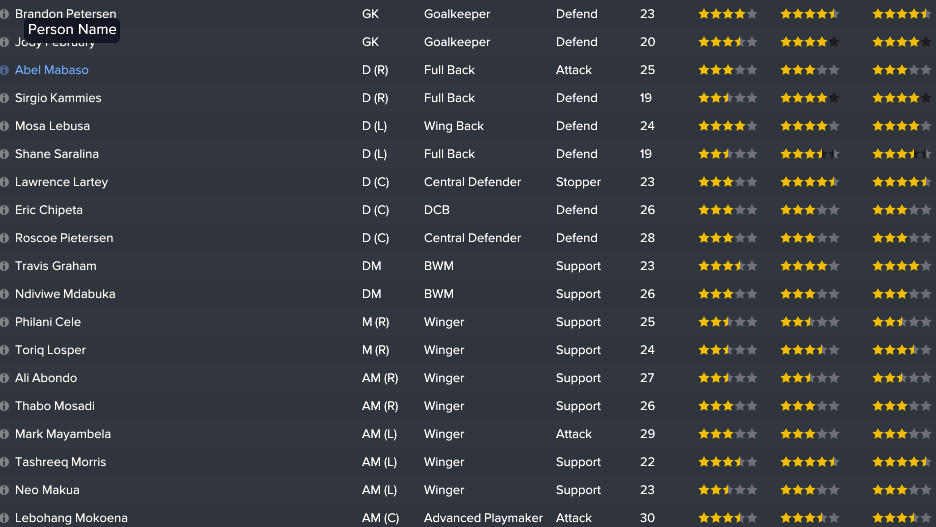 Team Reports
So basically when I first join a club, I obviously do all the usual stuff which is to meet the board and media,etc. I do though look into the team reports too which are set by my Assistant and this helps me understand where to improve in the transfer window and our general strengths and weaknesses or our side.
Some Strengths
We have good depth in all areas of the pitch
We have good crossing stats in the previous year
We have high levels of individual and collective Team Work
Some Weaknesses
We faded late in games meaning that we conceded late on in matches
We have a void of Leadership in the squad
These were things that I would be now looking into when I approach the transfer market and setting up a tactic.
Expectations
There wasn't a whole lot in the expectations front it was just that they want a comfortable mid-table spot in the league.
Follow My Blog
Stay tuned for the next blog update I promise it will be faster than this one and there you will be seeing us after a season at Ajax CT. Don't forget to follow me on Twitter as well, here you'll be in touch with me and my blog.