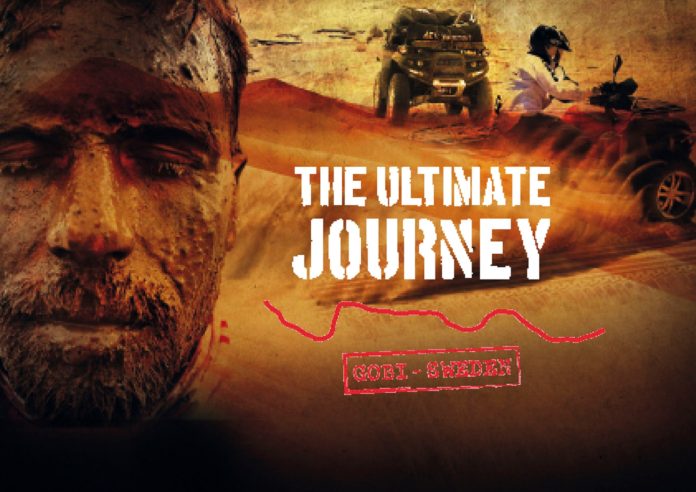 So after the introduction to the squad in the previous blog post here you'll get to know how we actually faired in the season. This might be a longer post so stick along till the end!
Transfers
There were quite a few dealings in the transfer front. Though to be honest there were many more sale then there were additions to the squad.
Ali Abondo an attacking midfielder left us for free, he was 28 and a fringe player and was not worth picking that wage check every week so I didn't bother giving him a contract.
Mosa Lebusa was one of the players that I did rate pretty highly. He did play magnificently until January but Sundowns came calling and I couldn't resist the 150K that was on the table for him.
Nathan Pause was the other January sale we made along with Lebusa. Pause was 35 and was wanting astronomical wages for his age and hence I decided to ship him out.
Then there was Roscoe who was a young centre back in the reserves who was sold.
Players coming into the club was just one, and that wasn't even a permanent signing. I brought a player from Ajax our affiliate club. El Azzouzi was a striker that I thought after the sale of Paule had to be brought in!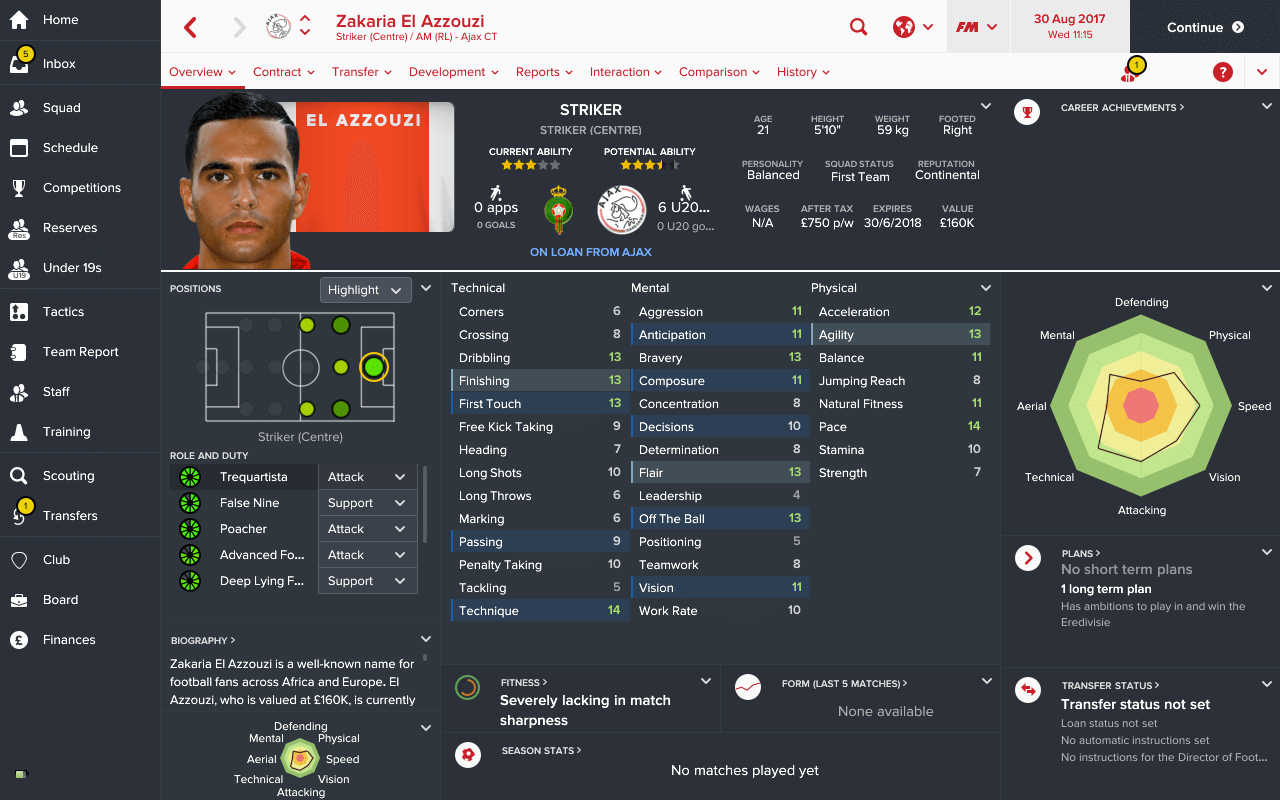 SA Cup
We did have quite a decent cup run in the season. We beat the biggest team in South Africa-Kaizer Chiefs I was absolutely jubilant after the result. This team has a budget of 5m and we on the other hand don't have a balance of 500k.
The next round we got GUESS WHO?-Cape Town City FC of all teams it had to be our previous club. It had to pull out a result here and damn right we did. 1-0 into the quarter finals.
Quarter Final and we drew Maritzburg Utd, we were horrid in the match and the result didn't lie. We were whooped 3-0 and that was the SA Cup out of the bag.
South African Premier League
Next up was the major essence about the league and the series. This is because we won't be able to move out of South Africa if we can't win the league. So how did we get on this year?Was it as bad as the last?
I would say one thing about this season that we were quite consistent and were quite hard to beat.

We finished 4th!! We were in touching distance of 2nd and just finished 4th on head to head!If you ask me that's a bloody good season for a club who were predicted to finish bang average in the league.
This makes us qualify for the African Confederations Cup. That's like the Europa League of Africa.
Tactics
This season did see a change in mentality and the structure and way we played. First when I moved to Cape Town City FC I wanted to play attacking expansive football well that went well didn't it. That did make me say that I wouldn't be having 4 goals away each time, so I built it from the back to be stronger and disciplined.
This was a flat 4411 which was basically a hard tackling team and keep clean sheets and well it did do well.
We went unbeaten for 12 games
We didn't concede a goal for 7 consecutive games!
Team
Having this great season would have been possible without our team. Our back 4 and goalkeeper were great all season and that was the reason we conceded the least in the league. Our main signing El Azzouzi didn't have the best of seasons he had 31 apps converting just 5 goals and 2 assists of those 31 apps. Travis Graham our defensive centre mid was a star in the middle of the park he averaged a 7.15 throughout the season which is great for a player in his position.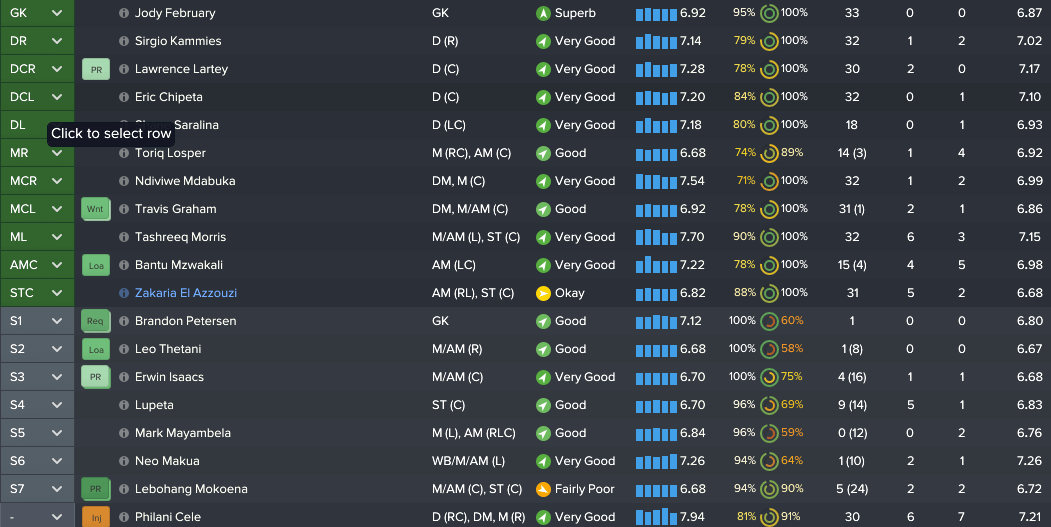 Youth Intake
The youth intakes was okay we did have quite a few players who did look quite tasty. There was one player of the lot I would like to highlight…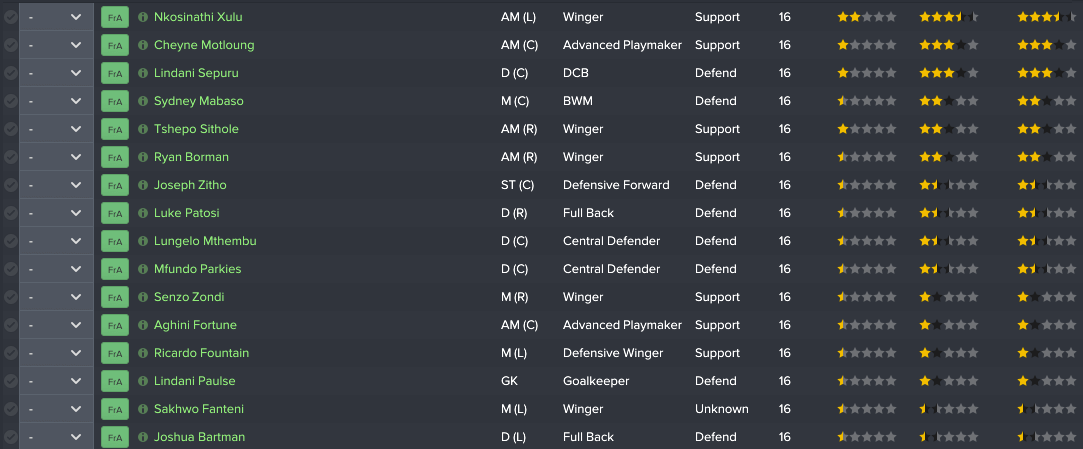 Being a part of the Ajax family and Xulu was the best of the bunch that we did get through Youth Intake.
New Contract
I was approached by the board that they wanted to continue with me as their gaffer. I'm not to sure that whether I could sign it or even if I sign it if I will continue with Ajax CT next season. I'll say this, if there a bigger club in South Africa comes in for me I would probably take it because that is the general theme of the JourneyMan that will be having to move around to the best of clubs and it's not about building a legacy at a club.
Follow My Blog
That's for this season for this blog post, don't forget to follow my blog and supporting the community.