A Kolnoscopy Challenge

A Bundesliga Tale: Season 4: 2
Extract from the Managers diary:
'How many Germans does it take to change a lightbulb?'
Valerien Ismael, the new french assistant manager smiles politely.
'Nein.'
Valerien stares blankly.
*Sigh* 'I miss Garry.'
So, I entered into my new managers office on January 2nd with my new club hovering dangerously above the relegation zone. There isn't much time left in the season but there is lots of work to do. Best get started then hey?
Transfers:
Almost immediately my attention is stolen from our important preparations as a bid from Bayern comes in as they attempt to pry away one of my star players Leonardo Bittencourt. Their bid was tempting too, with a reasonable offer of £18 million for him. Even still I smiled politely before telling them to fuck off.
'So, you've made an offer knowing full well we may go down and possibly lose value on one of our star players? Typical big club mentality that. Something that Celtic would have pulled back in Scotland. You may not know it yet but you've made a dangerous enemy here. Now get out of my office you slimy snake and don't ever come back.' Naturally Bittencourt was less than pleased with the whole affair. He stirred up some support from his fellow players and was left disappointed when I explained I was in no mood to sell one of our better players. 'He's right,' one said to the others. 'Fuck Leonardo, the club comes first.' Yes, fuck him very much.
Transfers Out:
No one, much to Bittencourt's dismay.
Transfers In:
Only one. I signed up Marko Grujic for a measly fee of £9.5m (rising to £12m). Usually I don't like to spend in the first window but the sharks were circling Grujic and I couldn't risk losing him, especially as he has been a long term target of mine over the past few years. I say measly but it's two and a half times more than my overall combined transfer fees back in Hibs, but such is the way of the world now.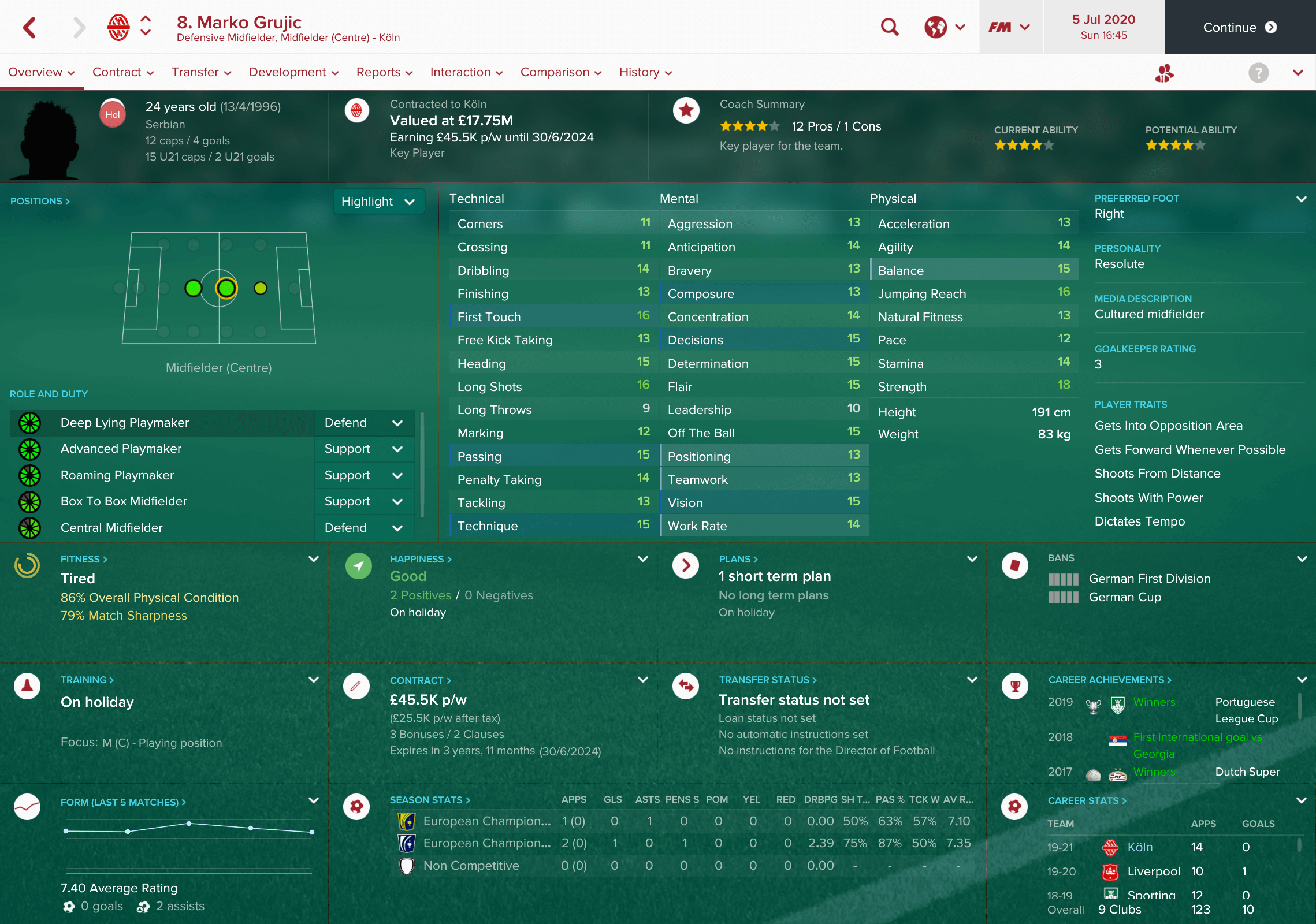 Performances:
League:
The big one this. I took on a massive challenge in trying to keep Koln up and safely away from relegation. In doing so I turned down a cushy job offer at Manchester City. But I've never been one to shy away from a challenge and was eager to show off my Liam Neeson levels of skill set.
Now, what I wasn't aware of when signing up was how many games there was left to play. Last season Koln won the German Cup and that meant they qualified for the Euro Cup and it has been a pretty successful campaign as they reached the knockout stages before I was appointed. They also progressed steadily through the German Cup early stages again as well. Meaning much to my surprise we were still fighting on three fronts. The former manager (and fan favourite) Stoger had obviously concentrated his efforts on the cup competitions rather than the league. It was a costly decision as he lost his job as Koln was flirting with relegation. But anyway, here we are. Two cups and a relegation battle. Enter the greatest manager on earth.
January. Thankfully Germany has a Christmas break and it gave us an opportunity to train up on my tactics and work on some fitness. I arranged four friendlies and we had some pretty positive results.


As you can see, one draw and three comprehensive victories albeit against poorer opposition. That was deliberate as I wanted to boast the team morale. Our lads were down in the dumps and have pretty much gave up all hope. All of them had poor morale and therefore I was worried about the effect this would have on our turn around. As you all know, poor morale leads to poor results and that simply wouldn't do because I have no intention of going down. Not on my watch. In the past few months of my self imposed exile I've gained a taste for the finer things, and lower league football isn't one of them. Been there, done that, won t-shirt (and promotion cup). So first and foremost, I aimed to improve morale.
Next I was looking to make us a unit. At the moment the lads are tired, frustrated and are stewing in self-pity. I'm not expecting to walk in, flick on a switch and lo and behold suddenly I have a team of superstars. No, the world of football manager isn't that easy. This was about rolling up the sleeves and making us play as a team again and giving us the confidence which comes from that. If you play as a team a few things tends to happen: you'll have better collective performances which leads to conceding less and scoring more. Sounds simple doesn't it? Hmmm. It fucking isn't.
So the Christmas break is over and it's back to work. First up was Freiburg at home. A tense 1-0 win left me feeling maybe this wouldn't be such a difficult challenge after all. Maybe this will be a piece of piss. Maybe the league title is still on. Stuttgart away made me realise what a foolish thought that was as we went home after losing 2-1. OK, I thought, this season has to be about becoming a difficult team to beat. We may not win every game but we have to stop losing them. We also have to take advantage of our fans, as we have a big stadium packed full of hardcore nutters every game, lets use that.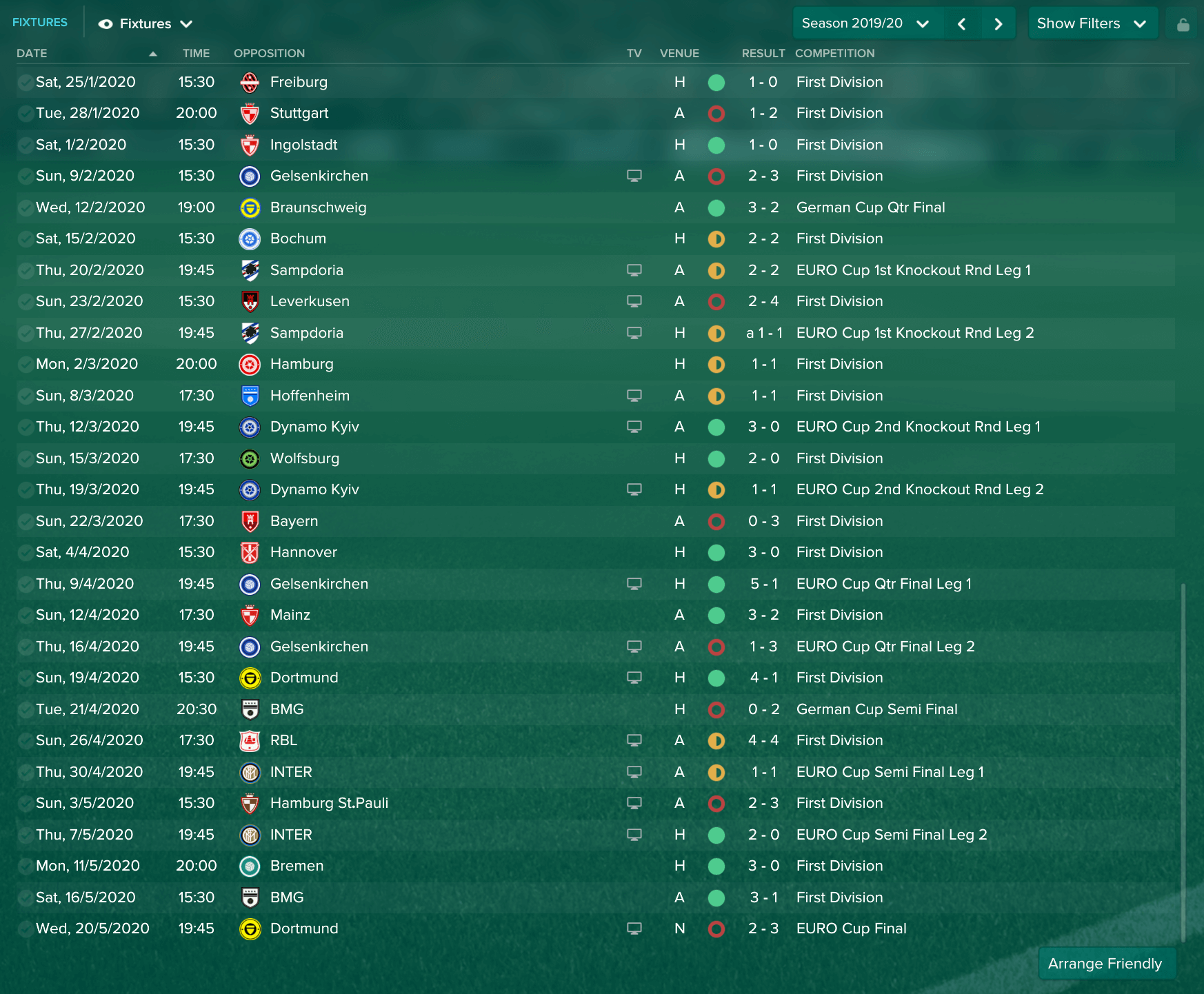 There was fourteen games left in the league. Seven were at home and seven away. We managed not to lose any more games at home, and won five and drew two. That gave us a total of 17 points from 21 on our own turf. I was very pleased with this and it showed a lot of positive signs for next year. Our away form was much more inconsistent. Out of a potential 21 points we managed only 8 with two wins and two draws. All in all we collected a total of 25 out of 42 points which isn't terrible all considering. But away form has definitely got to improve next season. Anyway our run of games saw us slowly but surely climb up the table. We finished in a comfortable 8th position with a grand total of 46 points.

I'm happy enough with this. It isn't my team yet and they took some time to fully adapt to my tactics. There's definitely plenty of room for improvement but well done boys you live to fight another day. Next year I hope to push the team a little harder and try and break into the top 6.
German Cup:
A close quarter final game against lower league Braunschweig ended 3-2 in our favour and saw us progress to the semis. We drew BMG and I felt pretty positive about our chances. I expected a big team like Bayern etc. so BMG didn't feel so unsurmountable in comparison. That then left egg on ours face as the bastards beat us 0-2. Annoyingly we were the better team and it was through two penalties they managed to topple us. However, I can take some solace in the fact they went on to win the competition, obviously the footballing Gods were pulling in their favour. Twats.
Euro Cup:
In late February we travelled to Italy to take on Sampdoria in our first knockout stage. A 2-2 draw left us feeling confident for the home leg but another draw, albeit a 1-1 meant it was a close tie once again. Thankfully it meant our away goals sent us through. Yippee. Next we drew Dynamo Kiev. A team who approached me during my unemployment period but I snubbed them due to the chaos over in Ukraine. Whomever took charge has obviously made a decent start there, as they've reached the knockout stages. I say that but we twatted them 3-0 away in a top-notch performance which all but meant the tie was over, a 1-1 draw at home confirmed it and saw us progress once again. Next up, Schalke. I was nervous about this as they beat us in the league and they have some excellent players. The first leg was at home however and that stirred the snake in my underpants. Whilst there, we lead them behind the dustbins and bent them over, beating them convincingly in a 5-1 hammering. They fought back in the second leg, beating us 3-1 but by then we'd done enough damage to sail past them. We then drew Inter in the semi-final. By this point my lads were feeling confident, we'd crept up the league, started scoring for fun and teams were now finding our stadium a difficult place to come to. So seeing Inter named as our opponent gained merely a smirk from me. We'll fuck these, I thought. A 1-1 draw at the San Siro did little to dissuade me. They had nothing to really trouble us, and were fortunate to score the one. At home they were given a similar treatment to Schalke. An easy comfortable 2-0 victory meant we were through to the final. Holy shit. A European cup final. With fucking Koln.
Now, I've been very fortunate in the past and have won my fair share of trophies, so when Dortmund was drawn as our opponents I wasn't troubled. We beat them convincingly 4-1 at home earlier in the season so I gave the trophy team guys a nudge and said, 'Start etching boys, it's spelt with a K, not a C.'
The game kicked off and within 30 minutes we were 3-0 down.
As you can imagine boots were thrown, hairdryers were launched, words were exchanged and a fire sale was promised. The lads got the gist. We got ourselves back into the game after 15 minutes with a goal and really started to threaten, managing a 2nd not long after. Sadly though we just couldn't find that 3rd goal and time ran out. We left disappointed but not dejected. Sure I was gutted but I was proud too. If we can managed this with a load of deadwood, what will we be capable of in the future?
Just a little message I received that made me proud of the lads: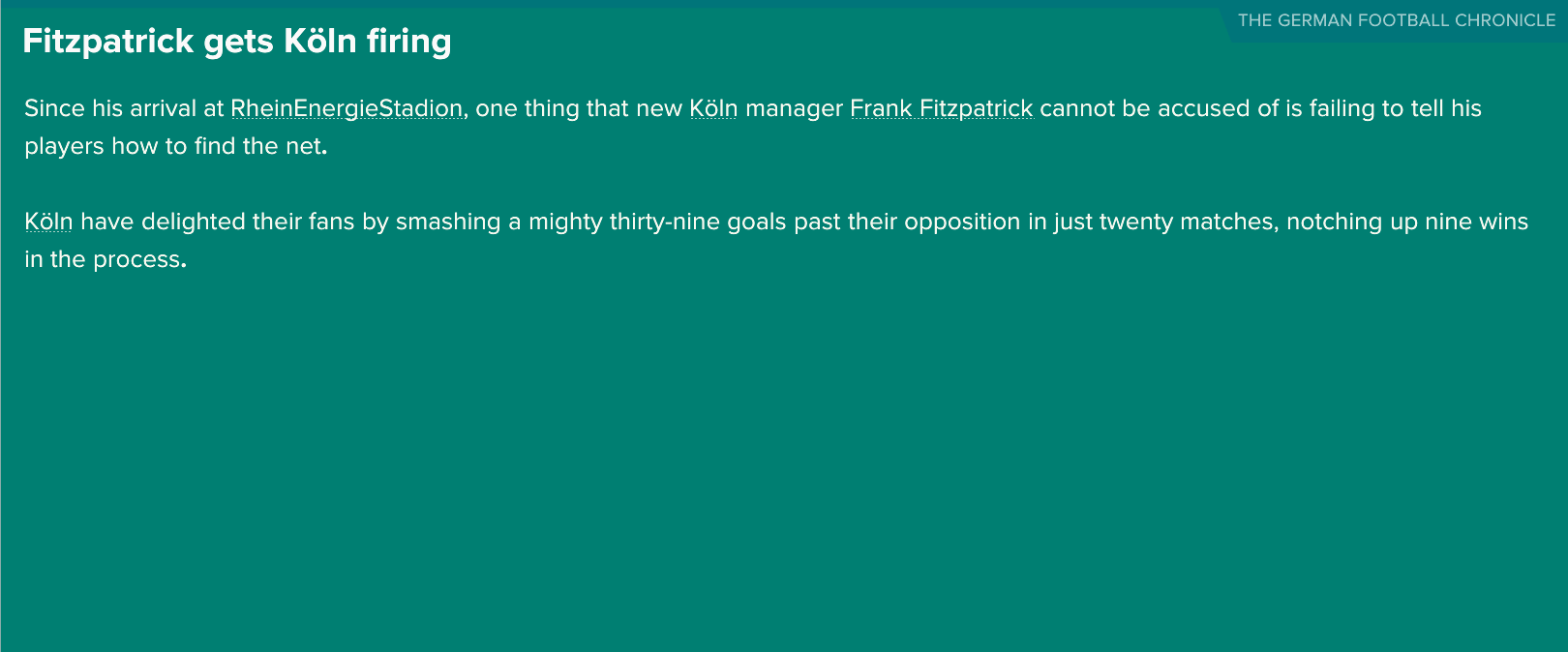 Yes, yes I did get them firing.
Player performances:
Marko Grujic CM: Brought in within days of my appointment and he proved to be crucial in our resurgence. In 14 games he managed only 1 goal but it was an absolute thundercunt of a goal, with four assists to boot. He will be a massive part of my plans here.
Timo Horn GK: His actual rating for the year wasn't great at 6.90 but keepers never get their fair share of the deserved glory. He saved three pens whilst I've been here, one in the Euro semi against Inter too. Great keeper, made up with him and still only 27.
Vincent Aboubakar ST: 41 games, 25 goals and 12 assists. He'd managed 8 goals up until January, not bad but I needed more. Once I got him firing on all cylinders he became a massive player for us. At 28 I'll keep him around for a while yet.
Not a bad season for the fans in hindsight is it? A safe mid-table finish, one final in a European cup, one semi-final in the domestic cup and winners of the German Super Cup thanks to their former manager. All in all there's plenty to feel optimistic about as the curtain closes, surely they realise the future is brighter with me?
Hibernian:
For anyone wondering how my former club got on without me.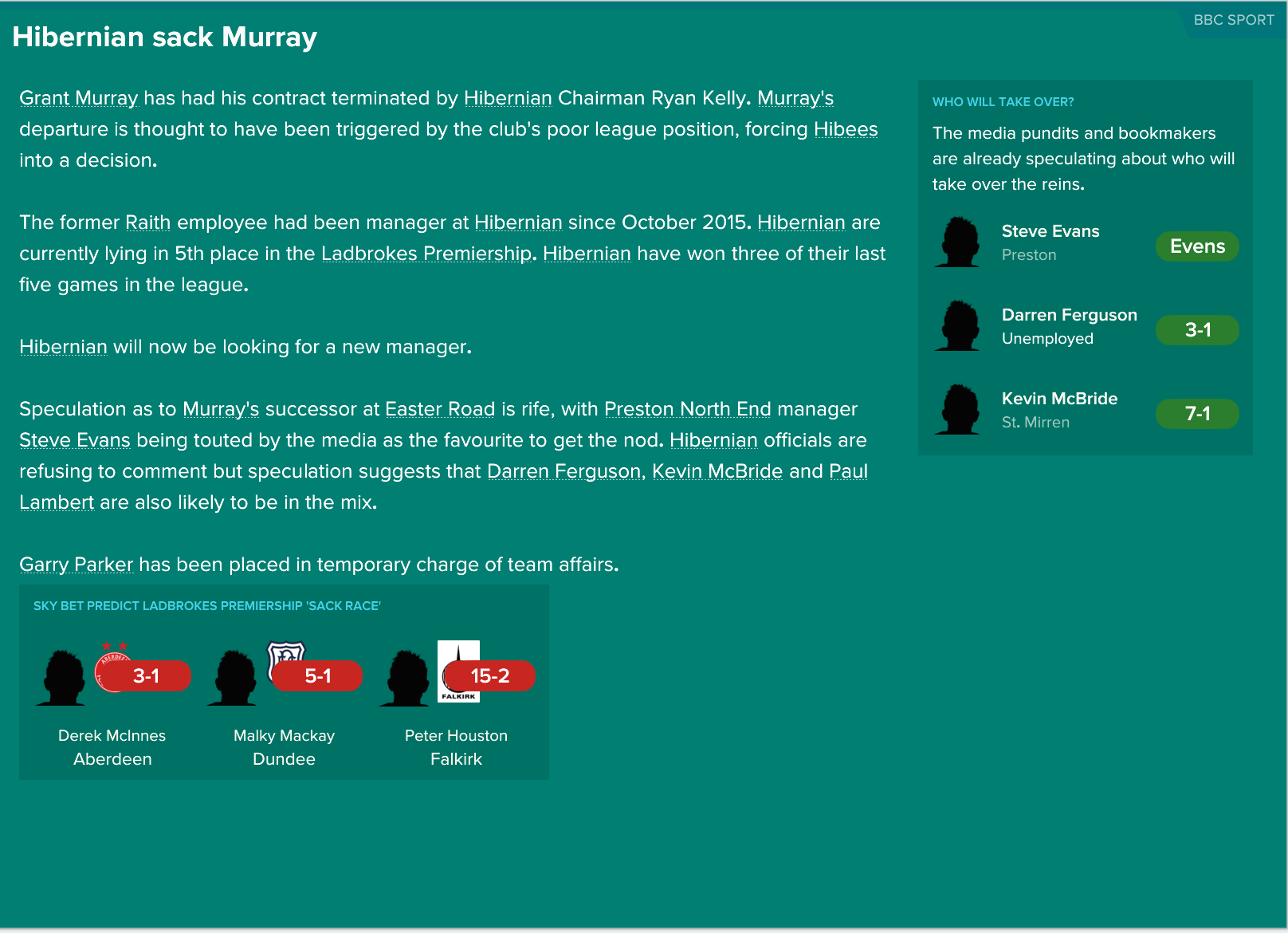 Not great. Grant Murray had the impossible task of replacing me and swiftly faced the axe merely months into the season. I'm not surprised really. It was like going from having a super model in your bed to fucking a hole in the wall. Horses for courses I suppose.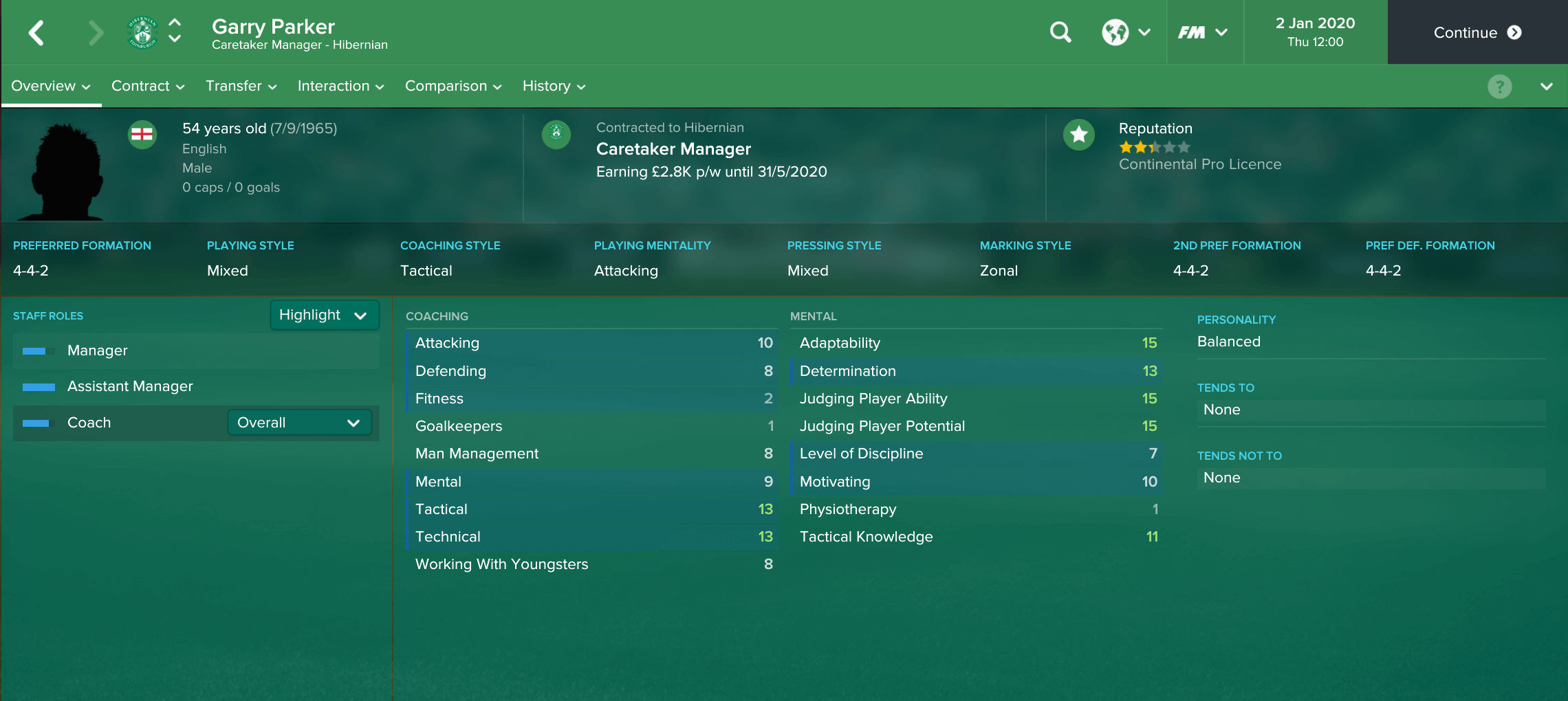 And here is why Garry was no longer taking my calls. When Murray got the chop my old mate R Kelly decided to give him a shot. Maybe with the possibility of making it permanent if the results were right. Or so I was told by an inside informer *cough* Ben Sheaf *cough*. Unfortunately for my former assistant it wasn't to be. He was shown the door as soon as Malky Mackay became available. And, as my dad is so wont to tell me, desperate men do desperate things, as Garry made a choice I consider irredeemable.

Oh Garry, what have you done? Celtic. Celtic? FUCKING CELTIC? Our enemy. The team we wanted nothing more than to topple back in our good old days. I expected better from you, Gaz. *Sighs*
Until next time.
Nur ein Karnevalsverein.
Up the Billy Goats.