Those that have read episode one of this series will know that I took over at Dover as my first management job in this rags to riches story. Although the club was 23rd in the league with no wins from their first 12 games, I saw potential. The club was predicted to finish 7th in the league and on paper the starting eleven looked pretty decent, if a bit on the young side.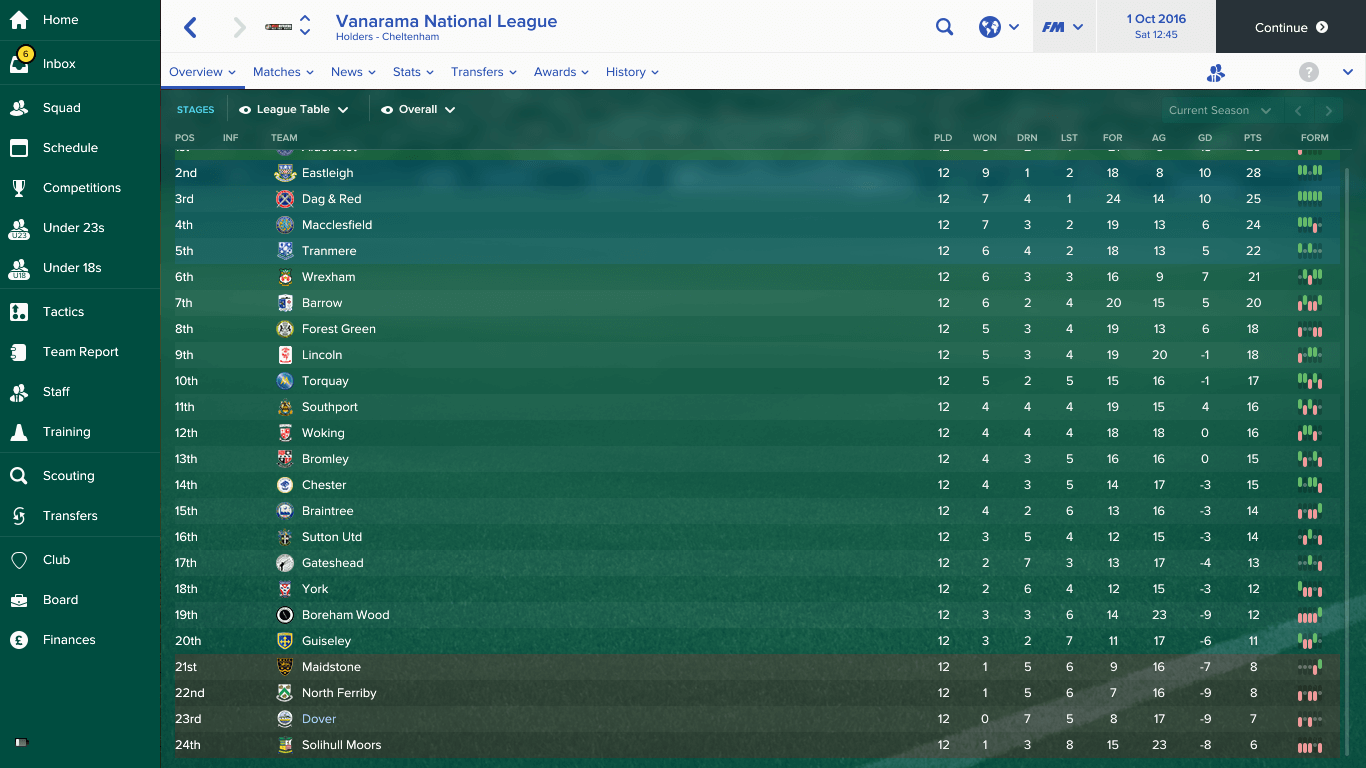 On my first day in charge, I had my first game so I didn't have a chance to work on any tactics or the players in general. I decided to go with the tactics and squad that my assistant manager said was the best. In the next 4 games, we lost all 4 conceding 11 and only scoring 2. This included being knocked out in the FA Cup to lower league opposition. This was not starting well. No amount of tinkering with the current squad seemed to do anything. I decided that if we were to get out of this mess then we would do it my way and with some new players.
I sent my scouts out, and they did well. They gave me a new centre back, a new left back and some new wingers which the club seemed to lack. One of my scouts also brought me a report on a player recently released from QPR, a 20 year old central midfielder called Aaron Mitchell. Although his attributes weren't dazzling, and all the other coaches and staff didn't rate him, I decided to sign him based on a potential 5* rating that this one scout would give him. Every other scout only gave him 2* max however, I had an abundance of CMs so decided that it wasn't much of a risk.
The next couple of games saw an uplift in fortune but only resulted in two draws, followed by another 2 losses. It was now that I thought that I had made a big mistake and that I should resign and find a nice club that would actually win some games. I just wanted some points. All my friends would laugh at me down the pub. It was getting embarrassing. I'm pretty sure the cat even laughed at me once.
Thinking, that I couldn't just quit and that the board would sack me soon enough anyway, I ploughed on. I tweaked the tactics. Moved in a defensive midfielder, played at a counter mentality and kept a structured team shape. Suddenly, on 19th November, a full 50 days from taking over, we clicked. We beat Guisley 3-1 at home. I had my first 3 points! I had made it! I was a fully fledged football manager! Who's laughing now?!
We lost our next game 1-0 but then went out and absolutely battered Macclesfield 5-0 away from home! I was in ecstasy! Another narrow defeat was followed by another battering, this time 6-0 at home against Dagenham and Redbridge. What was happening? I needed us to find consistency. Surely, we couldn't keep this up. Obviously not as we lost our next 2 games, losing our best midfielder in the process. I went looking for another central midfielder but couldn't find one before our next game. It was then that I was reminded of Aaron Mitchell, the CM who I had signed based on the hunch of one crazy scout.  A man of the match performance later with a 1-1 draw away to Maidstone had me thinking that this scout might be on to something. I stuck with him, and we conceded 1 goal in the next 6 games as our battle to get out of relegation really started. We were still in 23rd and a long way off getting out of the red.
From February until the end of the season, our tactics properly clicked and we went on an unbelievable run, losing only 5 in the last 20 games of the season, winning 11! It was amazing, and we managed to not only get out of relegation but finish 17th in the table. I definitely could not envisage that happening when we couldn't even buy a win. (I tried, but not much you can get on £400 a week!) I was so happy when we were mathematically safe with 2 games to go, but we couldn't rest on our laurels. There was another prize to play for.
During our unbelievable run towards the end of the season, we had managed to surpass all expectations. Not only in the league, but also in the FA Trophy. We did so well in fact, that we had managed to book a date at Wembley against Chester in the final. I was over the moon with how the players had got us out of trouble and even more!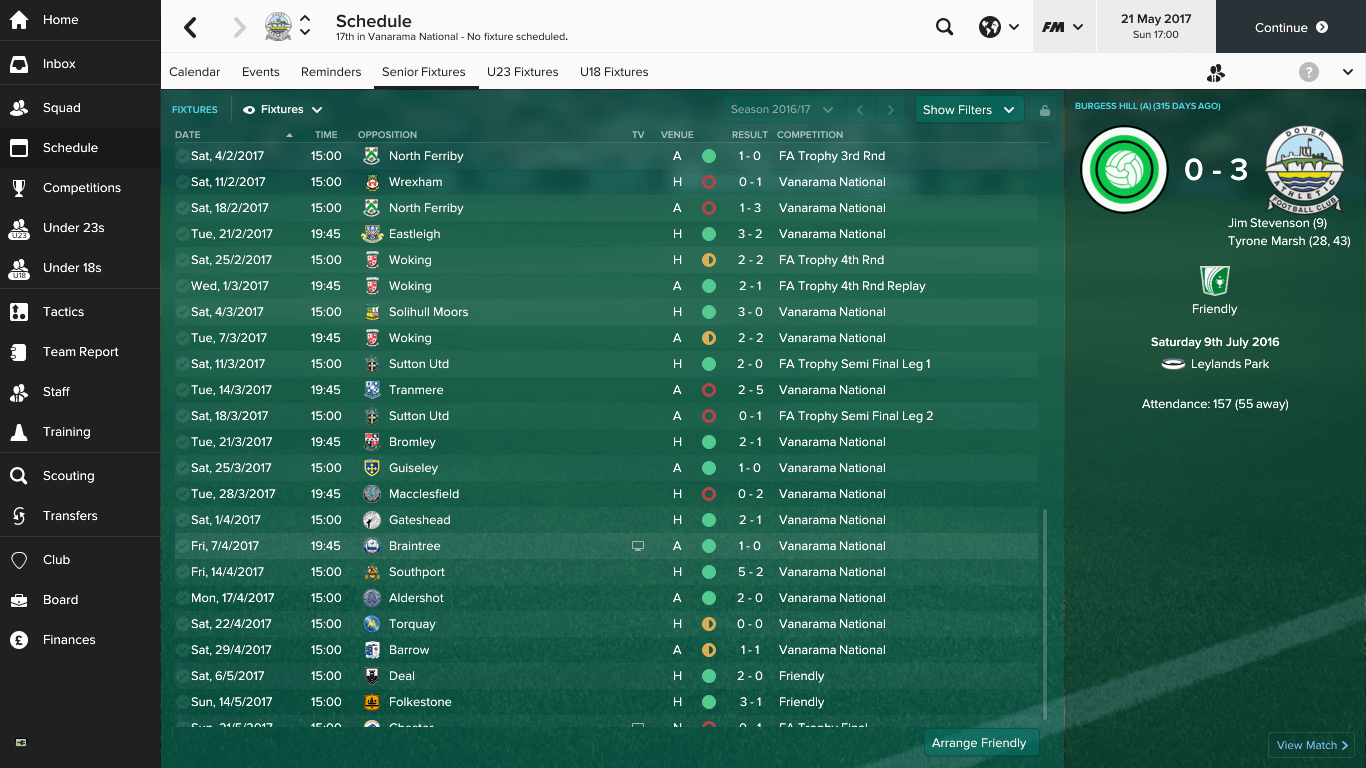 Because of the playoffs, our final was 3 weeks after the last game of the season. I thought it would be best to arrange some friendlies in order to keep the players fresh. This seemed an even better idea when Ricky Miller, our top scorer came off injured in the last game of the season. I needed to get my substitute striker match fit. Miller would be lucky to reach the final, said my physio. This was the worse news possible about a player, who had only scored 4 goals before I joined, as he finished on 28 goals overall. He was the real driving force within the team, as the next best tally was 6.
On the eve of the final, I was informed by my physio that Miller was capable of playing in the final! HUZZAH! Now do I go with my top scorer or do I play my substitute striker that had managed 1 goal in 16 sub appearances…..I did what anyone would do in my shoes and started my star striker. I thought it would be best to start with him and then bring him when he was knackered.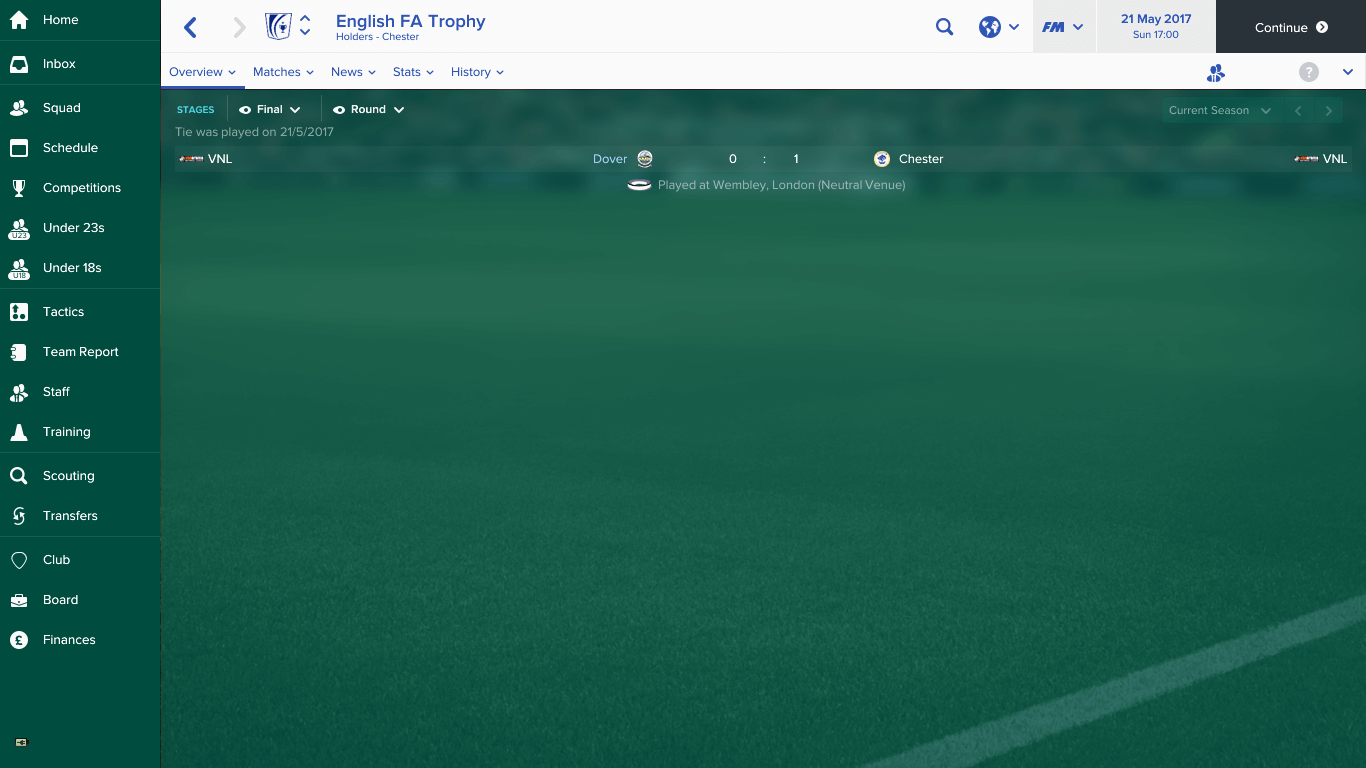 That hurt. That really hurts. We dominated possession and attacks for 65ish minutes. My star striker has put in a shift and he's knackered. I sub him off and within 5 minutes they are all over us. Within 10 minutes, they've gone one nil up. And that is all she wrote. We are unable to get back into the game and our season ends with no trophy. I tell myself that this competition was just a bonus and that staying up was the real trophy but that doesn't make it any less devastating. I lock myself in the dressing room at Wembley, only found 3 days later still crying.
As highlighted, this season there has been some real stand out performers. I managed to keep a core 11 players for most of the season, with changes only being made when needed to injuries and suspensions. Miller picks up our top goalscorer award although he is 10 off the top league goals. Special mention, however, must go to Aaron Mitchell. The player that everyone wrote off. He finished the season with 5 goals and 6 assists in 35 games, with an average rating of 7.32. Now everyone agrees with my crazy scout and says that he could be a League Two player someday.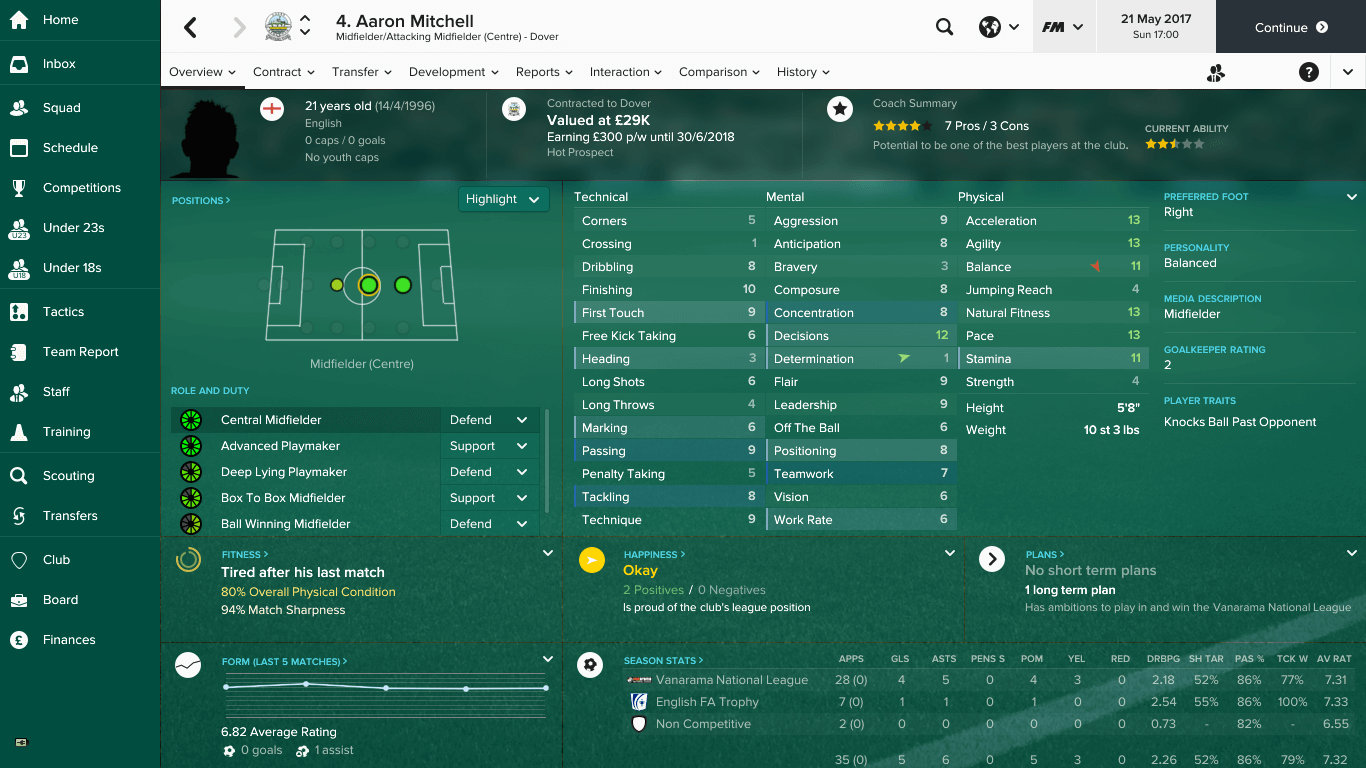 Now that I have had some time to reflect on the season, I am honestly proud of my players. We achieved what we set out to do and had a bonus day out in London as a result. However, I now need help with what to do next! This is where you come in. As you should know by now, the idea is to climb the leagues as quickly as possible. Should I stay with Dover and continue what I have started? Or should I resign and apply for jobs again in the hope that something better comes along?
Please let me know using the comments below, by Twitter @Hatton90FM or by using any of the social media options in my bio below.
I have the game saved immediately after the Cup Final, and will leave it until I receive enough responses either way.