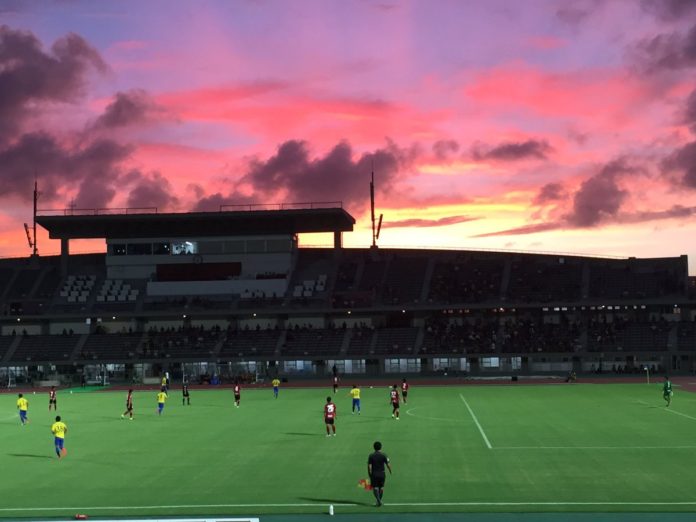 OSU!
We're all about the J1 today and, for some weird reason, I am wishing this season away. 'Why's that?' someone at the back just enquired. Well, we're not going down, we're not going to qualify for the ACL and I doubt we'll get past FC Tokyo in the League Cup. It feels a little like the mission of staying up has been completed ahead of schedule and we are now in the Stoke City zone of going through the motions for the rest of the season and probably finishing 9th.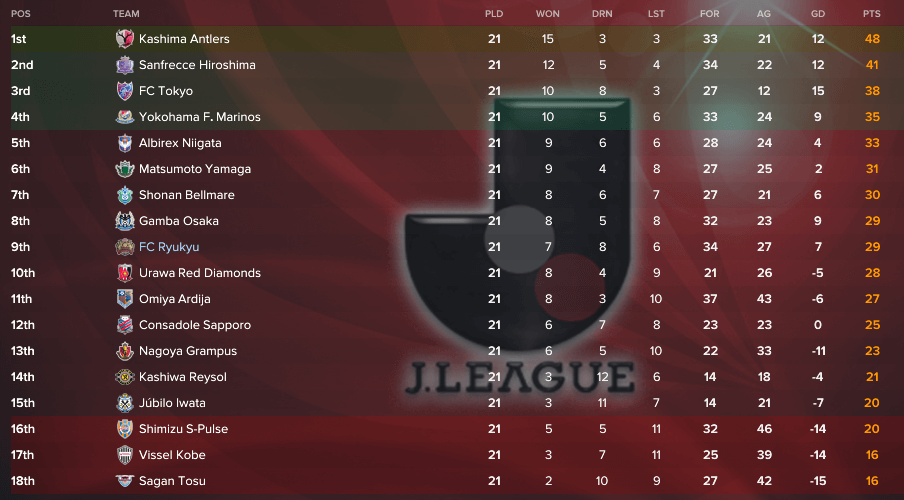 That there is the current lie of the land as we near the end of the summer break. I say summer break, I don't believe it to be an official one just that with four less teams in J1 than J2 fixtures will become way more spread out and this four week gap coincides with (a) the summer and (b) the transfer window.
So yeah, we are 9th with 13 to play. Of course, we can still get relegated but I don't believe we will. On our day, we can compete with any side in the division but our relative newness to this level has exposed a couple of times, as you can see.
That screen doesn't do us justice – tw wins in the last nine league games sounds really bad, doesn't it? We haven't played that badly and in there we have drawn with the leaders Sanfrecce, the biggest club in the country in Urawa Diamonds and were seriously unlucky to come away from the match with FC Tokyo with nothing. I am seeing enough to know we have a solid base to build on for next season.
As I mentioned, we are still in the League Cup where we will face Tokyo.
Generally, that group was very pleasing and the 5-0 win to get it all going was as well as we have ever played.
Our performances often come down to how these boys do.
Although we paid good money to bring Ren back to the Island, Otsuka raced away with the goals at the start of the season, and Ren had to sit patiently on the bench waiting for a chance. He's done well when he has played but currently Ots looks like the man wanting to be the main goal provider. Yang is developing into a fine player in the enganche role and behind him I have been playing Sakaguchi. Saks still isn't quite in full flow as a central midfielder, but he is learning the role and delivering which is great. Our skipper, Matsushita, is still delivering ammunition from the left back slot and I really do hope I get to sign him permanently.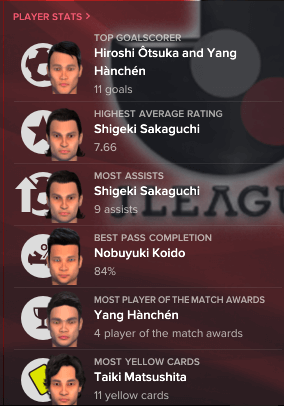 As ever, as especially with the transfer window open a little longer, I am searching the stats to see if I can improve anywhere at a sensible price and the honest answer is, I can't. I'd love a new right back as Fukuda's form is dropping off but the ones I would like are going to cost me around €250k and I would rather wait for the price to come down. At centre back, well if they just mature and become a little more consistent then I have three or four top choices to pick from. Equally, in the DM3 an upgrade is going to cost a significant wedge and really, how much better are they going to be? So I will just keep my eyes open and make a move if something seems to tick enough boxes. I know I sound like Wenger, and I will spend "big" for the right player, I just haven't seen him yet.
I believe we are well on track for the aims laid out at the start of the season – 15th in the league minimum, get out of the League Cup Group Stages and have a little run in the Emperor's Cup. I want to end the season quickly, so we can have another go next time!
OSU!