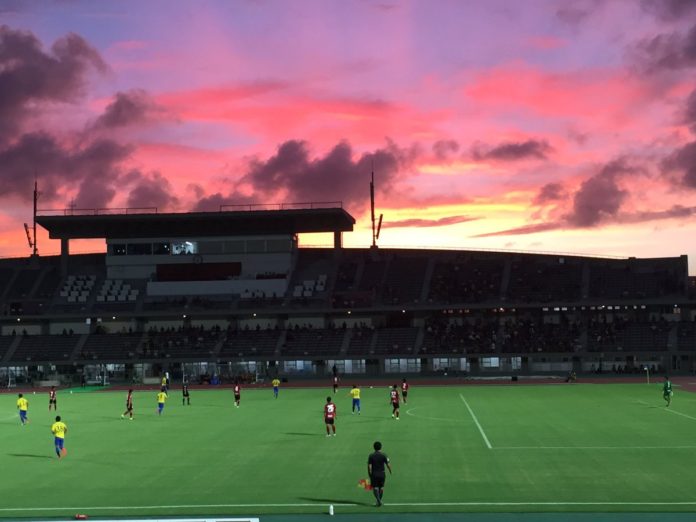 The final whistle went at the FC Ryukyu Stadium and the full house went crazy. The players from the island side gathered from the reaction from the stands that they were promoted, but were they promoted as champions or merely runners up? Of course, there was no such thing as merely runners up when it came to a side spending by far the least in terms of wages getting promoted to the top flight of Japanese football for the first time in their history. They knew that with half an hour left they had moved into top spot with Shonan only being level at home to Ventforet. Ryukyu were 3-0 to the good, cruising and enjoying their moment knowing that it was now completely out of their hands.
It had been very much in the hands of Darwen's team as they started their descent into the final ten games. Ryukyu led J2 by six points and were unbeaten in the previous eight outings. However, their 2-1 loss to Shonan Bellmare hit the young side's confidence and that, coupled with the injury to star enganche Yang, saw the Islanders hit drop points at the most crucial of times. Within three games the points had swung the other way and Ryukyu were playing catch up. The 1-0 loss to Ehime at their new stadium proved pivotal as did conceding the late equaliser away to Oita. A point or a win from either of those would have made things different.
Shonan scored again with ten minutes remaining, meaning Ryukyu's finest performance of the season, the 4-0 win over Thespa, saw them promoted but in second place.
Darwen commented as the players came off the pitch, "We were bloody brilliant today, weren't we? Winning 4-0 under that kind of pressure, with a bunch of kids? Incredible. When Ots hit the bar after five minutes I looked at He and we both felt it was going to be another one of those games but we just got better and better. Bring on J1, we'll surprise a few people!"
—-
So, er, yeah. Hi. We're up. We only bloody did it. Just.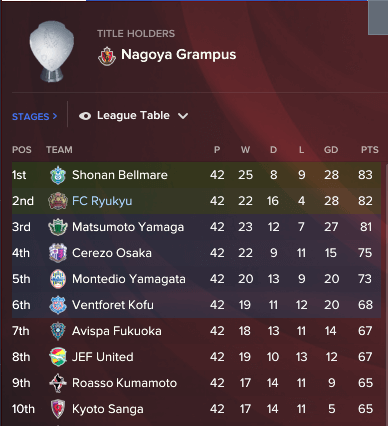 I could sit here and lament the fact we should have won the sodding title but hey, life is too short. It's still incredible that my team of kids who were, you may recall, tipped to finish bottom of the table got promoted. Sure, the trophy would have been great. Yeah, and extra €30k or whatever we would have got would have been lovely. The simple fact is, we are up. Suddenly, only having a ground that holds 3,200 is a bit of a pain!
The run-in was nerve wracking, I actually thought we were in the process of absolutely Keeganing it. But no, Yang being fit for the last two games was the key and he scored crucial goals in both. When Yang played, Tsunami played better and Tsu went on to have the highest average rating in the league.
This is a bit of a quick post to be honest, I actually am a bit lost for words. I didn't think we'd do it this year. I mean, I thought we might get to the playoffs, but to go straight up? Not a chance.
It's only fair to take a quick look at the boys that averaged over 7.00 this season. Just look at the contributions from Tsunami, Fukuda (who made an absolute mockery of his 1.5 star ability rating), Matsu the skipper, Cho Sang-Ji who I gambled massively on in breaking the wage ceiling for and then the false front two of Yang and Otsu. Terribly inconsistent, but when they were hot they were really hot scoring 26 goals between them, complimenting Tsunami's 18 from central midfield.

I'm going to leave it here guys as I am too excited about starting to plan our inaugural season in J1. The club has never been near this level, so it's a bit crazy. Loads to think about. Can I keep some of these guys on loan? Can I sign any of them? I know I need to loosen the purse strings a little more to give us a chance of staying up, but this is awesome.
OSU!