I'm going to vary the format slightly here to make sure the bits you definitely want to read are the most prominent…bear with me while I find the best way to update you!
======
Our competitive losses in 2016 were expected so it would be slightly harsh to say I was in any way disappointed. What I do feel, though, is that we are not far away from putting our first points on the board in this World Cup Qualifying Group.
For the time being we're sticking with what we know tactically. What we will change is the squad selection: we need to look at the future which relies on a better crop of young footballers coming through. The most fundamental way for this to happen is for progression in our (very) poor standard of domestic league. One of the ideas I had was to select a few of the best players from the Kosovo league system and cap them in the hope they will attract attention and move on for further personal development/a tidy sum for their Kosovan club to reinvest and improve. It all sounds good in theory anyway…
January
The new year starts with the news that the UEFA U21 Champions Qualifiers have been drawn. They'll be aiming to climb above Luxembourg in the table.
The latest World Rankings were released and confirmed no change – we remain in 191st position.
February
Due to weird and wonderful workings of the World Rankings system we have somehow gone up one place to 190th without kicking a ball. Well done, lads. Easy on the bubbles.
March
The first news we receive in March is that there are no changes for us in the World Rankings this time around.
We announce our squad for the upcoming match against Croatia. Sadly midfielder Sadiku misses out through injury. We have called up our first Kosovo league players –Prishtina GK Visar Bekaj and Defender Avni Pepa. Erton Fejzullahu picks up an injury after the squad is announced and is promptly replaced by Arber Zeneli who then gets the flu and has to be replaced by Flamur Kastrati. Lum Rexhepi also gets injured and is replaced by Bajram Jashanica. Phew! Did we get all that?!
U19 friendly: Ireland 0-0 Kosovo, U21 friendly: Belarus 0-1 Kosovo
So we travel to Croatia hoping to avenge the defeat in the previous game, 1-0 at home. The game plan remains the same, the selection throws up only one surprise in Avni Pepa winning his first cap.
The match starts and Kosovo look bright. It's not surprise to see us take a 24 minute lead as Herolind Shala tucks in a beautiful finish from the edge of the area. We hold strong and go in at the break with a 1-0 lead. Croatia come out fighting and immediately play three up front, we counter that by dropping to Alushi to DM alongside Perdedaj. On 68 minutes it's Perdedaj who makes an error and gives away a penalty which is duly converted, 1-1. Just as we are about to make the move to close the game out and claim a valuable point Croatia score a quick breakaway goal and it feels like a dagger to our hearts. Final score 2-1 to Croatia.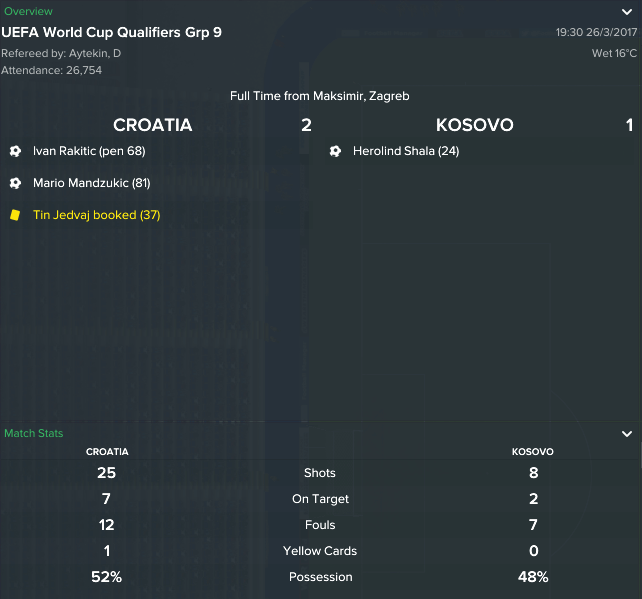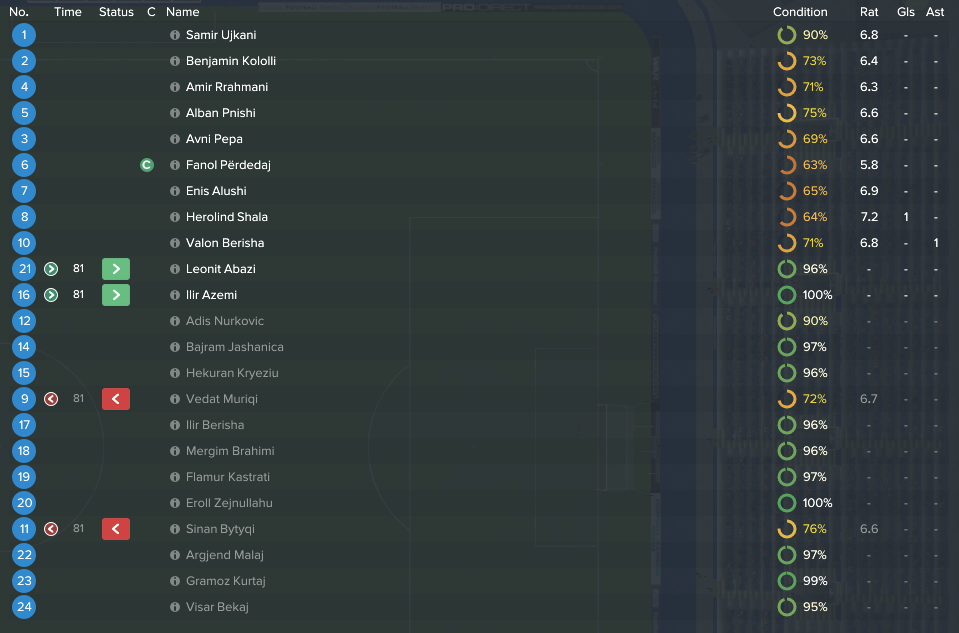 April
The World Rankings confirm what has become much of a routine announcement – we remain 190th.
Otherwise it was a terribly quiet month.
May
The Kosovan domestic season came to an end for 2016/17. Flamurtari won the second tier by 12 clear points with Vushtrria also going up with them. Rahoveci, Decani and Ulpiana are all relegated out of the lowest playable league.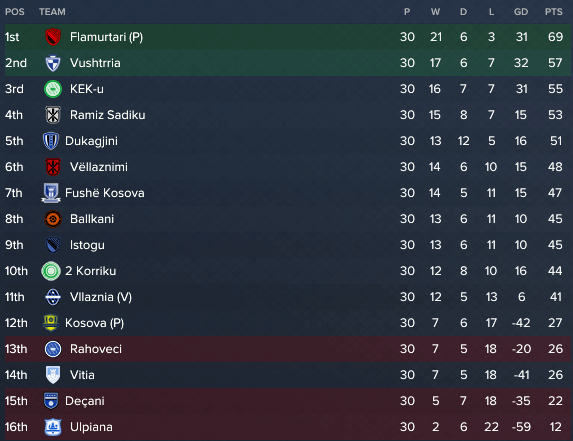 Ferizaj and Trepca were relegated from the top tier while Prishtina ran out clear and comfortable winners. Prishtina complimented their league win by completing the double and sealing the Kupa e Kosoves in an emphatic victory.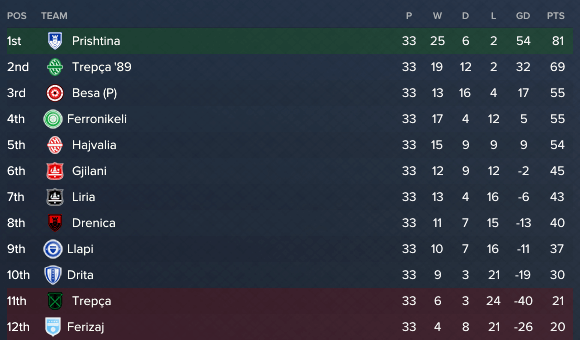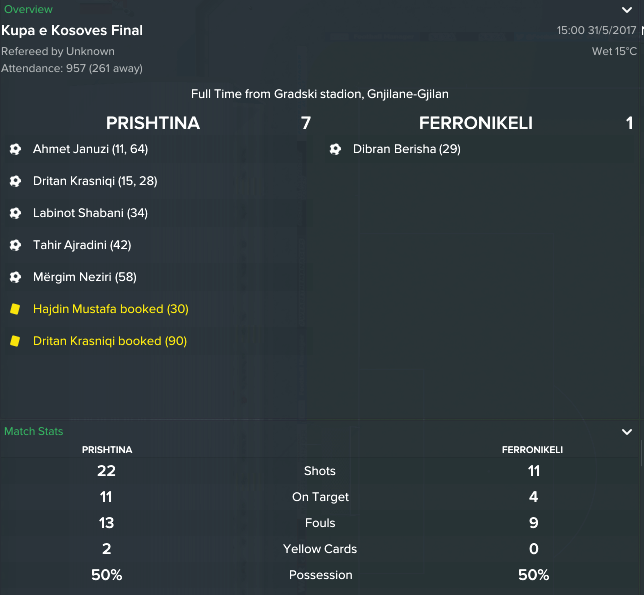 June
We finalised our squad for the upcoming away qualifier against Ukraine and away friendly against Kazakhstan. Sadiku returns after injury and Paqarada is available after suspension.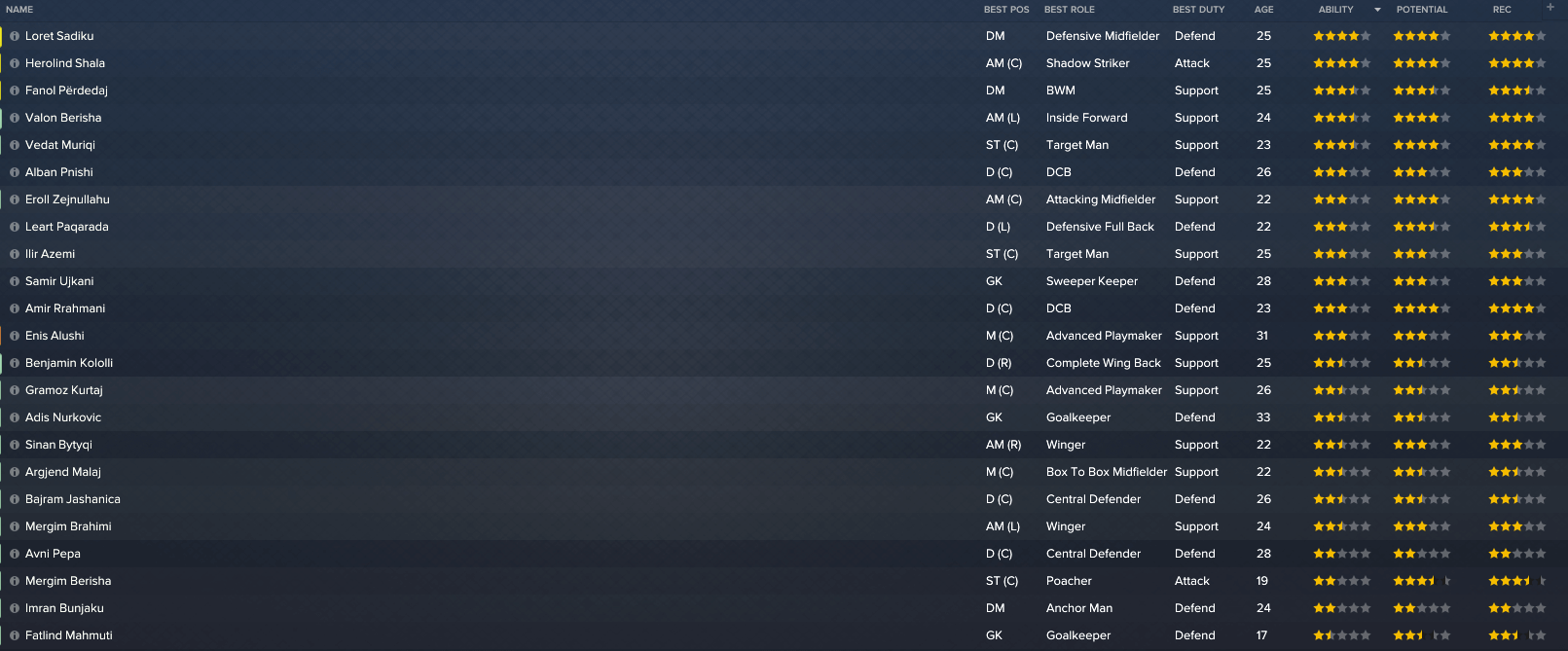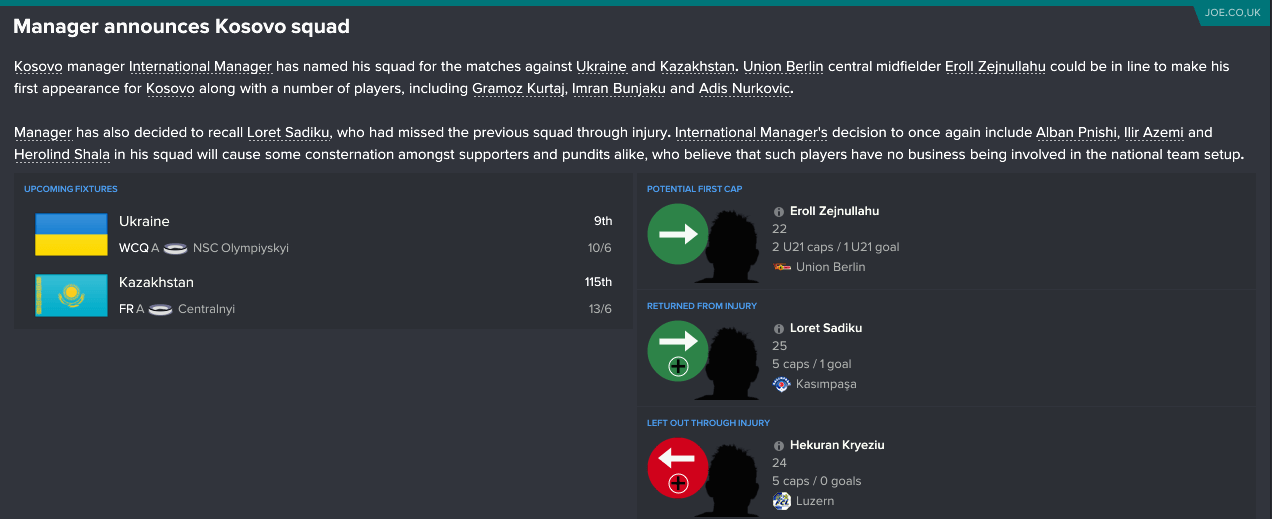 U19 friendly: Iceland 4-1 Kosovo, U21 friendly: Liechtenstein 2-6 Kosovo
A trip to group leaders will prove to be a very difficult task for us. Ukraine have five wins from five and only let three goals slip in those games while scoring ten. We go in as we always do: with hope rather than expectation and asking the nation to pray for us…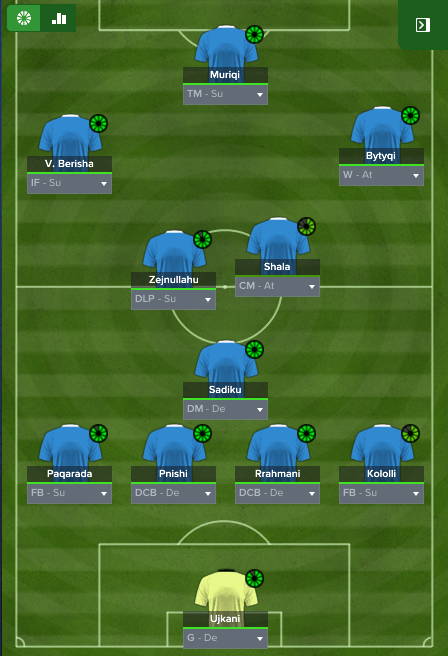 It was a spirited performance and once again we held solid until the half, as the whistle went the game was scoreless. Ukraine came firing out of the blocks in the second half and it took just four minutes for them to find the opener. We pushed forward seeking the equaliser and on 75 minutes Ukraine were reduced to 10 men. We threw everything at them from that point but couldn't find the breakthrough. Yet another game where we feel content with the performance despite the result as it ends 1-0 to Ukraine.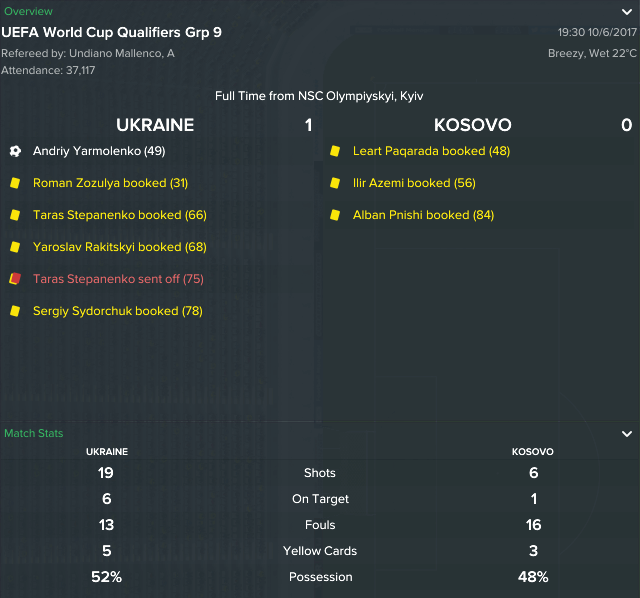 We continue our travels to take on Kazakhstan in a friendly game. We'll use this one to trial a new system with three at the back and defensive minded wingers. Two up front may give us better goal scoring options.
We go out with positivity from the off. A clumsy challenge from their defence rewards us with a penalty on 16 minutes which Benjamin Kololli duly dispatches. At the half we lead 1-0 which is well deserved. On 64 minutes Kazakhstan's dreaded equaliser arrives. It doesn't last long though as on 70 minutes Mergim Berisha is played through in the box and converts for his first international goal! A solid 2-1 victory for us away from home, we're still searching for our first competitive point but this will be a nice confidence booster.
The league reputations are released and Kosovo's top tier Raiffeisen Superliga moves up one spot while the second tier holds its place. The lower non playable leagues drop two places.

Player Watch
Between January and June we went to watch 12 players.
Milestones Update
Well, it's rather just a reminder as we unfortunately weren't able to meet any more of our milestones yet, despite our best efforts.
First goal: Ilir Azemi v Azerbaijan (Friendly 31/08/16)
First competitive goal: Enis Alushi v Finland (WCQ 08/10/16)
First clean sheet: Samir Ujkani v Azerbaijan (Friendly 31/08/16)
First competitive clean sheet:
First win: 1-0 v Azerbaijan (Friendly)
First competitive win:
Avoid finishing bottom of qualifying group:
Qualify for tournament finals:
Win a trophy:
Reach Top 100/50/20 in World Rankings:
Number 1 in World Rankings:
First player to reach 50/100 caps:
First player to score 10/20/50 goals:
=========
Join us for the next update when we'll recap the final part of 2017 and we continue to look for that elusive win…or draw…anything but a competitive loss will do!!
If you'd like to read more of my contributions to Tempo you can do so by clicking my author name a the top of this article. There you can also find links to my Twitter and my own blog where I am currently embarking on a long term save with Mallorca to topple the usual suspects in Spain! I'm always happy to discuss my saves and I'm more than happy to accept any pointers you might have! Thanks for reading.