On April 11th, 183 mad Laskar Wong Kito (a snappy nickname, I'm sure you'll agree) fans joined us on our journey to Myanmar to take on Boxing Cake, aka Yadanarbon FC in the Confederations Cup. All the more mad as they could have just watched it on TV.
Nevertheless, the team didn't let down the hardy supporters, and treated them to a brilliant performance. Kayne Vincent, left winger Rahel Radiansyah and centre half Achmad Jufriyanto found the target in a comprehensive 3-0 victory, the 4-3-3 really coming good and leaving us virtually guaranteed of a place in the next round.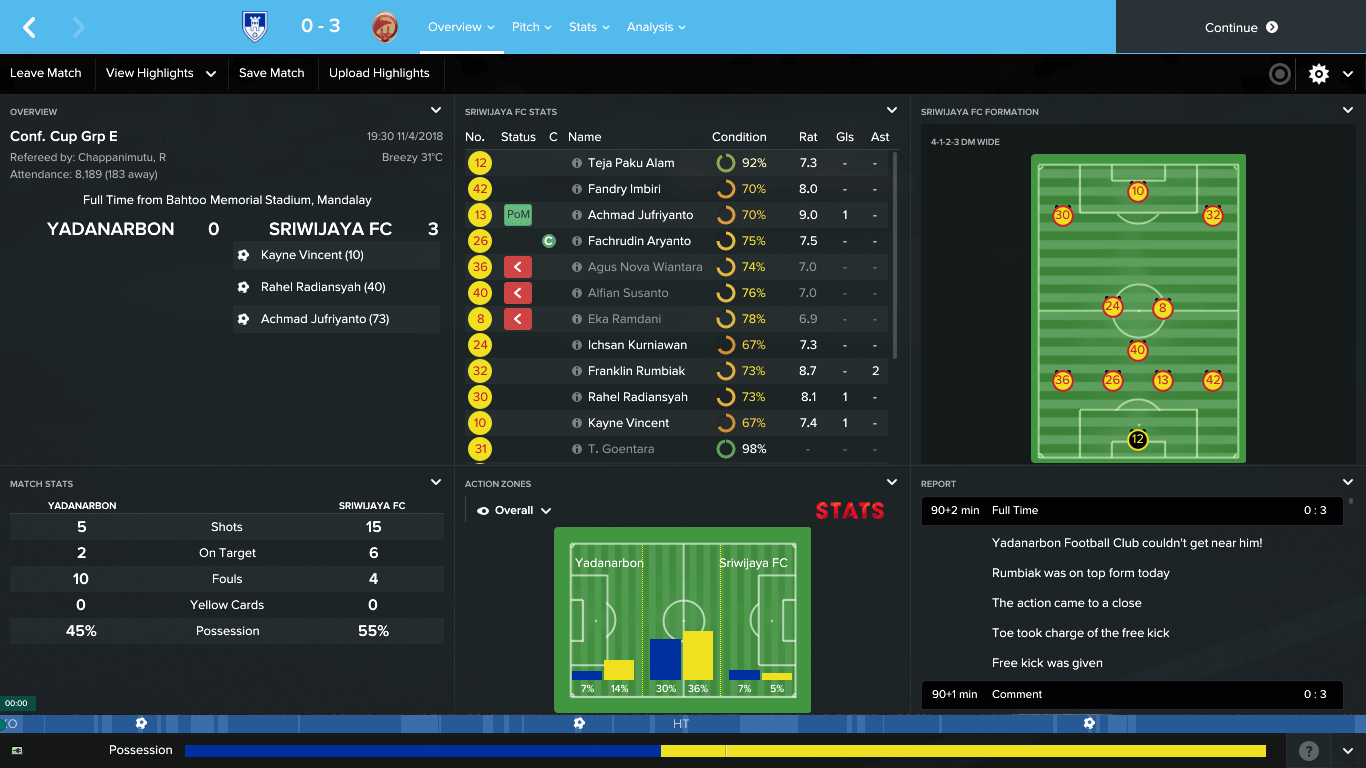 That virtual guarantee was made concrete when South China came to town. A far more sedate performance from Sriwijaya, but it was enough to do the business, Vincent once again the man on target in a 1-0 win. Auckland City had offered Vincent a contract, and he had accepted. We wept with sadness, but in these last few weeks before his contract ran out, at least he was still capable of making us weep with joy.
Before finishing off the Confederations Cup group, there was the small matter of the league starting. Excitingly, this meant the competitive debut for a number of players barred from playing in the ACC. In an unconvincing performance (in a 4-4-2 formation), Gakou Amadou and a last minute Eka Ramdani effort eked out a narrow win against Semen Padang.
The Confederations Cup group stage was capped off with a tie in North Korea. To their credit, the lads were not to be intimidated, Franklin "The Tanklin" Rumbiak scoring a brace and Ichsan "The Man" Kurniawan the other in a 3-1 win that meant we finished top of the group and undefeated.
In the mad rush of matches, a tournament I had been confused by us being listed as in came on the horizon. Quite why we were in the Singapore Cup, I didn't know. A little research showed that the Singapore Cup does indeed include a number of invited teams from East Asia to bolster the numbers. Fine, but then this Wonderland situation was made all the more confusing by the team we had drawn in the preliminary round, Niigata Unicorn (last season's cup winners), being a Singaporean team manned exclusively by Japanese players. More digging, to find that this is the feeder team of Albirex Niigata in Japan, who are indeed a team of Japanese players in the Singaporean League – taking me back to the glory days of FM07 and Club Africain.
I had no idea what to expect the standard to be and, this being the early days of competitive football for non-ACC registered players, put out a strong team. We won 7-1, a hat-trick from Rizky Dwi "The Tree" Ramadhana and braces from Gak "The Yak" Amadou and Ana "The Spanner" Supriatna". That's the question of standard answered, then.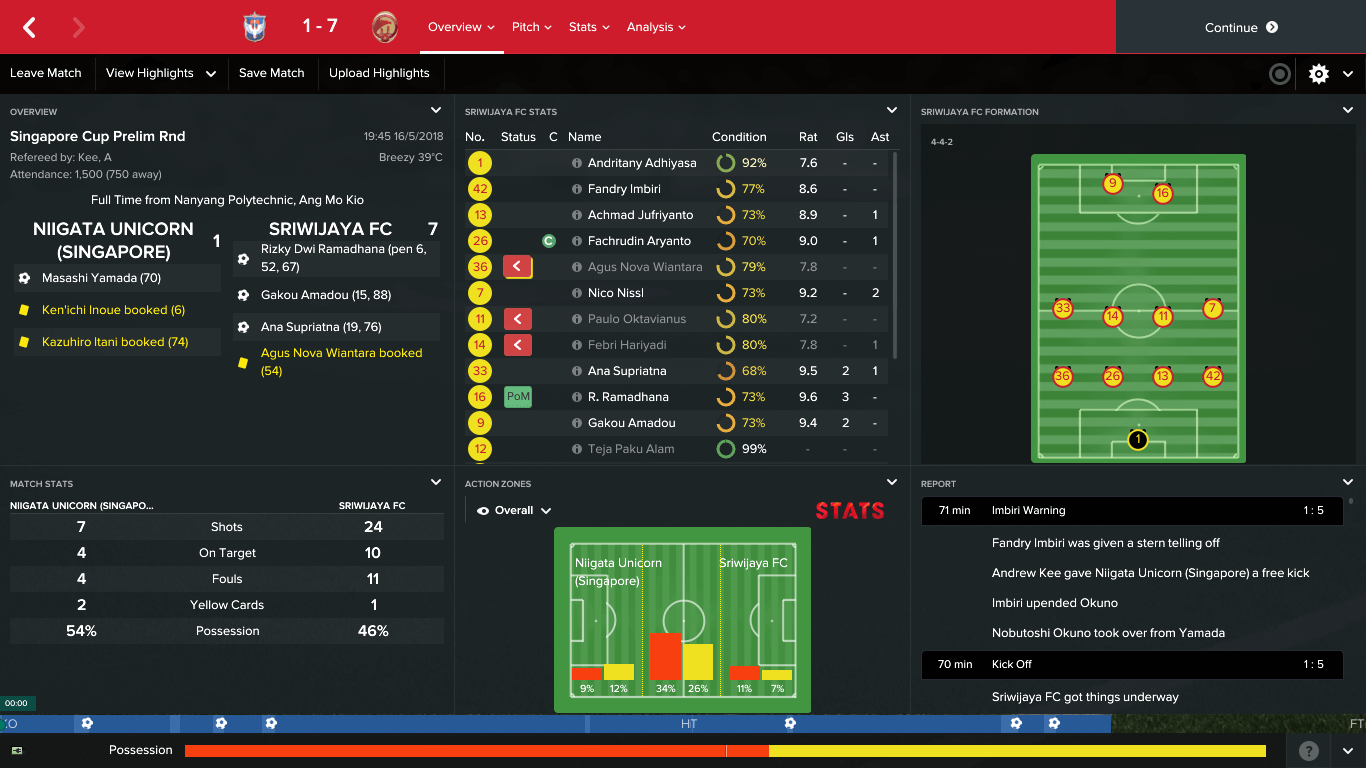 With games coming thick and fast, a gambit was made for the second league fixture in Borneo, playing a relatively weak team and trying to either not field or play just for long enough to get their match fitness up the players who would be starting the upcoming 2nd round ACC fixture.
Borneo were also in the ACC but were less careful in their squad management, and fairly rolled over us, Rizky Dwi getting our consolation in a 1-2 defeat.
Thankfully, what had ultimately turned out to be a decision to sacrifice one league fixture worked out. We were once again drawn against Mohun Bagan, the Indian side we had vanquished in the ACL qualifiers, but this time the one-off match was at home. With Kayne Vincent the only eligible forward, we packed the midfield and it paid off. Vincent scored twice, our team significantly improved from that game back in January, and we won 2-1. This was to be Vincent's final bow, his imminent departure meaning I was keeping him out of the league team so as not to foster a reliance on him. Goodbye, sweet prince. Thanks for all the goals.
Bolstered by this result, we ended May as June would go on – with a break from cup competitions and able to concentrate on the league. Persiba, Kalteng Putra and my old boys Celebest were dispatched in succession, 7 goals scored and none conceded. But the rest of June was to a stuttering disappointment. Persis Solo, my personal enemies, equalised late in our 1-1 draw, before a mad 3-3 against Persiraja and a dull 0-0 against Madura sent us sliding slowly down the table.
July and August were to be big months. Important league fixture, the start of the Indonesian Cup, and the continuation of the Singapore Cup (I mean why not try to win everything we can) would be a test of our resources. This clearly not being enough of a challenge, I had also decided to take on the role of Indonesia U23s manager ahead of the Asian Games in September. These are busy times in Western Sumatra and beyond, my friends.