Furious at my decision to jump ship and abandon Celebest for title winning Sriwijaya, my laptop packed in and refused to let me have my way. It thought it could stop me, but you can't stop this train! It's back, and I'm back, and South Sumatra has an average manager amongst its ranks now.
I joined Sriwijaya at the start of the year, fresh from a merciless round of retirements and releases at the end of the calendar year. I was inheriting a title winning squad, yes, but one shorn of many key parts, including a player, Rizky Dwi Ramadhana, who had scored 36 goals in the previous season and was subsequently, unaccountably released. The season was over and the transfer window would not open until March, which would be fine but for one of the major reasons for me joining Sriwijaya – the Asian Champions League was just around the corner.
The draw for the 2nd preliminary round gave us a straight, one match shootout in India against Mohun Bagan. Ok, thought I. Difficult, but not undoable. So it was that we flew out, a ragtag bunch of painfully unfit players and painfully substandard youngsters. The makeup of the squad meant that we had depth at centre half and thin gruel elsewhere, so by necessity we fielded a 5-4-1 formation. The saving grace was that in New Zealander Kayne Vincent, we had a striker absolutely above our level.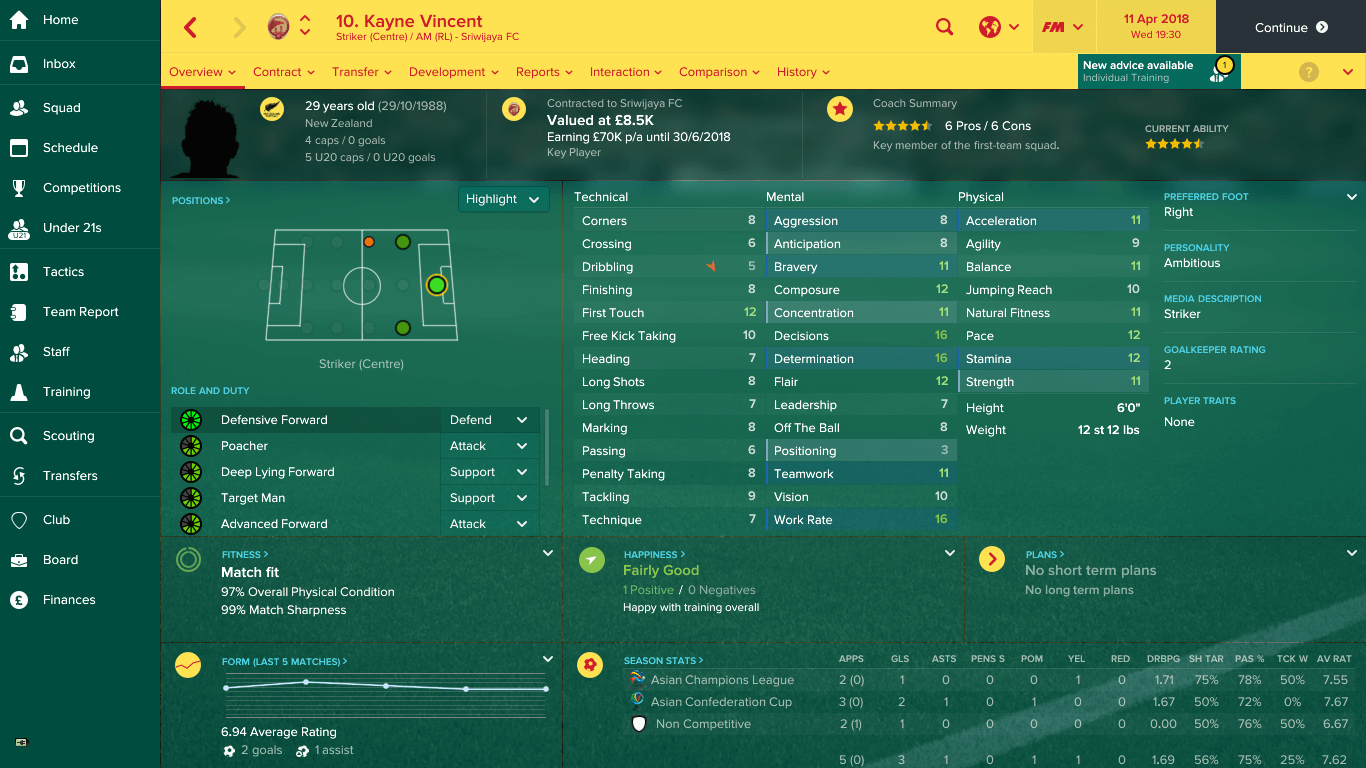 It was probably predictable that the game would remain goalless into extra time. What I didn't expect was that goalkeeper Teja Paku Alam would prove himself the hero by saving an extra time penalty. Penalties beckoned, and we were to be the lucky ones, prevailing 4-2 and moving within a match of the Asian Champions League proper.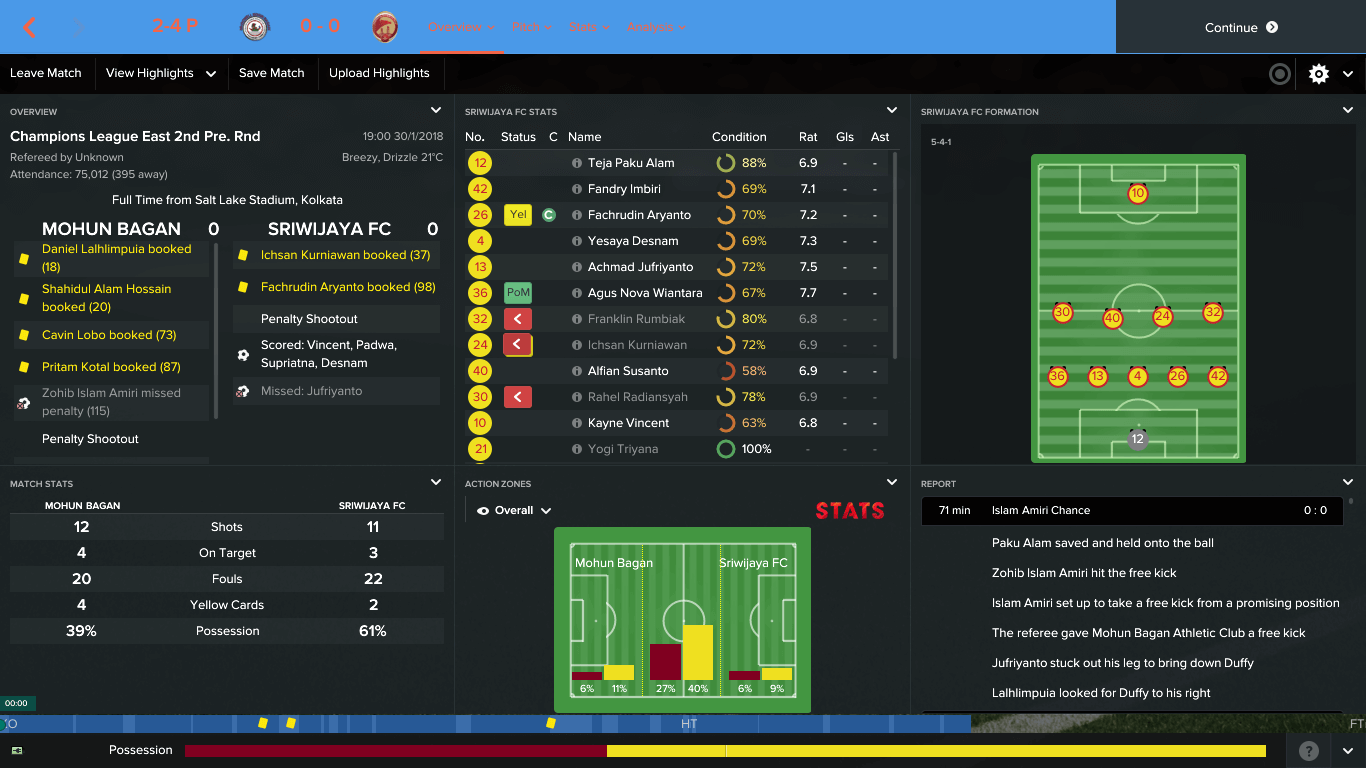 How unfortunate we were, then, that this just happened to be the season when Guangzhou Evergrande – Champions League winners in 2013, 2015 and 2016, had underperformed and needed to get through the playoffs. Of course we drew them, again in a straight shootout, again away from home.
Feeling hopeless, we set up again in our achingly ambitionless 5-4-1 out of necessity – though I might have plumped for a tactic of this ilk with double the squad numbers at our disposal.
On 32 minutes, just as I was lauding the players for surviving a third of the game, Guangzhou's goalkeeper kicked the ball into Kayne Vincent. He was still some distance from goal, but managed to get to the edge of the area, just far enough away from the defenders and with the goal still mostly unguarded, and find the net. 1-0! Outrageous!
Guangzhou manager Michael Laudrup clearly thought so too, and gave his players a half time rollicking. At least that's how I explain the scores being levelled within a minute of the restart. Zheng Long, brother of Shane, firing in a rocket from 25 yards.
20 minutes later, Jackson Martinez (I told you they  were tricky), repeated history and scored from distance. 2-1 down and without the resources to try to push forward, our fate was sealed unless we got some outrageous luck. But we'd already had our outrageous luck for the match. Three minutes later, China captain Zheng Zhi (I told you they were tricky), scored from a corner. A final score of 3-1 was really quite a deal more than I had a right to expect, all considered, but for just that brief moment, I had allowed myself to think what if.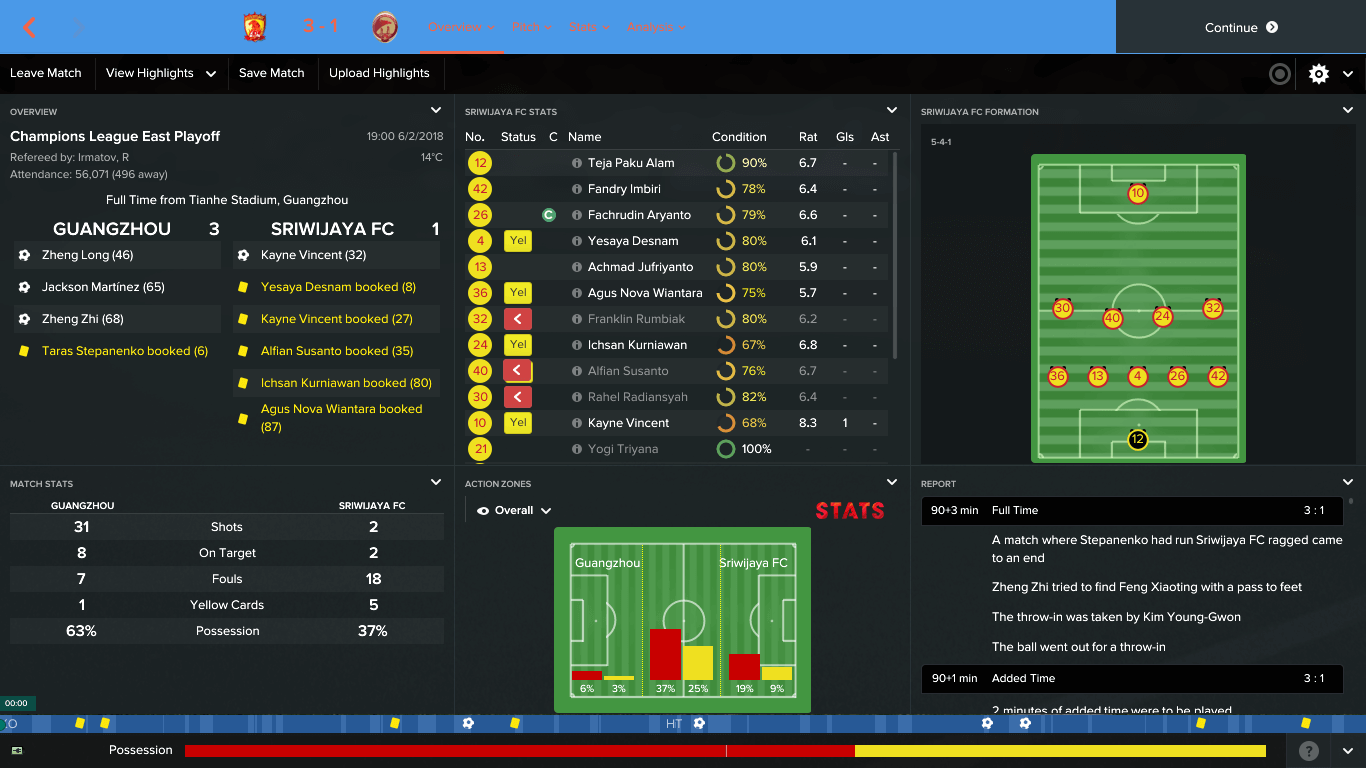 Never mind. We were into the Asian Confederations Cup, a tournament that our domestic rivals Persipura Jayapura had won last year, so there was immediately pressure in my mind to go far. Coupled with this, a group consisting of South China (Hong Kong), Yadanarbon (Myanmar) and April 25 (North Korea) gave me hope, for now anyway.
On the flipside, the transfer window was still shut, and with even free transfers barred, it meant we couldn't bring in any new players before the start of the tournament, and had to register a squad for the entire tournament made up of what we already had – if I could, I would have registered myself and a tube of Deep Heat just to at least make up the numbers. Then there was Kayne Vincent, our brightest light, with his contract running out in June and demanding obscenely more in wages than we could offer. Auckland City were sniffing. He was our only forward, quite literally. This was ominous.
Why did nobody tell me moving up in the world brought problems?