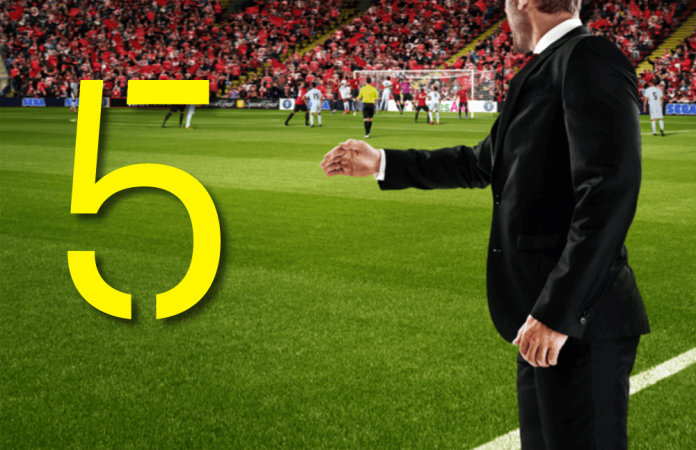 Hello everyone, I put together five things I do before every pre-season in all my saves in Football Manager for a couple of years. We all love to buy and develop players, hire new staff members, make our tactics better, build a new stadium, win the league and cup trophies. I'm the same. 
But there are some things "I have to" do every time when my players are on holiday between seasons. What are they?
Friendly matches
It could sounds weird to mention this part of the game but it could be very important for good pre-season and also for your finances.
The first one – I always have to aks to myself if I want to play with teams from lower leagues and win these matches with 5 and more goals and boost confidence of your players or if I want to play with teams with the same or bigger reputation.
Matches against teams with bigger reputation could of course end with your defeat so you can risk morale drop.
If I take my current FM17 save with Reading this part of the game had some evolution. During time in the Championship I played only with teams from lower leagues to boost players morale. We were not the most reputable and also not the best team in the second tier so sometimes it happened we did not win match with bigger difference.
When we were promoted to the Premier League my approach of friendlies changed. I always set pre-season for 5 weeks so there is a lot of time to play many matches. Usually my friendly matches schedule is this:
More reputable team – 2 days without match – less reputable team – 2 without match – less reputable team – 2 days off – more reputable team – 4 days without match. Matches with more reputable teams I often play at home (due to finances) and matches with teams from lower league at their stadium.
As I mentioned the financial side of the friendlies – the great way how to earn some money is to play with bigger clubs. The first important thing is – you have to arrange friendlies by yourself. If you let it to your assistant, it will (probably) not be such effective.
The second important thing is – you should arrange friendlies/leagues/cups as soon as possible and you should not wait when your players will be back from holiday or pre-season starts. Why? When you will wait till the last moment, the most reputable clubs will have their friendlies already arranged. And it would be a shame for you.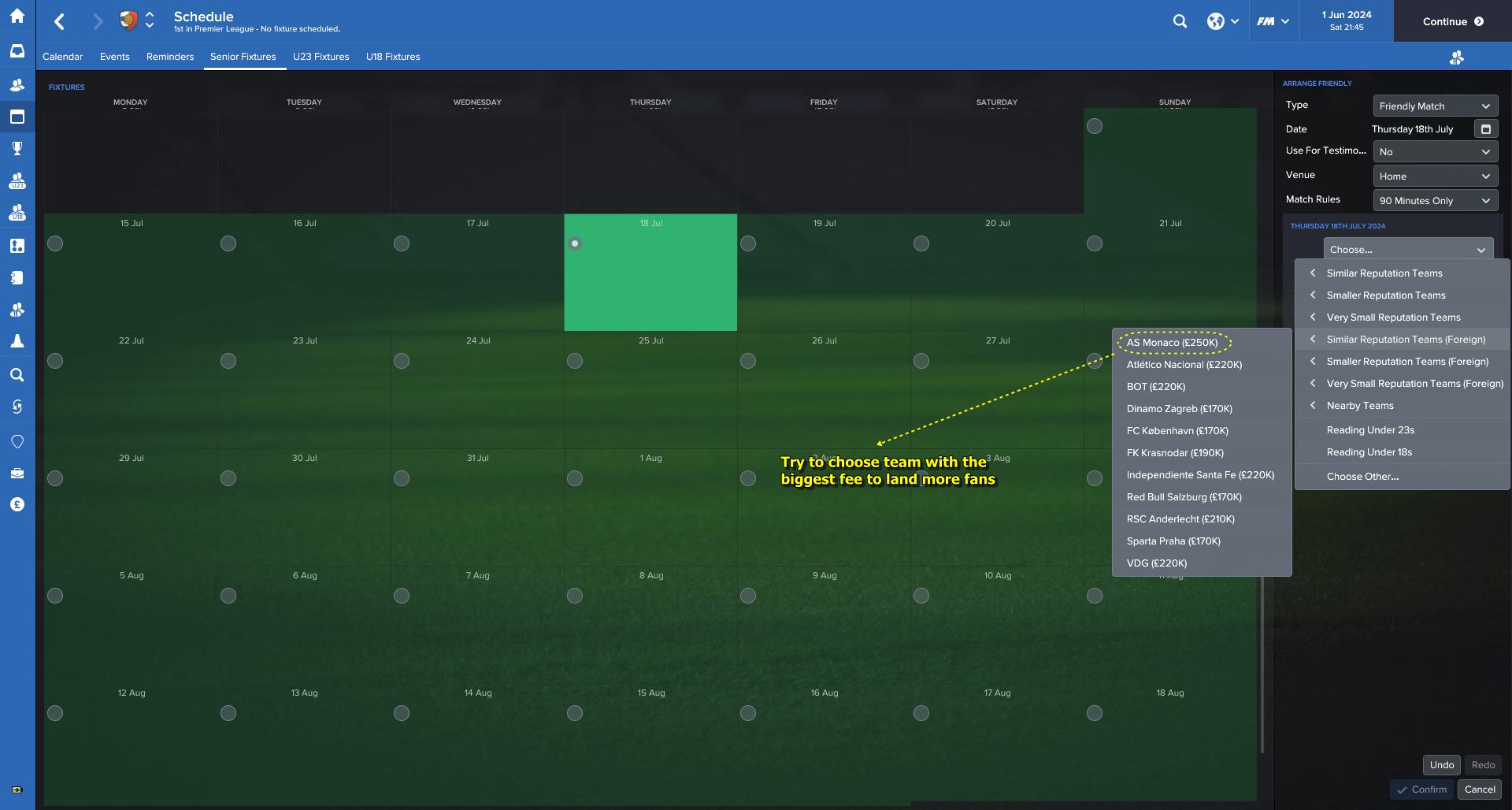 When I played with AB Gladsaxe during FM16 I started in third tier with almost no money. I had to earn some. So I played against FC Metz, Fulham, Hull, Bournemouth, Club Brugge or bigger clubs from Denmark as well.
Before the second season I earned about 500k just only thanks to a gate receipts and 300k thanks to a TV revenue.
I know this is very useful when you play in lower leagues but before my 9th season with Reading I played at home matches with Juventus, Boca, FC Kobenhavn, RSC Anderlecht, Sparta Prague or Ajax.
The average attendance was about 34k (stadium with 38k capacity) and we earned 1,928,675 from a gate receipts and 350k from TV revenue.
Staff review
This part will not be too long as the previous one, I promise. There are almost after every season some staff member who are out of contract.
I'm not that type of player who have sorted staff contracts perfectly a minimum of half year before they contract end. It's not the same as with the players as there is no bosman rule for staff.
In the Reading save the season ends almost before the end of May so I always have just about one month to resolve contracts with my staff. There are coaches or scouts with which I'm happy so there is no reason to not extend their contracts.
But as I write recently on my blog about "Massive Staff Boost" I had to indetify which coaches (and other staff) are no longer good enough for us.
It also depends on their personality as I wrote in mentioned article that's very important to me so I always take some time to review if there is chance to have better coach(es).
I usually take a look to staff search screen, set the important attributes for specific role and personality and if there is better coach I say good bye to staff member his contract is expiring and hire the new one.
Promoting young players
My saves in the past were almost all about to play with young players who are at most 24 or 25 years old. It was not unusual I played with average age around 19 or less.
The save with Reading is a bit different as I decided to play with a group of players until they will end their careers or they will leave the club because they want to.
But despite that there is a room for many youngsters and my aim to develop young players is still the same. There are two ways – I promote my own young players or I try to find talented players on around the country in which I play and buy them.
It doesn't which way it is but but the most talented players are part of the senior squad and it does not matter what their age is.
I like to have them in the first team, check their development and give them a lot of playing time in U23s (reserves in overall) squad and also in the cup matches.
There is an actual screen before my 9th season with Reading. You can see it's sorted by age and there are 15 players with the age of 20 and younger. Two of them are 16 years old, four are 17 years old. Some of them have some potential so there is a chance they will play competitive matches.
And of course if there are youngsters in U23s or U18s squads who are not good enough I released them for a free or I terminate their contracts or sell them.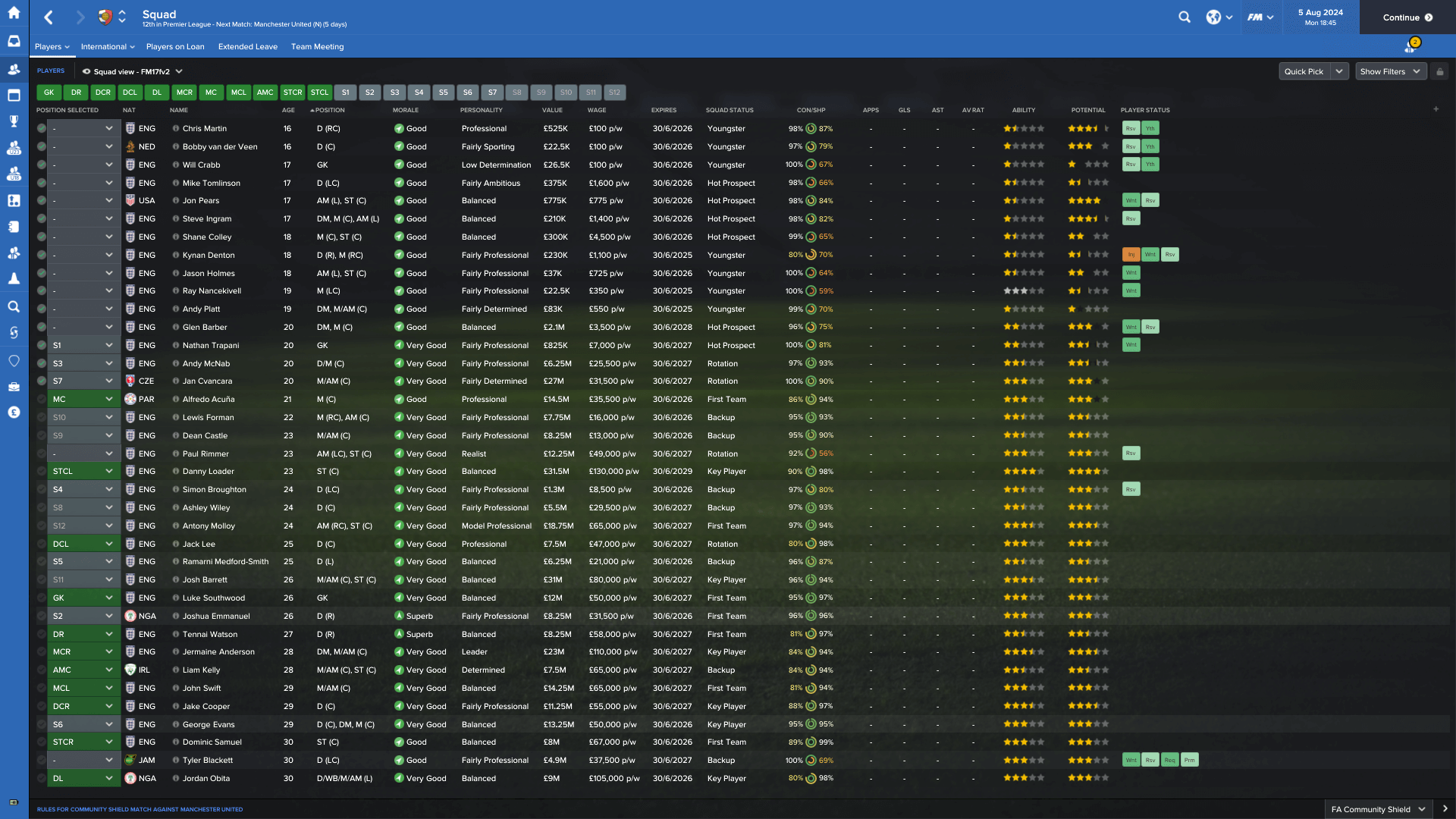 Loan or not loan
This is something connected with the part above. Example from my save with Reading. I have two regens, both are central defenders and both are 24 years old.
The first one was bought in 2017, the second one in 2018. Ashley Willey now has about 70 matches for us as a backup player and he was not on loan during his time with the club.
Simon Broughton came to Reading one year after Willey, he played 11 league matches in four years and he mainly played for reserve squad or in cup matches. I had to decide which of these two players will stay and who will go on loan. It was Broughton who played for Scunthorpe and Swansea in the last two seasons.
They are both back in our first team before the ninth season and this is their comparison. I prefer Wiley more but I'm sure both of them are able to play in the starting XI if some of key players will be suspended or injured.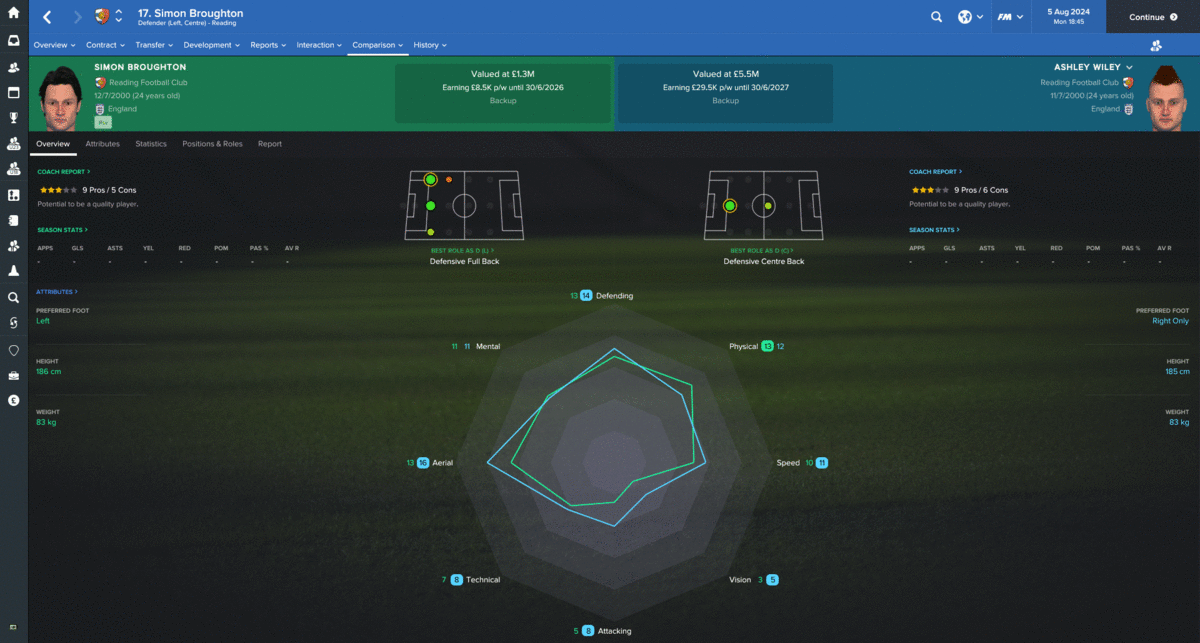 In overall I have two ways how to deal with youngsters loans. If it's very big prospect I never sent him to another club for loan and he is member of my Senior Squad as I wrote above.
Loan could be good even if he will be a first team player in his new club and he is played in right position. To keep youngsters in your club is good when your Reserve/U19 teams play with same formation and player roles as your first team.
I always sent players on loan if I'm not sure they will be good enough for my first team. It's all about your own experience but as I said my teams have almost always average age around 20 years my advice would be to keep your youngsters around your first team.
If your youngsters will be first team players or key players in the 2nd division clubs, it should be good. If they will be only rotation or backup players keep them in your club and let them play regularly for your reserve team. That's my way.
The last two things about loans and promoting youngsters I do before players came back from holiday because I like to have squad completed and together very early to ensure the right way of training.
Set Piece review
The last part of this article is about one of my favourite parts of the game. The virtual and real life as well. It's good to analyse how your set piece were or were not successful.
I use routines for corner kicks, free kicks and throw-ins. Just take a look to Tactics/Analysis/Goals and Goal Assists where you can see Assist Type – Corner, Free Kick, Opposition Mistake etc.
I scored 25 goals from corners in eighth season and same amount after the throw-ins but this stat is not there.
I always like to check if some of my players have better attributes for set pieces than last year or half a year. It's one way how you can improve your set pieces because you have better taker for corners for example.
As you rotate squad during the season it's also possible there are changes in specific roles in routines as players changing the roles in formation – for example if you use CMR and CML and you change these players between them they also switch their roles during set pieces and both of them could have different attributes for specific role during routines.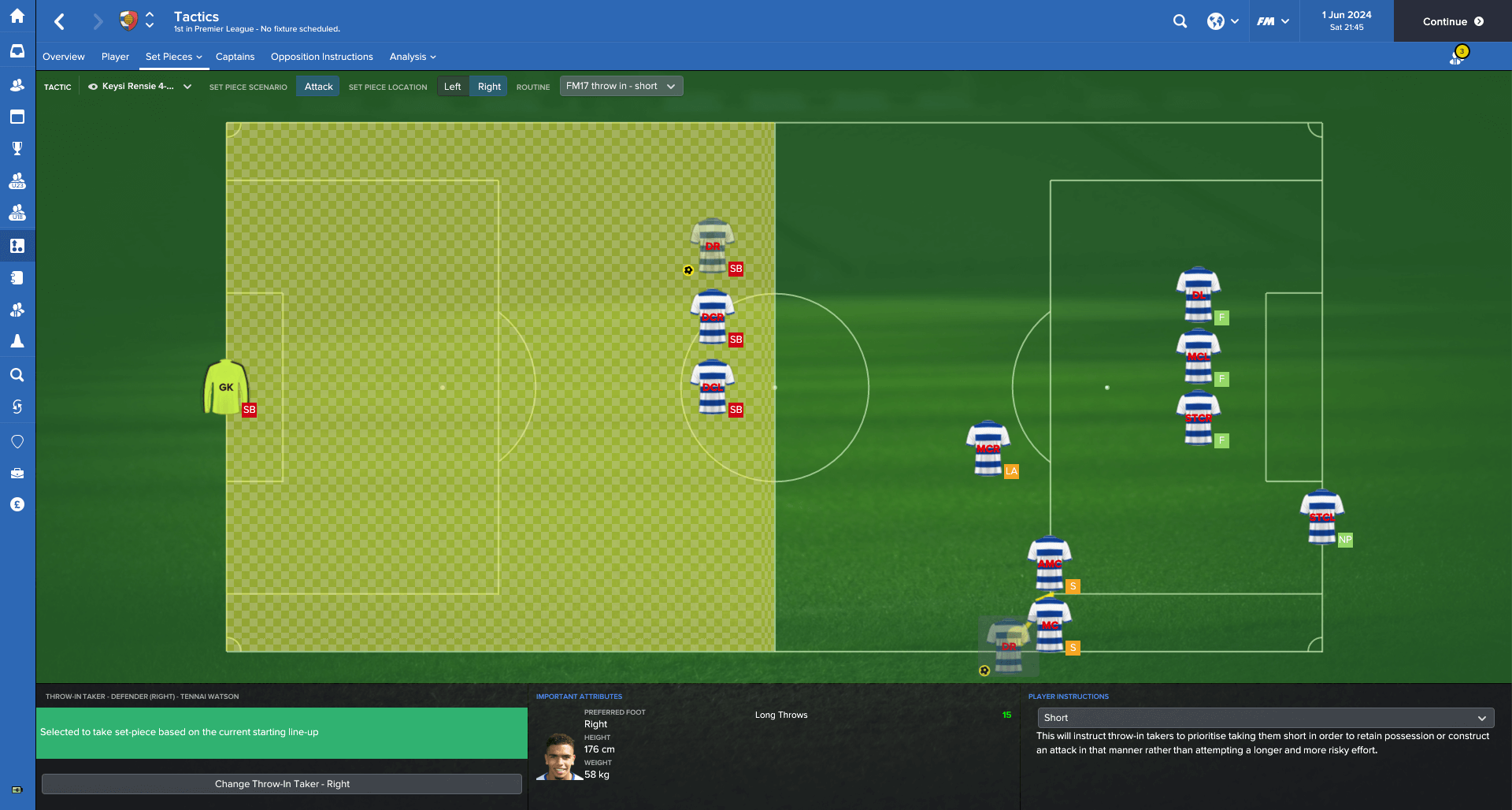 I recommend to check set pieces more during the whole season due to reasons in the last paragraph but during the pre-season it's good time to try some new routines as well and work on them.