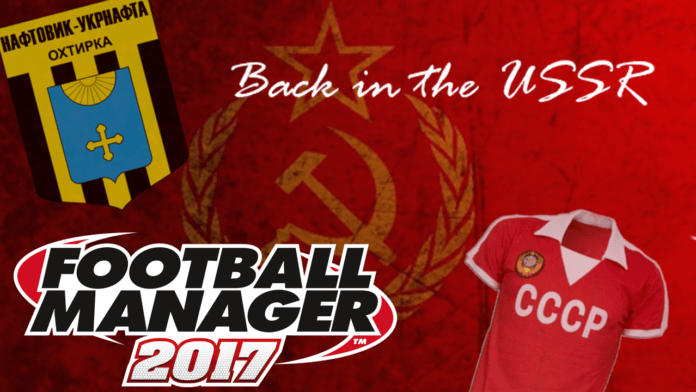 Four months on your own in the Ukraine, in winter, is exactly how it sounds: long, cold and, because Yuriy went off on holiday, lonely.
I kept my self sane by painting a red hand onto a spare football and talking to it but, when Mitre stopped replying, I decided to have a proper look at my football team. Firstly, I tweaked the 4-1-2-3 formation that was only intermittently bringing us success. I'm sure that the shape is the best suited to our players but I want us to play the ball around a bit more and get our full backs involved. I want them to be involved so much that I change them to wing backs so that they're regularly flying up the flanks.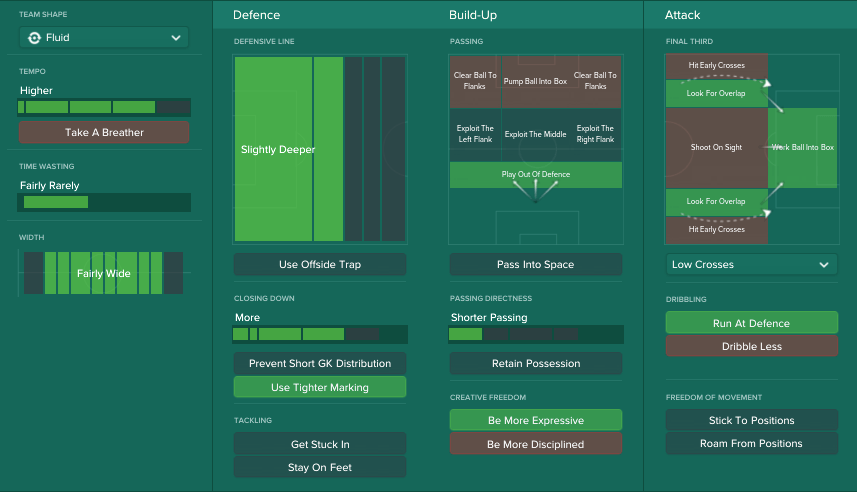 In regards to transfers, there isn't much to talk about. I let Denys Antyukh move to Volgar Astrakhan in the Russian First Division because he wasn't really getting any game time and terminate the contract of Olexandr Vasyljev because…well, he is rubbish. His departure means there is a spot available in the squad registration, so I bring in Dmitry Starodub on loan from Arsenal Tula. He's a pacey right winger, who will provide some competition for Pasich.

As well as a few deals, I was also presented with the task of renewing a rather large set of contracts. I'm delighted when I discover that the players either have a fantastic commitment to lowering the club's debt, or an astonishingly realistic perception of their own self worth, because almost every one of them requests a basic wage which is lower than they're currently on. God bless their low self esteem.
With the budget balanced, the tactic tweaked and the players fighting over the spare change in my pocket, it's time to see if the changes will work.
We face Obolon-Brewer – Raskov starts up front as Prykhodnoy picked up a groin strain…I won't go into details. Starodub replaces Pasich on the wing because, well…he's just better and Semenyuk is serving a suspension so serial complainer Vladyslav Zaychuk comes in to replace him. He is fairly dreadful defensively, but can cross the ball like no-one's business, so he's in. Last time we met, we managed a 1-1 draw. This time, I won't settle for less than a win.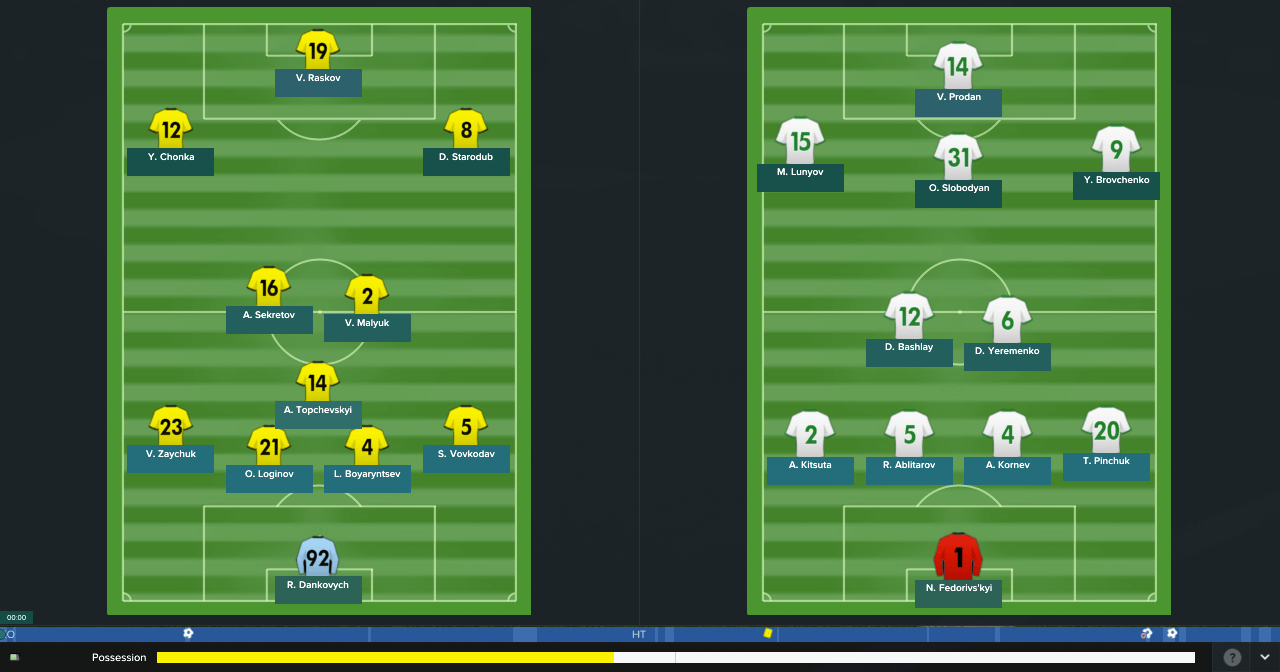 I am not the sort of manager to turn down three points, but my word we made it hard for ourselves. After a fairly positive start, we go behind. Our back line drops a little too deep and Brovchenko is able to pick his spot from the edge of the area. It takes us until the 81st minute to find the equaliser. Pasich, on for Starodub, fired a low cross in which deflected off the defender and trickled into the net. It took two more minutes before we took the lead, Shastal drove forward down the right flank, whipped the ball across and Sekretov was there to volley the ball home. It's an impressive turn around, which is not something I've been able to say much this year.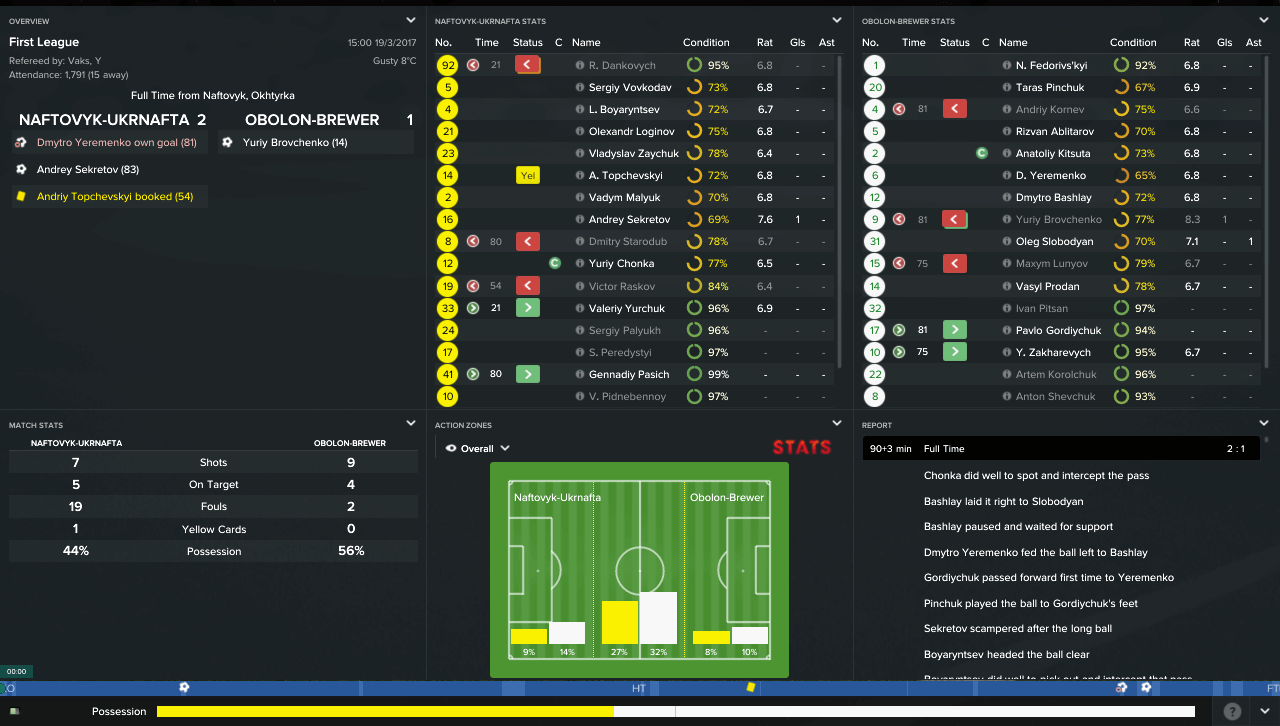 The win means we go into our next game against Gellios with momentum. They're sat in 12th place and we were beaten 2-1 the last time we met. The only change to the side is Semenyuk back in at left back.
Well, it isn't idea,l but I suppose I'll settle for a point. We spend most of the first half with our backs against the walls and struggle to deal with Gellios' long balls over the top. We are limited to just one attack but unfortunately Rastov could only fire straight at the goalkeeper. The second half began much like the first half ended but slowly we started to assert ourselves into the game. Around the 60th minute, I get fed up with the ineffectual Rastov and bring Shastal on from the bench. He takes about 3 minutes to make an impact: Sekretov's incisive pass is lashed in from 12 yards. After the goal we look comfortable but fail to grab the all important second goal. This proves costly when, on the 73rd minute, a shocking mix up between Yurchuk in goal and Boyaryntsev left the ball at the feet of Avagimyan who simply rolled the ball into the empty net. Bugger.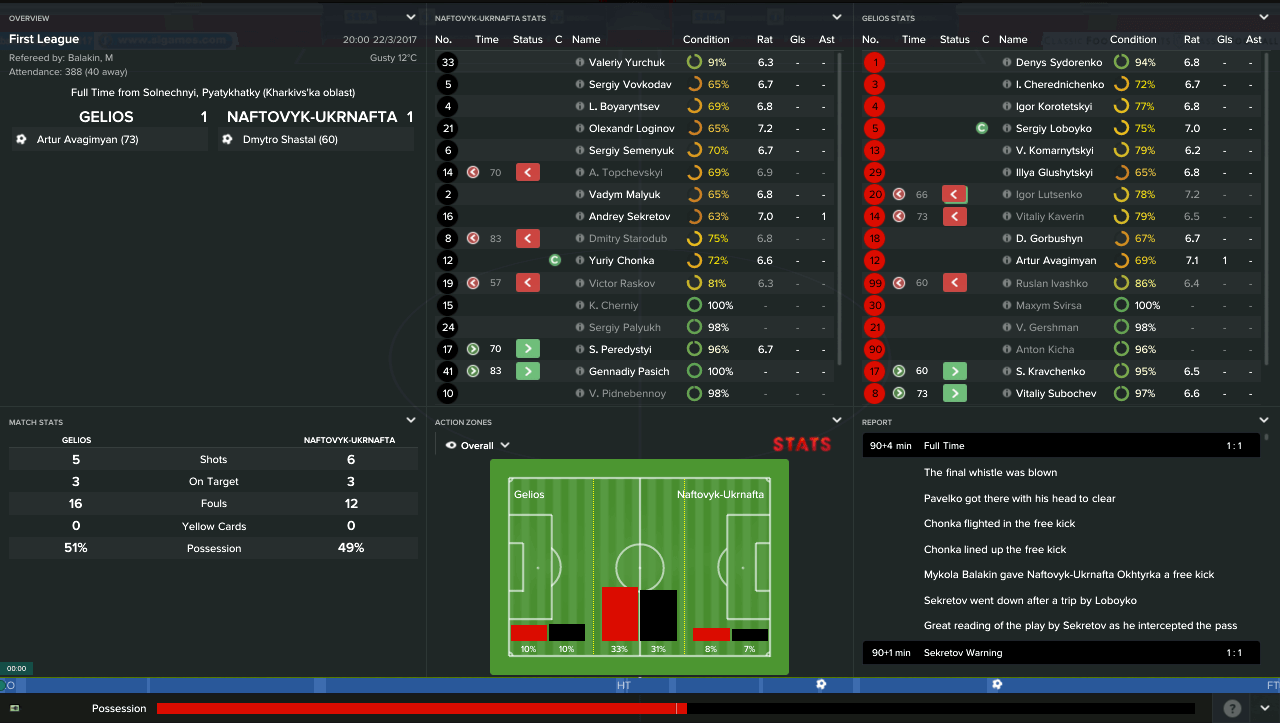 With just nine games left of the season, we're going to have to go some to reach the promotion spots. I feel as though the formation tweaks have made difference, so maybe, just maybe, there's an outside chance that we can make it…