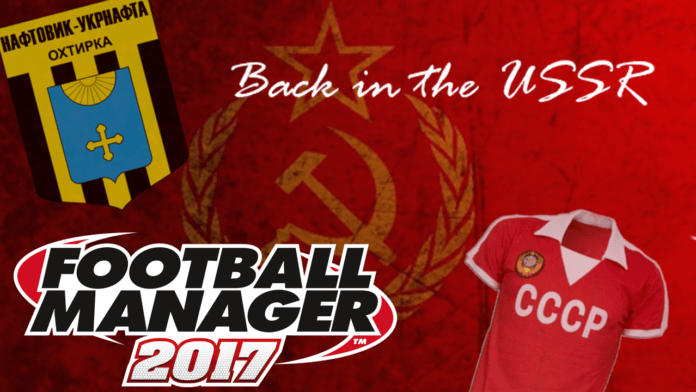 Things haven't been going well. We're frustratingly inconsistent and it's beginning to become annoying. Things have got to change and fast.
We're up against Ternopil next, they're in 16th place and have only won twice all season. I think we can all see where this one is heading…
We're away from home, so I stick with the 4-5-1 formation although its days are numbered.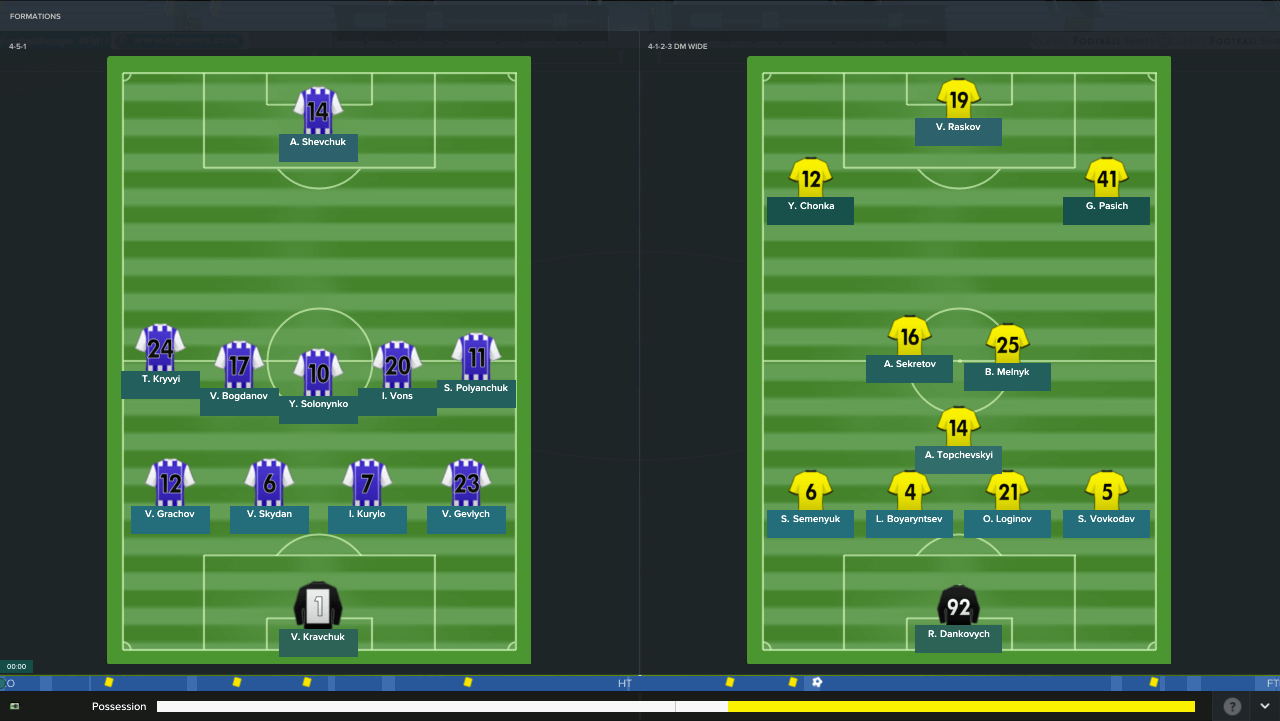 If you wanted the definition of a abhorrent game of football, that was it.
Ironically, we started the brightest; Rastov was played through twice but both times he fired wide. We went into half time at 0-0 and I try the aggressive team talk again to fire the boys into gear. That doesn't work. We offer nothing going forward, in fact, we only manage two sodding shots in the entire game.
Then, with a grim inevitability, they take the lead. The build up made it look like we'd been instructed to under no circumstances go anywhere near the opposition and when the ball broke to Bogdanov on the edge of the area, you knew what the outcome was going to be.


This is getting ridiculous now.
Time for a change. I'm fed up with losing the ball, I just want us to keep hold of it for longer than six seconds. 4-5-1 isn't working, So I try to focus on our strengths…well, strength. We've been most successful when we've allowed our full backs to get involved and our two best players – Chonka and Sekretov – need to be the centre of all our attacks.
With that in mind, I switch to a 4-3-2-1 narrow formation. The idea is to keep the ball in the middle of the park and wait for our full backs to bomb on, get the ball and whip it into a dangerous area. I also tell the players to keep hold of the ball, be patient and work it into the box. It's a bold change, but I think that's what we need.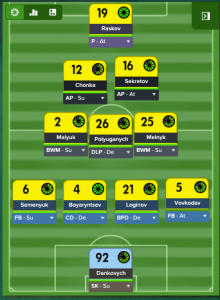 Kolos Kovalivka are the first side to experience the new formation – they're top of the league, so this game won't really provide an accurate assessment of how well it works. I am expecting a much better performance though, and I tell the players this. Words sometimes aren't enough but I'm sure slowly drawing my thumb across my neck will get the message across perfectly.
Well, that was a bit more like it. The formation starts well, really well. We dominate the opening stages of the game and create a few chances but nothing that really troubles the 'keeper. Then, in the 32nd minute, we struck. Yuriy 'The Magician' Chonka picked up the ball in the central position and slipped a glorious pass through the defence into Maxym Prykhodnoy's path and he made no mistake.
Things carry on in a pleasing fashion, our possession creeps up to 60% and on the 51st minute we strike again. This time Sekretov's free kick is flicked on by Panchenko and Boyaryntsev volleyed home. Things get even better on the 67th minute when Boyaryntsev rises tallest again the the area to put us 3-0 up. I can barely believe what I'm seeing.
Things soon settle back into a familiar groove; a low, early cross catches our defence sleeping and they pull one back, followed by another ridiculous goal on the 82nd. I'm beginning to get worried. Thankfully we manage to hold out and I'm happy for the win, but more than anything, I'm just happy for these two, who seem to have discovered each other as their soul mate, just as our 3rd goal went in.

Good on you, fellas.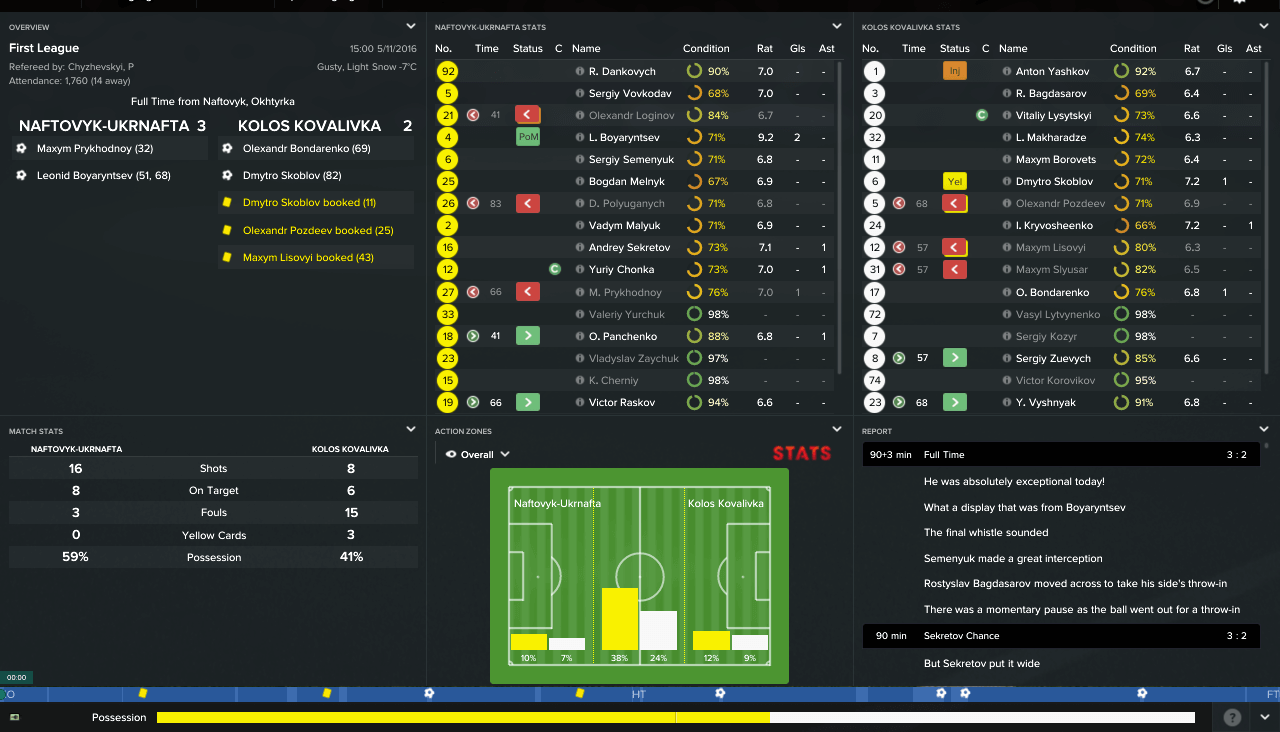 Our last game before the winter break is against Girnyk-Sport and I'm concerned to hear that Loginov is out for a month with a damaged ankle. It's not that I'm concerned about, it's the way in which he's hurt himself:


How exactly is he kicking the ball?!
It's a big game, they're one place above us in the league. The formation did okay against top of the table, so I'm sticking with it. Panchenko replaces the moronic Loginov in defence and Topchevskyi comes back into the midfield.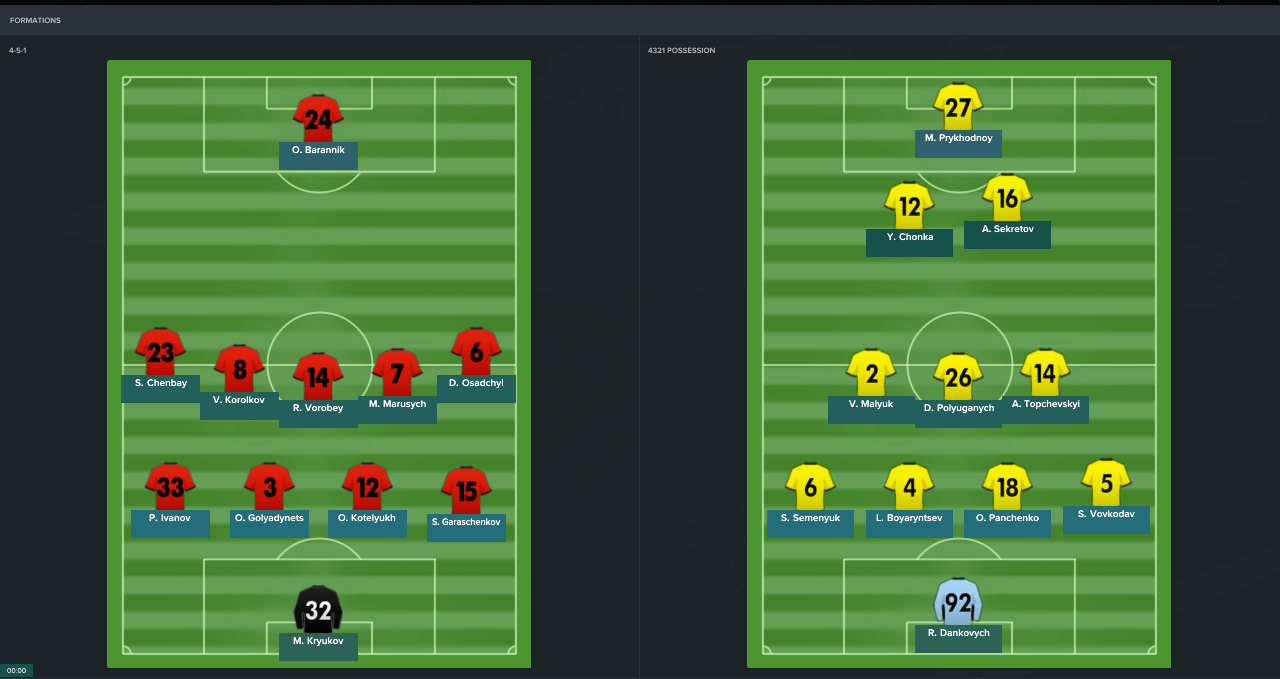 I give up. I literally cannot fathom how this works. We dominate the game, yet somehow end up losing.  All three of their goals are carbon copies of each other. We have the ball in their half, lose it, a long punt downfield beats our defence and Oleg Barannik puts it away. Three effing times.
This is a shoddy way to go into the winter break. Things have got to change.