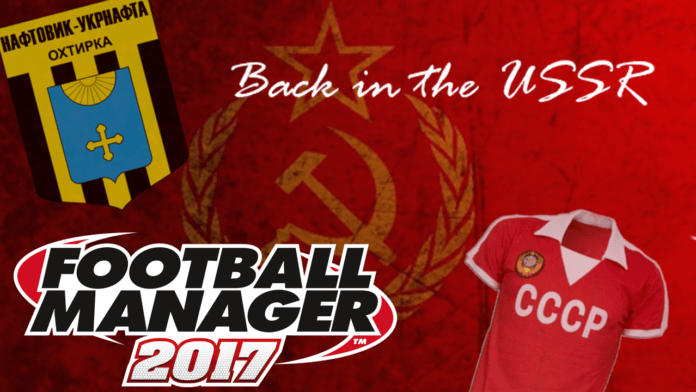 In the film 3:10 to Yuma, Christain Bale agrees to hold the captured Russell Crowe who's awaiting a train to go to court in Yuma. A battle of wills ensues as Crowe tries to psych out Bale.
I mention this because it reminds me of our current predicament. Except, instead of the 3:10 to Yuma, it's the promotion train we're waiting for and instead of an outlaw trying to psych out his capture, it's me desperately hoping my players won't mess everything up and destroy mine and Yuriy's dreams. The parallels aren't perfect, but it illustrates my point…sort of.
Urgh, Veres. Remarkably they're top of the table, despite this being their first season in this league since promotion. I know this will be a tough ask.  Loginov is back from suspension but taking his place on the suspension list are Savchenko and Vovkadov who between them have enough yellow cards to…well I can't even think of what anyone would do with the amount they have. Suffice it to say they're not playing, so Malyuk moves to right back and loanee Polyuganych comes into the midfield.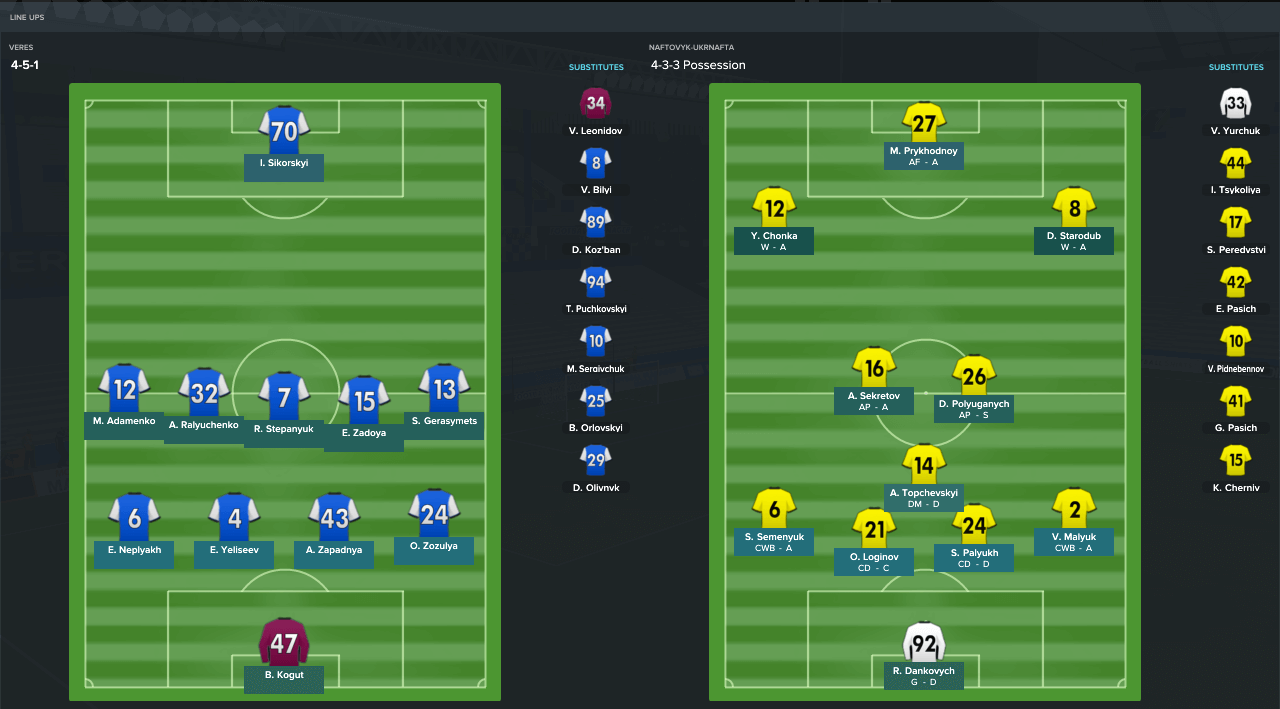 Well, I suppose it could have been worse. We spent the vast majority of the first half desperately hacking the ball clear and only God knows how we didn't go behind. Veres prove they are better at attacking than we are, but nobody knows how to stink up a game like we do. We take the 0-0 and move on, though our promotion dreams are beginning to slip away.
There's no time to dwell on things, Avangard come to visit just two days later. I still have less than fond memories of the last time we played them – you've guessed it – a stinking goalless draw.
No draw here today, just a classic performance from my boys. It takes us just 20 minutes to take the lead, Starodub is set free down the right and his cross found Prykhodnoy who heads in. It's Prykhodnoy who doubles our lead twenty minutes later, this time a nice short corner is played to Chonka who fires a low cross which is swept in with ease. It's a dominating performance and a welcome one at that.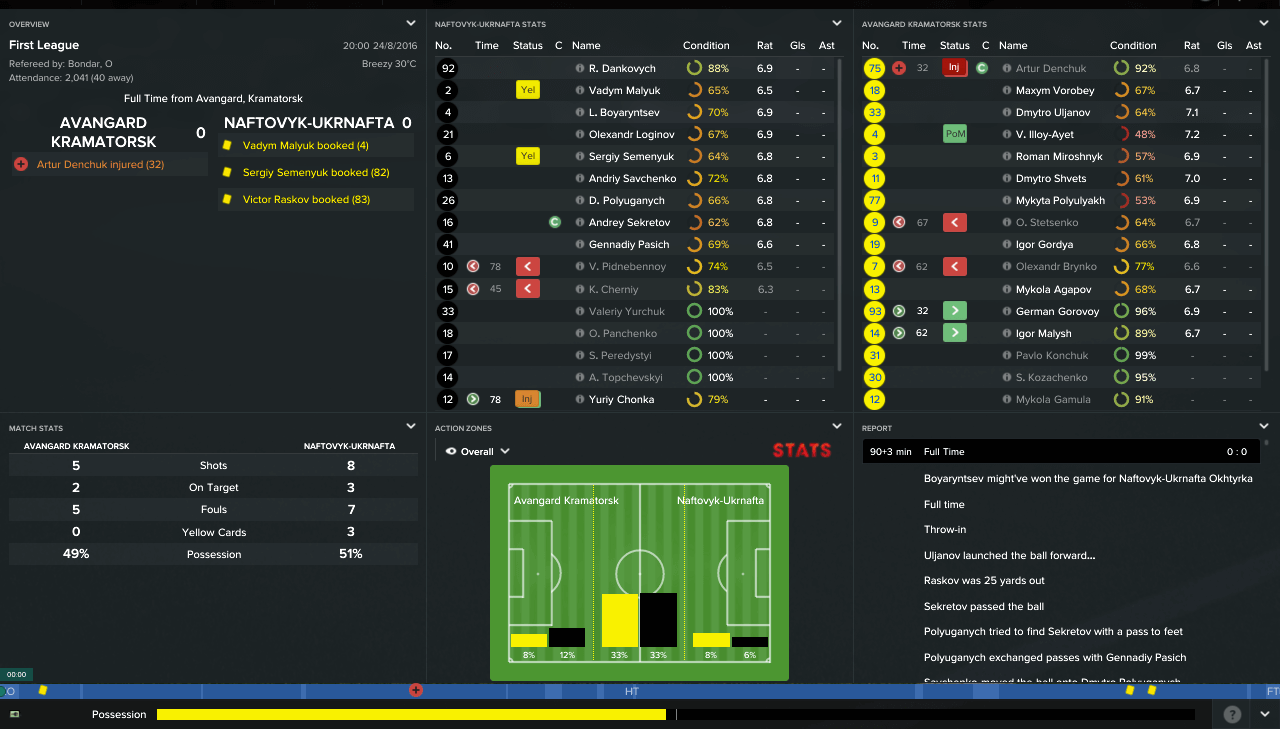 We take our decent momentum into the next game away at Skala Styri. We are in the unique position of having journalists, in some cases the same journalist, ask us about our chances for survival (we were tipped to finish bottom) and with the very next question ask how likely it is that we'll win the league. No wonder my players seem confused.
There are more suspensions and more injuries to deal with. Semenyuk is banned for all his bookings, so Zaychuk comes in at left back and Loginov picked up a knock, but Boyaryntsev is fit enough to reclaim his place at the back. Before the game I'm asked whether the pitch will be an issue. With a reproachful sigh, I tell the naive, young journalist that I'm sure the pitch isn't that bad and that my adaptable lads will be fine regardless.
Ah. Well, should make for an interesting game at least.
Interesting is one way to describe it, a 90 minute heart attack inducing nightmare is probably more accurate though. We take the lead through Shavchenko, tapping in the rebound from a Yuriy Chonka free kick, but they hit back immediately; our defence decided, not for the first time this season, to leave a striker completely unmarked at the back post.
Just as the game seems to be winding down we allow them to score in the most ridiculous of circumstances. The ball breaks on the edge of the box, three of my defenders stand, scratching their arses and stare at the ball while Igor Brovko smashes it in. Luckily, we're able to equalise immediately through Cherny who also bags the winner, both times getting on the end of a great cross from either flank.
And breathe.
It's Arsenal-Kyiv next and the memory of last time still hangs over me: a 3-2 defeat despite fighting back from a two goal deficit. That's the sort of thing that sticks in your head, but, having been here for more than a year now, I am getting used to it.
Same result. Slightly less frustrating circumstances but the same crushing feeling of hopelessness. We start nervously and after half an hour they're ahead – a 'barnstormer' apparently. More like a hopeful shot from 30 yards which my 'keeper dived roughly in the same vicinity of. We pull level after the break through a penalty which Cherniy scored but two goals in 4 minutes put the game beyond our reach, despite Starodub's 75th minute goal.
That's probably the promotion dream over now.
To make matters worse, there are clubs starting to show an interest in Chonka. For the love of God, don't take my Yuriy away.