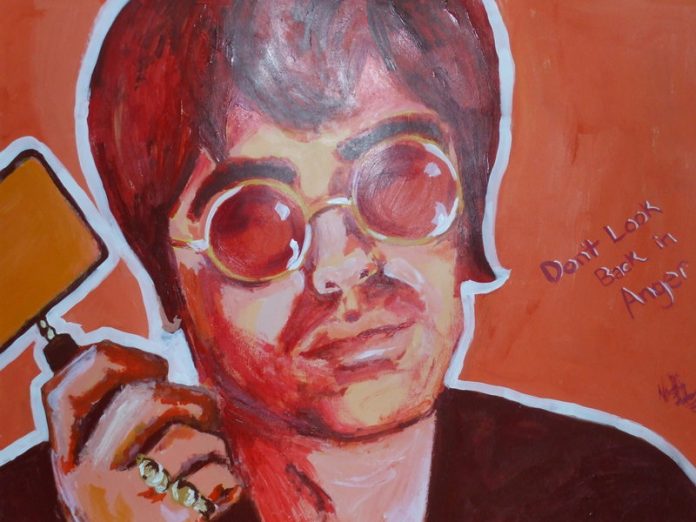 Greetings! Welcome to the 7th and final part of my FM17 experiment. We've been through a lot together. We started in those care free December months, where things looked optimistic for a bit. Then as Santa came and went, so did that optimism, and before long I was at loggerheads with half the squad and the promotion favourites were outside of the playoffs. A cup run was a brief shining light, but somehow, we've forced our way up into the promotion fight. Not just the playoffs, but the automatic spots. Yes, it's not an achievement, but I tell you now, I didn't expect to last a season here. To go up would be an achievement for me, and that's the news I want to bring you. There are 17 games to make that dream a reality. Here's a reminder of that league table: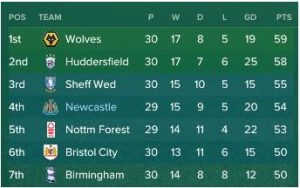 It's followed a familiar pattern as we press on towards the spring months. An impressive home win over Norwich is followed up with a Friday night football clash with Brentford. Why, I don't really know, but it was a very annoying evening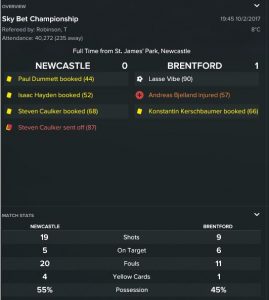 You have to laugh, as my one January signing collects two yellows and we then concede a 90th minute goal after dominating the chances. Love that. We welcome 2nd place Huddersfield to whatever the opposite of fortress St James' is.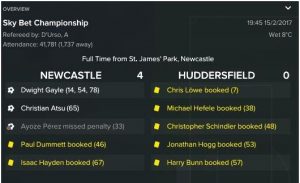 Tell all the boys you know, Dwight Gayle will always score goals! That's the start of a 4 match unbeaten run, but as is the way this season has gone, we get kicked in the nuts when we least need it.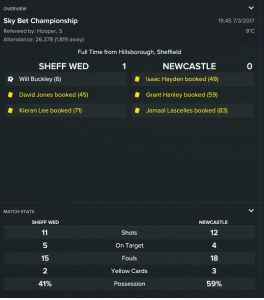 We snatch a point at Forest through Gayle's 26th and 27th goals of the season, before a groin injury sidelines him for 5 weeks. FIVE WEEKS of Mitrovic. The big Serbian makes me eat my words by scoring twice at home to lowly Wigan, before a well-timed International break gives Gayle another two weeks to recover. Somehow, we're back in the automatic spots.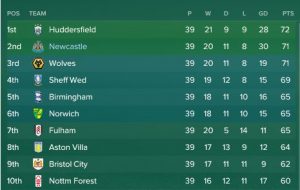 What really annoys me is that we are 7 games from promotion and players are bitching about wanting first team chances. Anita, Lazaar & Caulker all waste my time coming to moan about such nonsense. My mood is massively improved by the news that Gayle is back in full training after just three weeks. A win over Ipswich puts us top. 6 games to go, but 4 of them are away from home…
What's this?

It's an interesting opening gambit
Well what a tough choice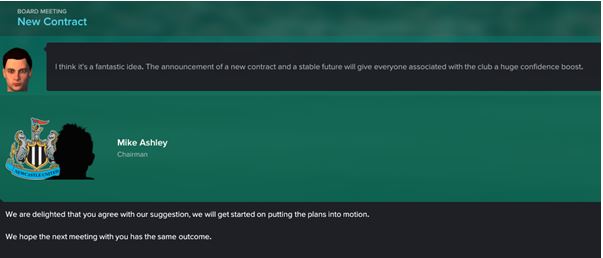 Me too. You odious pillock.
It is quite ludicrous that in a hotel room in Preston, as I'm about to try and lead us to a great victory, I am given this document
Obviously, I'm going to sign on. I'm now here until 2019. Sorry lads.
Anyway, off to Deepdale and a most ridiculous game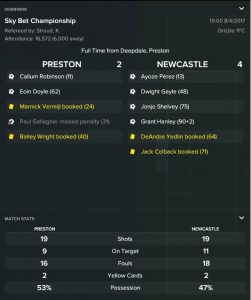 Hanley's was a raker as well.
Easter arrives at that means two games, Saturday and Monday. We're at Blackburn on the Saturday and Grant Hanley must have eaten too many Easter eggs, he's got food poisoning.  It's a ground synonymous with the history of Newcastle United after that game in 1996, but Atsu puts us ahead on 77 minutes and it looks like being a good Easter. However, Anthony Stokes plays the role of Graham Fenton and scores an 86th minute leveller. It's a huge blow, we're down to 3rd and there's only 4 games to go. Oh and Gayle's done his back. Three weeks out. QPR are rubbish though, they barely threaten us as we win 3-1, Mitrovic getting two. Wolves can only draw 0-0 at home to Brighton, and Huddersfield are beaten at home by Leeds. Back to the top.
Our next match is against Leeds, in one of football's great ironies. It's also our last home game of the season, such is the odd scheduling here. We're guaranteed a playoff place now, which you would bloody hope so with so few games left. There's a huge game as Sheffield Wednesday meet Wolves. It's a big day. I'll wear my best tie.
Leeds are in the third and final relegation spot and they scrap hard. We lead 1-0 through Shelvey but it's not comfortable. News trickles through from Molineux though – 5th placed Wednesday lead 2-0! The St James' crowd are buzzing and Ritchie signs off our home season by scoring a second in the 90th minute. Those three points put us two ahead of Huddersfield and three ahead of Wolves. Huddersfield put 6 past Rotherham which has really helped their goal difference.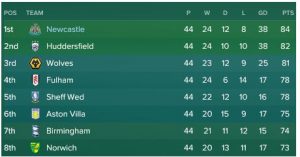 I'm worried about our next game – away to Birmingham on the dreaded Friday night football. Is a point the worst result in the world? Mitrovic is rubbish compared to Gayle, so that bothers me too. I've decided to stray from the 4-2-3-1 that has been very good for us the last few months, Perez can play up front and we'll shore up the middle of the park, playing Diame, Shelvey and Hayden. Friday night football can be a boring watch for all I care.
We led. For three minutes. But Che Adams equalised and then scored a winner 7 minutes from the end.
Unsurprisingly, the knives are out for me.
Those knives are sharpened as Wolves and Huddersfield enjoy away wins. We're second, ahead of Wolves on goal difference and one point behind Huddersfield. I don't want to go through the playoffs, please don't make me do it. Dwight Gayle is approaching fitness. Inject him. Hell, give him a metal spine. Do whatever it takes.
We're at Derby, who are 14th and going nowhere. Wolves host 8th placed Norwich whilst Huddersfield are at relegated Reading.  The physios have advised against playing Gayle, so he's on the bench. Hopefully we can get the job done without him.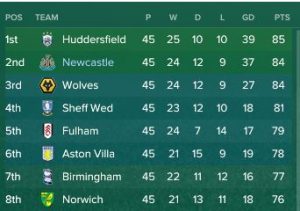 Ritchie scores a remarkable goal just on the half hour and a glance at the latest scores shows us Reading are 2-0 up. We're on. We just about survive to half time, as Huddersfield pull one back. Wolves are still being held. I'm a nervous wreck.
Ritchie hits the bar with a free kick as Wolves go ahead. There's 65 on the clock and as it stands, we're going up as champions, on goal difference from Wolves and Huddersfield down in third. Lazaar goes bombing down the left wing. Do something lad. He pulls it back to the arriving Hayden who hits a shot, it deflects and wrong foots the keeper. The away end are going ballistic. Surely we are going up now! Reading get a third to put it to bed.
Ashley doesn't mess about. Straight onto the money news

We've done it!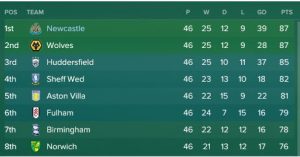 It's been a struggle. But we've done it. I'll shake every one of these players by the hand, then I'll ring Jesus Gamez and call him names. Thanks for nothing you twisty old shit.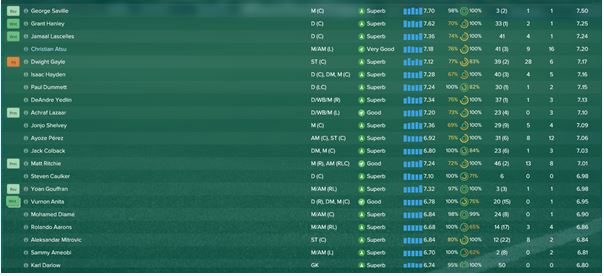 So as the curtain comes down on my journey, I want to thank you for putting up with me for the past few months. For those who have helped me, you've made a nearly middle aged man very happy. It turns out I can do it, just not particularly well. I get sick of people complaining around the clock about not playing, but I can imagine it happens in real life. But as I write this, my mind is buzzing. Could I cut it in the Prem? Abroad? Maybe it's just because I'm going to bed with the Championship trophy tonight, but I have a new outlook on this game. Maybe you can teach an old dog new tricks after all?