In 2004, Wimbledon FC became Milton Keynes Dons after relocation in 2003. This relocation was announced by the Don's board in August 2001. I must travel back in an alternate reality and stop this from happening.
If you missed the first instalment of 'Save Our Dons' please catch up here:
We didn't learn much in preseason that we didn't already know. We knew that this season would be a struggle if we couldn't find any decent players. The problem was we were Wimbledon and we didn't have any money for decent players so we would have to make do with not so decent players.
The first game of the season came around and we were entertaining Stockport at Selhurst Park. Stockport opted to play away from home in every preseason game and lost all bar 1 of their 7 friendlies. I felt optimistic that we could start the season well. In what have seemed like a good idea at the time, Stockport were filled with the best that Finland had to offer with the likes of Petri Helin, Jarkko Wiss and the enigmatic Shefki Kuqi. They usually lined up 4-4-2 and I was hopeful that my 3 man midfield would be too much for them with the wingers hopefully pushing their defence backwards. In the absence of Gareth Ainsworth, I moved Michael Hughes to right wing and put brought in Kevin Cooper on the left side. I had kept one eye on some of the youngsters in my reserves, and my assistant manager had informed me that 20 year old striker Wayne Gray is ready for a run out with the big boys. I agreed and placed him on the bench, hoping to bring him on when the game was already won.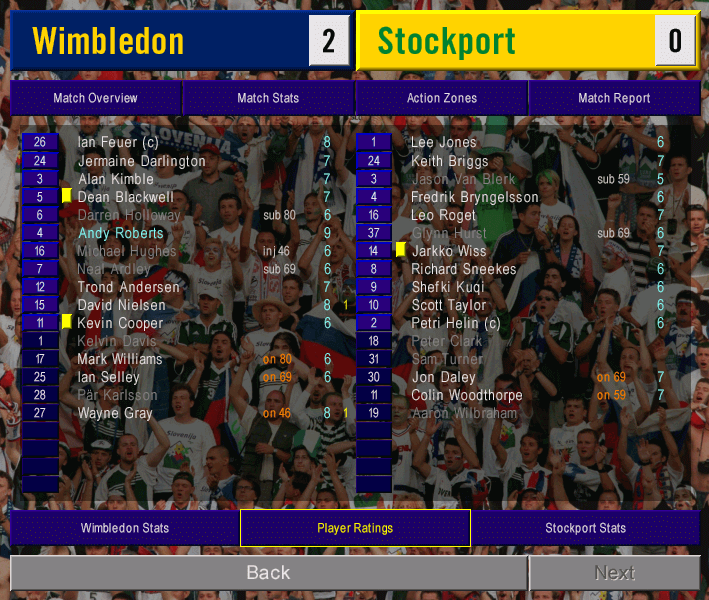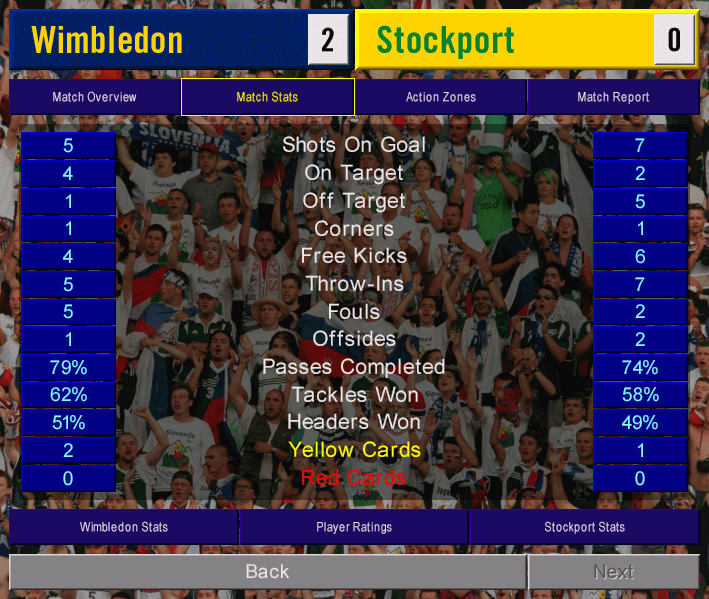 The match started dully and we struggled to really get a foot on the ball, saying that so did our opposition. A couple of yellow cards, one for each side, and the fans were happy to hear the half time whistle. I noted that we had not had one single shot in the first half and was starting to think that the preseason wasn't lying because we had played big clubs. I thought for a minute about changing the team but decided to stick with it for at least the next 10 minutes. That plan was torn up after one minute of the restart as Hughes, playing in what seems like cursed position of right wing was fouled and his game was over. Only having another left winger on the bench left me short. Do I play Par Karlsson out of position or do I throw caution to wind and place young Gray upfront, moving Cooper into an AMC role. Remembering that we were yet to have a shot, I plumped for the latter and gave Gray his Wimbledon debut. The fans were excited to see the future out on the pitch and they were even happier 3 minutes later when Gray was set through on goal by Andy Roberts: the youngster lashed home a volley from just inside the box to put us one nil up! 6 minutes later, we were 2 nil up, with Nielsen capitalising on a Cooper parried shot to give us some breathing space. The remaining 40 minutes were nailing biting as Stockport put long ball after long ball into the box but Kuqi put all 3 of his headed chances wide. Finally, the whistle went and we had started the season with 3 points! Even though Roberts was awarded the MotM, credit must go to debutant Gray who really changed the match with his direct running at the defence.
Before the next game came around, I received my first batch of scout reports from my team. A fair few of them interested me but many were not interested in us or far too expensive. I managed to convince one player to join, however, for the not too shabby fee of £30k. Enter Peter Weatherston from Scottish club Queen of the South.
At 21, he may be one for the future but I am impressed with his high stats for finishing, jumping and pace. Hopefully, I can rotate between Weatherston and our new hero, Wayne Gray.
Our next match is a trip to Sheffield Wednesday who, according to my scouts, are a very strong team who play an attacking 4-4-2. I had a look at their squad just to see how strong they were, and was immediately greeted with Gerald Sibon, Andy Hinchcliffe and Wimbledon legend Efan Ekoku. I was a lot less optimistic about this game than I was the first one, however I decided that I would stick to the formation that we ended with against Stockport. Especially, seeing that we were now severely lacking in right wingers. In the build up to the game, we also lost Darren Holloway to a thigh strain, meaning that I have to promote Chris Wilmot from the reserves to take up the space on the bench.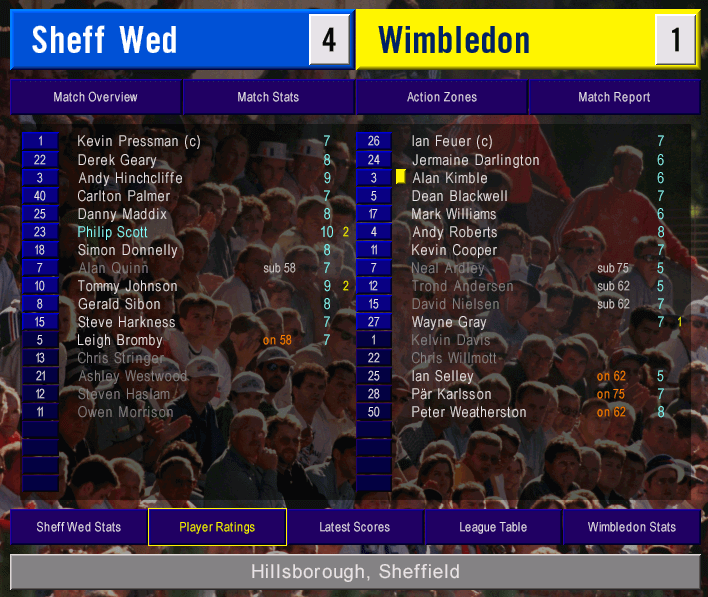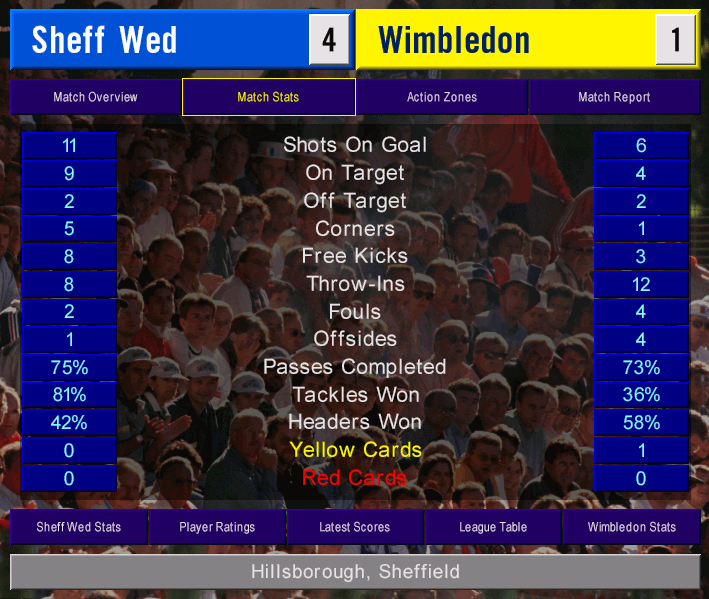 Woah. Maybe in hindsight, it wasn't a good idea to go toe to toe with Sheffield Wednesday. The Owls were 2 nil up before youngster Gray scored his 2nd goal in only his 1st start for us to claw us back into the game. That lasted 3 minutes before the 2 goal lead was restored, and another one was added before the final whistle blew. They left Ekoku out but his replacement Tommy Johnson tore us apart. He had 6 shots, with all 6 being on target, coming away with 2 goals. Centre midfielder Philip Scott matched Johnson's contribution with two goals. To be truthful, we weren't that bad, but the home team was just too ruthless for us and we struggled to make our chances count.
Only three days later, we played our first cup game of the season at home against Second Division Reading in the League Cup. I'm hoping for a cup run in order to get some money into the coffers. They had started their season with a 1-0 loss against Cambridge and a 2-0 victory against Colchester. They played a 4-4-2 formation with attacking full backs. Hopefully with our front 3 we will force them back and stop this threat. I will use some of our youngsters in order to save legs, including a first start for Weatherston who done well after coming off the bench against Sheffield Wednesday.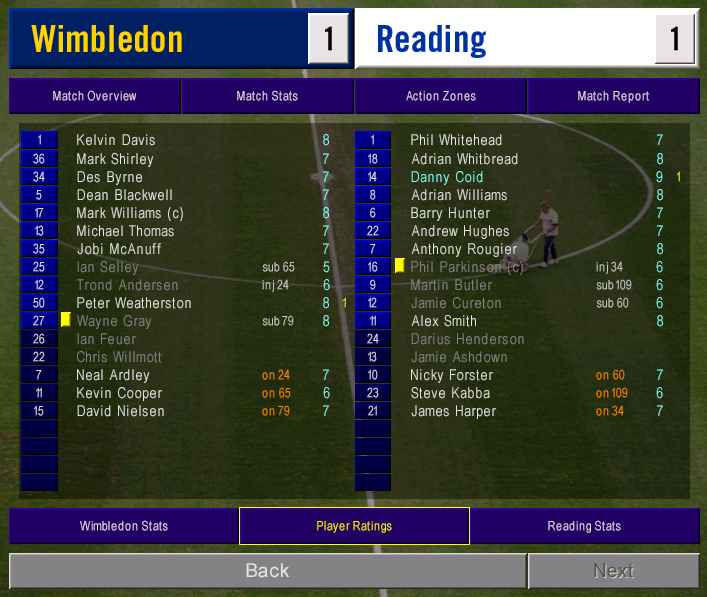 And it started so well for Weatherston! He and Gray linked up very well together and we were creating lots of chances. One of them was converted by Weatherston to give him his first goal in a blue shirt. He showed his high jumping attribute by climbing above Williams and powering it past the keeper. We carried on creating chances in the first half without any further reward. In the second half, I decided to change things up by bringing on Cooper for in effectual Selley. This meant going back to the two wingers. This didn't work out too well and we struggled for the rest of the game. Reading got themselves level with 10 minutes to go as they pushed everyone for the equaliser, with a header from left back Coid. I was genuinely worried as the game was forced into extra time. I thought that we would be knocked out and it would be my fault because of the change in formation. I got even more worried when the game went to penalties but I needn't have bothered; Davis saved 3 of theirs and even though we missed two, we were still through to the next round.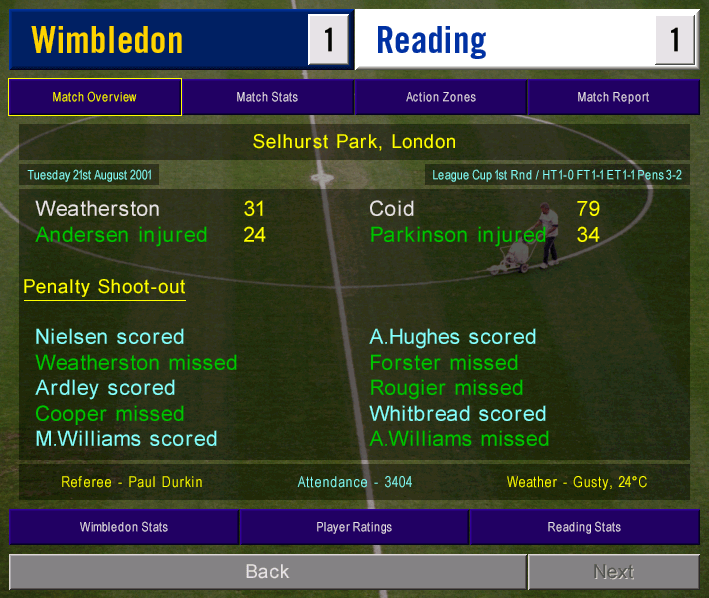 Before our next game, I found out that our next opponent in the cup would be Brentford, another division 2 team. Even better, though, was that it was another home game.
Our next league game was at home against Walsall. Walsall were struggling already, losing 5-0 and 2-0 in their opening two fixtures. They also struggled against Tranmere and only managed to scrape through on penalties. They do, however, have a group of continental players. This includes the likes of Herivelto from Brazil, Jorge Leitao from Portugal and the Spanish duo of Aranalde and Matias. They play a very similar formation to Reading and I decided to stick with the 2 man young strikeforce of Weatherston and Gray.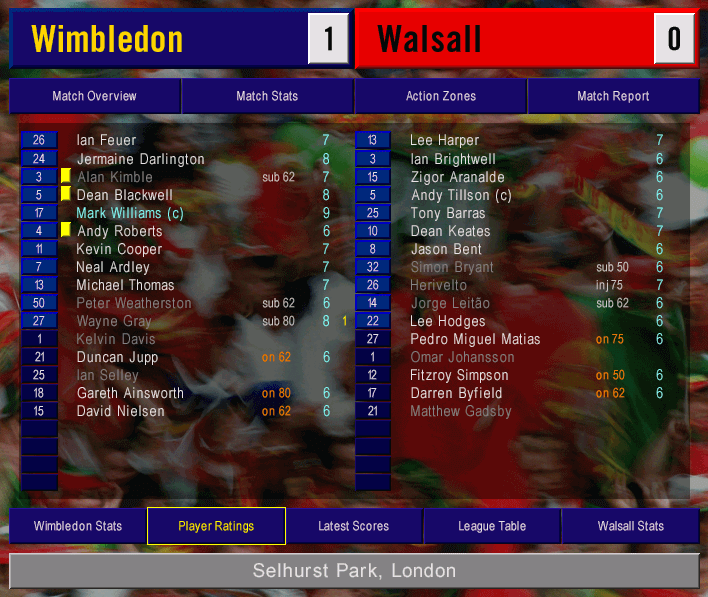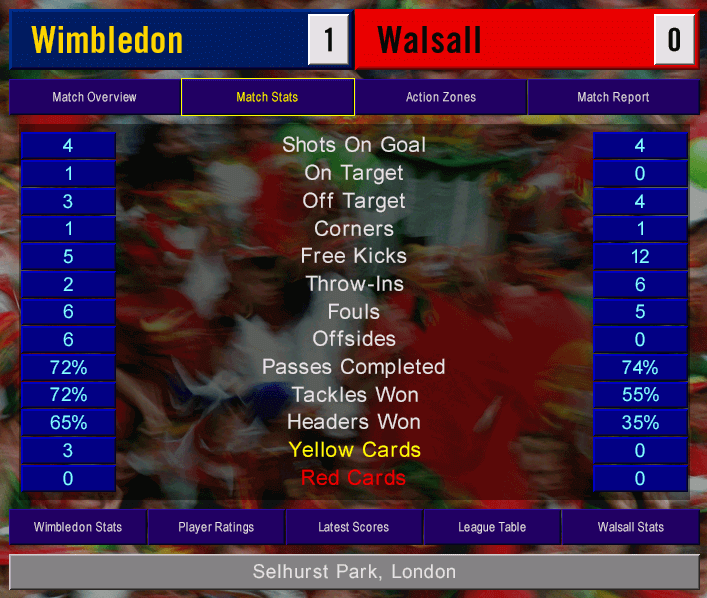 The match also went the same way as the Reading game, with a quick goal to put us ahead and lots of chances for us. We didn't make any more of these count though as let the opposition put us under pressure. Our goal came from one of our young strikers as Wayne Gray scored his 3rd goal of the season with a left foot strike from just outside the box. Lucky for us though, we had a bad day at the office in a game that we could afford to as Walsall did not offer much going forward. In the second half I tried to force the game by using the substitutions but it did not have any desired effect.  I was happy when the game finished as it meant that another 3 points in the bag.
Our last game of this month came two days after the Walsall game against high flying Wolves. My scout team told me that Dave Jones likes to play a 4-1-2-1-2 which is similar to ours, and that they like to control the team from the centre of midfield. I decided to go a bit more defensive in that, this is a game that we should be lucky to get a point from. This meant a recall for David Nielsen, who would be the only one up top, with Ainsworth and Cooper taking up the wide midfielder roles.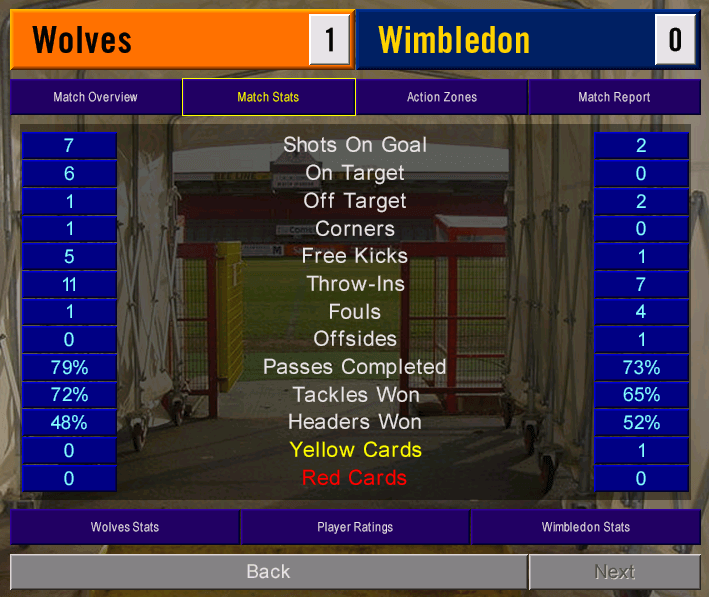 Well I'm not too disappointed with that result as I was expecting to win but just didn't want to be embarrassed. After 10 minutes, I started to fear the worst as we let in an easy goal. But after that, we weren't really troubled. We did create any chances at all until I brought on Gray and went back to two up top. We still only had two shots but we didn't let any more in, which was the main thing in this game. Although, after the game I get a message from the Board saying that they were unhappy with the performance in the game. I agree, as we only had two shots all game, however, it was a much tighter performance than that against Sheffield Wednesday.
All in all, it's not a bad month for us in my opinion. We have won twice and lost twice in the league and got through in the cup. Next month sees us play 7 times, including that cup tie against Brentford. If we are still in the top half at the end of next month, I will still be happy.
Join us again soon for the next instalment of 'Saving Wimbledon'.
If you have any comments regarding this Wimbledon journey please comment below or tweet us @thehighertempo.