A Kolnoscopy Challenge

The Bundesliga Tale: Season 5: 1
Extract from the Managers diary:
'Roses are red, violets are blue, where are you Gary? I miss you.'
The beer slides down the back of my throat with ease. Wonderful this stuff, I thought. Tasty and good quality. None of that rat poison they serve back in the UK. After a fairly successful first season in Germany I feel satisfied with my start at the club and I'm looking forward to the future. Ah *sips beer*, yes, this is the life.
Transfers:
The fun part, transfers. After an eventful end to my [half] season in charge I've had time to assess the squad and who is and isn't in my plans, I've also deliberated on positions I need to strengthen. The board has entrusted me with a £30 million budget to spend on any new players I desire. 'Thirty-fucking-million?' I screeched. That's like five million multiplied by six, or ten million multiplied by three. Or thirty million penny sweets! What the hell am I going to do with all of that?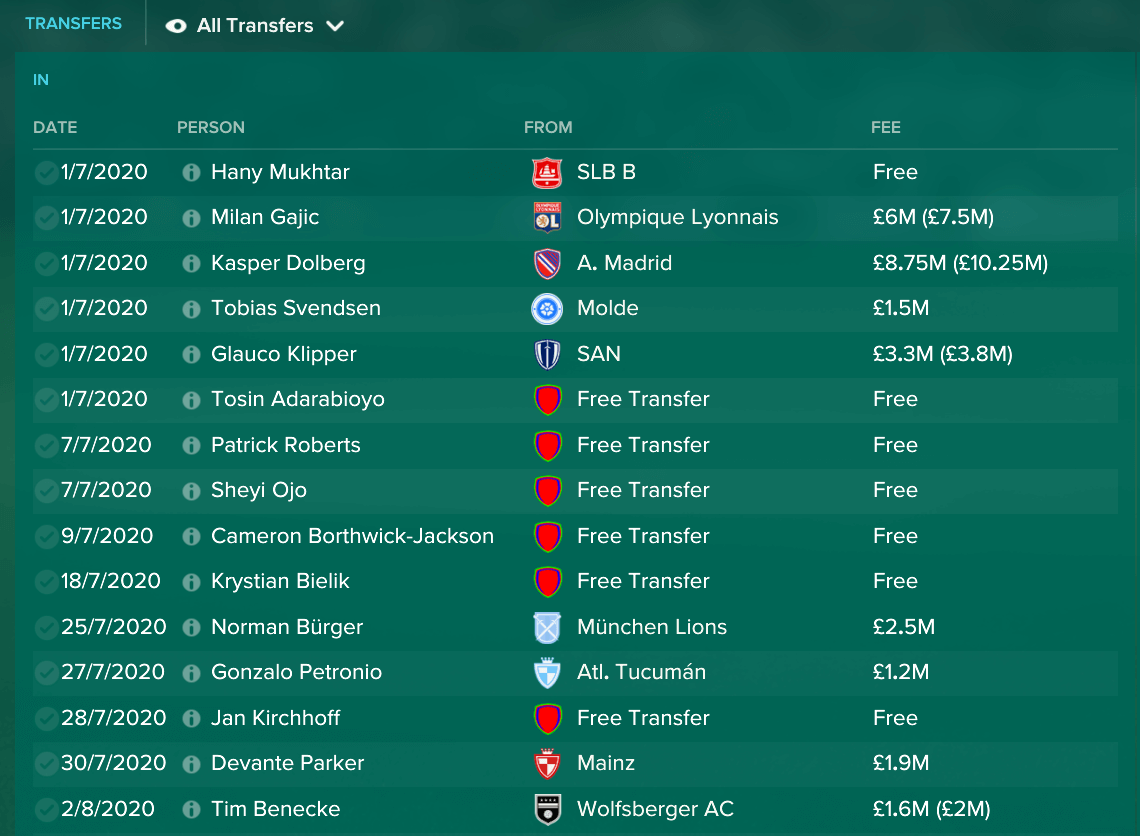 Apparently quite a lot…
Incomings:
I have plans to overhaul not only my first team but also Koln II as I want to create a club full of talent. The aim is to have it so the u19's will be for 16-17 year olds, Koln II will be used for 18-21 year olds or players I'm looking to make some money on (I'll explain this in greater detail later) and there is a clear pathway to the first team. Therefore I'm hoping to install a seamless transition for the young players coming into the club, with tactics set as the same right the way through, and thus making the important steps up to the first team that little bit easier.
I brought in fifteen players in total. I'll be honest, I'm a sucker for a bargain and there was plenty to be had this summer hence the massive incoming amount. Almost every player I went for I got on the cheap as well which is always a bonus.
First Team:
Hany Mukhtar – C/AM: Free. 24 years old. Brought in for rotation but the lad has talent. Problem is, will he get the game time?
Milan Gajic – RB: 24 years young. £6 million. I'm excited about this signing, he will be first choice at RB and arguable one of the most important I've made.
Kasper Dolberg – ST: 22. A measly £9 million for potentially a top, top talent.
Glauco Klipper – ST: £3.3 million for the 18 year old Brazilian. Potential to be one of our best players in the future. What a name too.
Tosin Adarabioyo – CB: Free. At 22 he could be a decent squad option, or sold on for profit.
Patrick Roberts – R/LW: Free. I'm pleased about this. He has a big task to become apart of the regular starting 11 but has the talent to achieve it.
Sheyi Ojo – R/LW-CM: Free. 23 years old. Squad player but worth a punt.
Cameron Borthwick-Jackson – L/CB: Free. Decent cover for the time being. Might sell for profit.
Total: £19,550,000.
Koln II:
Tobias Svendson – LW: £1.5 million, only 20 and could claim a spot in the first team eventually.
Krystian Bielik – CB: Free and at 21 will likely generate some cash.
Norman Burger* – DM: £1.5 million. At 19 he has the most potential to make it into the first team.
Gonzolo Petronio* – DM: £1.2 million for the 19 year old Argentinan. He has the potential to move up too.
Jan Kirchhoff – CB/DM: Free. At 30 years old he is brought in to tutor some players before being moved on.
Devante Parker – RW: £1.9 million for the 23 year old. My scouts brought him to my attention. Potential to make the first team, or to be sold at a big profit. Could go either way.
Tim Benecke – CB: £1.6 million. Potential to be a good player and only 20.
Total £7,200,000
Grand Total: £26,750,000.
A lot of money hey? A shit tonne, even. Marginally more than I've got buried in my back garden. Only just. But spread over the cost of 15 players it works out at roughly £1,800,000 per person, as seven were signed on a free. And that certainly makes it seem reasonable, doesn't it? See, the problem is, from the moment the summer began, offers flooded in from every corner of the earth for my players and it was something akin to a fire sale. So many players were leaving my three squads that it was important to try and replace them with something similar if not a better quality of player and I feel like I've definitely achieved that in the lower squads. However. And I would like to highlight this however with an impression of great importance. However, in hindsight (as I'm currently entering January), I've come to realise signing players as a stopgap for the first team is a dangerous tactic, especially if the stopgaps are to plug your defence. I shall enlighten you later, my dear reader.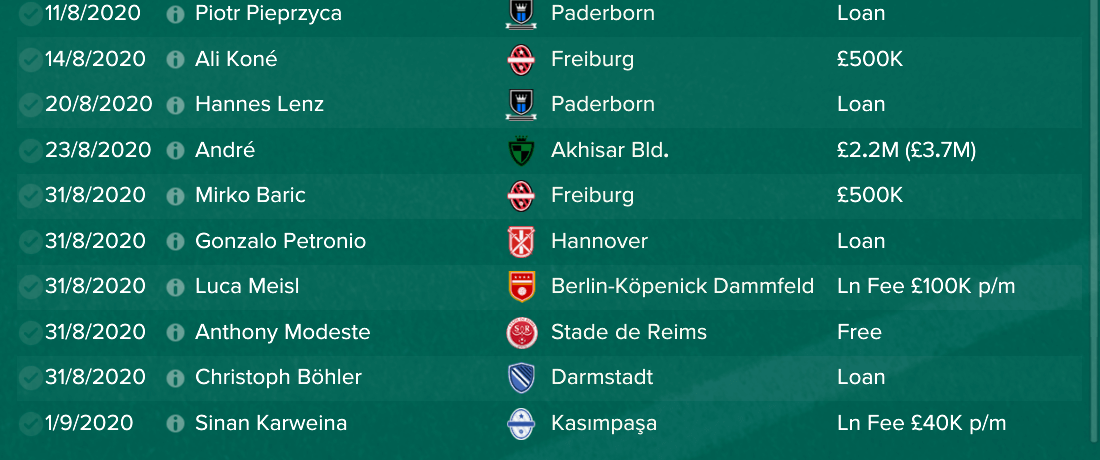 Outgoings:
Thirty-six players left the club. Only seven of those were on loan as, like I've explained, I intend to keep players learning at the club. Meaning twenty-nine were released or sold. A tremendous amount of outgoings, from all three of my teams. Plenty of which are young players not good enough to be signed professionally, or not good enough to make the step up to our first team, that is to be expected, as there is always plenty of shite joining the youth ranks (sort it out Head of Youth!). There was some notable departures though.
Andre left for a whooping £2.2m. I say whooping it isn't actually a huge sum of money but then he is 30 years old and picking up £40k p/w and was surplus to requirements so I was whooping. Marco Hoger was similarly picking up big wages and not performing so he was given the boot too. Most notable of all the departures was Sorenson whom left to join Sampdoria for a cushy £7.5m rising to £10.5m. Not a massive fee but a good one. Those who left us in the first team were backup players on big wages. Where is the logic in that? Paying some soft bastard to sit on the bench and pick his nose all season. I mean, if we had Europe things would be different, as the added games would have kept them happy but we don't need a massive squad this year. For that reason now is the time to trim the fat and rebuild the squad.
Grand total: £17m.
That means we had a net spend of about £10 million and dropped the wages by £200,000 per month and gained a much healthier squad for it. I'm happy enough with that. For now…
Right, as an aside note I'm going to be trying something else this season too. Sheyi Ojo and my two central defenders Cameron Borthwick-Jackson and Tosin Adarabioyo were brought in with the intention of making a quick profit. None of them are of a particularly high quality (they're all marked out to be or are currently 3*) and will therefore be used as part of my new money making scheme. Indeed, the new players for my 2nd team, Koln II are being blooded in preparation for possible promotion to the first team (Petronio & Burger), or as a way of generating further profits (Bielik & Kirchoff). This is a new plan I have for the future. I shall look to sign players released on a free or being sold for pittance in order to re-sell them for a higher profit after a short period of time. In the mean time I'll have them playing occasionally in the first team as cover or in Koln II to build up their value. I've always been a bit of a wheeler dealer in Football Manager and so this is an opportunity to make the club some extra income. Your welcome guys. I'll see how it works out and whether it is worth continuing next season. Regardless, I'll keep you all updated.
Fixtures & Results:
Potentially a bit of a nothing year this, with us being way off the title challenging pack quality wise. It is really about rebuilding the team and hopefully qualifying for Europe which is a shame as I enjoy winning things. Almost as much as I enjoy breathing. And winning is a necessary habit you need to ingrain in the club much like breathing is. Y'know, 'cause otherwise you die. Metaphors. That hunger to win something is solidified by our failure to win anything last year. It was my first season in management I've gone home empty handed and I didn't enjoy it one bit. This season our only realistic chance of silverware is the German Cup. The board expects us to reach the Semi-final like last year. I'd like to surpass that but that is dependant on opposition. Simply put Dortmund and Bayern are much better sides than us at the moment, so we'd be lucky to make it past them.
German Cup:
Our only chance of winning something this. We've played two games, beating Aue, as in 'Aue the hell are they?' 3-1 in the first round. That meant we were through the early stages and drew Hamburg in the second round. Not a bad team, Hamburg. Currently sitting in a comfortable(ish) position in mid-table in the league so not some minor league minnow team. However, we walked away with a comfortable 2-0 win, even though we played away. Next up we've drawn Hertha, another decent sized team from our league. Where the fuck are the easy games hey? The game will be played in February. Wish us luck.
Friendlies & League:
'How many friendlies have we lined up this year boss?' The new lad Patrick Roberts asked. I've got a reputation of under training my teams in pre-season and it was not a mistake I was willing to make again. Much to the lads surprise.
'Seven. Better start running you fat bastard.'
Seven games to acquaint the new lads with our tactics. Seven games to get the players fit and ready for the new season. Some of them are big teams too. Schalke, Juventus, Zenit and Independiente. Good opposition, teams that would test my boys. Four against top teams and the final three were against weaker sides such as Hennef, Osmanlispor and Alanyaspar. This was a deliberate decision as I wanted to give the team a confidence boast so morale was high before the first kick of the ball of the competitive season.

As you can see six wins out of seven and one draw against arguably the best side we played in Juventus. Good, I thought. We've not been embarrassed and the new lads have an idea of what we expect.
The season started well with a 4-3 thriller against Schalke. I was made up with that because we struggled last year against them. It filled me with hope for the season. Maybe we've progressed significantly more than I anticipated. Maybe, no I shouldn't even think it–ah fuck it–maybe the title challenge will be on this season after all?
Nah.
Football Manager is ever brutal and was swift to bring me crashing back down to earth as we were beaten 2-1 by newcomers Bochum.
'Bochum? Who the fuck are they?' I screamed. 'Fucking embarrassing. You've just been beat by a bunch of semi-professionals. One of them is a dentist. One of them is claiming benefits for spinal paralysis for fuck sake.'
The team got the gist. We beat BMG and Ausburg and left Frankfurt with a draw. Seven points from nine isn't so bad. Next up, Bayern at home. 'Come on lads, they aren't invincible. We can beat this gang of twats. I believe in you.' Unfortunately they didn't believe in themselves and we lost 2-1. 'Shithouse's,' I snarled.
We then beat Mainz and Hamburg convincingly but just as we were gaining some momentum again we travelled to Dortmund. Despite my initial shitty undies it ended up being a bit of a slug-fest. Dortmund took the lead 2-0, we came back with a couple of goals making it 3-2 to them. We then scored again to make it 3-3 late on. Then, the cruelest thing happened. The football Gods intervened. With one hand they giveth, with the other they sticketh their thumb up ye old arse. A lump up from their goalie, a misjudged tackle from my tired midfield and on the 93rd minute of the game and the final minute of extra time, the bastards only went and scored their fourth. 4-fucking-3. Gutted. Their crowd was screaming with joy. Their lads were grinning from ear to ear. Their manager Thomas Tuchel collapsed in ecstasy and relief and, as I pointed out to the fourth official, masterbated openly on the field. And somewhere, looking hugely disgruntled and with clenched fists, was me.
'Redeem yourself lads and quick.'
The threat of violence kickstarted a five game unbeaten run, with two disappointing draws to Wolfsburg and Leverkusen and three wins against RBL, Stuttgart and Hoffenheim. Better I thought. I can accept the odd draw, but losing really grinds my gear. We may not win the league but I have no intention of rolling over and accepting to be someone else's wank-blanket in the mean time. If you can't win every game, at least don't lose them.
Ahem. Bremen beat us 2-1 away.
Anyway. Our final two games of the first half of the season was against two of the teams fighting against relegation, Braunschweig and Hamburg St. Pauli. Overall it ended in a 5-0 whitewash and saw my lads head off for a short break over Christmas with a smile on their faces. 'Have some time off boys. Enjoy spending time with your families. Walking yours dogs. Buying a sex doll. Whatever footballers do these days.'
That meant we ended our first half sitting fairly comfortably in 3rd position with 10 W's, 3 D's and an annoying 4 L's.

As I've set myself the target of Europe next season I'm pretty pleased with our league position. However, I feel like we still have much more to do as a team to progress into title contenders.
Just to delve a little bit deeper I took a look at our goals for and against.
We are constantly being praised for our goalscoring ability and this is confirmed by:

That's fine. As shown above we are joint 1st as the leagues top goal scorers with 38 goals coming in 17 games alongside of Dortmund, who are currently the league leaders. However, our goals against statistic makes for a much grimmer reading:
We've conceded 24 goals in 17 games. Twenty-four? Nah, that can't be right… Nope, 24 goals. TWENTY-FUCKING-FOUR. When I saw that I was raging. I know my team plays attacking football so I'm prepared for us to concede if caught out but that is ridiculous. Bayern, who have scored only three fewer than us, have conceded only 8 times in 17 games. We've conceded three times that amount. I can't believe it. I know my CB's aren't the best in the world, or let's be honest, the league, but that's taking the biscuit. Taking the biscuit, scrunching it up in your hand and pissing on it. January is upon us soon so I will most definitely be looking to change that by bringing in a better standard of player. Some of them have been getting too big for their muddy boots anyway. Twats.
Miscellaneous:
My main man Vincent Aboubakar only went and got himself named African Footballer of the Year didn't he?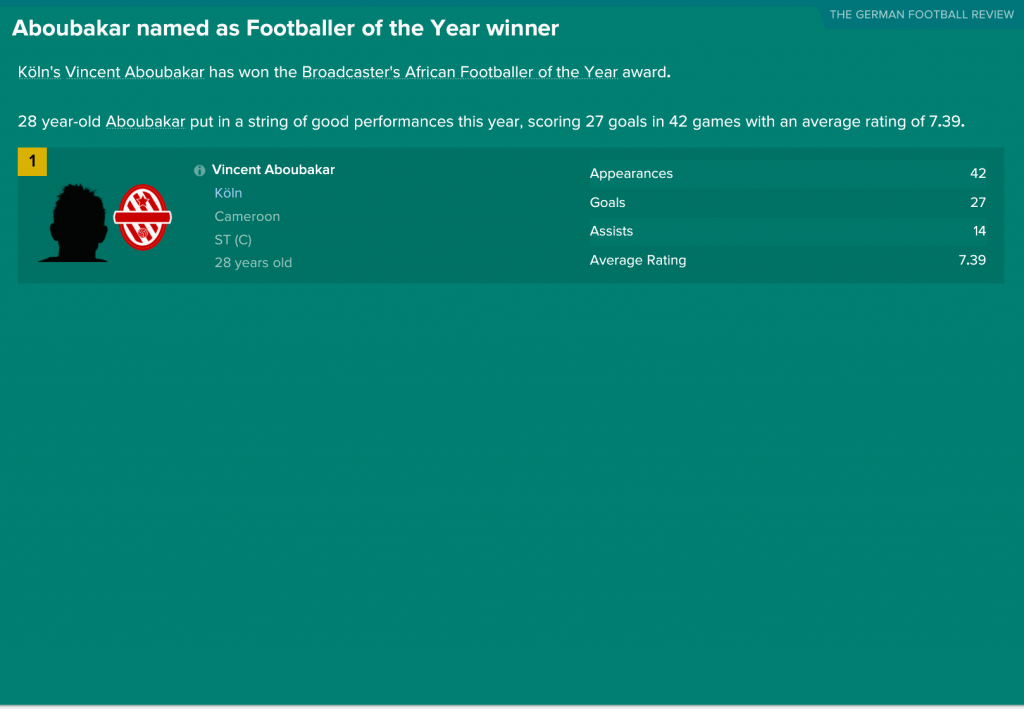 No surprise with him performing as well as he has for me. He managed 27 goals in 42 games and 14 assists. Naturally with him winning this accolade he was also named in the team of the year too: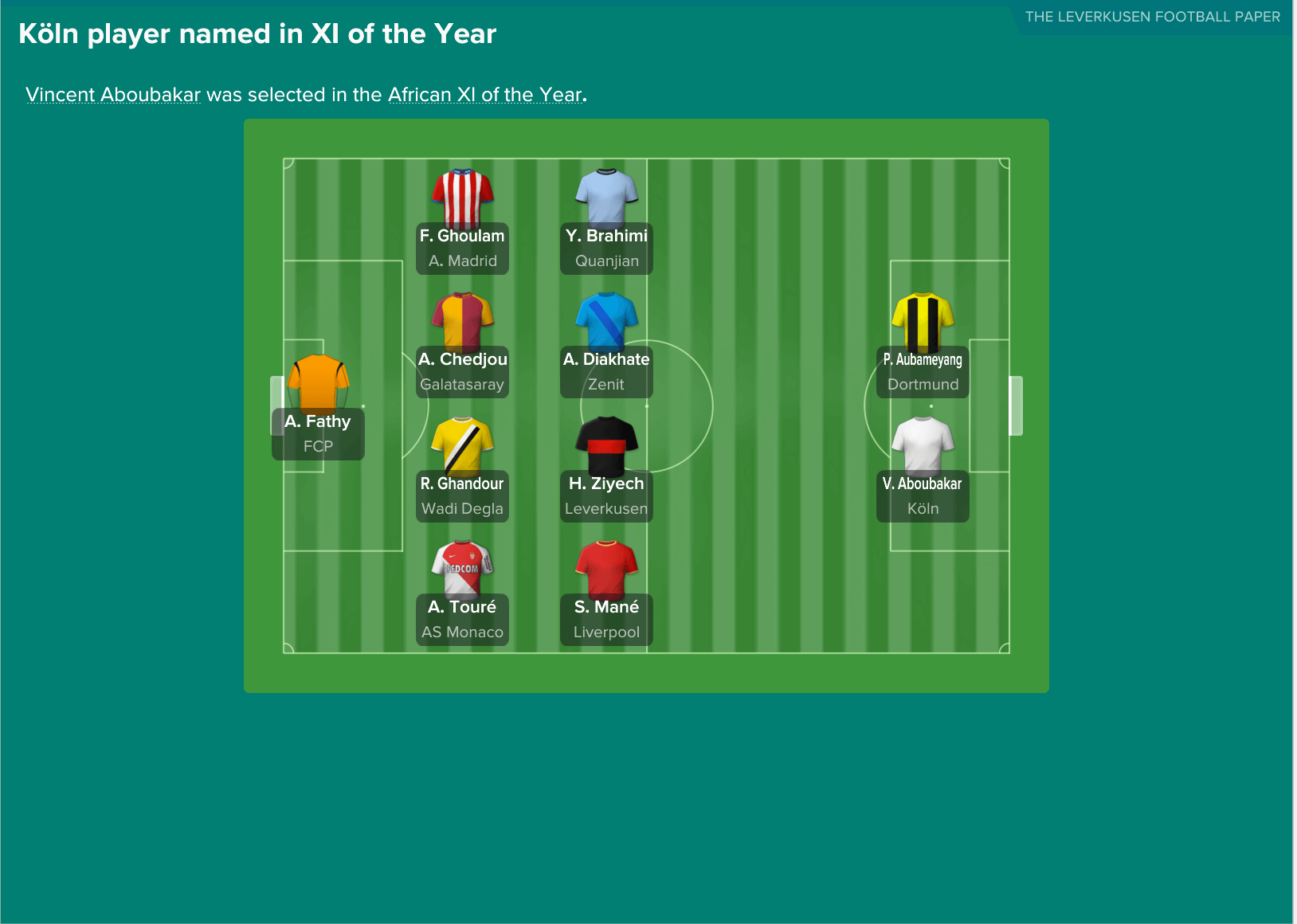 Well in mate, good on you. (You're welcome.)
Election Fever:
So, out of the blue I received a rather interesting email. No, not the one about my Lawn Mower monthly, it was this:
I was slightly unnerved to be honest. How will this affect me if the current President is ousted and replaced by a Hitler reincarnated? Club politics is murky water and not something I wish to dive into if I can help it. Finally, a few weeks later the vote took place and I waited anxiously for the results. Drum roll please…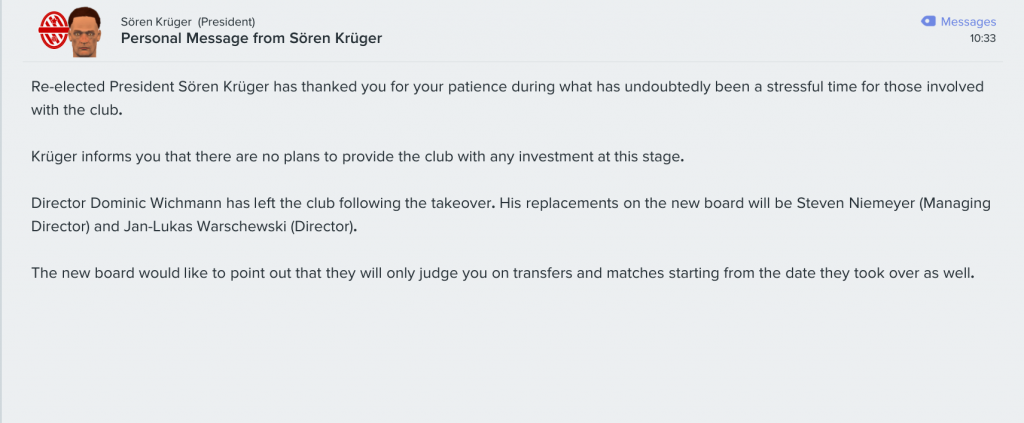 To my delight, my close friend and father-figure Koren Stoger was re-instated. Thank Christ. Life is as it was. And breathe…
Stadium:
One of the key reasons for me choosing to join Koln was the quality of the facilities. So it was with great surprise I later realised that the club doe not actually own it's 50,000 capacity stadium, the council does. Wot. Da. Fuck. I was not impressed. I stormed into the boardroom and slapped my hand down onto the mahogany table.
'This is bullshit. A club of our size should own it's own fucking stadium. What is this? Amateur hour? Aren't you all embarrassed that all that money we generate isn't filling our own coffers but those of the local government? Fuck that shit. I won't stand for it. I expect you to buy the stadium and I expect it done now.'
I slowly gathered my breath back as the anger fizzled out of me and formed into feeling slightly embarrassed.
Stoger looked at me with those piercing blue eyes. 'Okay, Frank, no problem,' before giving me a winning smile.
'Oh. That was easy.'

Nur ein Karnevalsverein.
Up the Billy Goats.