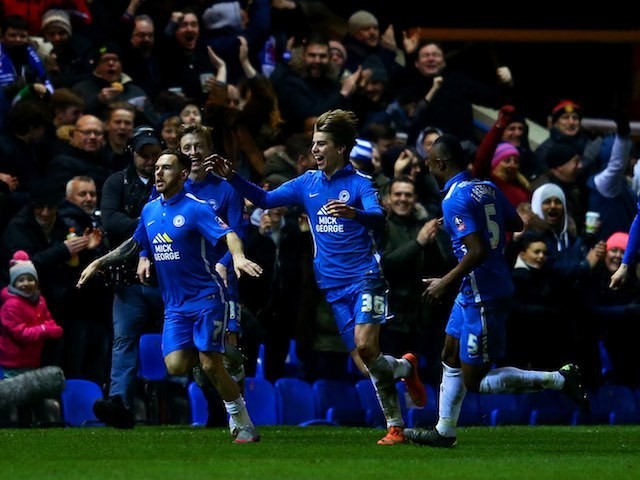 Hello everybody and welcome back to my FM17 career mode with the mighty Peterborough United as I hope to take us from the lows of League One to the dizzy heights of the Premier League. Can I do it? Probably not but it's worth a crack.  Last time out the journey began and it began quite well as we are currently 4th in the league and in the second round of the EFL Cup.  We have a few injuries in the midfield so again the loan market is becoming my poundland and those fringe players in the Prem are coming to the land of the Boro. In today's episode we have big games in Everton in the Cup and MK Dons in the league. COME ON BORO!
Breaking Transfer news: Peterborough United have secured the signings of midfielders Kalvin Phillips and Filipe Melo from Sheffield Wednesday and Leeds United respectively.
August 20 2016
I best put on my best suit as me and the boys travel to the luxurious realms of Oxford in this league one fixture. This will be a big test for us as I look to see what kind of mentality the boys have after that defeat against Milwall. After impressing me against Stevenage Nathan Oduwa gets his first league start. Here is the lineup: McGee (GK), Smith (RB), Bostwick (CB) , Tafazolli (CB), Angelino (LB), Zelalem (CM), Forrester (CM), Moncur (CM), Oduwa (RW), Maddison (LW), Coulthirst (ST).
Result
Fantastic result and a terrific performance from the boys. We came in wearing our custom Asda range and came out wearing our finest Gucci. We were just clinical today and my decision to play on the counter is working. Marcus Maddison scoring twice and overall he had a fantastic game and is proving to be instrumental for our season. Ryan Tafazolli bags his first goal for the Posh as well. On to Everton in the cup. COME ON BOYS!
August 24 2016
The cup journey is well underway and up next is a relatively tough game, we have Everton at home. It's fair to say the tactics for this game, well that bus is getting parked. I am hoping for an upset but more than likely our cup run will come to an end, however there is always hope we can pull it off. COME ON BOYS!. We make one change to the lineup as Oduwa drops out and Gwion Edwards comes in.
Result
I can't complain about that, we pushed Everton all the way and unfortunately the road to Wembley through the EFL Cup has come to an end. There was a few things I was slightly annoyed at, we should have had a penalty, we had a goal ruled out for offside and their winning goal….well Michael Bostwick doesn't go down easily but he got taken out and no free-kick. Again I can not complain…..
August 27 2016 -Mk Dons
The first big derby game of the season and we face a team who are currently sat at the top of the league and a team who have only been around for 12 years (there was a little jibe there) in Mk Dons. Oduwa has been impressing me lately so he keeps his place from the Oxford game. Filipe Melo makes his first start for the Posh as well and lets face it I really want to beat these lot. COME ON BOYS!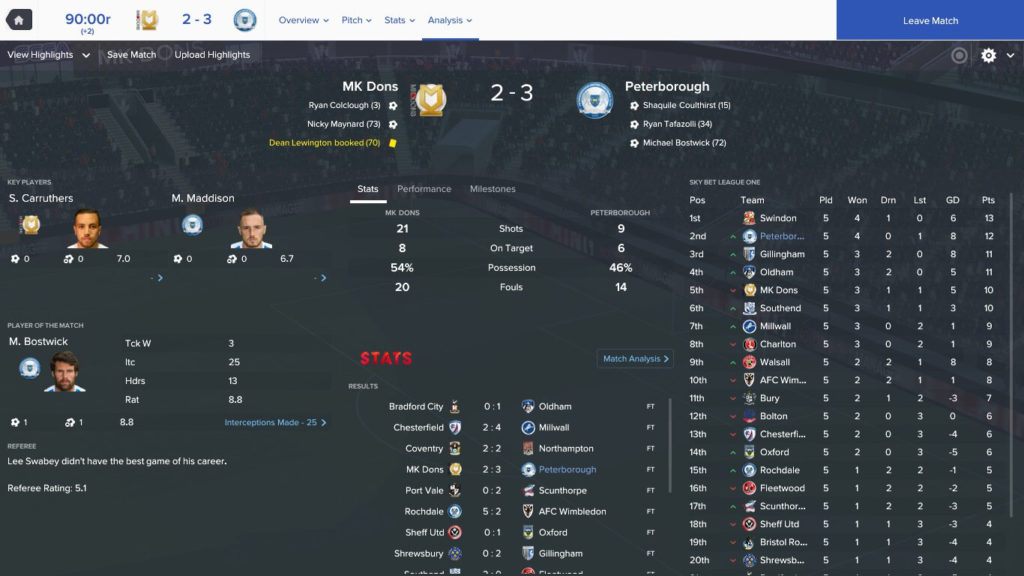 Dean Lewington, Pete Winkleman your boys have taken one a hell of a beating today, a hell of a beating. GET IN THERE! Big 3 points for the boys as end August in the top two of league one. Coulthirst bagging yet again, top scorer of the league so far, he is going to be key for us you would think. First big derby out of the way.
August 30 2016- Southampton under 23 (a) – CHECKATRADE TROPHY
Shame I can't tell the players we are not travelling to Southampton because lets face it we should boycott this pathetic competition. Right now I have got my feelings about it out there, we are up against  Southampton Under 23's away from home. We know that Southampton have a great youth system, so we will look to take advantage of the lack of experience. Since it's this competition though I expect to be playing against 27 year old bright English prospect in DUSAN TADIC
Result

I know I am bitter but we lost to an under23 side who played a 27 year old Brazilian Sandro, which is great for English football by the way. The highlight of the game was how accurate FM showed the amount of fans who bothered to turn up to the game. Sports Interactive Well Done Sir, we salute you.
September 10 2016 – Port Vale (H)
After the great month we had in August we have our first game for September, a home game against Port Vale.  August was made even better when Coulthirst won Player and young player of the month, so at the minute he is on fire.
Result

Two points dropped simple as. In the second half we really went for it after the horror show in the first half. We are still in the top 6 but unfortunately MK dons have now gone ahead of us in the league. Paul Taylor popping up with a peach which was great to see.
September 13 2016 – Swindon (H)
The last game of this episode and we take on high flying Swindon at home. After dropping two points at home to Port Vale, the gaffer is making a few changes to the lineup from the Vale game. Angelino, Oduwa and Zelalem come in to the side, as we look to end today on a high note.
Result

Who needs a striker when you have Ryan Tafazolli? A big win which takes us to the top of the league 7 games in. We should have scored more we know this but we will only get better as the Posh go steaming in!
That is it for today ladies and gentlemen. I am really enjoying writing these so I hope you are enjoying them as well.
STAY CLASSY!