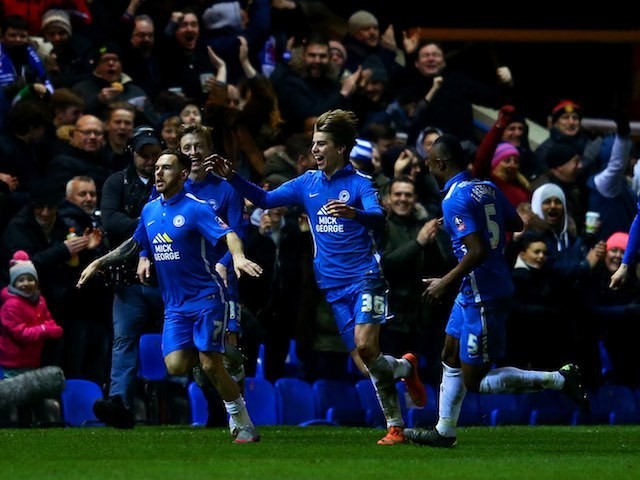 Hello everyone and welcome to the first episode of Upon this Rock. I am delighted to get this opportunity to write my adventures on FM17 on The HigherTempoPress and hopefully you guys enjoy what I am writing. I have decided to take the mighty Peterborough United from the lows of League One all the way to the promise land of the Premier League. There will be ups, there will be downs but hopefully we can get there (otherwise this would be a waste of time). Let's do this…

The transfer window is a huge part of any teams chances of achieving their target as if you don't make those key signings,then you will struggle and inevitably you will be in the unemployment line quickly than you think. The loan market is a godsend for teams like us as we can give youth/fringe players from the higher leagues and give them the chance to play on world class turf.
I have a few targets in mind, well I say a few….
Angelino (Man City)
Teddy Bishop (Ipswich)
Ben Chilwell (Leicester)
Sheyi Ojo (Liverpool)
Axel Tuanzebe (Man United)
Maitland Niles (Arsenal)
Walker-Pieters (Spurs)
Harry Winks (Spurs)
Hopefully we can get at least a couple of those targets and to help our chances in the transfer market, the board have allowed me to set up a feeder club as well.
I have decided to play a 4-3-3 wide formation which looks a little something like this….
Pre-Season will be taken over by Barry Fry and the rest of the coaching team using my tactics and hopefully the players can learn and adapt to my system. I have also set up a parent club in Arsenal who are hopefully going to let me use their youngsters in my bid for promotion.
August 6th 2016- Rochdale (A)
Our first game of the season and we travel Rochdale in a fixture that has become a regularity with the Posh as in real life we have faced them 3 times in a row on the opening day.  We have a couple of injuries to report as Jack Baldwin is out for 11 months with a ruptured Achilles tendon and Jermaine Anderson is out for 3 weeks with a sprained ankle. The lineup for today's game is
McGee (GK), Smith (RB), Bostwick (CB), Taffozli (CB), Angelino (LB), Forrester (CM), Zelalem (who we signed from Arsenal in CM), Da Silva Lopes (CM), Maddison (RM/RW), Taylor (LM/LW), Coulthirst (ST)
Result
That is a great result to start the season off with. I felt that the players really understood the formation and the tactics as well, as proved by that magnificent result. We took the lead through a neatly worked free kick where Maddison played  it short to Taylor who peeled off his man and smashed it into the back of the net. Coulthirst then made it two with a nice accurate finish ten minutes later. I was worried that we would drop off after McDermott got one back but goals from Coulthirst and debutant Edwards seal the win for the Posh.
August 10th 2016 – Stevenage (A) EFL CUP
I know that through my previous experiences with the cup on this game that I am probably going to lose here, I know I shouldn't doubt my boys but it's just my luck I am afraid. I will be giving some players a rest and some players a chance to impress as I look to fully utilise my squad. The lineup for today is…..
McGee (GK)
White (RB)
Bielek (CB) Young lad from Arsenal
Santos (CB)
Binnon-Williams (LB)
Forrester (CM)
Chettle (CM)
Moncur (CM)
Edwards (RW)
Oduwa (LW)
Nicholls (ST)
Result
Absolutely love that. The cup run has started off in style with a comfortable 3-1 win over Stevenage. All 3 goals were crisp and Chettles goal, well you can forget about Girouds goal against Palace, Chettle beats it. Goals from Oduwa and Taylor seal the win for the Posh as we go steaming in to the second round.
August 13th 2016- Bradford City (H)
Our first game in front of the Boro faithful and we face a Bradford City side who as we all know beat Chelsea in the FA CUP. After the first two games The Posh are flying. We revert back to the same lineup as the first game except from Da Silva. Moncur comes in for him as we try and make it 2 out of 2. Come on lads!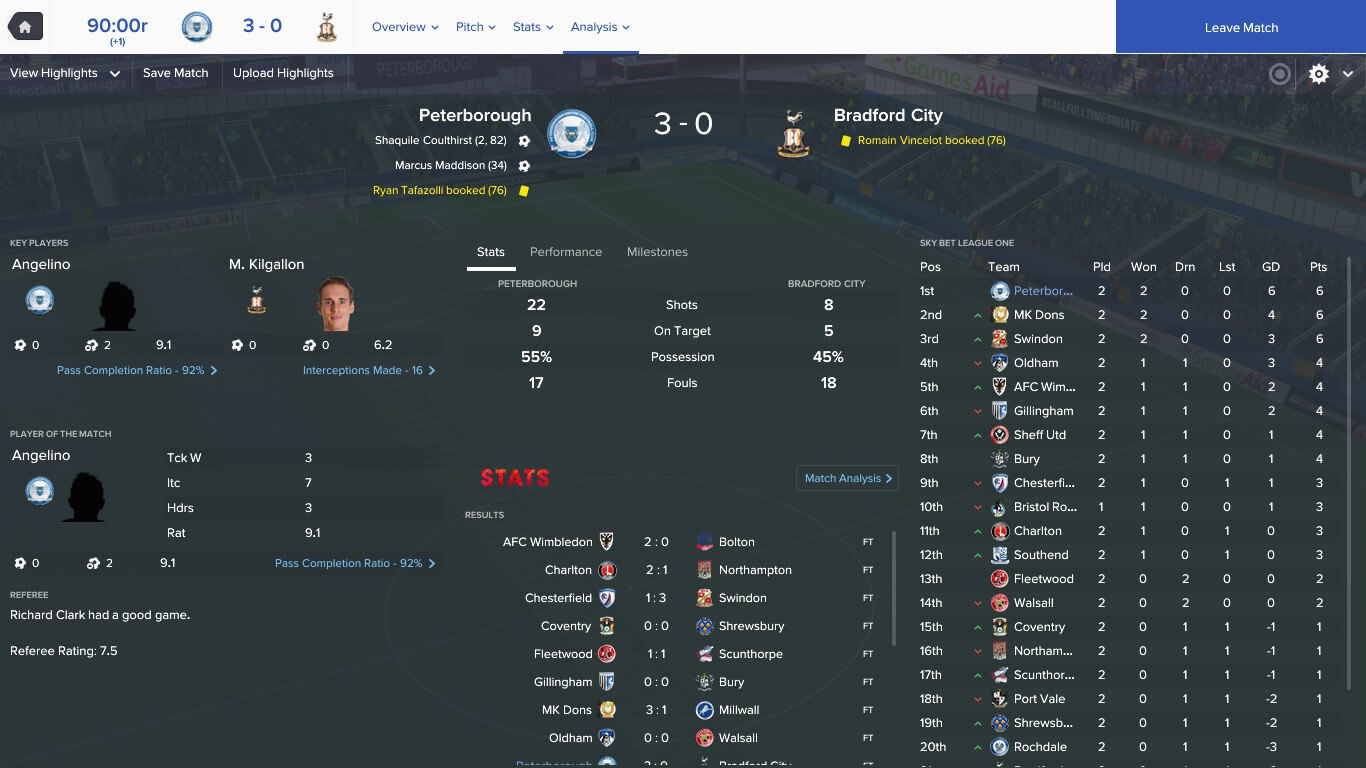 Another brace from Coulthirst gives Posh two wins out of two and we are top of the league already. Coulthirst now has 4 in his last two, which means he is a bit good not going to lie. Marcus Maddison also provided a bit of magic with a sensational free kick from 30 yards.
August 16th 2016- Milwall (H)
The last game for today and we face bottom of the table Milwall at home as we look to cap today off in style. The lineup is unchanged and it looks as though  the players are getting used to the tactics, quicker than a duck takes to water. Can we make it 3 out 3?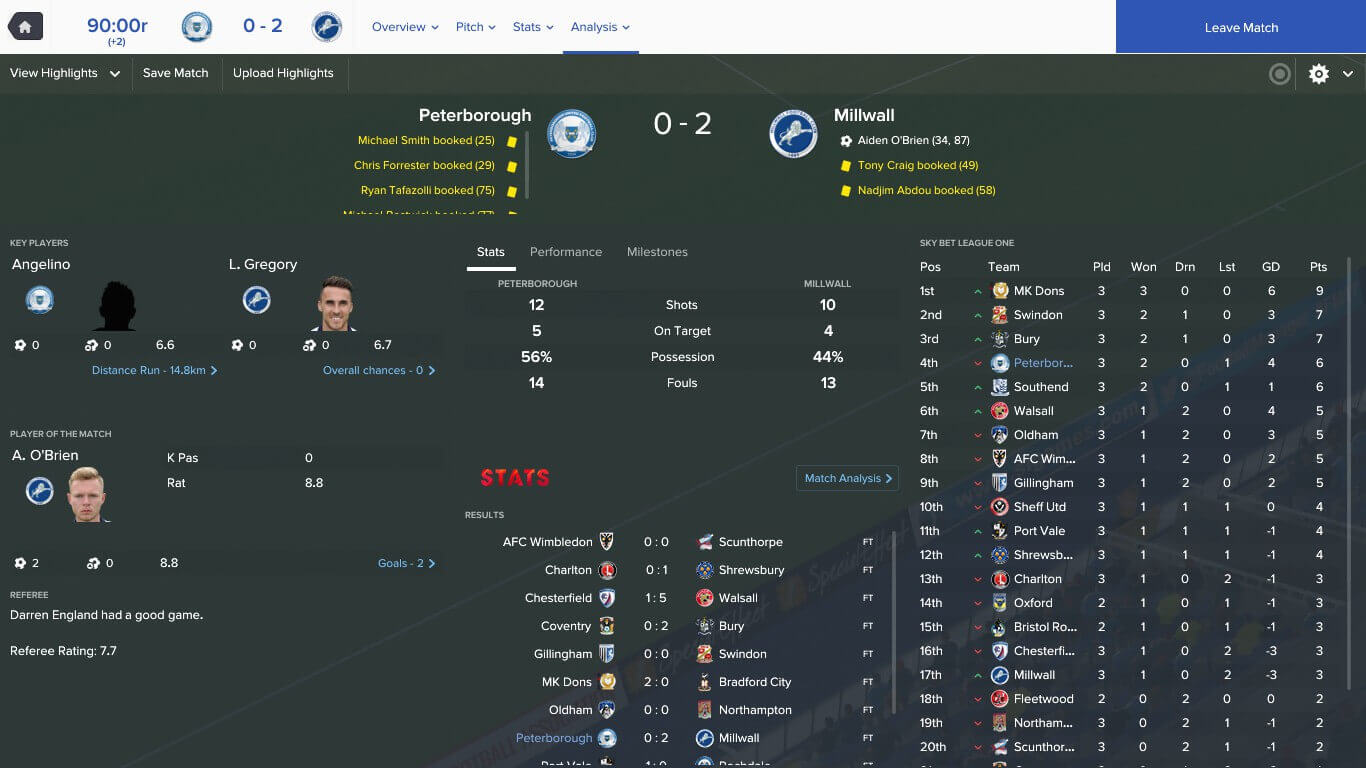 Well just answered my own question there didn't I? Poor performance from the lads, we had chances but Milwall punished us. Early in the season but we are in the top 4 at the minute so it's a promising start to the season.
Stay tuned for more updates on our journey to the Premier League as in the next piece there will be more games covered as we delve into the season.
Thanks for reading everyone and make sure you check out my personal FM blog where I am managing Burnley in the Premier League.