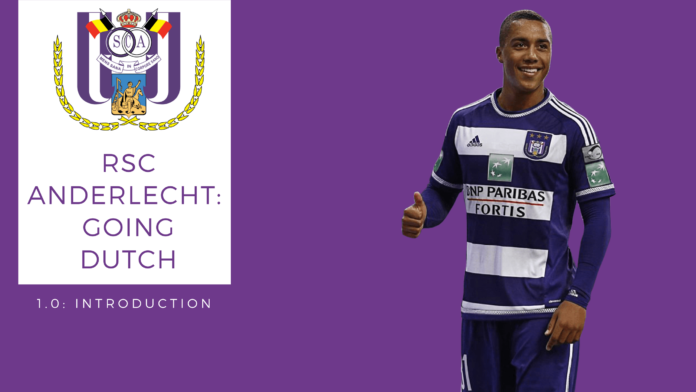 Skinny: I take over Anderlecht, who are struggling following a merger between the Dutch and Belgian leagues. Can I save the famous purple and white from relegation?
Football Manager has changed for me in recent years. As a teenager to a university student, I had all the time in the World to play football manager. Finish school/lectures, go home and load up Football Manager. Wake up, play a quick couple of games of Football Manager before I have to leave the house. Heck, even take my laptop to school to play in between lessons. Those were the days.
Now, I'm 23, I live with my girlfriend, I have a full-time job and commitments. It pains me to say it but – I'm a grown up. 
The way I play the game has changed, I no longer have heaps of time to whizz through saves, to tinker over every single aspect of the club and to write tonnes and tonnes about it. That said, I still love the game as much as I did when I first bought it – Championship Manager 99/00, as a 7-year-old.
I've been part of the FM community for all of that time, posting and interacting with members of The Dugout in its hey-day, alongside the likes of Nick, Shrewnaldo and Forza Hellas, or @FManalysis as he's known now. I then went with the FM Now lot, but forums aren't the same for me anymore.
I've never blogged about Football Manager. I do find that writing about my save does make it more interesting to me, makes me more invested in it and makes me more committed to regularly updating. After joining the newly formed FM Slack (check it out if you haven't already) where there's a great bunch of writers. I've been inspired to blog about my FM save and a big thanks to Chris for hosting it for me.
Now, enough babbling on about me – you self-centred prick, Scott – and let's talk about the save.
There's nothing more thrilling in Football Manager land than taking a smaller European nation side, developing a core of young prospects and taking them to the dizzy heights of continental football.
There are few better sides to do that with than RSC Anderlecht. The club based in Anderlecht, which borders the Brussels-Capital region – are a powerhouse of Belgian football. They've won quite a few Belgian league titles – 33 to be precise – and a few continental honours including the UEFA Cup Winners' Cup (1976 & 1978) and the UEFA Cup (1983) – that's the Europa League for you kids. 
The challenge is to progress them in the Champions League and finally win the competition, whilst maintaining domestic dominance.
That would be too easy, though. 
My save has a bit of a twist; I'm playing on a custom database, one in which Belgium has merged with the Netherlands, creating the BeNeLiga (available to download
here
, for anyone interested).
DISCLAIMER: I've edited this file slightly. The original had the top 5 teams only receiving any prize money, I've added prize money for all of the clubs.
There are some great teams in the league, so what drew me to RSC Anderlecht? Well, firstly they play in a majestic purple kit. Secondly, and the main reason, is that I holidayed to the end of December in a bid to see if any interesting challenges arose.
Anderlecht, the great Belgian powerhouse, found themselves languishing in the relegation zone after 16 games being played. They'd won just 2 games, drawn 7 and lost 7. With a goal difference of -7 and only 13 points on the board, it would need some turn around to save them from relegation.
The club itself is in pretty good nick. A value of £92 million, loan debt of just £12m and an owner who loves the club. Our training facilities are superb, as are our youth facilities. They also gave me £4.3 million in transfer budget and £350k in wages.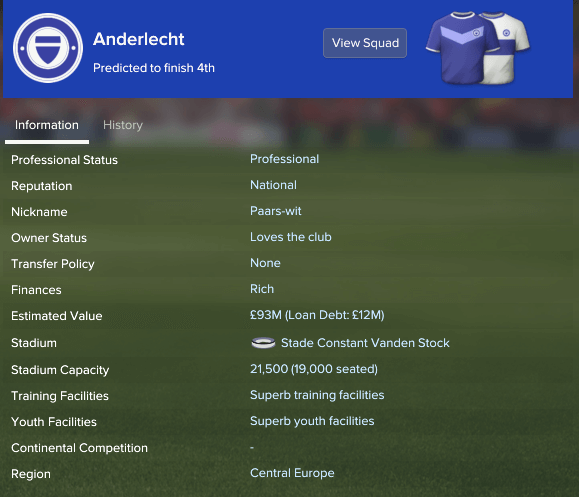 Upon taking over the club, I quickly learn of our strengths and weaknesses, as outlined by my Assistant Manager. On the coaching side, we've got room for improvement, as we do on the scouting side of our staff. I'll probably address this at the end of the season; when we know our fate and can look to rebuild; either in the second division or where we belong at the top.
On the playing side, the coaches tell me we've got an impressive standard of passers amongst the squad, which is great but the wasters have completed just 65% of passes, which ranks them 14th in the league the useless bunch of twats.
We've conceded 22 goals, the 15th worst record in the division and, according to my trustee Assistant Manager, are pretty dire at jumping and at working hard. I like teams that work hard, so this is a bit of a problem for me.
There are positives, though, as my Assistant Manager outlines the talented prospects under my control. He highlights Dodi Lukebakio  Orel Mangala and Mile Svilar as our top prospects, whilst let's not forget the likes of Youri Tielemans, Nicolae Stanciu and Leander Dendoncker  all of whom can be pretty bloody special.
Goals 
I always think it's important to set goals at the start of the save, to understand where you want to be going, how you'll get there and to be able to reflect in a few years time about how you've done things.
Competition Goals
Immediate Goals:
Avoid Relegation from BeNe Liga
Short-term Goals:
BeNe Liga Qualification for continental football via league position
BeNe Cup: Reach final
Mid-term Goals:
BeNe title win
Consecutive domestic cup wins
Progress past Group Stages of continental competition
Long-term Goals:
Multiple BeNe Liga title over last 10 seasons
Monopoly on domestic cup competitions over last 10 seasons
Win a European trophy
Club & Philosophy Goals
Philosophy:
Develop a philosophy of how the club should play football over the next 2 years
Implement that style throughout the whole club over the next 5 years
Transfer:
By end of season, get a better idea of who is good enough
There's scope for success here at Anderlecht, but it won't be easy. The club has struggled following the merger between Dutch and Belgian football, as have the Belgian clubs as a whole. In the short term, we need to consolidate. Reconsider the club, how we operate and how we want to move forward, both in terms of recruitment and philosophy. I'm confident that it can lead to silverware for the Paars-wit.
You can find me on Twitter @scottsltr or in the FM Slack community. To join, contact @FM_samo