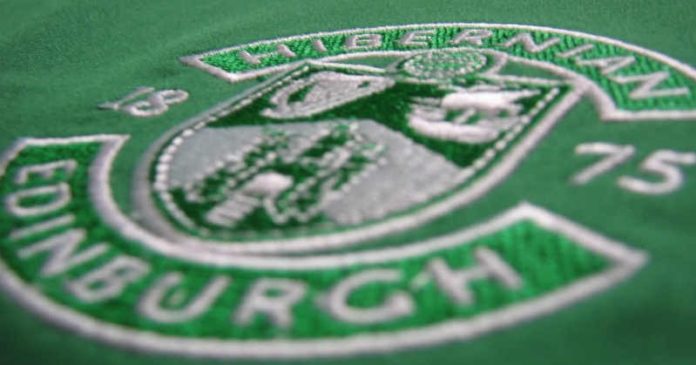 The Last King of Scotland
A Hibernian Tale: Part 3:1
Extract from the Managers diary:
'I'm going to do it y'know, Garry.'
'What's that, Gaffer?'
'Invite Sheafy round for a lamb hotpot with the wife.'
'I'm not sure that's a good idea–'
'Yeah you're probably right. He probably prefers beef.'
Garry shakes his head.
It's the final countdown. Year three of the three year plan. There's lots to do, lots to say. After a few weeks of indulgence its time to hoist the lads off their couches and back onto the training field. The lazy sods.
Ownership:
So, exciting news, Hibernian has a new owner. The former, Sir Tom Farmer decided he wants to spend the remainder of his days on a golf course, swinging and missing in the sandpits. A shame really, but he is leaving on a high. Apparently with all of his new money he's treated himself to a new respiratory mask, the old bastard. I can't help but feel this may be down to the success of the team on the field and how he was willing to take advantage of the growing interest in the club. In which case, where's my share? I'd like to think he still thinks about us while rolling around in his bed of cash. Or not. Onwards and upwards I say.

The new guy, Ryan Kelly has come in, and, I'd be lying if I didn't have some doubts. One of them being how involved Mr Kelly is going to be. Is he going to be a nosy bastard or what? More importantly, how much money is he was going to invest? The last question was my own future. As crazy as it sounds, after all the success I've brought to the club, you just never know, some of these guys are loco. Thankfully the transition period was fairly swift and painless. Most importantly, R Kelly was here to party.
Transfers:
We had a busy time in the summer, lots of players were given the boot, albeit plenty of youth and second string players, and a good handful came in through the door too.
Outgoings:
No one really of note. The only two from the first team was Callum Crane and Lewis Stevenson. Stevenson was out on loan for much of last season after complaining about game time, so I was happy to see him leave. The big tart. Crane had been a handy squad player, so he received a high-five and firm handshake on the way out. I still locked the door after he left mind. Many of the outgoings were on a free because they were, lets be honest here, shite and surplus to requirements, so not much money was brought in. £165k to be precise.
Incoming:
Ryan Gauld – CM: I'm really pleased about this one. The lad has plenty of potential and was not getting a game at Sporting so requested to leave. I snapped him up for a mere £525k, the most I've ever spent on any player at Hibs. At 22 years old and with a 4 1/2 potential, I'm expecting him to be a massive player for us. The fact he's a Scot is only an added bonus.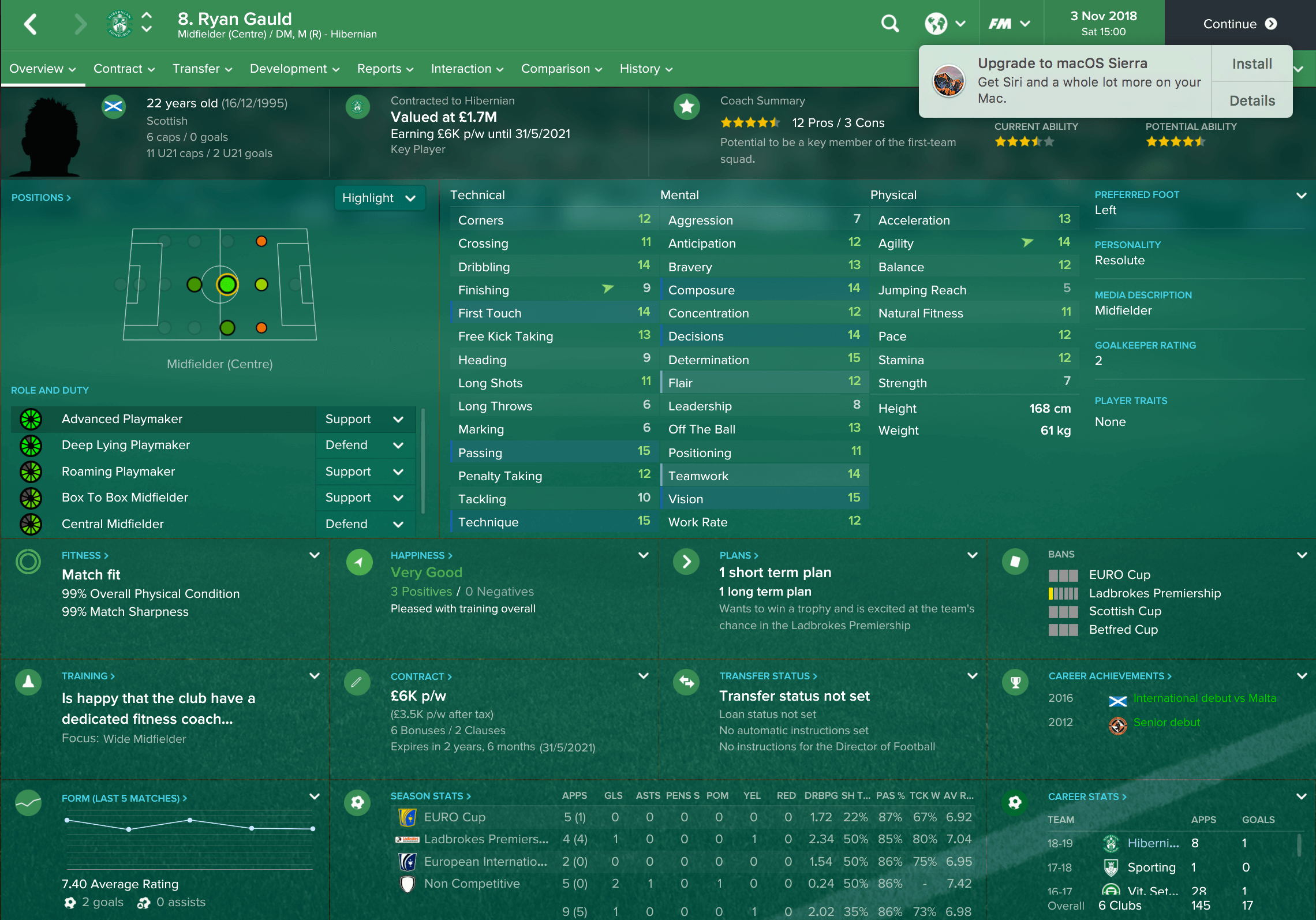 Antonio Cotan – CM: I signed him up on a pre-contract last season. He's only 23, so he's got room to improve but also plenty of experience already having played a handful of games for Seville and plenty for Seville B. Potentially, he could be a big player for us, if all goes well.
Simon Kind Mikalsen – LB: 25 years old, probably going to be my first team starter. I like the look of his stats, predominantly a defensive player but with enough pace and stamina to accost the enemy–I mean opposition team. At £160k even if he doesn't work out it wont be a massive loss.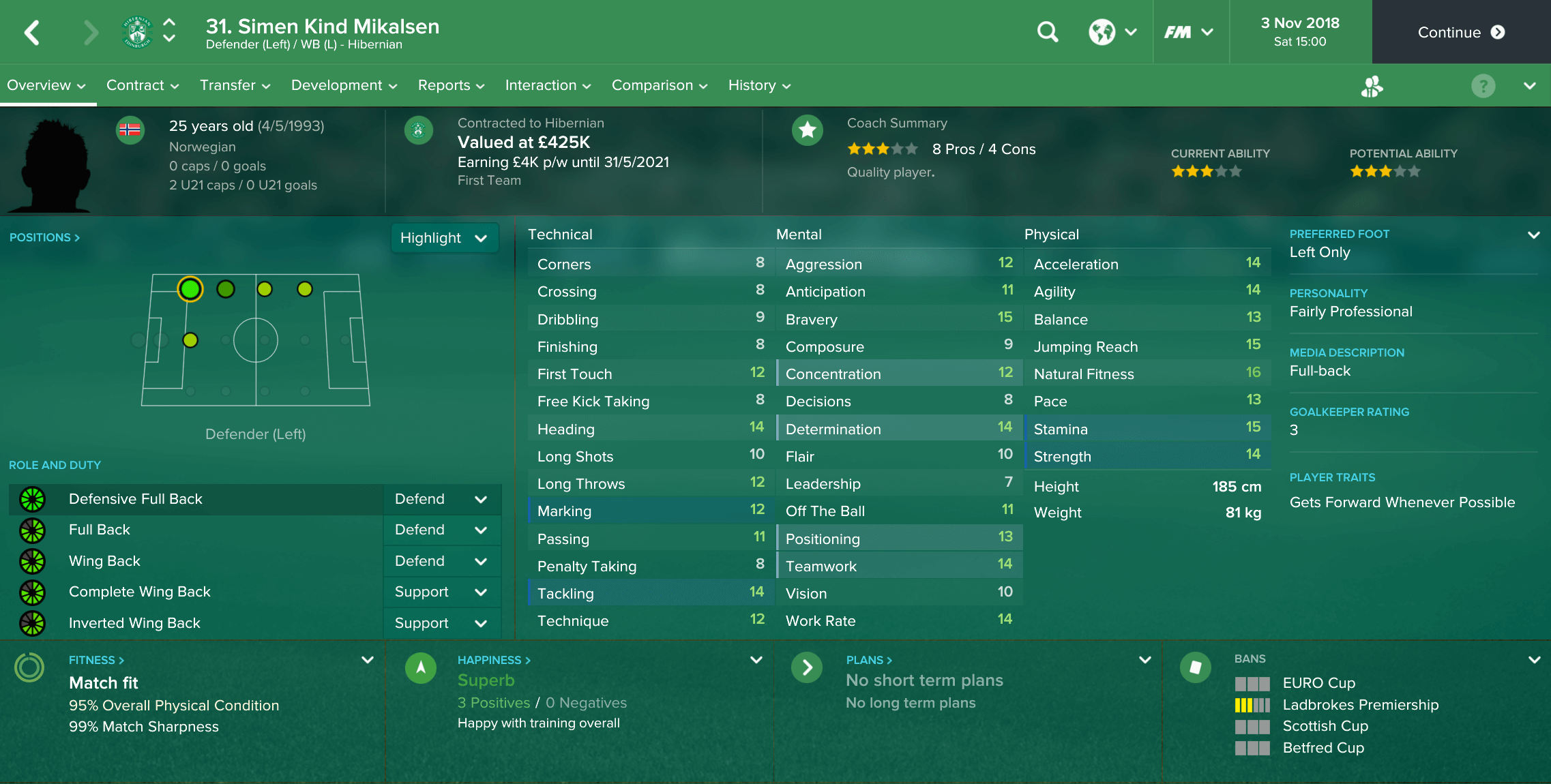 Daryl Horgan – L/RW: Bit of a risk this one. At £350k (rising to £450k if he meets certain clauses) it's a lot of money for someone that was bought predominantly to be a squad player. In his favour he has versatility, as he's adept on both wings and has a bit attributes consisting of pace, dribbling and flair that may mean he could surprise me. The problem is, my initial target – who was similar in style and attributes was on a free but demanded an obscene amount of money in wages. It would have made him our highest earner, and I'm not sure it would make sense for a squad player to hold that type of power. Surely it would only mean other players wanting similar wages to match? And Big Poppa doesn't like divas. So I opted for Horgan instead.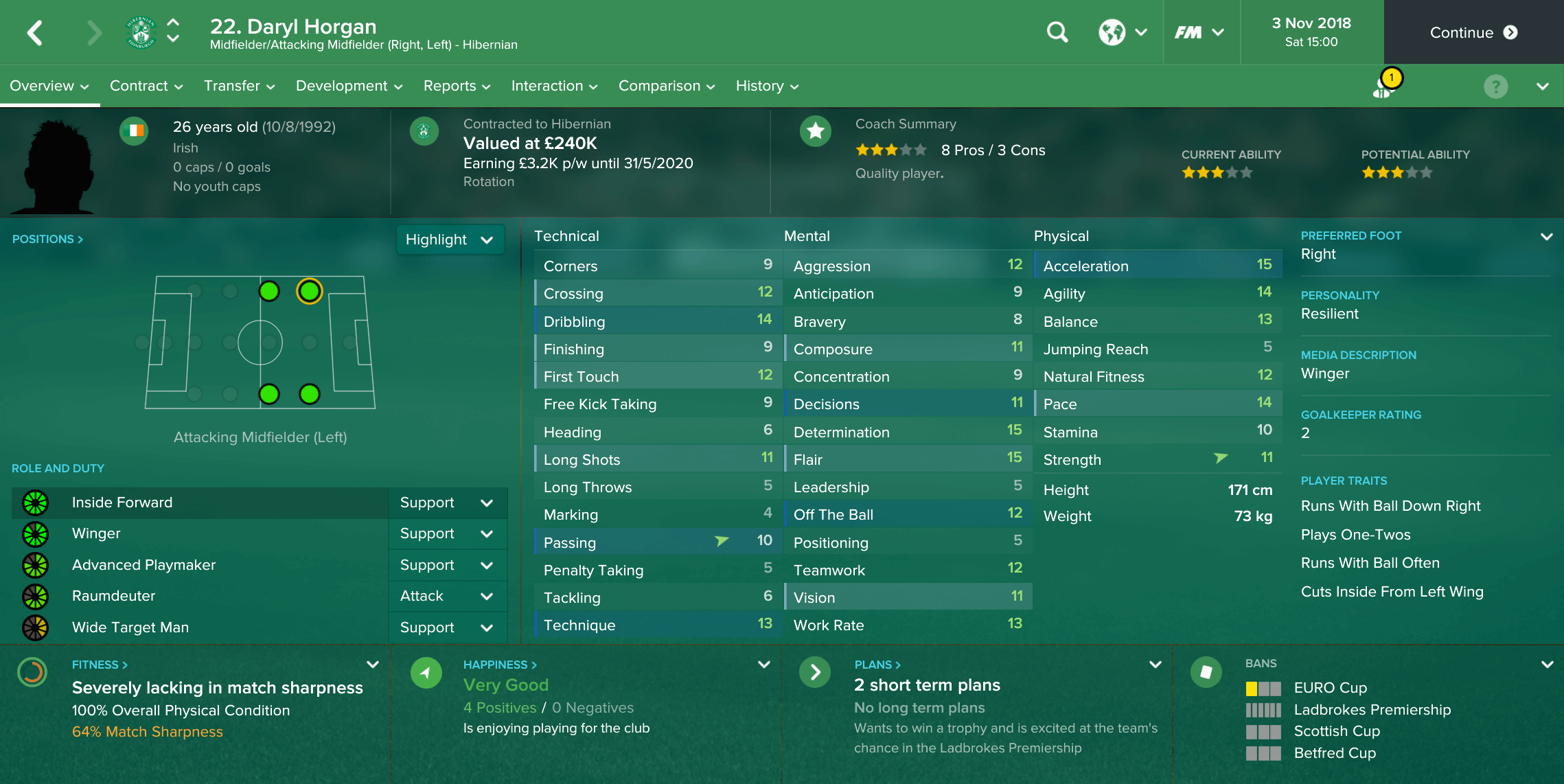 Harry Wilson – LW: I couldn't believe my luck with this one. I put in a cheeky bid and Liverpool accepted it. Wilson was my star player last season on loan with 16 goals and 16 assists, yet they sold him to me for £350k, absolute madness.

Pablo Maffeo – RB: Grass is green, water is blue and Maffeo is with us once more on loan. This is his third season here now, and by the end of the season I think he actually qualifies as Home-Grown. Top player. He's worth a cool £8 million now, yet City are still letting him play for us on loan, go figure. And yes, I'm taking full credit for him becoming the beast that he now is.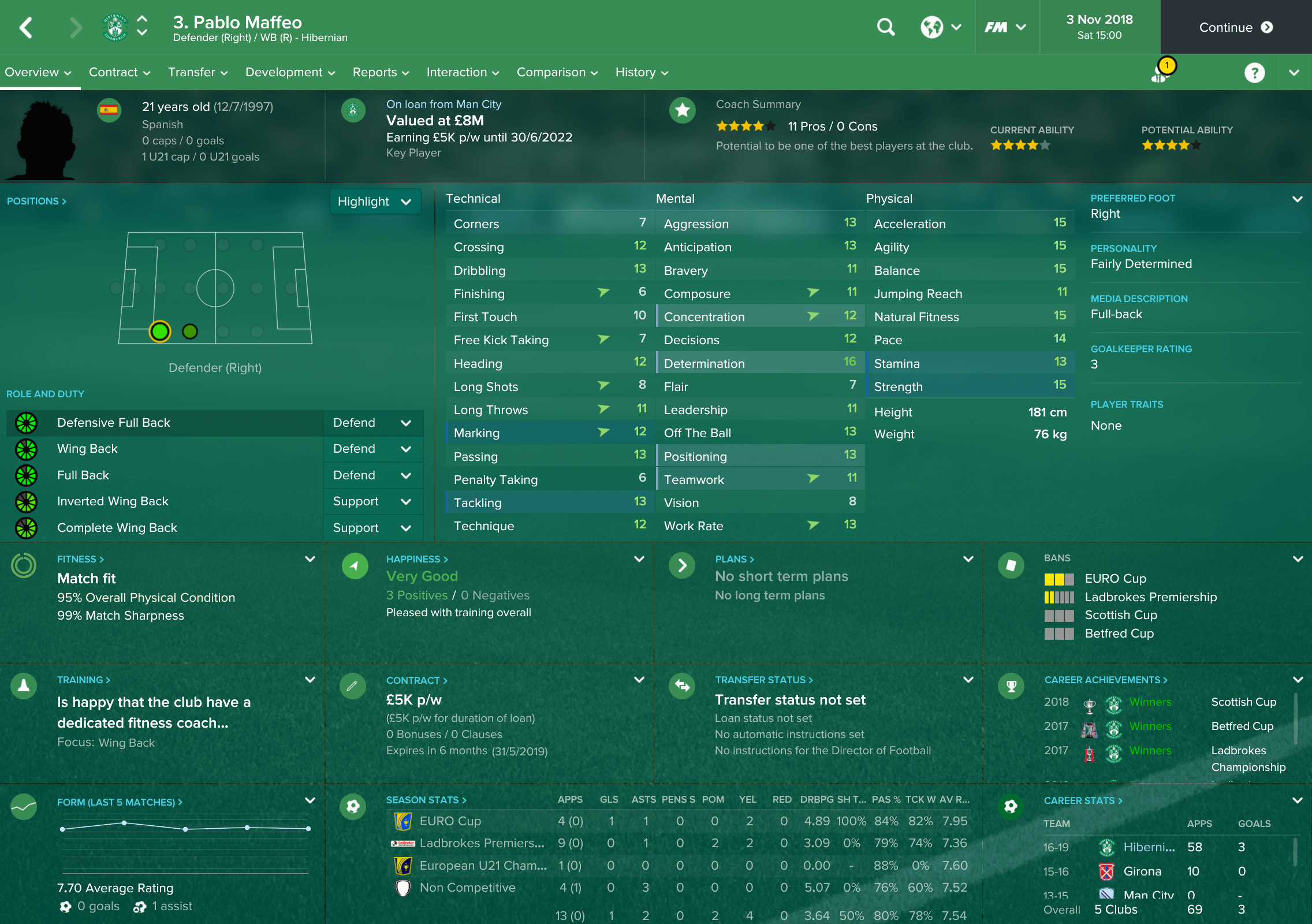 Elias Abouchabaka – DM: 18 years old on loan. Brought in to cover the DM position as currently my first choice Enoh is injured. He wasn't my first choice, nor my second, nor my third, or my fourth, or my fifth if I'm honest, but he is here so, y'know, please don't be useless. By this point money was tight and I was looking to loans. For some reason, anyone I actually wanted was simply not interested.
Donyell Malen   – ST: 19 years old on loan. He's an exciting prospect who can also cover on the wings.
Antonio Xavier – ST: Also 19, also on loan. I've been scouting Xavier for a few years but there is no way Porto would sell him. Well, not for anything close to something that I could afford anyway. To be honest, Malen and Xavier were brought in under the impression there would be plenty of cup games, but as you will read soon, it might be a case that one may be sent packing.

So then, a total of £1.4m spent. R Kelly is showing who is boss and not messing around. It's more than I've had to spend in my past two seasons combined. Yet, for some reason I feel like it's been pretty mixed. I've massively improved my midfield and arguably my attack, but I much preferred last seasons team. Maybe that is down to a lack of familiarity. I guess we'll find out. The point of this window was to enlarge the squad really. Last season I really liked my team but it was just too small and nowhere near good enough to compete on all fronts.
Pre-season:
So, before you know it, July is here and the training camp has begun. Strangely, my assistant Garry Parker was yet to arrange any friendlies for us. Odd, I thought, Garry is usually on top of these types of things. Maybe it's his old age. Maybe he is becoming incontinent. So I did it myself. Usually I'm too busy sorting transfers out to take much notice of the friendlies beyond the first season. Sure I check the results but I don't hold much importance in them beyond fitness and morale. So, with an early 2nd Qualifier for the Euro Cup I was more worried about lads being injury free. Annoyingly I later received several messages informing me that a number of pre-season games had been scrapped due to conflicting schedules with the games I arranged. Weird. So Garry had arranged a number of friendlies for us, so why did it not appear in my fixture list then?
Three friendlies, all against decent opposition, two comfortable wins and worryingly a loss to my biggest title rival, Celtic. Nothing major to worry about there though, I'd say. Better to lose to them in a friendly when players are only returning to fitness than in the middle of a title challenge. No, that foul smell is not me, and no, I don't need to change my underwear.
Fixtures August – September:
So, the season is starting early this year due to our 2nd place finish last season. It means we qualified for the Euro Cup, sort of. As first we need to qualify for the group stages by playing a few qualifying rounds both home and away. First up was Anderlecht. When I saw they were our opponent I was worried. Not that I didn't have faith in my own players, but historically they've always been a decent side in their home nation. I needn't have, we beat them convincingly 5-1 at home and followed it up with a close away tie which finished 2-1 in Anderlecht's favour, but still we were through on aggregate. Next up was Volendam, a dutch side. Yeah I've never heard of them either, and assumed they were Scandinavian judging by their name. 'I've never heard of these, they must be shite', I told my lads. Thankfully I was right, we strolled through with two 2-0 results, home and away. Easy this, this Euro Cup lark, maybe my side can actually put on a really good show in this cup? Maybe we could be dark horses. No, could we fuck. To my surprise we drew Bournemouth in the next round of qualifiers. Not only was Eddie Howe making them a mainstay in the Premiership, he was also pushing them up into the top 8. Annoyingly, they sent us crashing out of the cup with two comprehensive defeats, and an aggregate of 4-1. I was disappointed, but by this point the fixtures list was an absolute joke.
As you can see, not only had the Ladbrokes Premiership kicked off, so too had the Betfred Cup. So within August I found myself fighting on three fronts and playing a staggering 9 games. That's a lot of games. At least two a week. Now, I feel like I need to put my hands up here and admit an error on my own behalf. I feel like I let my lads down with my pre-season training regime. I feel like they were still unfit and not really ready for such a heavy schedule. In hindsight, had I checked and prepared myself properly, I would have liked at least another two or three fixtures in the pre-season buildup. As it was, three games was not nearly enough and I feel like it ultimately cost us a chance at two cups, as we were also beaten and knocked out of the Betfred Cup by bloody Patrick Thistle of all teams. The most frustrating thing about this was last season we made a similarly poor start due to a lack of fitness. At the time I had told myself, 'Next year it will be different'. Yet here I am, making the same stupid mistake. Sorry Garry, my bad.
Thankfully our league form was better. Two draws against Dundee and Rangers wasn't a great way to begin but amongst the clusterfuck that was our fixture list I couldn't really complain. Two points gained rather than four lost, I think. Fortunately from there we started to pick up some kind of momentum. An annoying 1-0 over Patrick Thistle followed. 'Why the fuck did you not do the same in the Betfred Cup then you bunch of Dickheads?' Typical really, but the league is my priority this season, so I can't really complain about my lads turning up against them this time. Much. Another 1-0 victory over Ross County was much needed. A 2-0 victory over Motherwell saw our confidence soar. Suddenly we were on a run of five games unbeaten and sitting fairly comfortable in the upper half of the league.
That draw against Dundee doesn't look too bad now either. Clearly they have made a great start to the season with four wins and only the one draw against us blemishing their start, so fair fucks to them. More importantly, look at Celtic. Five games in with only a single win to their name. So, to summarise, disaster in the cups with two early exits but a nice platform to build from in the league.
Now, I don't know what will happen beyond this season. My plan was only to stay for three years here. Quite frankly the cold weather doesn't agree with me and I'm starting to get itchy feet but we'll see. I guess it comes down to whether we achieve what I set out to or not. Winning the league. The holy grail in Scotland outside of Glasgow. Here's to hoping.
Up the Hibees.