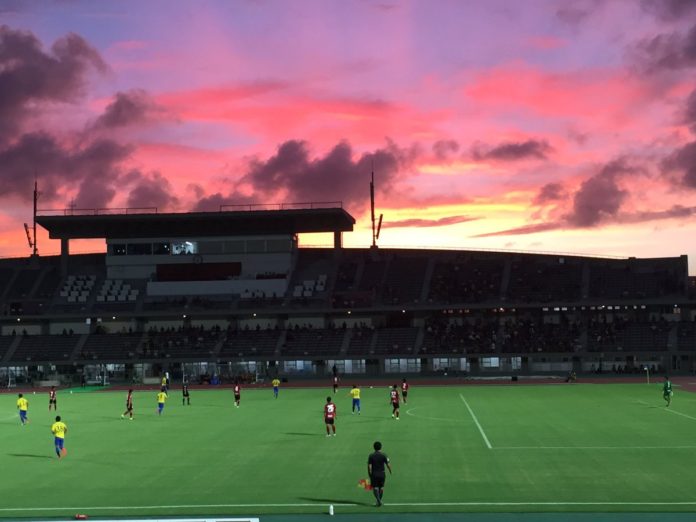 OSU!
I am running through this season as quickly as Wolves went past Liverpool on the break yesterday and, incredibly, it's much fun to watch. FC Ryukyu, in their new home, might not have a better opportunity to hit the J2 playoffs.
I love it when a season starts like this, when you can feel momentum building and you can see young players grow in confidence and become men. Leaders emerge, talent takes responsibility and results start to flow. That's what we have on our hands right now, we are having fun on the island.
I write as the final whistle blows on the 21st match of the season, the exact halfway point. It's a cliche, but if you had offered me a single defeat in the first 21 matches, I would have bitten your arm off. Yet, no cannibalism has been needed – that is exactly what we have managed.
Yes, we have drawn a lot of games but the fact we have only been beaten once shows resilience in the squad. Many of the signings we brought in over the summer had far higher leadership stats than the players we moved on, and I feel that has made a tangible difference in 2020. We do not give up. For example, we were 2-0 down to 6th placed Tokyo Verdy with 65 minutes played. A couple of substitutions, a flick to attacking from standard and we came away 3-2 victors. Even in the last game against JEF we were 1-0 down, but again dug in and came away with a draw.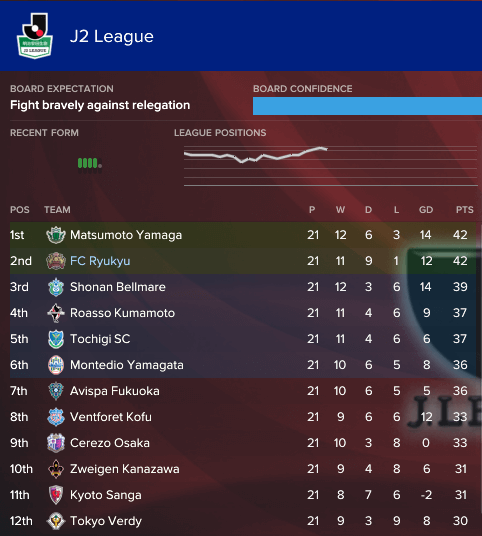 As you can see, we are in a title race not just a push for a playoff spot. There is a long way to go, but if I can keep people fit and happy there is no reason why we cannot have a big say in the destination of the trophy.
So much of what we have achieved so far is due to this man.


He has been superb and if he maintains this form we have it in our hands.
That is a great goal return for a central midfielder, but they have been important, decisive goals too which, for me, are worth double.
I have a lot of time for our captain as well.
This season we are strong at full back on both sides, but Mats has been a revelation. Again, we need him to keep leading by example.
I've been playing much closer attention to the KPI's this season. I will use the DM's as an example below.

Early in the season I wasn't sure who was the better choice for the RPM role in the #ArgSt17 set up. Both Koido and Ishi had the same average rating, but I checked their performance stats – Koido was successfully passing the ball 8 more times on average with a 3% better success rate over 90 minutes, so he got the nod and has maintained that standard.
We can see the same in the AM roles – an enganche and shadow striker. The results showed you we were struggling to score from time to time, so I kept a close eye on shots on target per 90 and shots on target %.
Yang and Otsubo, despite me not believing the were the ideal pair, were getting the better numbers on each of those stats so I remained patient and now they are both getting goals and looking alright.
One of the other key factors has been the change in the #ArgSt17 from the beginning of last season and now.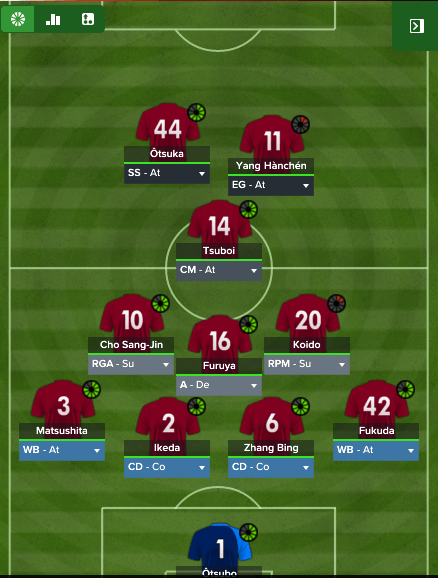 The set up is the same, as in the roles are the same.
But the TI's have changed. I wanted us circulating the ball more, and this is achieving that. I feel as if we are wearing sides down better, rather than if our first attack fails we have lost the ball and are chasing back. Yes, we are still susceptible to the ball down the side of the CB's but we cannot be secure everywhere. We start the game on "standard" and if we are behind I flick to "attacking" – nothing revolutionary there, but it's working at the moment.
This I like.
We might have a small ground, but we are filling it which is great.
This I like even more!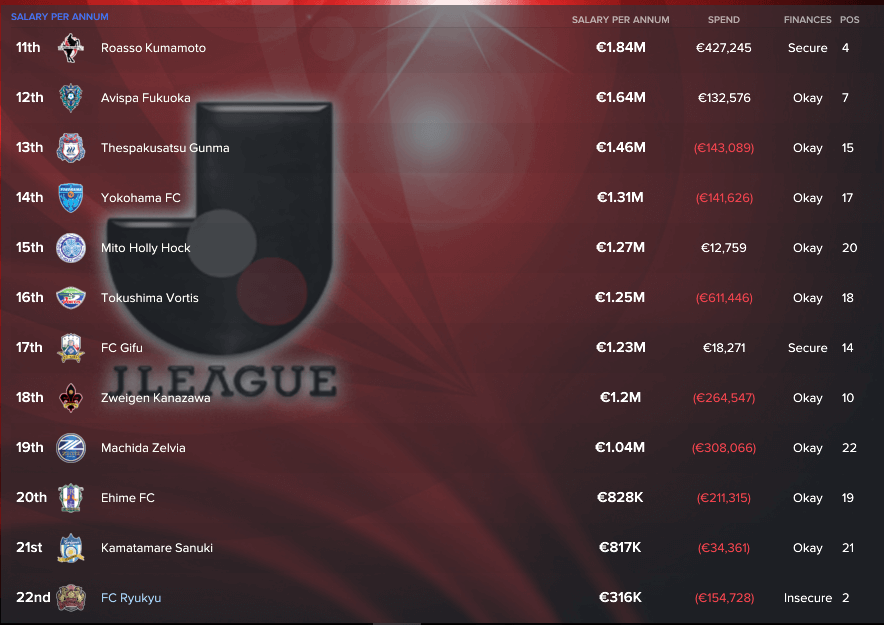 It is telling me my finances are insecure though, which confuses me slightly.
We look in reasonable shape to me according to that balance sheet.

Yet the projection reckons we are going to leak over €700k between now and the end of the season?
I can't see how, we are watertight across everything that I always budget unless there is a surprise coming that I don't know about.
The transfer window opens tomorrow and at this stage that little WNT sign isn't over anyone. There's two or three in the reserve squad I'd happily shift on, but I am happy with the squad. I also don't feel I need to add anything new urgently, although if a top quality centre back was available I'd go for him, especially if he was left footed. But I am happy.
I would like to end today's update with the final moments of our first ever game at the new FC Ryukyu Stadium, a moment that made me believe we might be in for a good season and told me we had that very special quality in our side, the quality that interests pundits all over the world – "character."
Not a bad hit, eh?
OSU!