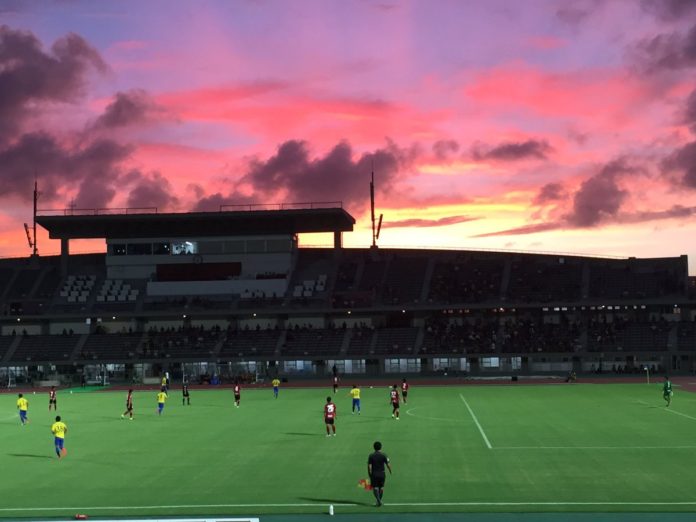 OSU!  
I am properly excited about this season. I really, really am. After the ups and downs of last time out, I am confident that we have put the foundations down over the winter and we are going to have a very good campaign. What does that even mean? The play offs and a little cup run dear readers, that is what it means.
Last season, you may recall, we managed to sneak into the top ten on the last day of the season and had a money-spinning second round cup defeat at Gamba Osaka. The plan for the winter was to assess everyone, secure priority players on contracts and recruit well – yes, recruit and even go through our wage structure for quality.
But before we look at that, a few loose ends to tie up.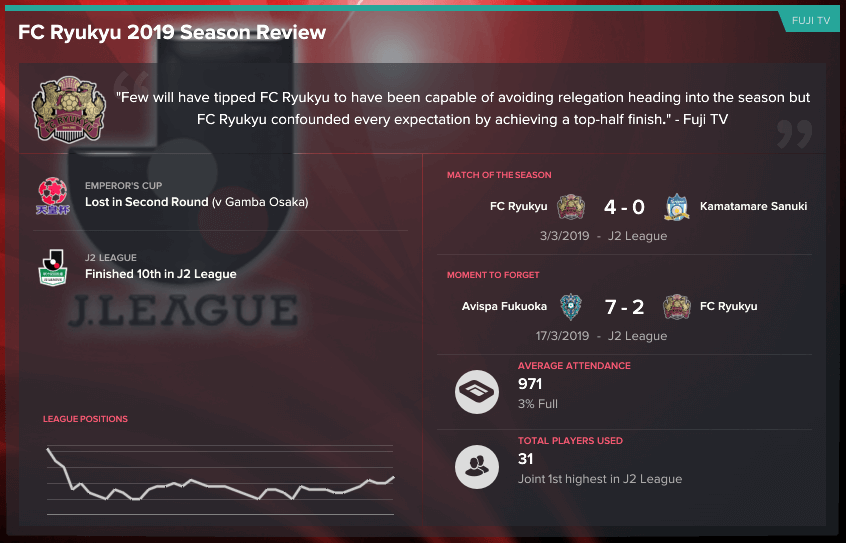 Blah blah, that was last year. I've moved on already.
That helps though, every penny and all that.
We closed the season is this position, financially.
And I had this bit of news.
So on to the fun stuff. Recruitment!
What follows will be a very, very quick walkthrough on how I recruit new players using my StS method. StS stands for "searching the stats" which means that I prefer, where possible, to judge a player by their performance stats ahead of their attributes. This is not always possible – players abroad, youth players, free agents etc – but where I can, I go this way. And I was able to go this way for our new central defender.
The above picture shows the filter I used to grade my potential central defender recruit. In case you cannot see it too well in the photo.
Appearances >15 – for me, 15 is the minimum amount of games that need to be played to get a consistent performance grading

Interceptions – a high number of interceptions suggests to me a good reader of the game

Tackles per 90 – fairly obvious

Tackle % – again, fairly obvious

Passes completed per 90 – I like a defender that can pass a bit, this gives me a clue as to whether they are (a) used to it and (b) can do it

Headers won per 90 – I am sure you can work it out

Goal mistakes – nobody wants a mistake prone defender

Fouls – how many fouls has he made

Yellow/Red cards – pretty obvious

Average rating – I filter this to above 7.00
The image above is my shortlist, these were the three guys that I wanted to choose between – wittled down from several others.
How did I get to these three?
Using the filters I narrowed it down to players with an average rating of above 7.00 – I was doing this quickly, normally I would filter it in passes completed, interceptions etc etc to cover everyone, but I sent the scouts to look at each of the 52 defenders that averaged over 7.00 last season.
Amazingly, of the 52 the scouts only liked three. The three above. Everyone else was cut at this stage. I got my assistant to give me a second report on all three and he agreed with the scouts.
At this stage, my preference was Bing – lowest amount of tackles needed to be made with the highest % completion, plus highest number of passes with the highest completion %. Yeah, he made a few fouls but he also got the highest average rating.
I approached all three and it was Bing who was prepared to join us for wages I considered fair, so I got my number one pick. Now, let's finally reveal his attributes!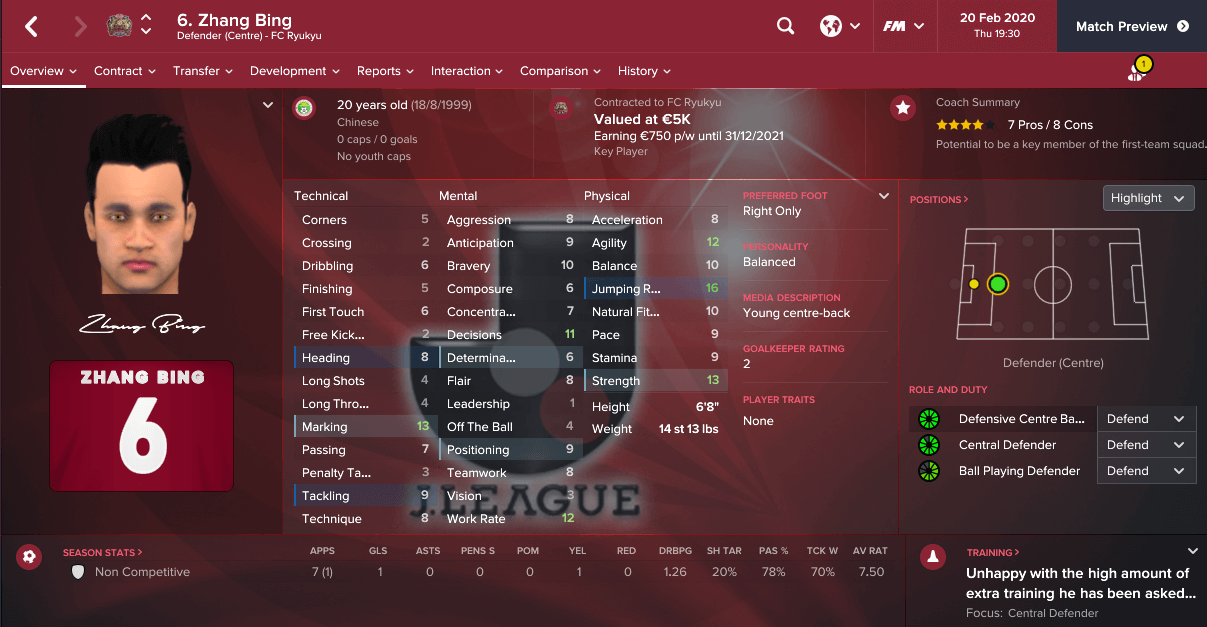 He's a big lad. If I can get him into double figures for pace I reckon he will develop into a beast!
I know I've gone through all that very quickly, but I hope you get the idea. Feel free to comment below any questions you may have.
Phase two of my recruitment was to scout every single young Japanese player released by J1 & J2 sides in the winter. We picked a couple up following trials.
Phase three was the get a scout report on every J1 side and bring in players on loans. If I was increasing player wages I needed to balance it out by having players in the squad that were costing me nothing but, hopefully, had some pedigree if they were reared by the big Japanese sides. Again, we picked a few up.
Finally, to make sure I kept the wages as balanced as I could I was ruthless with some players.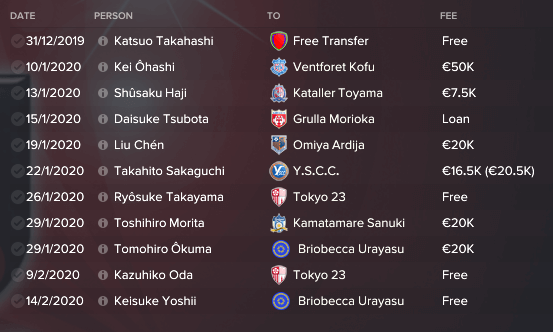 Kei Ohashi had played really well as our RPM last year but he didn't want to renew his contract. Out he went. The same went for Liu Chen who hadn't really done a great deal last season anyway. Having brought in two central midfielders on loan, who you will see in a moment, I saw no need to have Morita and Okuma kicking around costing me €650 a week in wages, so I flogged them cheap. Morita was frustratingly inconsistent anyway. The other guys given the boot were not likely to be in the side, so it was more a case of keeping the wage spend down by moving them on.
I must have had some good reasons to do all that, no?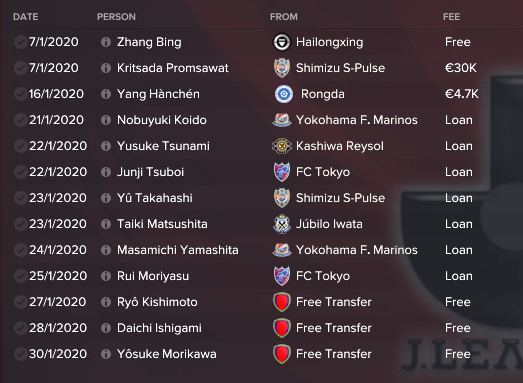 I'm very happy with my winter work.
Bing, you've met. Promsawat was on loan with us last season and is our first choice right back having been listed by S-Pulse. My only error on this deal was forgetting he was Thai and takes a foreign berth. Hanchen has a bit of Ren about him. Tall, strong, left footed and, I hope, an eye for goal. He and Ostubo will fight it out for the SS position. Koido has come in loan from Yokohama F and will vie with Ishigami for the RPM spot – Ishi was released by JEF. Battling it out in the central midfield role will be Tsunami, on loan from Reysol and hoping to be a bit of a whirlwind, and FC Tokyo's Tsuboi, a Japan U19 international. Takahashi looks slightly older than 19 and is on loan from S-Pulse. He will play enganche because he looks old enough to play there. Matsushita is a left back and our new captain, on loan from Iwata and will be backed up by FC Tokyo's Moriyasu. Finally, Yamishita and Morikawa (released by Urawa Red Diamonds) will add depth into our DM slots. This is the best squad I have had at Ryukyu.
We've moved into the new stadium.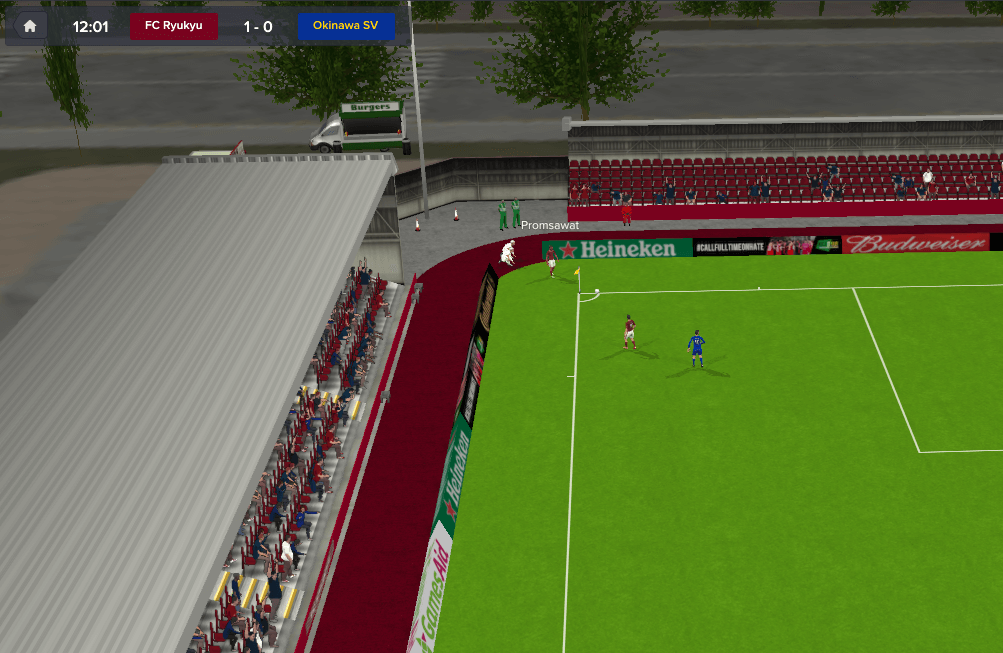 Imaginatively named the FC Ryukyu Stadium, it looks alright. With just over 3,000 seats we might fill it one day!
Financially, we are in the best shape we have ever been in – even if it is claimed we are "insecure."
We should actually turn a profit again this season. That would be nice.
What would be nicer would be getting in the playoffs though. I reckon we can do it if the team gels quickly. We are stronger in every position than we were last season, and I feel we have some decent depth too. Granted, a huge injury list will cripple us as we only have seven other players outside the first team squad but we've not suffered from that yet. It's the first season in the new home, and I am excited by it.
I'll try and be a little more frequent in my updates this season, so stay tuned.
OSU and sayonara!