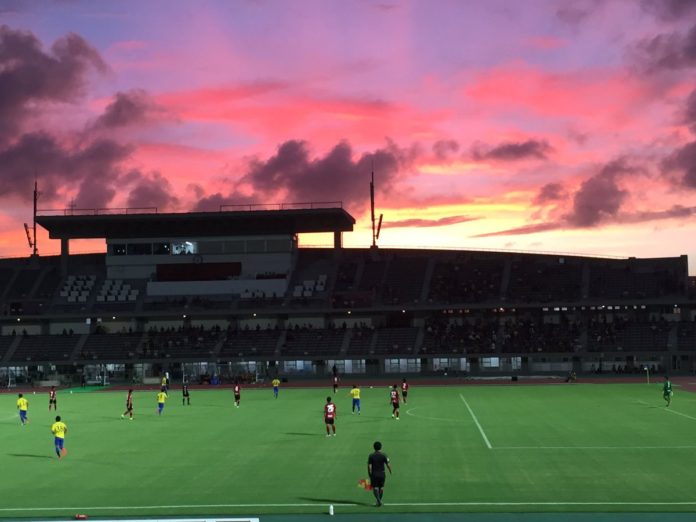 OSU!
I had one job in pre-season. One job. And that job, my friends, was to lock Ren in a cupboard and make sure he didn't leave the club.
Was I successful? Well, he is still here. He is not under contract, he is on one of those month-to-month rolling ones. Does that feel insecure? Too damn right it does, but it would appear that out here in Japan a rival club cannot just slide in and offer him a contract. They still have to submit a transfer bid. The only way Ren will leave here free of charge is if he walks out the door. And he hasn't yet. Admittedly, he is no mood to discuss a new deal either, so it feels like a relationship that is hanging by the thread and if he had somewhere he could go, he would move out immediately and give me the keys to the flat. In the meantime, we will just try and avoid each other in the kitchen.
I still love him though, and I hope we can work something out.
Burned by the lack of love being shown to me by my Chinese goal machine, I reviewed every single player contract in the club. Anyone that I felt had something about them was tied down to a three-year-deal, and our wage bill has gone up as a result. Worryingly, a few of the boys with 12 months left did not want to renew, taking Ren's side. I thought they were my friends, not his? Anyway, they didn't cost me anything so I will let them see out their last year and hope that they see the light before the end of the season.
I've shipped a couple of boys out, hoping to make about €200k in player sales to plug some financial gaps.

I didn't rake in as much cash as I hoped for these three, but it is better than eating old sushi. Akimoto wanted to leave, so I had to bow down. Kikuchi also wanted to move on, so was pleased to get as much as I did for him. Tats, well he was on the list to sell anyway. Kods is still with us, no bugger wants to take him off my hands which is €250 I would rather not be spending, but hey.
This is what our financial state looks like going into the season.
That wage bill is big, still below "budget" but big. In fact, my "real wage budget" is about €5000 per week, so the players do come in beneath that, it's just the staff that push us over. Still, it could be a lot worse as ever.
I've done a bit of wheeling and dealing in the market myself, as well as flogging I have recruited and also promoted from the academy. So let us do a few meets and greets.
Chen was signed as Ren's successor and he still (although I hope he isn't this season) might be. He is lacking a bit of pace, but I like what I have seen in preseason.
Ohashi has been earmarked to take over the RPM role in the DM3. He has also had a good preseason, is young, and impressed me enough on trial to get a contract.
I've promoted Okuma straight from the U18 squad. He was in last season's intake and looks the part already. He is likely to usurp Morita and Taniguchi as my first choice CM.
Sakaguchi has come up from the reserve squad – he has played well as the enganche in a few of the preseason games and will most likely start the season ahead of Talent. To be honest, I would have released Talent to save some money but he had an automatic extension activated for playing 15 games last season. Still, he is worth keeping around I suppose.
I'll keep drip feeding the kids in where I can, unless it is in a problem position where I might look outside.
A problem position, right now, is at full back on both sides. We are weak and I only have one natural choice for each position. Also, there is very little on the market that I like the look of so I am considering shunting our skipper, Ohashi, to be the tallest left back ever. Yumisaki nosedived at right back last year, but with Akimoto leaving he has the number 2 shirt all to himself currently. I'll make do, I normally do.

As you can see, preseason has been the usual run of games against other teams on the island. We can never read too much into these, but confidence is high as a result. Mind you, we were a bit shit in that last one.
I nearly forgot!
Sensibly, we are building a new stadium at a costs of €18k a month in bank loan repayment which will reduce our capacity from 25,000 to 3,200 or so. I, for one, cannot wait to see it and I wonder what it will be called.
Season four of this great Japanese adventure is about to start once again, with the odds firmly stacked against us.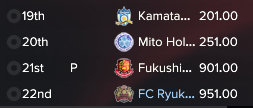 That there is our odds to win the league. We won't get relegated, I know that much. Top ten is what I want this season.
We can achieve that, and more, if Ren stays. If not, well I have no idea. He could leave me at any moment. I could come home any day now and find a note on the table. If he does leave me, I hope it is for someone much better. I'd hate to see him with the football equivalent of a fatty with no prospects. And I'm sure we've all that happen to us in the past, right? No? Just me then.
OSU! And, Sayonara!