OSU!
Thanks to @FM_Grasshopper for giving me that phrase, my life hasn't been the same since.
So, the J2. Whatcha got, eh? How will my team of babies fare in the next level up in Japanese football? We will be playing teams that spend money on players and everything. Some of our opponents will be fully grown adults, which is a little scary.
But, who remembers the Busby Babes eh? They were young and very, very good. The Class of 92 weren't bad either. Pele was scoring in the World Cup Final at 17 and Maradona tore England a new one at Wembley at the same age. Hell, who remembers Theo going to the World Cup when he should have been doing his A-Levels? Age matters nothing in this game, nothing whatsoever. At least, that is what I am trying to remind my young warriors as they head onto the turf each week looking a little frightened.
A little about the J2 Division then. As the name would suggest, it is the second tier of Japanese football. 22 teams, a huge jump from the 16 we had in J3. The top two go straight up, well we can dream, and the next four contest in the traditional playoff end of season thing that we all know and love from English football. Down the arse end of it all, the bottom team drops and the second bottom team plays in the relegation playoff which is how we ended up in this league. Clear? Up for it? Great, let us see how our first 16 games went. Why 16? No reason, just finally got some time away from Tales from the Top Flight to write something.
Two 1-0 losses and a shellacking by JEF aside we've done pretty well so far. The last four matches have been, obviously, very encouraging – more so for the consecutive clean sheets than the wins themselves. The win at Tokyo Verdy, one of the old samurais of Japanese football was particularly pleasing. Not a lot beats a deep-into-injury-time winner, does it? We are learning on our feet, but we are learning fast.
This recent surge of form has seen us move up to sixth in the table.
Getting there and staying there will be two totally different things. We've been sneaking wins, rarely dominating matches, and I feel we still have a lot of naivety to work out of our game. But, leaning on the old cliche, if you had offered me 6th after 16 I would have eaten the offer as fast as I am now eating sushi. Don't forget, the bookies had us down as clear relegation fodder and, as you can see below, our annual wage spend is half of second smallest wage spend in the league – you can then compare that to the top boys.


Let's have a little look at the main players in the squad from the KPI view and the CPV view. Oh, KPI means "key performance indicators" so stats that tell me if they are playing well outside of just looking at the average rating. I like to know if my anchor man is intercepting the ball often enough, whether my right wing back is playing enough key passes and how good my shadow strikers shots on target % is. Yeah, I am odd. CPV is "complete player view" – I created a view that tells me how the players are developing in terms of current ability and potential alongside some key attributes that I, personally, think make the kind of player I want at FC Ryukyu – for example; pace, stamina, leadership, technique to name a few.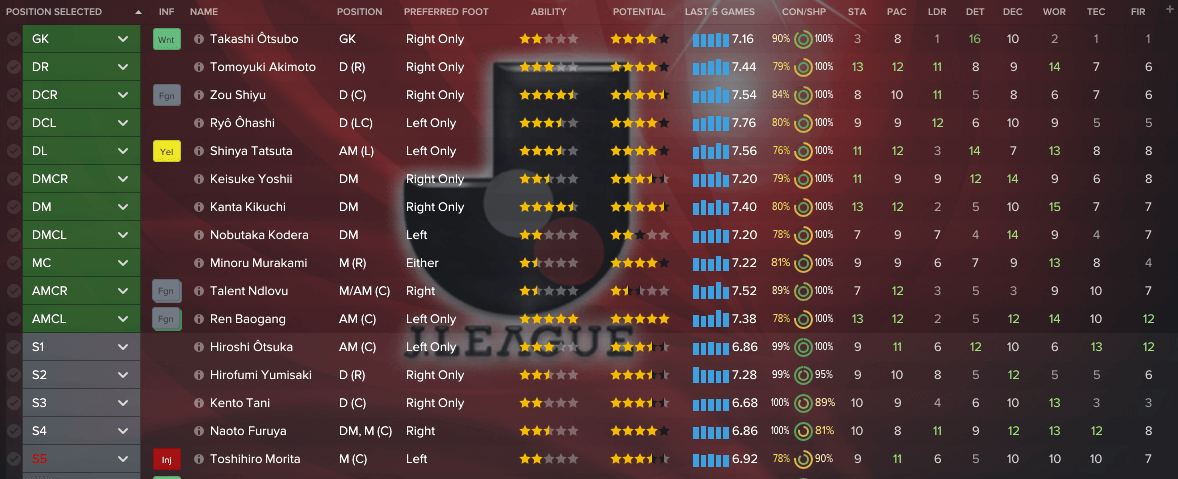 I'm only going to touch on the KPI side of things – Ren and Ohashi are standing out this season. Now Ren has already been in the office saying he wants to move to a bigger club. I've said he can if we get a good enough offer, which used to be enough to placate and move on in FM16. In FM17 the players now want to know what is the "good enough offer." I have Ren set at €1.5m currently, to scare people off. He wasn't happy with that, and we could not agree on what we felt was a "good enough offer." I'm not a fan of this addition to the game, I have to say. So now I have an unhappy goal machine who, fortunately, put his gripes aside to score the late, late winner in Tokyo. Ohashi is developing into a mountain of a player and is our captain. I can't imagine ever selling him willingly.
However, finances might dictate one of our more saleable players moving on in the summer window. Although we are running a very tight ship financially, we still have holes we cannot fill if we want to even consider competing. I mean, I cannot put a team out each week for much less than I am paying now and none of our staff are on crazy money. It does not help that attendances have hardly gone up since promotion. But, we have been in bigger holes moneywise in my short time here, so I am not panicking. Hell, finishing in the top ten will bring in €100k at least, so we can aim for that. But I have accepted I may have to let someone go soon.
Top ten has to be a realistic aim now. Playoffs? Probably not, but I won't rule it out. This season was always going to be about finding our feet and many teams have done well in the first third of a season to fall away into oblivion. Hell, Alan Pardew has made a career out of managing teams like that.
I'm just happy with what I've got to be honest.
OSU! And, sayonara. We'll be back soon…