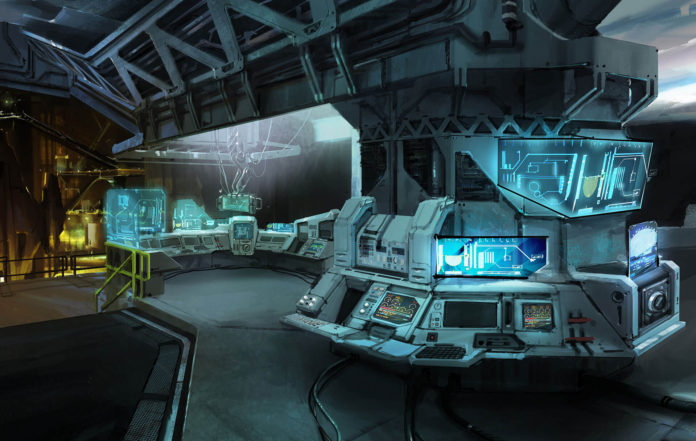 It is something which has been bugging me for the last few editions of Football Manager, a player's positional suitability. Are stats enough to get a good performance from them, or does their knowledge of the position count for something. I mean Messi could do a job anywhere on the pitch right? What if your goal keeper was played up front for a bit? Well the latter has actually been tested in real life; see David James' debut as a striker for Man City v Middlesbrough, 2005.
We have all been in the position, 1-0 up in a tight game, all three subs been used until a late red card to a defender changes the game. What if you put your striker there to cover? He has the stats, but can he cope. Will the game punish you or is it just OCD to have every player playing in their rightful place?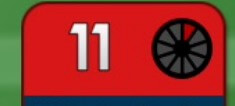 Just to outline, although this is an experiment it will be difficult to find a definitive answer without a lot of testing. My main aim for this is to ease my own mind when playing someone OOP.
The Premise: to discover if playing a player consistently out of position will hamper his performance, or if we look at the stats they will be able to do a good job.
Which player to choose though? Immediately I thought Diego Costa but surprisingly his 4 for tackling would not make for a fair comparison. I looked at the position and role they would play and decided on a "limited central defender". This should give the fairest comparison as the role does not demand too many attributes. Only Heading, Marking, Tackling, Determination, Positioning, Jumping reach and Strength are highlighted. Clearly other attributes will influence how a player will perform, but when comparing apples and oranges, it is important to look at as few parameters as possible. They are both round fruit after all.
Having searched using the above attributes, it was surprisingly a while before a good candidate arrived. Roberto Firmino at Liverpool ticked a lot of boxes and I wanted a team with as few cup commitments as possible.
Firmino's important attributes are as follows Heading (10), Marking (8), Tackling (10), Determination (12), Positioning (11), Jumping reach (10) and Strength (12). Admittedly this makes him a poor defensive option when compared to his teammates, but he is at least the most all round competent defender. His suitability for the role is very poor.
How to compare his performance was the next issue? Sure I could compare him to other Liverpool defenders but this wouldn't give a fair result, as for example, Loverns attributes are far greater. Using the same search parameters I found a good comparison in Jordan Tilson from Exeter City.

With his desired attributes as follows: Heading (11), Marking (9), Tackling (11), Determination (12), Positioning (11), Jumping reach (10) and Strength (12). His suitability for the role is very good, not perfect, but he can be a central defender by trade. On the technical attributes he is slightly better, but we can make exceptions for this later in the conclusions. Just to note that both Firmino and Tilson are 'Very Strong' when using the right foot, and 'reasonable' using the left.
Method: I will be starting a season controlling Liverpool and once the fixture calendar is arranged this is where we will split. 'Liverpool Firmino' will continue as normal just with Roberto at the back, where as 'Liverpool Tilson' will sign Jordan and he will get his chance in the team. We will play both seasons with the same tactics, against the same teams (AI dependant) and where possible with the same line up.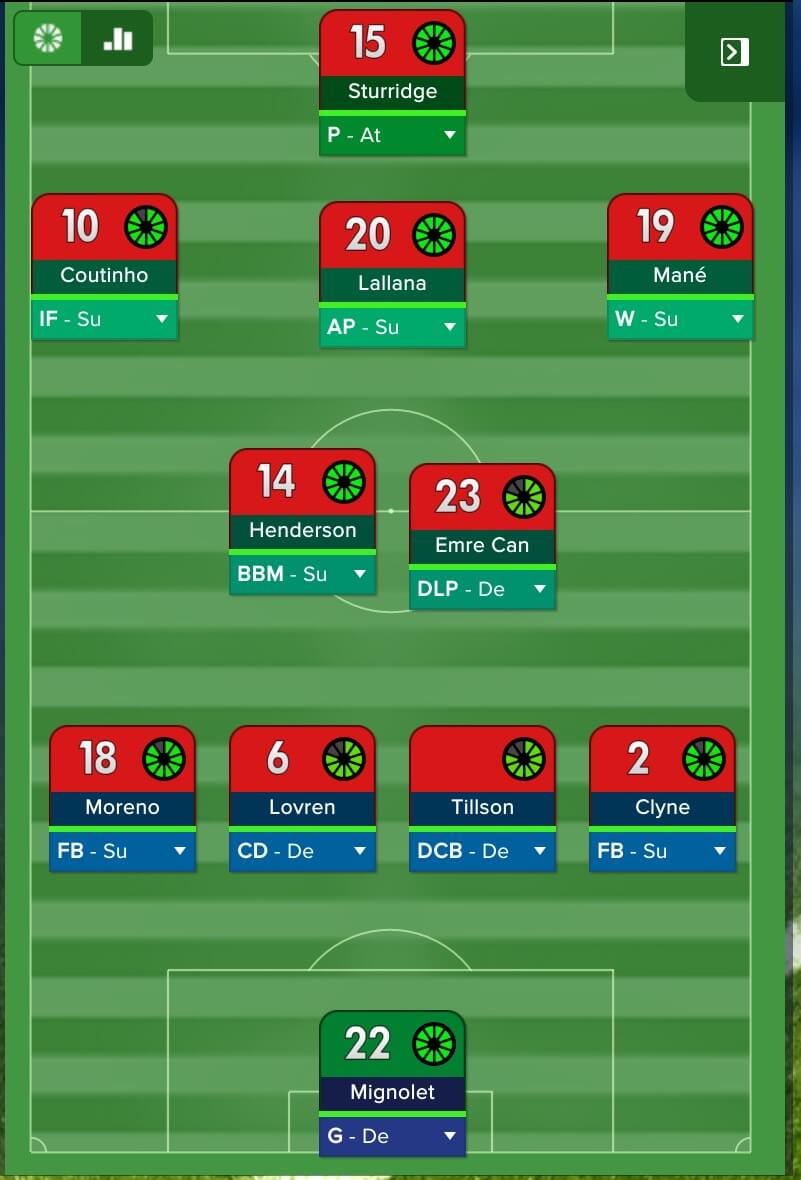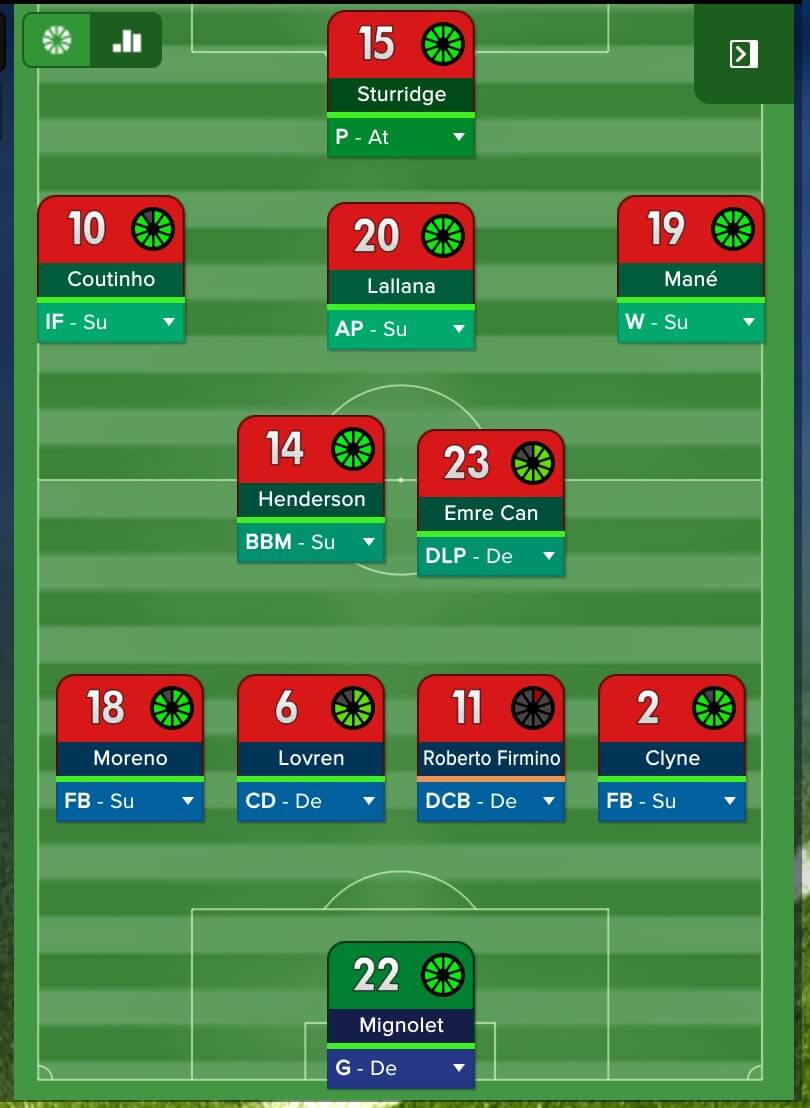 In both sides, Lovren will provide the base mark. As the AI is able to change each time the game is played it is possible that, while we face the same teams, we do not face the same players in both seasons. Lovren will be present as much as possible in both and so we will be comparing his stats over both seasons to see if there was a large difference in performance. Without this, it is possible to just experience one favourable season and one which was poor.
Team Stats over each season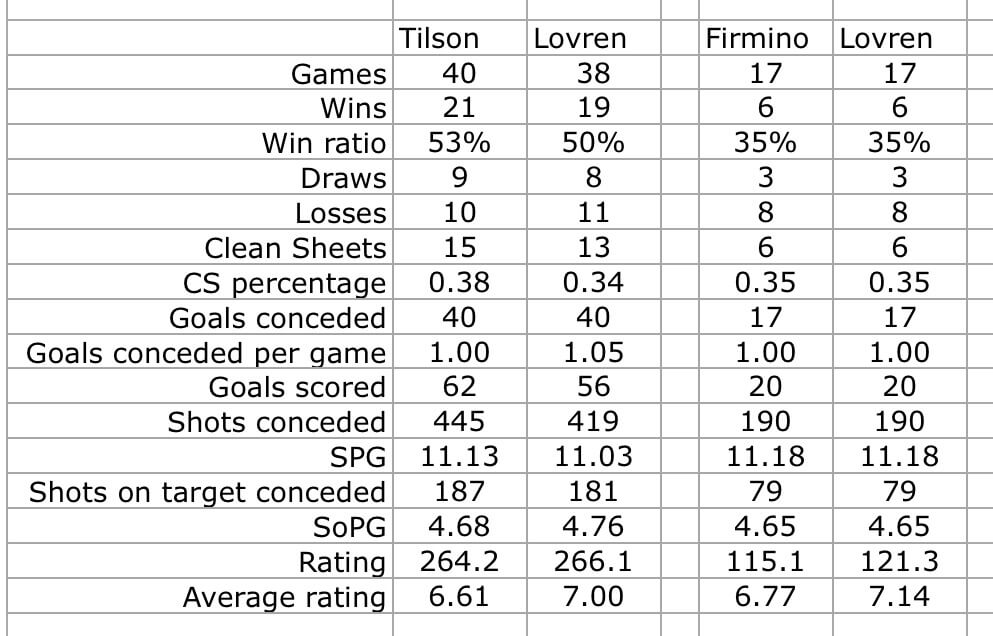 Season conclusions: Firmino
The long and short of it is I got sacked after a league cup quarter final exit to Hull. The main thing lacking in this season when comparing to the Tilson one is goals scored. A number of times in that save Sturridge would turn a game and with these wins came confidence. Before the transfer window closed in the Firmino season, Tottenham came for a bid for Sturridge and this unsettled him. After this the team scored only 6 goals in 9 games.
Season Conclusions: Tilson
A decent finish in the league, 8th. Main losses were away from home or against harder opposition. A different tactic in these games could have given more points. With Tilson in the side, Liverpool achieved 2 more clean sheets while Lovren was absent, both away matches to poorer sides, Middlesbrough and Swansea. The only game where Lovren played and Tilson was absent was a 1-0 defeat away.
Looking at the results – Team comparison
On the face of it it would be easy to say that the experiment was a failure. With an unsuited player at the heart of the defence we won less games and I got sacked before the season had reached half way. If we look closer at the results though, and single out the defensive indicators, then the two teams are actually a lot closer. With Firmino in the side, we conceded 3 goals only once, and 2 goals in 5 games. This means that in almost 65% of games played, we conceded 1 goal or less. Compare this to Tilson who conceded 1 or less in 70% of games. Both teams also kept a similar ratio of Clean sheets, 0.35 to 0.38. When isolating the same 17 matches for Tilson and Firmino, Tilson's clean sheet ratio drops to 0.29, one less clean sheet over the same games.
The major difference between the two seasons was goals scored, dropping from 1.5 per game with Tilson, to 1.15 with Firmino. This is not something I was looking to compare though, but seems to be the main reason for the losses.
Key Stats for each team
-Both defences conceded 1 goal per game.
-Firmino conceded slightly more shots per game, but at 11.18 compared to 11.13, this equates to 2 shots over a 40 game period.
-Shots on target were practically the same.
-Both sides also had a clean sheet ratio of one in every three games.
-Less goals scored in Firmino season
Tilson v Firmino Individual Stats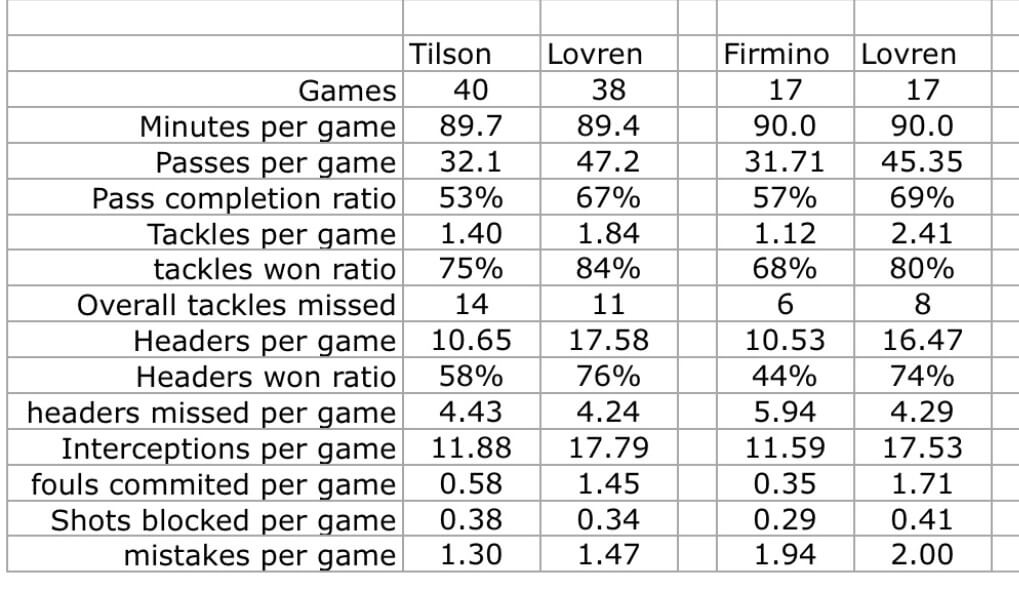 When looking at the key defensive stats, Tilson has more tackles per game than Firmino, and a higher percentage of successful ones. He does have a slightly better attribute rating on 'Tackling' (11 compared to Firminos 10) and the difference in success was only marginal.
Headers attempted per game was comparable, both a little more than 10.5 per game, however again it is Tilson with a better success rate. Winning 58% of headers, he out performed Firmino whom only succeeded in 44%.
Interceptions per game were comparable, both with more than 11.5. When looking at the same 17 games for Tilson as Firmino, he does outperform, with an average of 12.25 per game.
Overall, Firmino made more mistakes per game than Tilson. Lovren however also made more mistakes in the season alongside Firmino, making a quarter more mistakes in each game than when partnered by Tilson. Firmino made fewer mistakes per game than Lovren in the 17 games played together.
Both Firmino and Tilson committed fewer fouls per game than Lovren, possibly due to the different role they played. That or Lovren was more active as a defender to counteract his lower rated partner.
Passing would not normally fall under a defensive duty, but if the player could relieve pressure with better passing from the back this would help. The passing of both Tilson and Firmino was very similar. Both completing around 55% of their 32 passes per game. One would expect Firmino to be higher rated here due to his attributes; however, this was not the case.
Lovren v Lovren
1.85 passes per game more with Tilson than Firmino, slightly more completed.
Lovren attempted more but completed less tackles per game with Firmino than Tilson. 0.57 more tackles per game with Firmino. Firmino attempted less than Tilson, so this could show that Lovren was forced to make up for the lack of tackling from him. Lovren missed double the amount of tackles over the same 17 games.
Lovren attempted less and completed fewer headers per game, although the margin is small.
Interceptions made were the same.
Lovren committed more fouls and blocked more shots with Firmino.
Conclusions and recommendations
From a statistic point of view positional suitability doesn't seem to matter. My main observation was that the team did not concede more goals or shots with either player in defence. While Tilson did have better success rating for tackles and headers, so too did Lovren in that season, when comparing to himself alongside Firmino.
Ideally I would have played more games and looked closer at how the goals were scored. I decided to go again with Firmino but 8 games in he suffered a 5 month injury. I also considered that no matter the stats, attributes or past performance, there is always an error in the player somewhere, even the highest suited.
I doubt that I will play someone consistently out of position, but if I am caught short due to an injury or dismissal, it will give me comfort to know that attributes alone should bring a good performance out of the player. If a player is to make a mistake, it is far easier to blame the positional ability over accepting the fact that you would have conceded that goal no matter the player.
It also largely depends on if you want to see this message every game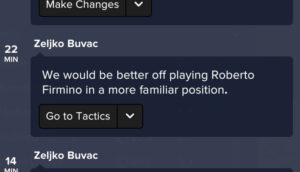 Thanks for taking the time to read it. It is not an expert view but I hope that it could be of some use to someone. I found the process of the save settled my concerns when playing a player out of position. This is something I have worked hard on over the past few weeks so would be grateful for feedback, be it good or bad.
Please feel free to contact me by commenting below, finding me on Twitter @accordingtofm or on FM Slack, details of which will likely be below.