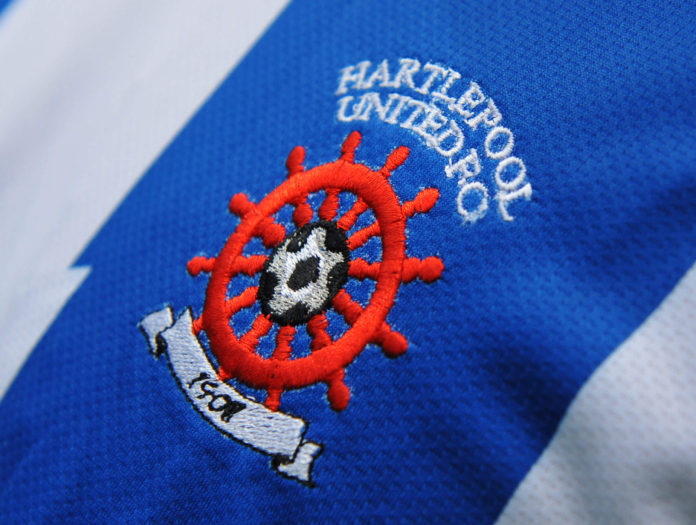 No messing, I'm going to dive straight in.
First thing to say, excitingly, is that Hartlepool now have a senior affiliate. And it's only bloody Manchester City! The deal is that I can loan their players without paying their wages,  that there will be a pre-season friendly each year, and they're giving me £70,000 per year.
I'm happy with this deal.
Also, I'm taking this as an early sign of encouragement. Does this means that they like what I'm doing?! They're willing to trust me with their players…are Pep and I about to embark on a beautiful friendship? Or is it all going to go a bit Brian Clough, Don Howe and The Damned United…?
Tactics
I'm very conscious that there are some people with a really wonderful understanding of FM tactics out there. I'm also very conscious that there are some really, really wonderful writers of FM tactics out there.
I profess to be neither of those things. I find explaining tactics is really bloody hard. It's easy to say "I have Look for Overlap" switched on – but explaining what this does, why this tactic benefits from it, and why I want that to happen – is tricky.
Below, I've outlined my tactic in a very simple way, but I've gone into far greater detail  in a Rogue Tactical Post on my blog.
Bayern Munich's Three Phase Plan started with Louis Van Gaal, and Fixed Position Possession Football. That's the model we're looking to emulate, and so Fixed Position Posession Football is what we're going for.
Tactical Overview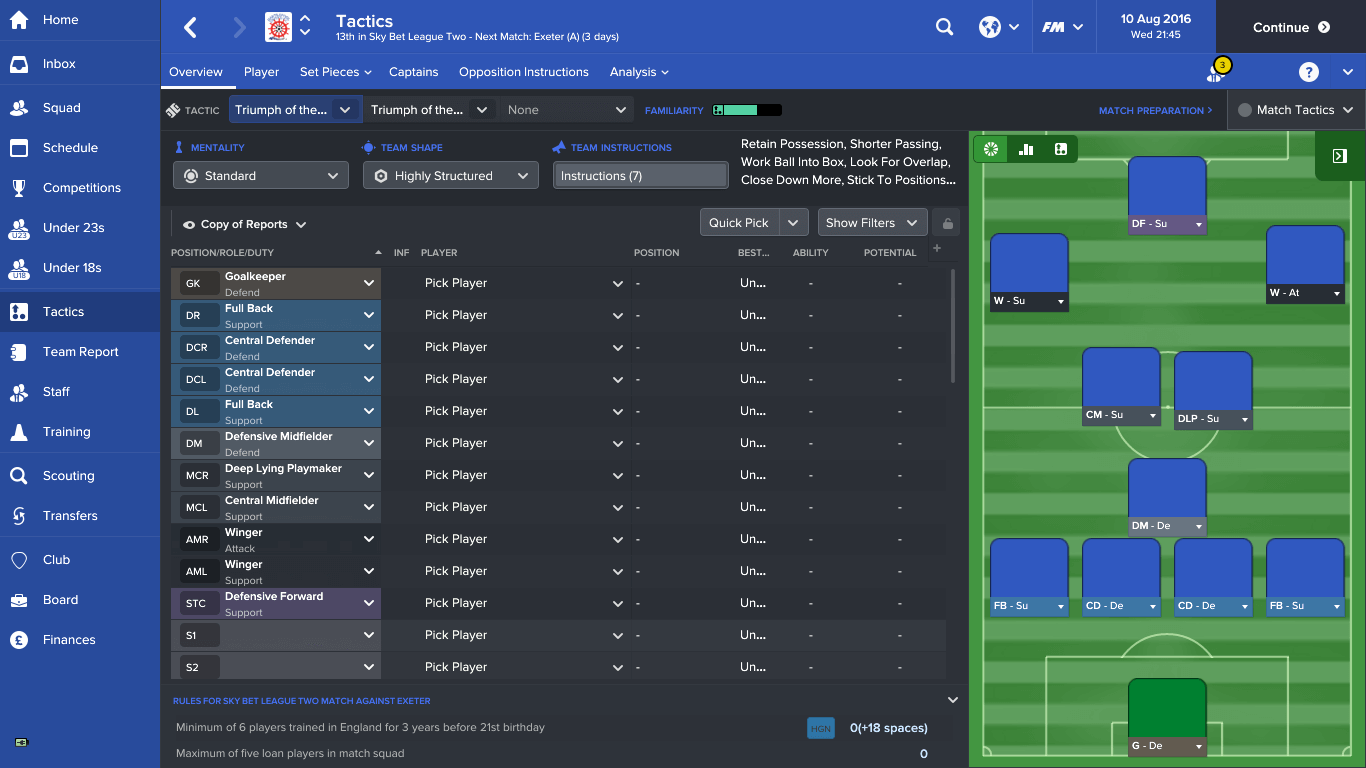 Team Instructions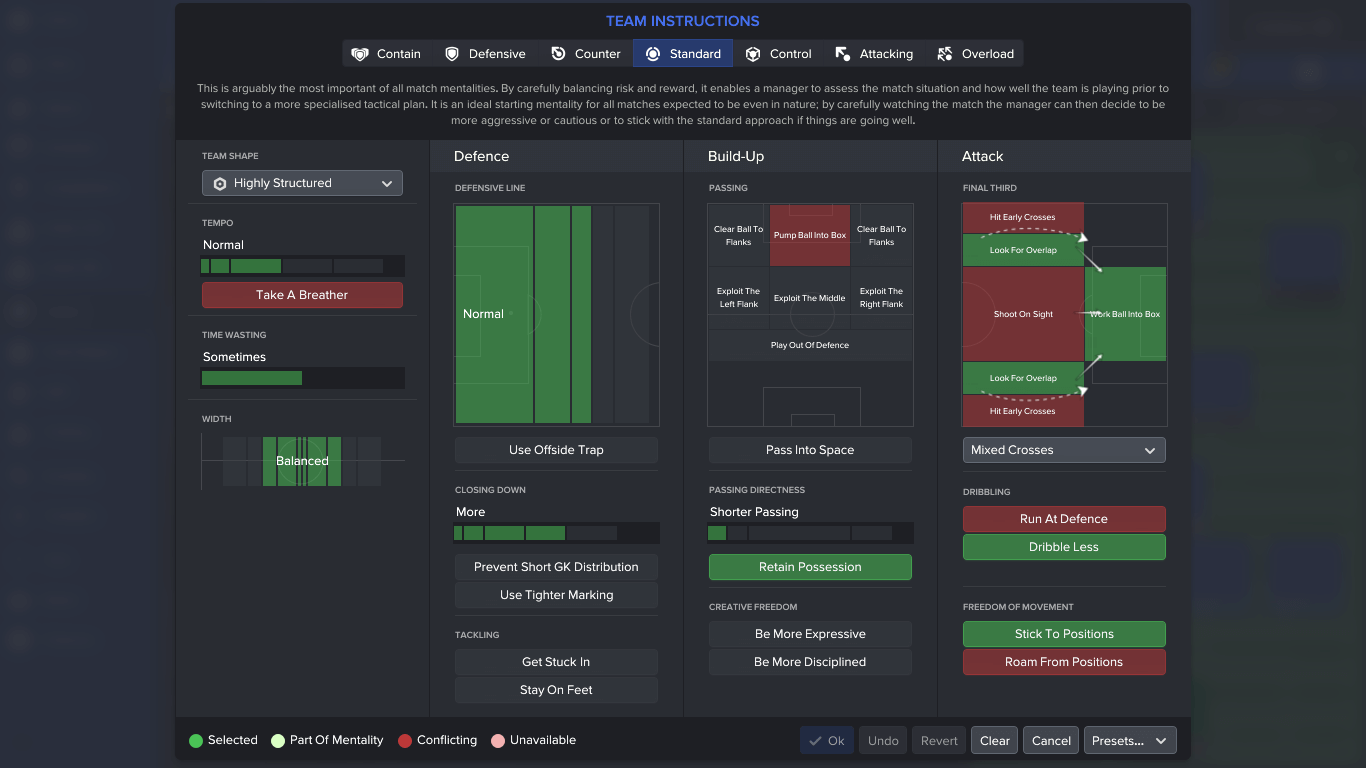 Essentially, I'm asking my players to keep hold of the ball, and to keep their shape. If they roam from their positions, they will leave holes. Holes that I'm not certain my other players will have the anticipation to fill, before we're hurt by the opposition. I'm asking them to stick to their own jobs, and not to get in the way of each other.
Remember Louis Van Gaal's turgid, incredibly boring Man Utd team? That's what I'm aiming for. Deliberately.
Transfers – MoneyBallin', sorta.
I've made some signings. I feel bad about it, but they're all free / loans, have barely cost me anything, and I feel have genuinely added a degree of depth, and technical quality, that we really needed.
Dale Jennings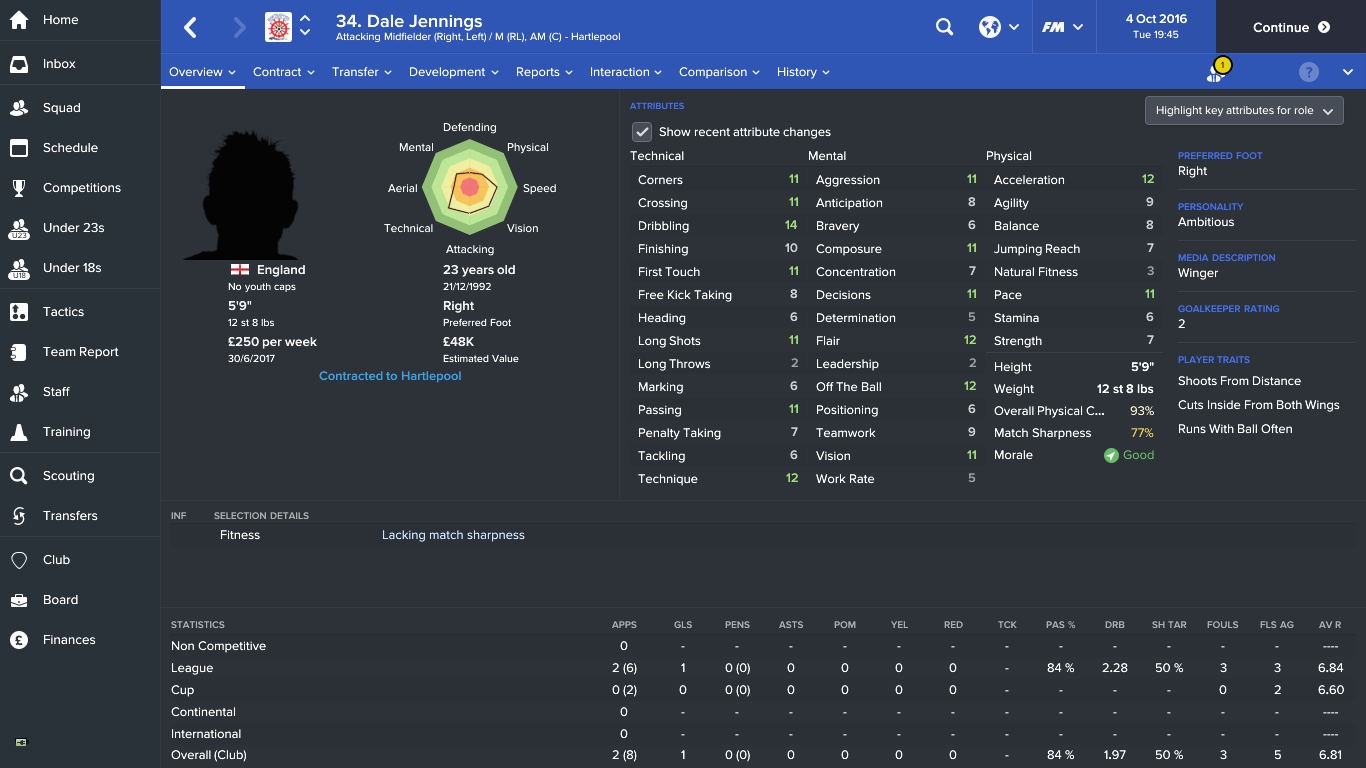 Yes, that Dale Jennings. That Dale Jennings from Bayern Munich (and then Barnsley & MK Dons). Picked up on a free,the 23 year old  plays as an Inside Forward on the left side, and has good stats in, what I think, are key areas (for our overall philosophy, if not for the role specifically). Not as explosive as a winger, I do hope he can at least be another creative influence in the team. He's being trained on his finishing, and is only being paid £250 a week. For that price, and that age, I think he's a really good addition.
Steve Pina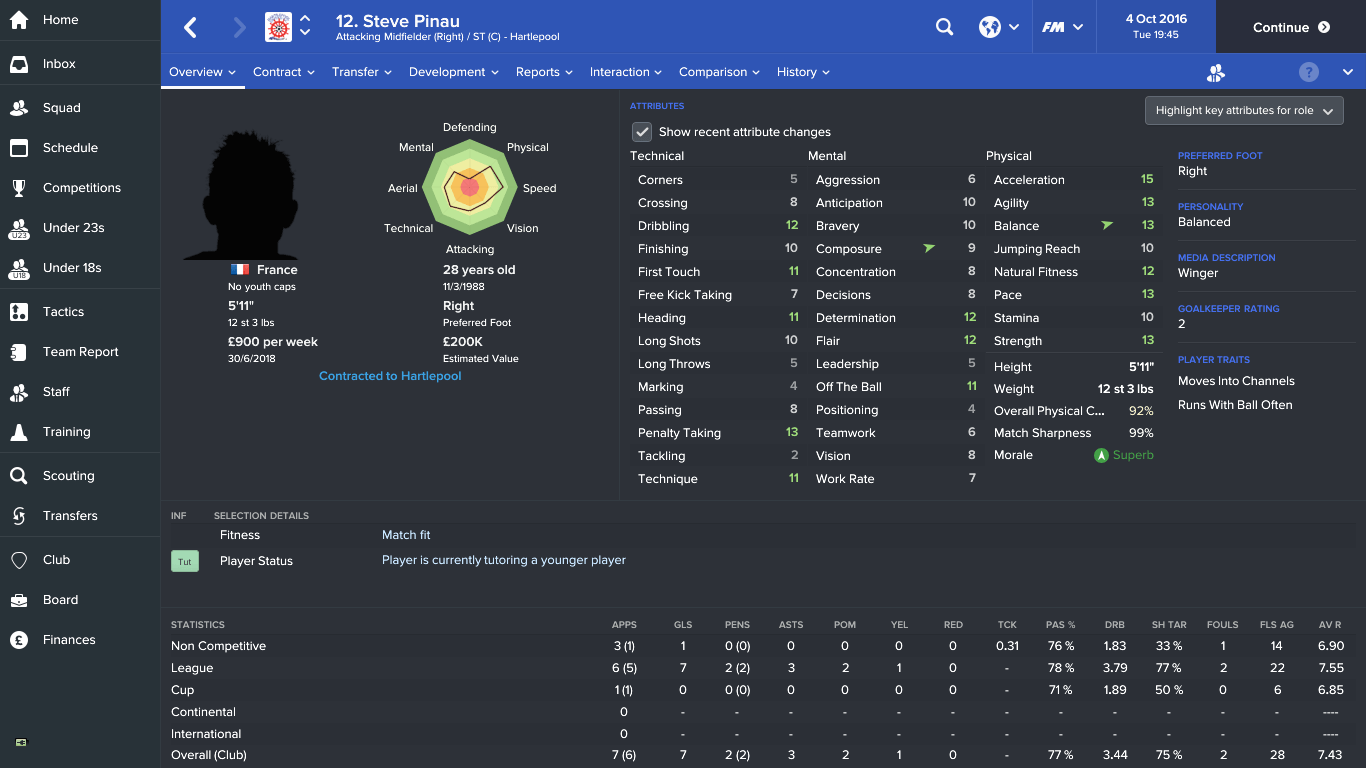 Another free signing, he's someone I was less enthusiastic about picking up, and maybe the only one who directly contradicts the MoneyBall philosophy. He's 28. Which, in FM terms – means that's he's nearly dead.
A very quick right sided winger, I brought him in because
a) He's very quick, and adds some much needed pace into my attack
b) We only had one natural AMR, and needed the back up
c) He's very quick, and adds some much needed pace into my attack
I wish his Passing / Crossing stats were a touch higher, but he will do for now.
Sergio Molina
Brought in on a loan (before the Man City affiliation was agreed, must be said), Molina is bringing some much needed composure and passing ability to the DM position. He's being called the Busquets of League 2 by precisely no one – but that's roughly the idea.
I didn't sell anyone, and with these three additions, I feel our squad has enough quality & depth do be okay this season. If we all play to our ability.
Pre-Season.

As you can see, unbeaten in pre-season!
This, really, means very little. The teams we played against (with the exception of QPR) were all teams we really should have been beating – Broxburn are a semi-professional Scottish outfit. However, we've had more than 50% possession in each game (getting as high at 62% against Chorley!) and I've managed to get everyone some game time. My tactical familiarity is rising quite quickly, and having seen it in action – particularly against QPR, I don't feel the need to make any major tweaks just yet.
It's also allowed me to settle on a rough starting 11.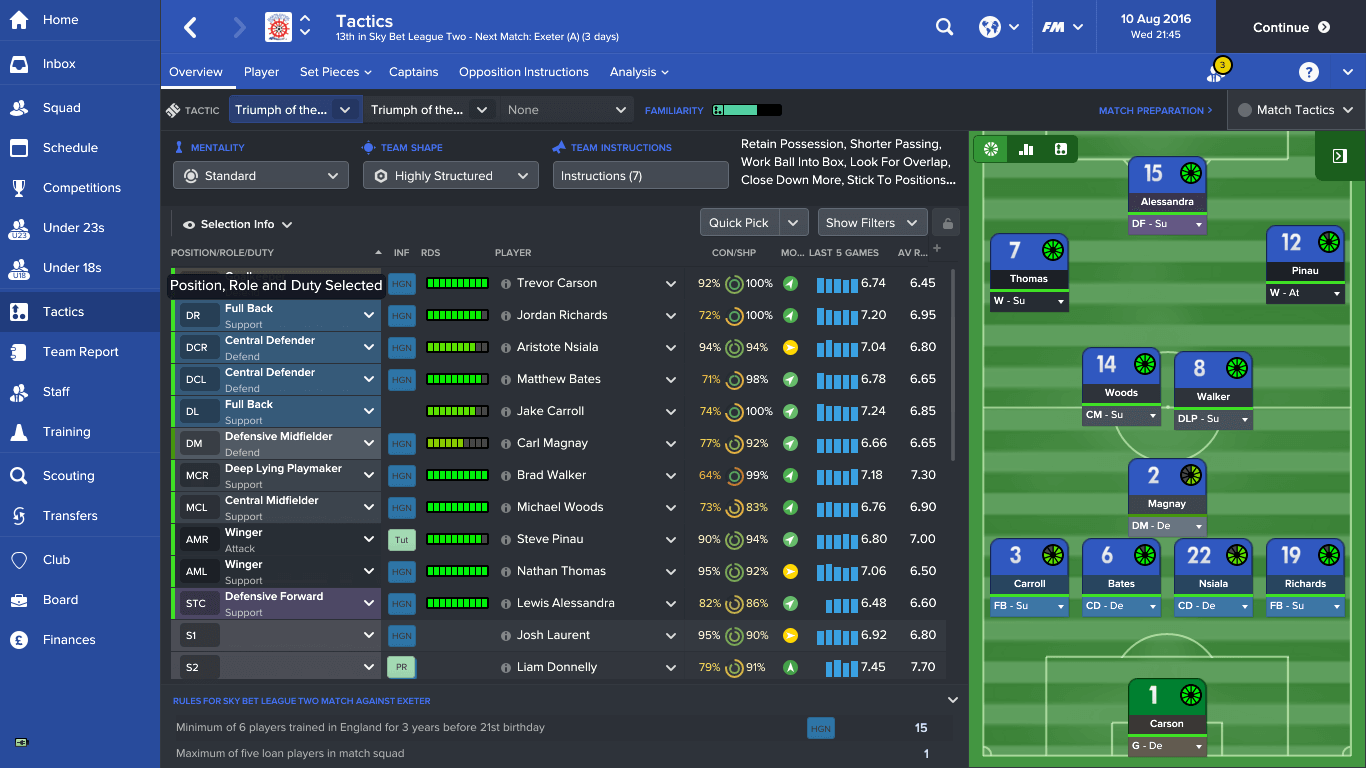 From this point forward, I'll be publishing save updates every in-game few months.
Thanks for taking the time!
FM_Dan
You can read more of what I write at my blog, The Triumph of the Pass
You can follow me, and talk to me, on Twitter