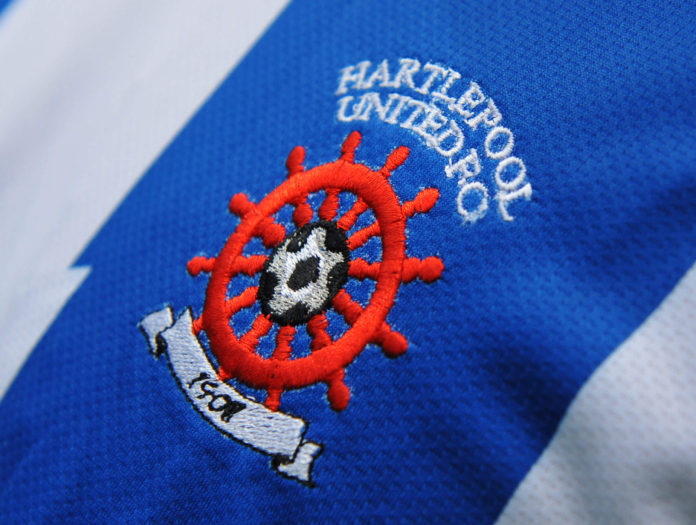 Chapter One.
The first Chapter.
It implies something, doesn't it?
The first part. The beginning. The start of something. Something good, you hope – but until you reach Chapter 3, or 4, you really can't be sure.
This is, in essence, my "Judge me after a year" bit. The speech given by all managers worried by expectation, worried that they've started something that's going to go horribly wrong, worried that they've inherited a squad wholly unfit for purpose. My first post outlined my intentions for this save, and I cant help but feel I've been a tad ambitious…
Nervous gulps all round.
Hartlepool United F.C.
Transfer Budget: £25,000
Wage Budget: £1,100
Board Objective: Don't get involved in a relegation battle
(For those interested, Database is large, and playable from Vanarama National, and Scottish L2 and above. My manager profile is set as "Appropriate for this level of league", and I've given myself a fairly even spread of attributes, with a slight emphasis on Technical and Attacking coaching)
The Squad
Rather than run through all of my squad, I'm going to focus in on a few of my players, giving you a snapshot of what we're working with. I'll give more detailed updates on players we bring in, or any people who emerge as the season goes on.
Jake Carroll (DL)
Apparently, my "Key Player" Jake Carroll is a 24 year old Irish left back. Quick, athletic, and perfectly serviceable (at this level) as LFB / DFB.
I don't know if you know Jake Carroll, but in the very short space I have, I've developed something of an irrational hatred of him. Sneak preview of the upcoming save update – He gets caught out at the back a lot, and has a seemingly unerring ability to get into a good position in the final third, then to cross the ball out of play for a opposition goal kick. I want him gone.
However, and this is important, and something I'll get onto in a second – He'll do for now.
Brad Walker (MC)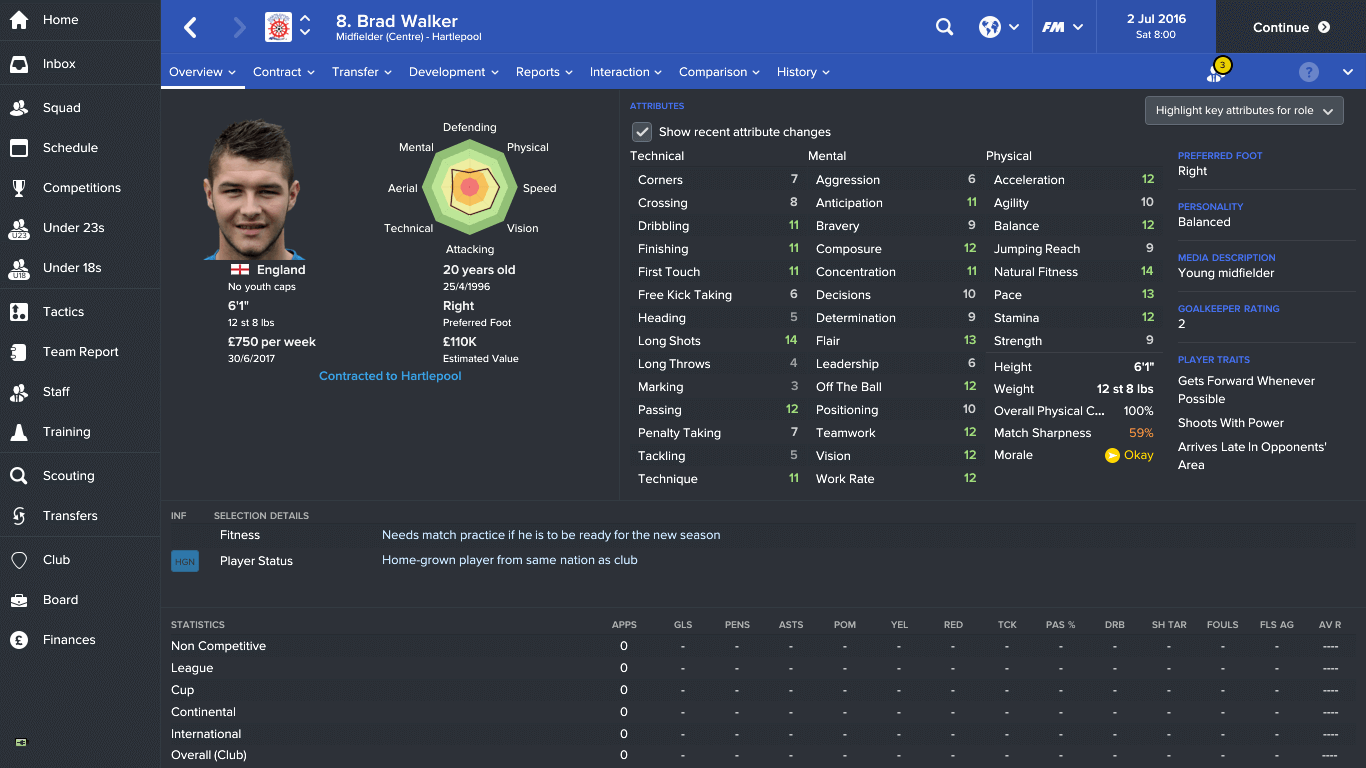 I'll be honest here – I've developed a slightly unhealthy (and unhelpful) crush on Brad. Young, the best passer at the club, decent technique, mobility, team work, vision and composure stats. And he arrives late in the opponents area. He's a dreamboat.
Carl Magnay (DR/DM)
Apparently my best DR, I'm doing a Pep and playing him as DM. His mental attributes are better than others in that position, and as it's a crucial position to my tactic, I need a composed player there. (Ironically, I'm willfully ignoring his composure statistic.)
Rather than show you any of my strikers profiles, I'll let you know that I have Bradley Fewster, and Advanced Forward on loan from Middlesbrough, two target men, and a genuinely puzzling fellow named Lewis Alessandra. He might be serviceable as a F9, but with composure of 6 and finishing of 9 – I'm absolutely not convinced.
"He'll Do For Now" – Won't he?
"Don't needlessly splash out on new players or sell old ones when you take over a club – the New Manager Syndrome" – Soccernomics, pp. 21-22
According to my own Three Phase Plan (something I outlined here, and something I'm going into in greater detail in a future post), Phase One revolves around implementing Fixed Position Possession Football, and getting promoted.
These two things might well be at odds with one another. The technical qualities of (most of) my team might mean that my possession game might fall apart. Goodness knows what my Pass Completion % is going to look like.
The MoneyBall philosophy states that I shouldn't look to ring wholesale changes immediately, but the technical qualities of the team (and the relative lack of depth in some key positions) means that I already feel like dipping my toe into those murky waters of the transfer window.
Will I need to compromise my philosophies, at least in the short term, in order to properly build the club in the long…?
"Okay Dan, Get On With It…"
Having evaluated my squad, I then look at my staff. To say that Hartlepool have a skeletal staff would be, well, it would hit the nail on the head. I need to really want to bring in a Head of Youth Development, a Head Physio, a Coach, and a Chief Scout. The club doesn't have anyone, in any of these roles as I take over.
Ideally, I'd find Staff that play the way I want to – my formation, my passing  & closing down styles. But, at this level, that's a luxury I don't think I can afford. Again, I think we might have to compromise in the short term.
However, I find a Head of Youth Development who I don't hate fairly quickly, and on a free…
Bill Hendry
I set up adverts for the remaining posts to fill – we'll see how that goes.
Before diving into the tactics & transfer screens (my next post), I ask the club to find me a senior affiliate – If I get a decent one, it'll bring in some money, and get me access to their academy. I'm thinking loans. I'm thinking scouting network links.
And so, Chapter One draws to a close. It's hard work, this. Which is what I wanted – but I'm a tad overawed by the sheer amount there is to do…
Next post will be on Tactics, Transfers, and Pre-Season. Then, the plan is to release an update every few in-game months, depending on the time I get to write / play. Hopefully these updates will be once a week.
I'm also roughly planning on following a Star Wars release schedule. We'll have "Saga" releases, following the Journey's story , but we'll also have Anthology releases, adding a depth and context. I think that should work.
As ever, any thoughts and feedback is hugely appreciated.
Dan
If you like, follow my on Twitter, It'd be lovely to chat there.