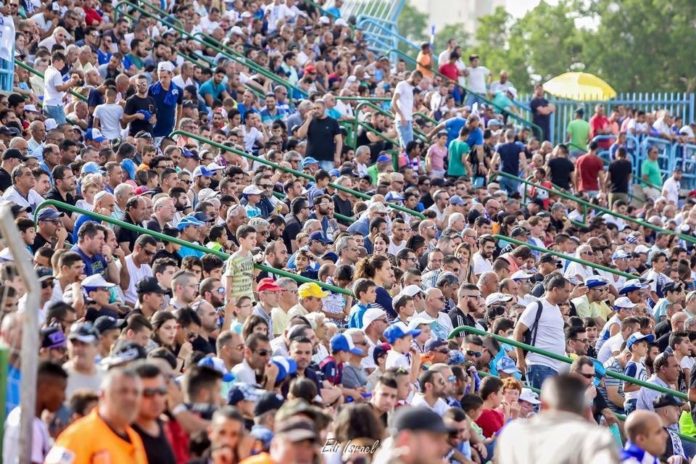 Hapoel Ashkelon FC's third league match, home to Bnei Yehuda, brought our first win, 2-1.
Besides the points, two aspects delighted me. First, having thrown away a one-goal lead, we had the resilience to come back and score again.
Second, Matan Hozez, who I've blogged about before [29 Dec 2016]. Another goal, again taken with aplomb.
Watch him on the training field, you wouldn't have him down as a finisher. Which shouldn't matter too much, given that everyone tells me he's a winger.
But such is my lack of confidence in our so-called strikers, I've been playing him as a poacher alongside target man M'peti Nimba. What Hozez lacks in finishing ability, he makes up for with (a) an ability to anticipate where the opportunities might come, (b) movement off the ball and (c) an ability to accelerate that gets him into the right place at the right time.
Hozez scores the same way that teams have been scoring against us. He gets into the penalty area in the gaps between centre-backs and full backs and scoring from close range.
I'm fascinated by forwards who score freely without being skilful finishers ─ something discussed on the Facci Sognare: adventures in Football Manager blog (11 Apr 2015), in relation to FC Volendam's winger, Brandley Kuwas.
According to the profile presented by that blog, Kuwas was a poor finisher (attribute score 4/20) – yet he kept scoring goals (some very good ones at that). How can this be?
Examination of Kuwas's profile reveals some points of comparison with Hozez: speed, to get into the right place at the right time; first touch, to get the ball under control, dribbling, to get nearer to the goal; technique, for putting the ball in the right place; and the flair that brings with it a touch of charisma.