One of the most exciting aspects of Football Manager is the part when you can finally spend the money you saved up to bring in your next stars. The thrill of signing a fantastic player is something only a true football fanatic can experience! Everyone tries to exploit the market in their own way. Some teams use a bunch of scouts to monitor thousands of talents, others rely on their instincts, the skill numbers or something they know. Today I'm starting a series in which we try to exploit the market with my one and only power in FM: the knowledge of the Hungarian players! Starting from behind – not like that you filthy person! – here's 5 goalkeepers that can help you!
Before we get into this I should mention that these are NOT players who can be your stars, but very reliable choices and decent signings for even the top leagues. In this case these players has the potential of 3 stars in the top leagues – probably worse in the top teams of the top leagues. Now then, let's jump into it!
1. Péter Gulácsi
The 26 year old might ring a bell due to the fantastic season that RB Leipzig has right now or even if you support Liverpool. Gulácsi started his career in BVSC – a once great club that is amateur nowadays – but switched to MTK, a club infamous for producing talents after 8 years. A couple of years later Liverpool got him and loaned out, but eventually the Reds let him go.
His career kicked in from that point, he was quickly became the number one goalkeeper for Red Bull Salzburg and his performance was solid even in the Europa League! He won the Austrian Bundesliga twice and the Austrian Cup once in Salzburg. Thanks to his level of performances he found himself in the partnerclub in 2015 and his debut was in february in 2016.
Nowadays he has not only kept a cleen sheet several times – against the likes of Dortmund! – but he also found himself to be the successor of the infamous Pyjama man, Gábor Király in the National Team. He is a really humble character – he visits trainings of the youth squads' trainings at BVSC every now and then and he also offered a pair of gloves signed by Reina for charity. All in all you couldn't ask for much more from a keeper, he is still only 26 and his reflexes are remarkable!
He is valued at 1.4 million pounds and you should be able to sign him for about 2-3 million.
2. Dénes Dibusz
A lesser known keeper from the Hungarian first division. Dibusz started his career at Pécs, a team that was disqualified from the first two leagues due to the lack of infrastructure and since they became semi-professional, they lost most of their talents – a nasty thing from recent years I don't want to get into, Kecskemét and Győr had the same faith, Nyíregyháza was the only team who won promotion to the second league straight away.
The top Hungarian club Ferencváros took the opportunity and signed the goalkeeper – a position they struggled to strengthen properly for many years. Dibusz did very well in Pécs even though he was ridiculously young and he delivered the same level of performances at his new club as well. Nowadays people say he got too comfortable and he doesn't work enough since he barely needs to do anything at Ferencváros, but he became a regular squad member of the National Team.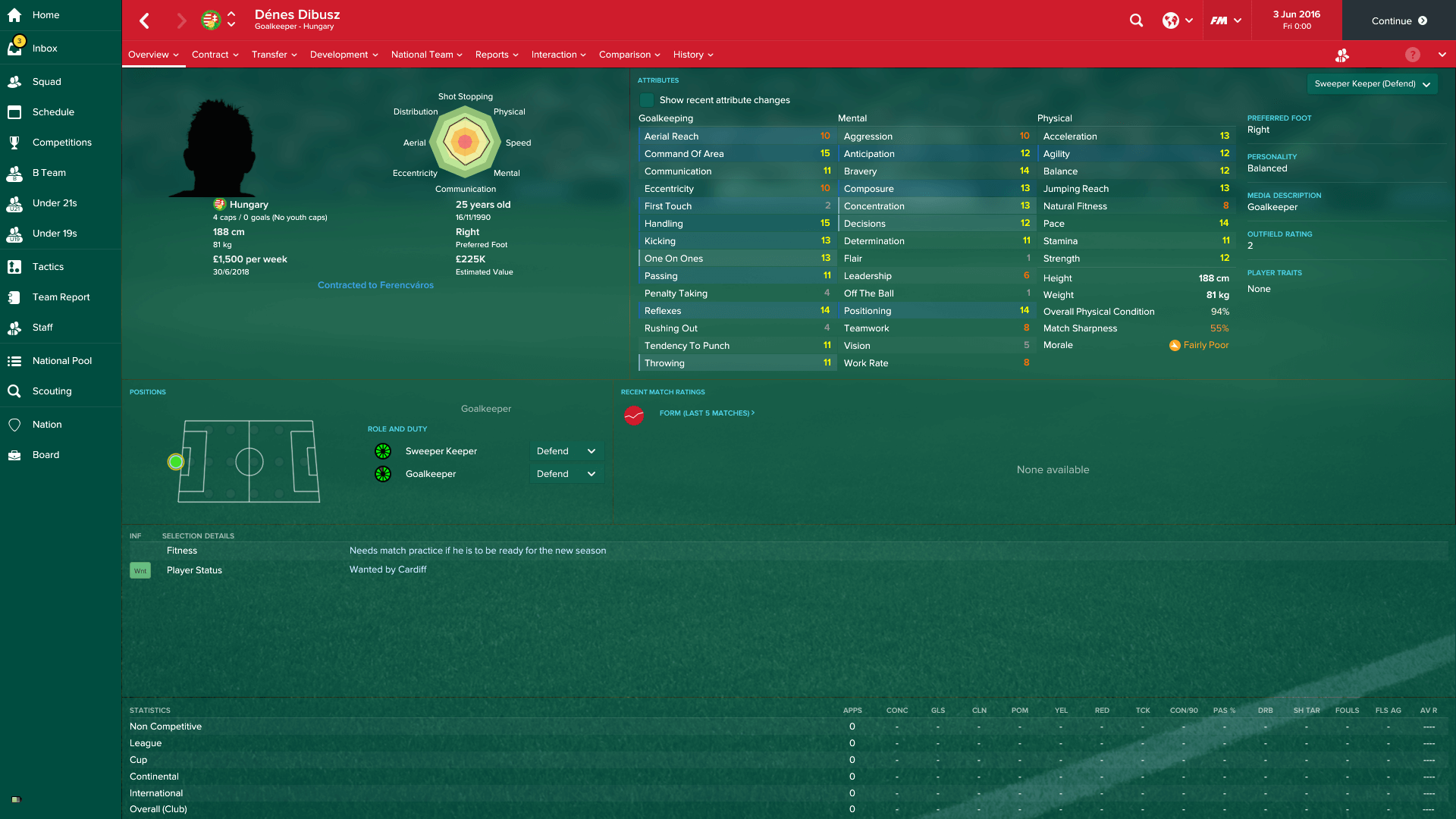 In real life, he is a reliable keeper, nothing extraordinary but he does the job. His one on ones could do some work but he is still just 26 with a lot of experience. He is rated at 225.000 pounds and you can get him relatively cheap, about 700.000 pounds could do the job.
3. Ádám Bogdán
I don't think you need introduction of Bogdán. The redhead keeper who were in heaven at Liverpool against Exeter only to drop into hell due to sad howlers a couple of months later last season. The truth is though that he is a decent keeper. He had great seasons at Bolton between 2007 and 2015 and even though his career didn't turn out the way he – and honestly every Hungarian fans – wanted he can still do the job!
Bogdán already kept Hungary's goal 20 times at the age of 28 and it's only up to him if he will add more to it in real life – he made some questionable comments about him going to the training camp before the EUROS 2016 knowing he won't travel to France (he refused the offer!)
Bogdán is at Wigan Athletic at the beginning of the season on loan from Liverpool and he is the best Hungarian goalkeeper at the start of the game! He worths 6.75 million pounds according to FM, but you can get him for only 4 million due to his status at Liverpool.
4. Balázs Megyeri
Another decent 26 year old keeper from Hungary (yes, most of these boys are all at the same age) who has some international experiences. His career is rather hectic, Ferencváros swooped him at a young age but soon enough Bristol City saw some potential in him. However he came home after only one year in Bristol. Megyeri started working and he managed to build himself so much he found himself in front of the net at Ferencváros – but this time, at the seniors!
In all honesty, Megyeri was the only good goalkeeper Fradi had in the 2000's before Dibusz and that Ferencváros was rather weak, so he had a LOT of work as their goalie. In 2010 Olympiakos signed him from Hungary but the real turning point was in the 2011/12 season, where two goalkeepers left the club and he stepped from the backup goalkeeper to number one keeper very quickly – not to mention his good perfomances in the Champions League!
Greece didn't treat the Hungarian well though, as quick as his success was, he started to play less and less games, so it was no surprise that he left Olympiakos, Getafe paid a little over a million euros for his services. However, Megyeri only played 2 cup games in Spain for some reason.
Nowadays he is playing for Bundesliga 2 side Greuther Fürth and he seem to establish himself as a solid keeper as he is starting in games again. Megyeri is also the National Team's 3rd choice keeper and wouldn't surprise me if he played in the Bundesliga in the near future. He is valued at 1.3 million pounds and should be available between 2-3 millions.
5. László Köteles
The 31 year old goalkeeper had an interesting start of his career, but things started to click in 2007 when Diósgyőr signed him. He was only 23 back then but he established himself as one of the best talents in Hungary. However something happened, which is well known but still noone dares to speak of it – it is speculated he sold matches and that was the reason he ended up leaving the country and was never called again for the National Team.
Even if it's true, KRC Genk took him on loan in 2009 before they signed him for about 750.000 pounds. He turned out to be a fantastic piece of business, Köteles ended up playing in more than 150 games for Genk and as far as I know they spoke highly of him. Not sure what happened, but he lost the favour against the other goalkeepers and so Waasland-Beveren loaned him.
Even though his first touches needs improvements, Football Manager set a 875.000 pounds of value and you should be able to get him for about a million.
Others worth mentioning:
Ádám Kovácsik (Videoton) – an only 2 stars talent at the age of 25 but he should be quite cheap to buy and he has some alright stats. With a little bit of work, he can be a decent backup keeper.
Patrik Demjén (MTK) – he is only 18 but many expert says he can be a phenomenal player! FM seem to agree because he should reach the level of the goalkeepers above and he is calued less then 20.000 pounds
Zsolt Rátkai (Rapid Wien) – also a 18 year old talent, similar to Demjén. Same amount of potential, but slightly worse stats than Demjén with 30.000 pounds of value
István Verpecz (Debrecen) – a rather avarage goalkeeper who has some nice attributes in Football Manager, the 29 years old player is valued at 50.000 pounds.
Botond Antal (Diósgyőr) – at the age of 24 he can still improve his game, and FM certainly thinks he is capable of gret things, according to the game he can be better than above! In real life he is struggling this season though. He is valued at only 13.000 pounds.
Dávid Gróf (Honvéd) – the 27 years old looks to rebuild his career this season both in real life and in game. He has the similar ability as Kovácsik and some promising attributes. Valued at 21.000 pounds.
I hope you will find your luck with some of the Hungarian boys. Who have you already have and how did they do for you? Feel free to let me know on Twitter and don't forget to sign up to The Higher Tempo's Newsletter to get notifications of the latest articles!