It's halfway through Celebest Villa 2000 FC's inaugural season in the Indonesian Super League, and so far they are – just – exceeding expectations, keeping just above the relegation zone. How would they fare in the second half of the season?
Indonesian Cup
After approximating a reasonable definition of a professional performance in the first leg against Persewon, we were able to put in the dictionary definition in the next leg, drawing 0-0 to make it through to the last sixteen.
There we met Persis Solo, our mortal enemies, the team who beat us to the league title last season and were shaming us by remaining comfortably mid-table this term. And boy did we mess it up in that first leg, getting well and truly licked. So badly in fact, that Persis Solo were able to put in a completely lacklustre performance in the next leg, safe in the knowledge that even if we improved markedly (we did), we still couldn't improve enough to make up for the damage. We couldn't, and crashed out 1-3 on aggregate. Still, at least we could concentrate on the league – and we would really, really need to concentrate.
Indonesian Super League
New (half of the) season, and what's changed? Persis Solo are beating us down and making us stay there. I hate them.
Whilst results weren't exactly disastrous, they also weren't good enough to put any space between us and the relegation zone that we were often slipping into. Things did look like they were changing though. A handy victory of Persiba followed by a modest draw with Bali was in turn followed by a brilliant win at Persipura Jayapura, outplaying one of the best teams in the country. When we subsequently achieved successive wins for the first time all season with a victory over PSM, things were looking good for our survival.
And then, then we completely dominated a free-falling Semen Padang, could not score any of a number of clear cut chances, and in the 90th minute a deflected shot hit a Padang player and wrong-footed our goalkeeper, so we lost 0-1. I'm sure we've been here before.
This sparked a mini-slump, but 1 point from the next 3 difficult games against top of the table teams wasn't a total disaster – it just put more pressure on us to perform.
Maddeningly, we couldn't do this with anything approximating consistency – wins against Persib and Borneo sandwiched a complete drubbing, 1-6 at the hands of a poor Persiraja side. Going into the last game against Gresik, below us in the table, we knew that if we didn't lose, we'd stay up. So we lost…
…
…but thank goodness, it was enough! Twenty points in the second half of the season was enough, and by the skin of our teeth and a single point, we would live to fight another Super League season.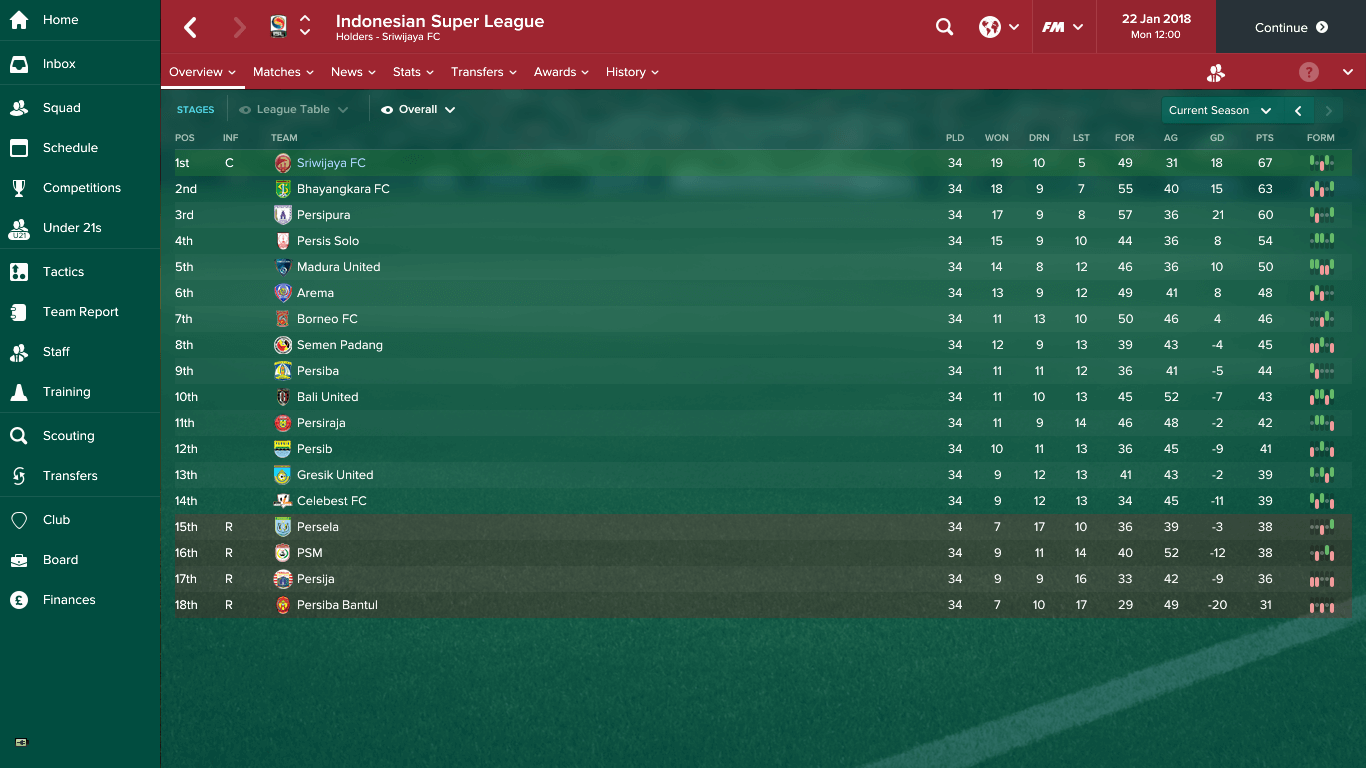 Or Rather…
…Celebest would live to fight another Super League season. Call me a horrible person, but I'd had my eye on the door for a while. A difficult season of maddeningly inconsistent performances and a steadily eroding defence was compounded by Celebest losing money hand over fist. I'm an ambitious young manager trying to make my way up in the game, so as my requests to go on coaching courses to improve upon my frankly pathetic Indonesian B license were flatly turned down because of the financial situation, I grew restless.
Having outperformed all expectations by staying up, I felt I had enough credit to try my luck at other clubs. Persiba and Persipura Jayapura said thanks but no thanks after interviews but, surprisingly, the champions of Indonesia Sriwijaya FC decided I was a risk worth taking.
So next year, ahead of schedule, I'll have my chance to navigate the choppy waters of Indonesian football with a stronger team in a better position, and even be able to try my hand at that coveted Asian Champions League.
Sorry Celebest, it's been fun, but a man's got to go when he hears the Sri calling.
Some Other Notes
Just a quick thing, but this is one of the first seasons I've had where I've earmarked a couple of youth intake players for immediate first team involvement and had it immediately pay off. Tri Syahputra at defensive midfield but especially Djayusman Amiruddin, our AM, were some of our best performers this year, Amiruddin becoming a regular in the Indonesian u19 team. That felt mighty rewarding. Maybe I can try and lure them over to Sumatra with me.