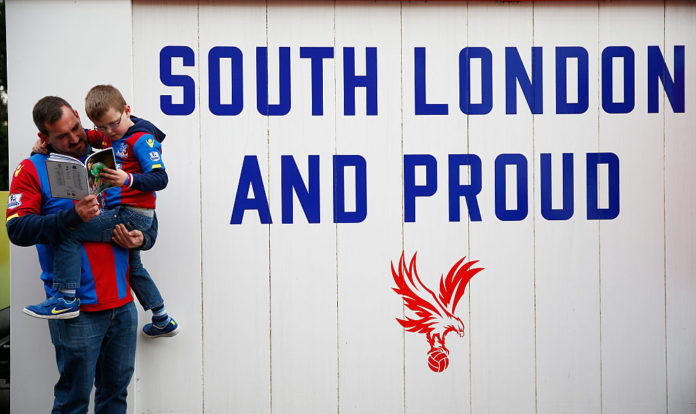 Last episode was a bit of a mixed bag as we went out to Sunderland in the League Cup and got thrashed by Manchester United. However on the plus side we did beat Everton at home, despite having a man sent off. We've also got some injuries to contend with as well with both Wickham and Townsend injured for a couple of weeks. 
Also the news comes in that Pape Souare will be banned for 3 games for his horror challenge against Everton. In slightly better news Conor Wickham has resumed training. Back to the bad news Zeki Fryers is injured! This is bad as with Souare's ban we don't have any left back for 2-3 weeks so someone will have to play out of position. Up next we face the side directly below us in the table (8th) which is Arsenal. And it's away.
15th October – Arsenal (A)
Tactics:
Line Ups:
Summary:
After telling the team that they're the underdogs but can still win this one we are underway

 

Monreal shoots wide. 6 minutes 0-0

Mandanda tips a shot over from the Ox. 20 minutes. 0-0

Flamini booked in the 22nd minute.

Goal! Lucas scores in the 35th minute. 1-0

Ox heads just wide. 42 minutes. 1-0

Half Time: 1-0. Arsenal have completely dominated the game and we've had literally 0 shots.

After telling the team they've been unlucky I make a tactical switch to counter and put Remy up top and sub off Benteke. We're underway!

Sub at 45 Minutes: Benteke for Chung-Yong

Goal! Lucas scores again at 51 minutes. FFS. 2-0

Goal! Now Ox has scored. 52 minutes. 3-0

Mandanda tips over an Ozil effort. 58 minutes 0-0

Ward is booked at 61 minutes.

Sub at 66 minutes: Tufan for Flamini

 

Tufan's shot from range is saved. 68 minutes. 3-0

Dann is booked at 73 minutes

Sub at 79 minutes: Cabaye for Mutch

 

Full Time. I slate the team in the dressing room.

 
Final Score: 3-0
Man of the Match: Oxlade-Chamberlain 
Well we were completely dominated in that match. We had 2 shots they had 21. Another worry is that Benteke is yet to score. Considering he's a 30 million pound striker that's a worry. So after 8 games we have 4 wins and 4 losses, so it's hard to tell how this season will go. Townsend is a back in training which is a good thing. Up next we have Burnley away. 
22nd October – Burnley (A)
Tactics:
Line Ups:
Summary:
After telling the team to impress me we are underway

 

Mandanda tips an Arfield effort wide. 4 minutes 0-0.

Red card! Cabaye is sent off for a pretty horrendous sliding tackle it has to be said. 9 minutes gone.

Gray shoots over. 15 minutes 0-0.

Ozan booked at 27 minutes.

Defour has a free kick that goes over. 43 minutes 0-0

Mandanda saves a Vokes effort. 44 minutes 0-0

Half Time: 0-0 All things considered I'd take a draw here.

 

After telling the lads to defend well we are back underway.

Dann is booked at 45 minutes

G

oal! Airfield scores at 48 minutes. 1-0

Sako is booked at 55 minutes.

Subs at 57 minutes: Townsend and Remy for Sako and Benteke

 

It's been all Burnley this half. Sub at 72 minutes: McArthur for Tufan

Heaton saves a Flamini effort. 78 minutes 1-0

Boyd scores but he's offside. 86 minutes 1-0

Full Time. I criticise the team.
Final Score: 1-0
Man of the Match: Scott Arfield 
Hard one to analyse really as we played with 10 men for such a large portion of the game. Rather worrying is both Benteke and Remy seem incapable of scoring. Up next is an important game against Bournemouth at home. 
28th October – Bournemouth (H) 
Tactics:
Line Ups: 
Summary:
After telling the players to end this bad run we are underway.

 

Townsend shoots wide. 2 minutes 0-0

Goal! Townsend scores his first for the club at 4 minutes. Get in! 1-0

Wilson shoots wide after 10 minutes. 1-0

Post! A Sako free kick hits the post. 30 minutes played 1-0

Goal! Absolute comedy own goal for Scott Dann. Decided to tap in a Wilson cross for no real reason. 36 minutes. 1-1

Boruc saves a Benteke effort from close range. 43 minutes 1-1

Half Time: 1-1. We should be ahead really. Still think we can win this game.

 

After telling the team to win the game we're underway

 

Another Benteke effort, another save. He couldn't hit a barn door at the moment. 51 minutes 1-1

Benteke hits the side netting. 57 minutes 1-1

Subs at 60 minutes: Mutch and Remy for Flamini and Benteke

Townsend skies it. 65 minutes 1-1

Goal! Remy scores from a Townsend cross! 68 minutes 2-1

Sub at 74 minutes: McArthur for Tufan

 

Wilson shoots wide. 87 minutes 2-1

Full Time. I congratulate the team.
Final Score: 2-1
Man of the Match: Andros Townsend 
Well the usual cliche goes that you shouldn't look at the table until at least 10 games in and we are 7th at the moment with 5 wins, 5 losses and 0 draws, the only team in the division to not draw yet. Our goal difference of -6 needs to be improved upon.
And on that bombshell it's the end of episode six! A follow on twitter would be great @cameroneyles and click here to catch up on the earlier episodes. Here's what's coming up next time:
Will we ever be consistent?

We actually have our left backs available

 

Will Benteke ever score a goal?