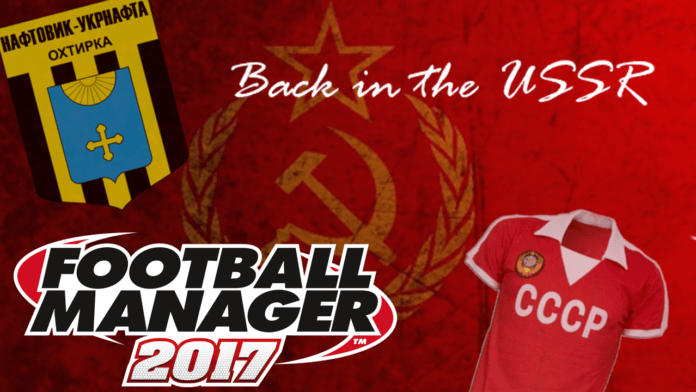 The day to day job as a manager can be a thankless task. You have to oversee training – which at this club means running the session, telling the coaches what the round white thing people are kicking is and keeping the players focused on doing drills rather than simply hiding behind the changing rooms, smoking 20 Rothmans.
Normally, you'd also keep up to date with your the recovery and rehabilitation of your injured players but, for reasons I won't go into, I'm no longer allowed in the treatment room.
Recruitment, that's another area of responsibility and right now our lack of goals concerns me. I dip into the transfer market and pick up journey man striker Victor Raskov on a free transfer. He's a bit old at 32, but my scout could barely disguise his arousal when he dropped the report onto my desk so I decide to take the risk.
Veres Rivne are our next opponents and they sit on top of the league only having lost once. Their main goal threat comes from either flank; their wingers have seven goals and seven assists between them so we will need to deal with them. We have one of the best defences in the league though so it'll be an interesting battle.
Well, it would have been an interesting battle had we managed to go more than three minutes without getting a player sent off. Sokratov must have either taken my 'tackle harder' instruction to new extremes, either that or he walked in on his wife and Igor Sikorskyi doing the dirty the night before because with the game barely begun he flew in on the left winger with such furious anger that the ref was left with no choice but to send him from the pitch. 87 minutes with 10 men is a tough ask.
We switched to a 4-4-1 and focused on creating nothing but trying to hold out. That lasted until the 52nd minute when our defence decide they've earned a break from defending and leave almost every opposition player unmarked at a corner. Borzenko rises tall and heads Veres into the lead.
It's a bitter blow to absorb, but I react by throwing caution to the wind and throwing men forward. If we take the game to them, maybe we can snatch something. We go 4-1-2-2, I tell my full backs to fly forward, I up the tempo, push my players higher than they've ever played before, I get my wingers to stay wide to stretch the pitch, we pump balls into the box as early as possible, I release all restraints and tell the players to play with freedom, our formation switched from rigid to fluid, I tell the boys to be more expressive, to roam from positions, to run more at the defence and…
It makes absolutely bugger all difference.
It's a difficult pill to swallow, but I'm at least buoyed by the fact that with only ten men, against top of the league, we only conceded once. We have a couple of players returning from injury too, so the team is getting stronger. When Yuriy is back, we'll be unstoppable…probably.
Avangard Kramatorsk are next. They sit in 15th place and have only  won once. They've also scored 2nd fewest goals in the league so we should feel quietly confident.
Expect a 4-0 loss then.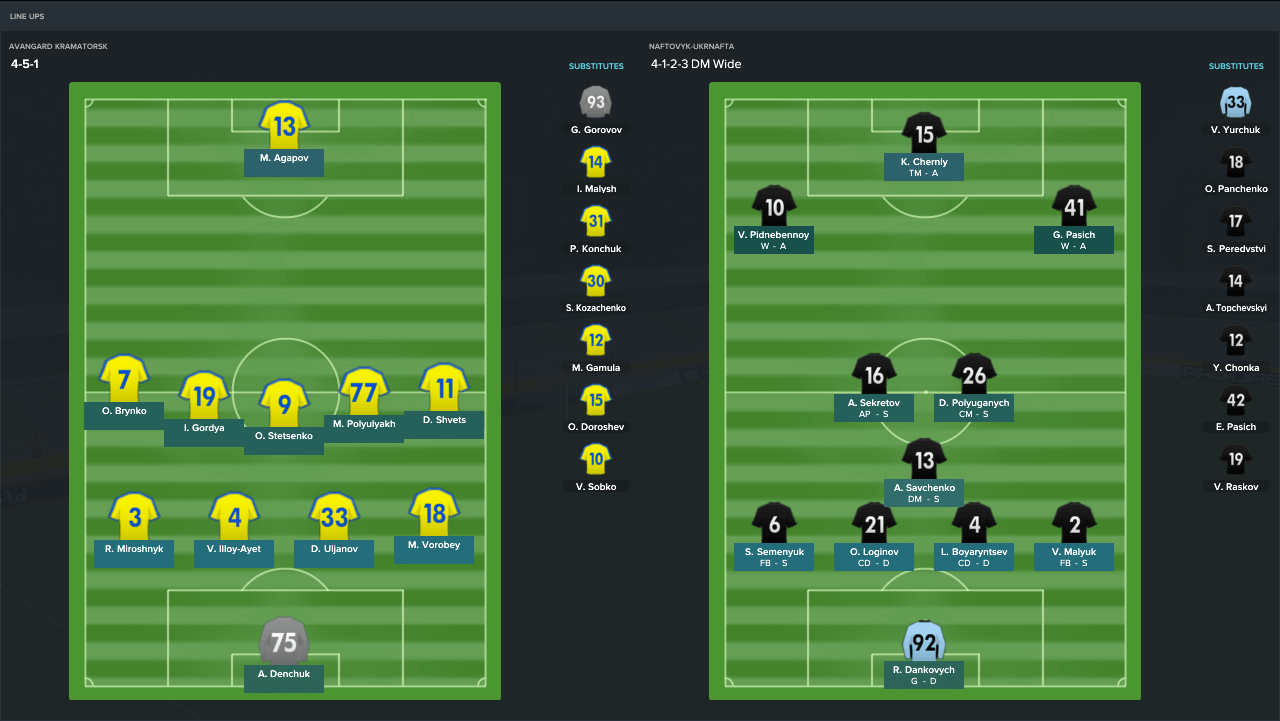 Once again it's a drab affair and there are almost no highlights. In fact, looking at the match stats, there was a shot on target once every 20 minutes in the game.
No wonder no one is coming to these matches. Who in their right mind would sit and watch a game where you have to wait seven minutes to see a shot? And only a third of those shots wont fly wildly into the stands.
Something has to change, these games are entirely winnable and we are failing to do so.
Changes are needed. We look solid at the back but offer so little going forward that even I don't think I can put all that responsibility on Yuriy's strong, muscular shoulders.
I have another look at the scout reports I've been sent and there's one that looks as if it has been, at some point, damp in places. The ink is smudged and there's an unusual smell emanating from the pages.
As I understand it, this means my scout was rather overcome with this player, so I move quickly to snap him up.
I admit that his finishing ability worries me but his stats in other areas more than make up for it. I'm sure my coaching staff will be able to do something with him…Actually, I'm not that sure; the other day I had to tell them what the 'rectangle with a net' was.
As well as a fresh face, I tinker with the formation. I want more players attacking the box whilst keeping the width from Pasich and Chonka. I opt for a wide 4-4-2 diamond with a DMC and a AMC. The front line will be lead by Cherniy playing as a Target Man and either Prykhodnoy or Raskov as a poacher. I just tell them to whip the ball into the box, be patient with it but play at break-neck speed.
The upcoming game against Skala Stryi is the first opportunity to test out the new set up. They sit in 9th place, two places below us, and have had a similarly indifferent season as us. They score pretty frequently, but concede just as many, so if there's ever a perfect side to try our new ultra-attacking formation it's this lot. My assistant instructs me to tell the lads that we're the favourites and should win with ease – he really hasn't be watching has he?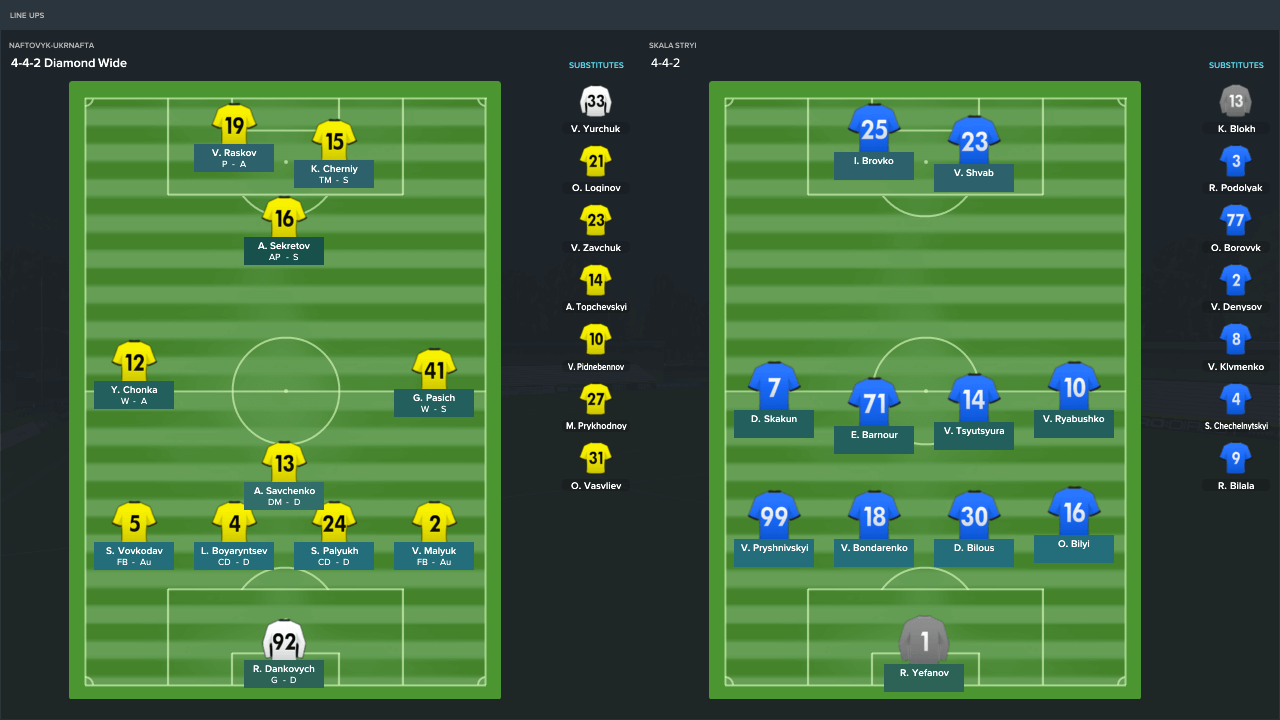 Well that was more like it. After a bloody nervy start we begin to take control of the game. Our defence looks sturdy and we're playing the ball around nicely but things keep breaking down. I decide to switch to a more direct approach and on the 40th minute we are rewarded…just guess who was involved…
Making his first start since injury,  Chonka picked up the ball on the left side of the pitch and threads a wonderful ball through the defence for Raskov and he makes no mistake. We're 1-0 up and that was lovely – God, it's good to have Yuriy back. I tell the boys to keep it up at half time and we're back out feeling positive.
It's more of the same for the second half but at 1-0 I'm feeling edgy and perpetually on the verge of going incredibly defensive. I'm literally at the point of dropping deep and preserving what we have when that wonderful man does it again. Chonka is played in down the left to the byline, he whips an absolute peach of a cross to Cherniy who smashes it home.  God, it's good to have Yuriy back. The game is wrapped up in the 72nd minute when Sekretov fires a free kick in from the edge of the box. I'm a happy man.
You may argue that this result could be the formation or  just our startlingly inconsistent form, but right now I couldn't care less. Yuriy and I are going our for a couple of bottles of wine and a Chicken Kiev. These are the glory days, friends. The bloody glory days.
Like what you read? You can follow me on Twitter. Even if you didn't, why not follow anyway? You can always just hurl some abuse. You can also read the same piece again on my site The Mazy Drivel it'll have more content one day.

This blog and the decision to head into the unknown was, in part, due to YouTuber Cultured Left Foot's NK Maribor series