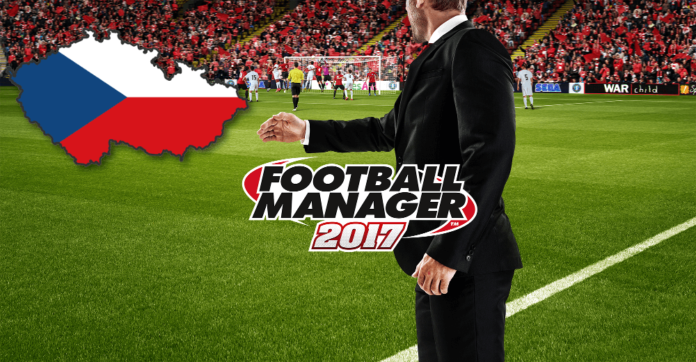 As I'm based in Czech Republic and I think I have a very good overview of Czech players who play in the highest domestic league. I'm sure there is a lot of good players who are able or they will be able to play in foreign countries and in the bigger clubs than the Czech clubs are.
I put together ten players from around the league about which I think you could sign them straight at the start of the new Football Manager 2017 save and they will be very good for your team. It depends on league you play in of course.
The selected players are mainly from two Prague's clubs (Sparta, Slavia) but two players are also from Viktoria Plzeň, one from Jablonec and one from FK Mladá Boleslav. I selected these players because of my own opinion and if would have option to sign them all to one team I would do it.
Here they are…
Tomáš Souček (21 years old) – SK Slavia Prague
This midfielder joined Slavia youth teams from Havlíčkův Brod. He is in the first team from 2014 in time when he was mainly central defender. He spent the 2014/2015 season on loan in Viktoria Zizkov in the Czech second tier and he develop there in very good defensive midfielder.
During the next season he was one of the most important players back in Slavia first team. Despite his main position is defensive midfielder he also know to score. He scored hattrick for example in league match against Banik Ostrava. He finished his first full league campaing with Slavia with seven goals.
He was/is a member of Czech youth national teams and he was also brought to the Czech senior national team at the end of the 2016.
In terms of FM – he could play as CD/DM and MC. If you take look at his attributes for Defensive Centre Back role he could be absolutely fantastic player in there.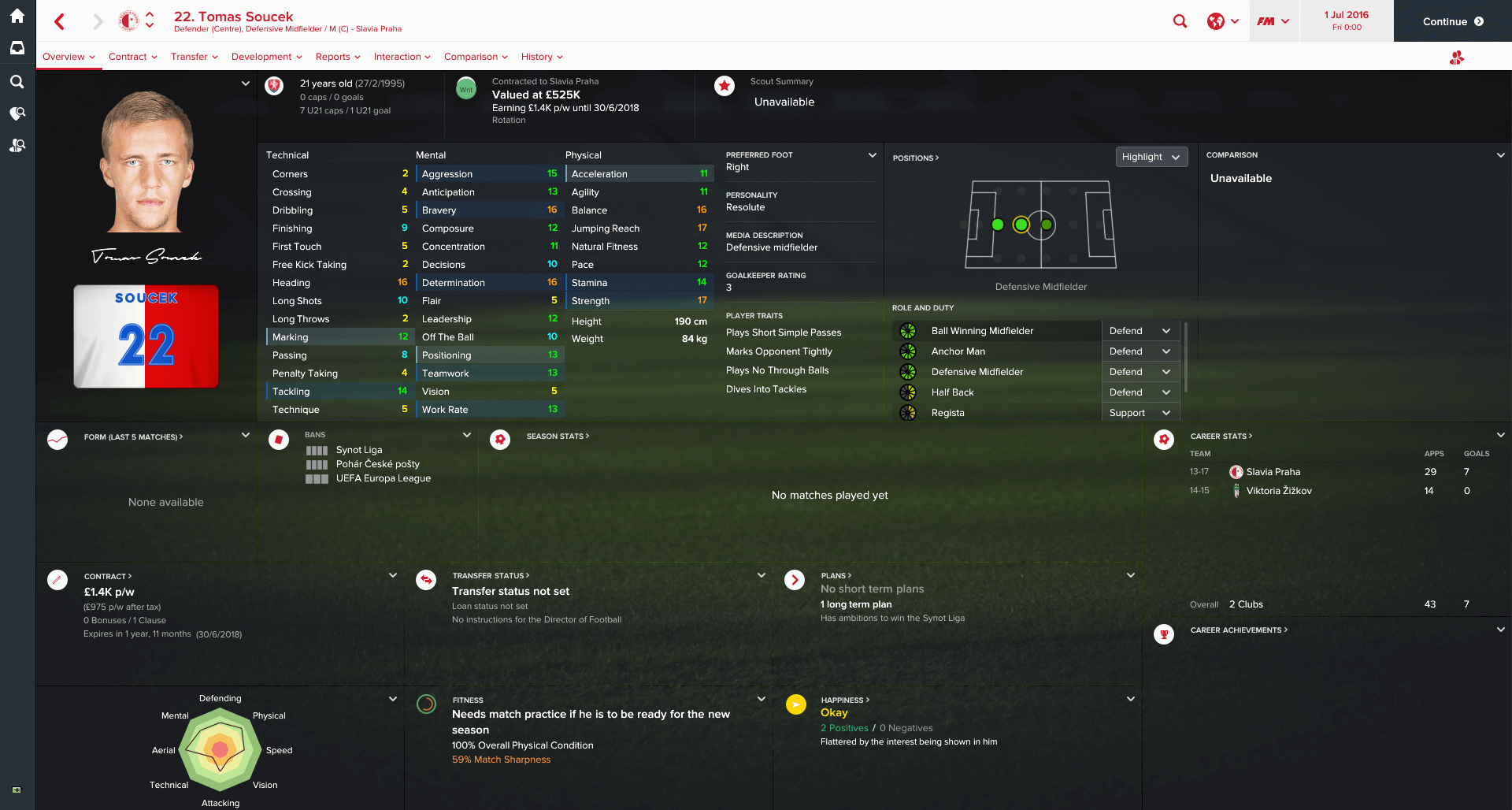 Matěj Pulkrab (19 years old) – AC Sparta Prague
One of the biggest prospects in the Czech league made some impact during the first half of the 2016/2017 season in real life in the Sparta first team.
He was the best goalscorer of many youth tournaments and in the Czech youth leagues as well and he went for loan spell during the last season. He scored five goals from his five shots during the first couple of months in the senior football when he was in Liberec.
He came back to Sparta last summer and he played in the domestic league but also in the Europa League. If you read my article about my one year save with AEK Athens I signed him there and became the best goalscorer of the Greece league. He is wanted by big clubs like Manchester City, Milan, Napoli and more at the start of the save. He can develop to great striker.
Tomáš Koubek (23 years old) – AC Sparta Prague
The product of FC Hradec Králové academy is the best goalkeeper in the Czech league this season in my eyes. Sparta bought him in the summer 2015 and sent him to Liberec for one year loan spell.
He came back to Sparta before the 2016/2017 season and he became number #1 very quickly. He kept eight clean sheets in 15 matches this season. He should work on his decisions and first touch but he could be very good for teams from Holland, Belgium, English Championship or Spain.
Jaromír Zmrhal (22 years old) – SK Slavia Prague
He is still only 22 years old at the start of the new save but he played more than one hundred league matches during the last five season after he was promoted to the Slavia first team squad. He is able to play as central midfielder but thanks to his versatility he could play on both sides or as DM and AM as well.
I would recommend him to teams from Holland, Belgium or major teams from Scandinavia. He is on his way to some new team during this winter transfer window in real life and it would be interesting where this hard-working midfielder will start his next chapter.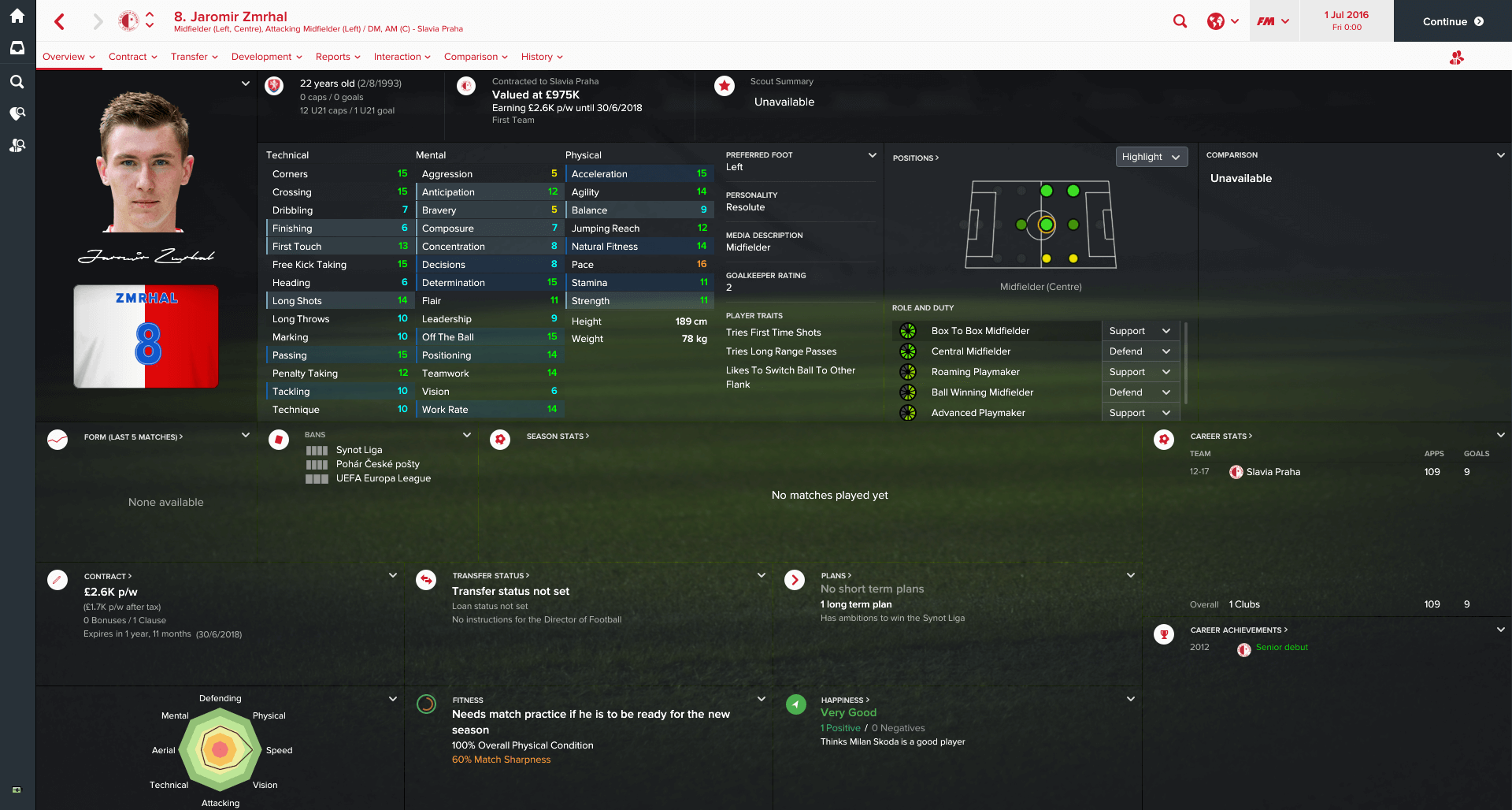 Jan Baránek (23 years old) – FC Viktoria Plzeň
This central defender was a captain of his boyhood club Banik Ostrava at the age of twenty. He moved to Viktoria Plzeň in winter 2015 and he played 25 matches during the Plzeň's 2015/2016 title campaign.
He is able to play in Defensive Centre Back or Central Defender role. He should work on his Tackling attribute but I can imagine he become the first choice central defender in some more respected league.
Antonín Barák (21 years old) – SK Slavia Prague
Twenty-one years old midfielder is very good advanced playmaker but he is able to play in other midfield roles as well. His father is very respected youth coach in Czech republic and Antonín grew up in FK Příbram youth categories.
Slavia signed him in 2015 and he played mainly for reserve squad as he had some injuries but he came back to the first team squad and he was one of the best players during the first half of the 2016/2017 season for Slavia as this Prague club is on the way back to the top.
Barák has to improve his composure and decisions attributes but I'm sure he will be great in the future for Czech national team.
Michal Krmenčík (23 years old) – FC Viktoria Plzeň
This striker grew up in Plzeň and he loves this club and this town very much. He was on loan in several first and second tier clubs in recent years and he worked very hard to earn his place back in the Plzeň's first team.
During the 2016/2017 season he carved the starting XI spot and he scored five goals in 12 league matches. He also earned the first senior national team call-up and he scored his first goal in his first match for the Czech Republic.
He is a little bit selfish player but I think it's not too bad as he is striker and he has to score goals. He is 187cm tall but he is very quick as well. I think he could be very succesfull in Bundesliga or Ligue One and in the Eredivisie as well.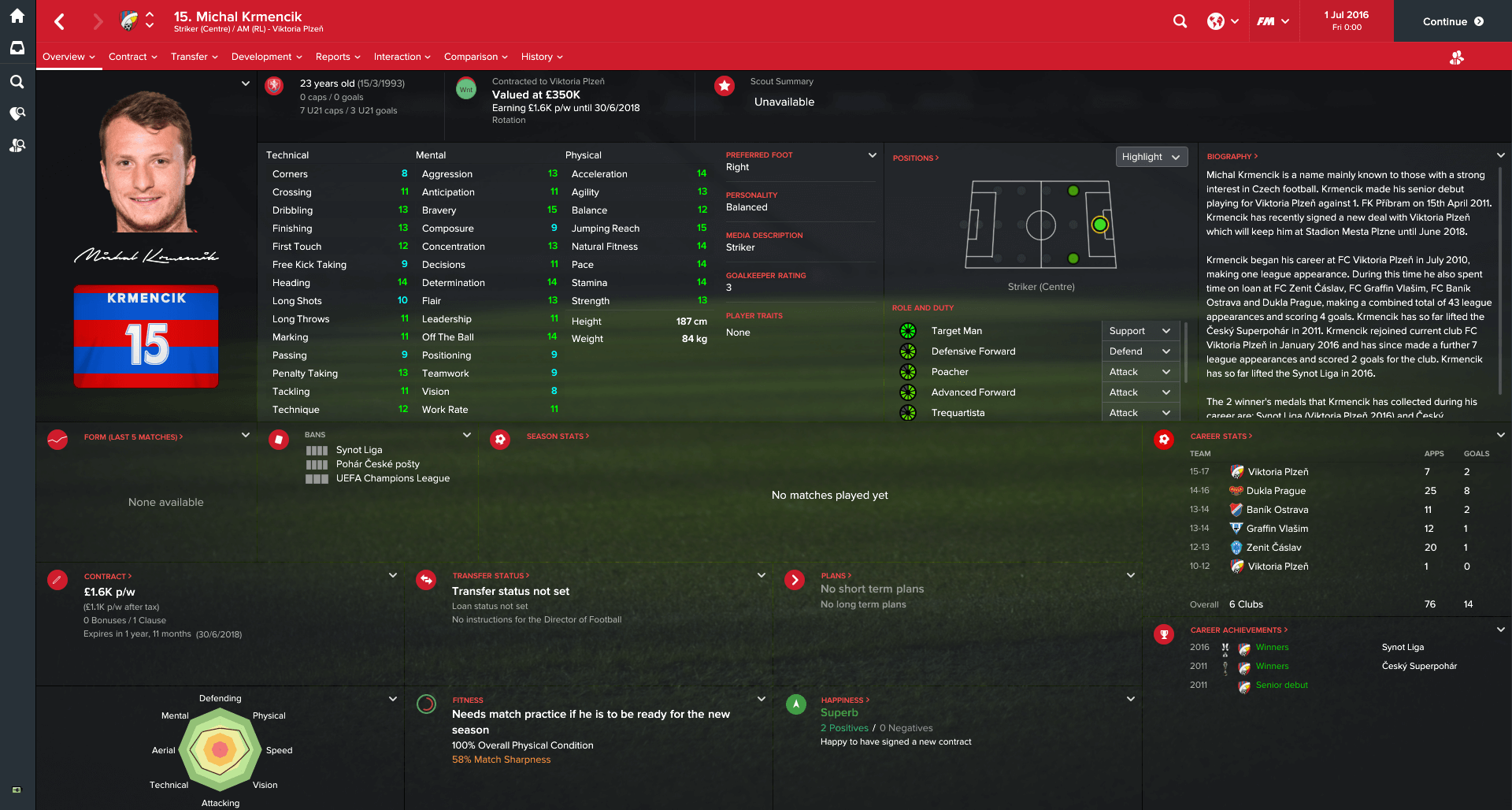 Aleš Čermák (21 years old) – AC Sparta Prague
This midfielder is one of the best attacking midfielder you could buy from Czech First Division. He is only 21 years old and he can play as CM but I recommend you to play him as AMC with Shadow Striker role.
He is Sparta Prague player from the childhood but he was on-loan in other Czech clubs during previous season and during 2015/2016 season he was one of three key players of FK Mladá Boleslav (finished 4th in the Czech First Division and won the Domestic Cup).
He is back with Sparta squad from the summer 2016 and he played some matches at the start of the season, he was the best player of the Europa League match against Internazionale for example. But he had bad luck as he was injured for more than two months.
He is one of my most favorite young players and he is left-footed! If you give him a lot of playing time he will be your best midfielder with many assists and goals too.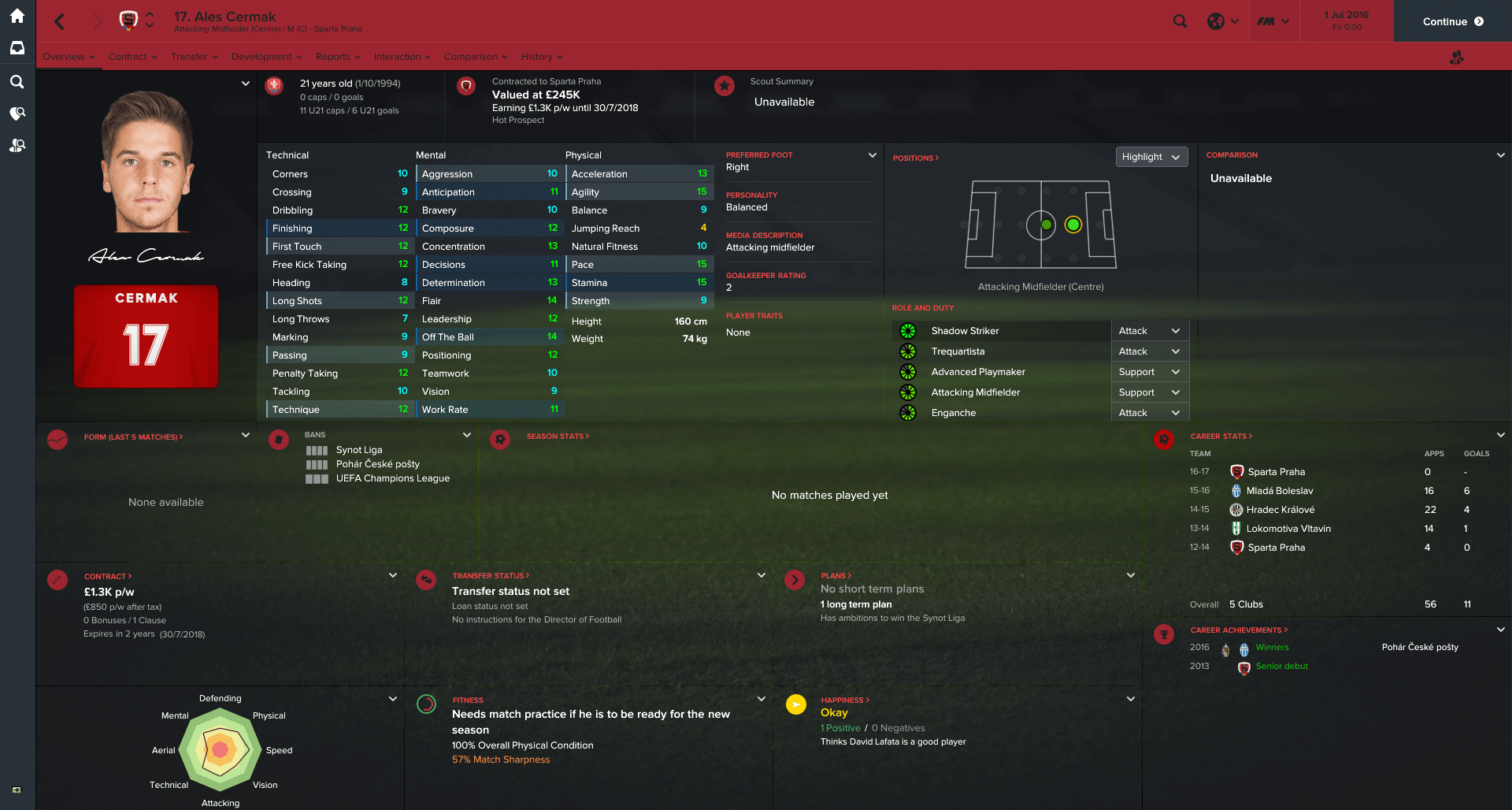 Ondřej Mihálik (19 years old) – FK Jablonec
The second youngest player in this my list. Mihálik is in the first team of FK Jablonec from for three years so far and he played his first league matches during 2014/2015 season when he was 17 years old.
In the 2016/2017 season he has 11 apperances so far in the league and he scored four goals during 707 minutes of play. He played for all Czech youth national teams in the past and he is part of the Under 20 team now.
Same as with Matěj Pulkrab he could be great striker if he get a lot of playing time.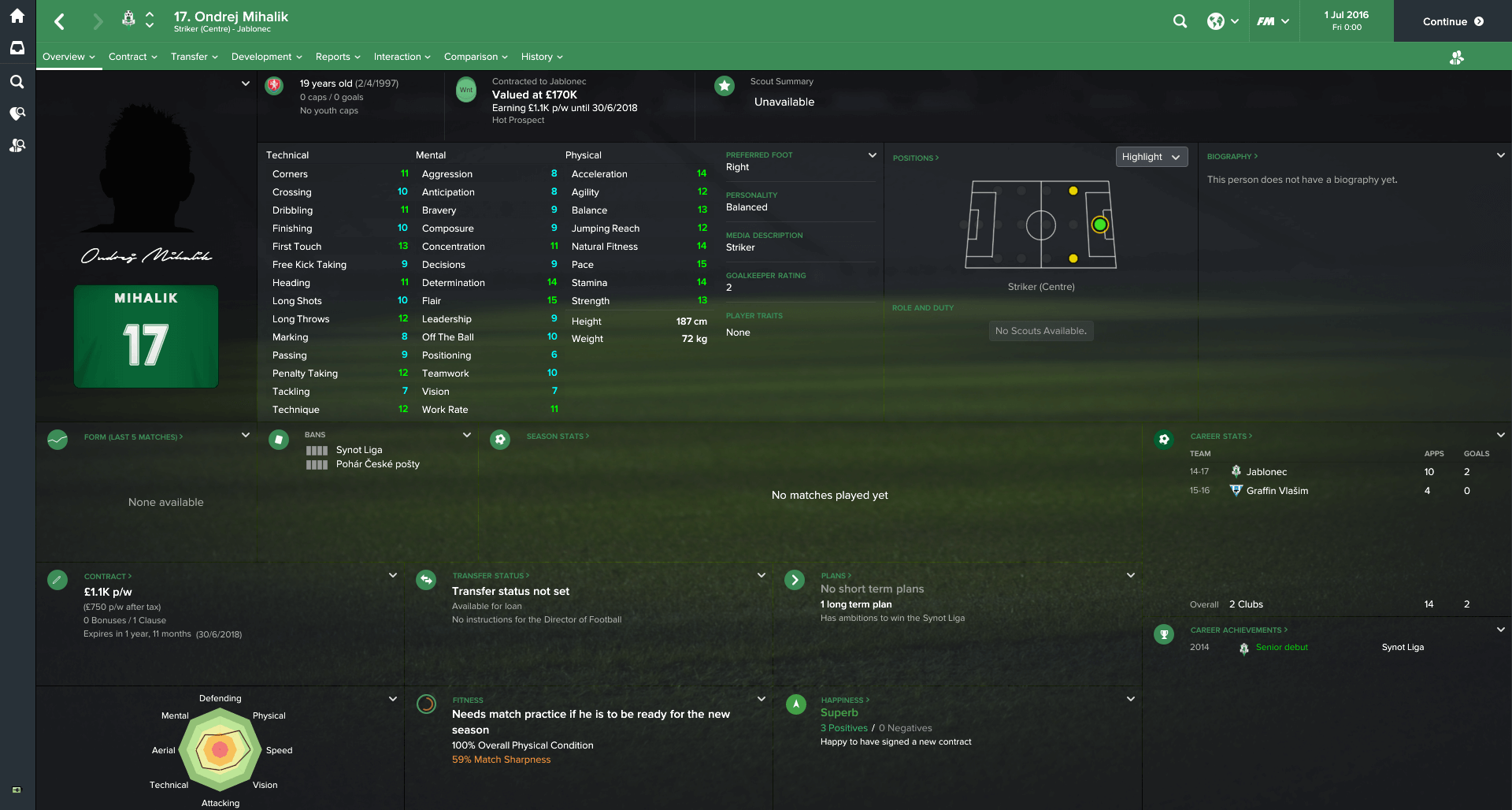 Ladislav Takács (19 years old) – FK Mladá Boleslav
The last player of this list. I have to say I don't know this player too much in terms of his personality he is very good young footballer. He played in the Czech league for Teplice when he was 16 years old but after some personal issues he was sent for loan spell to second tier club Banik Sokolov.
He was their best player and then he was signed by FK Mladá Boleslav. He is able to play in all central positions from CD to MC. He is very strong and I would use him as Ball Winning Midfielder. I think it would be interesting to train him for Deep Lying Playmaker role.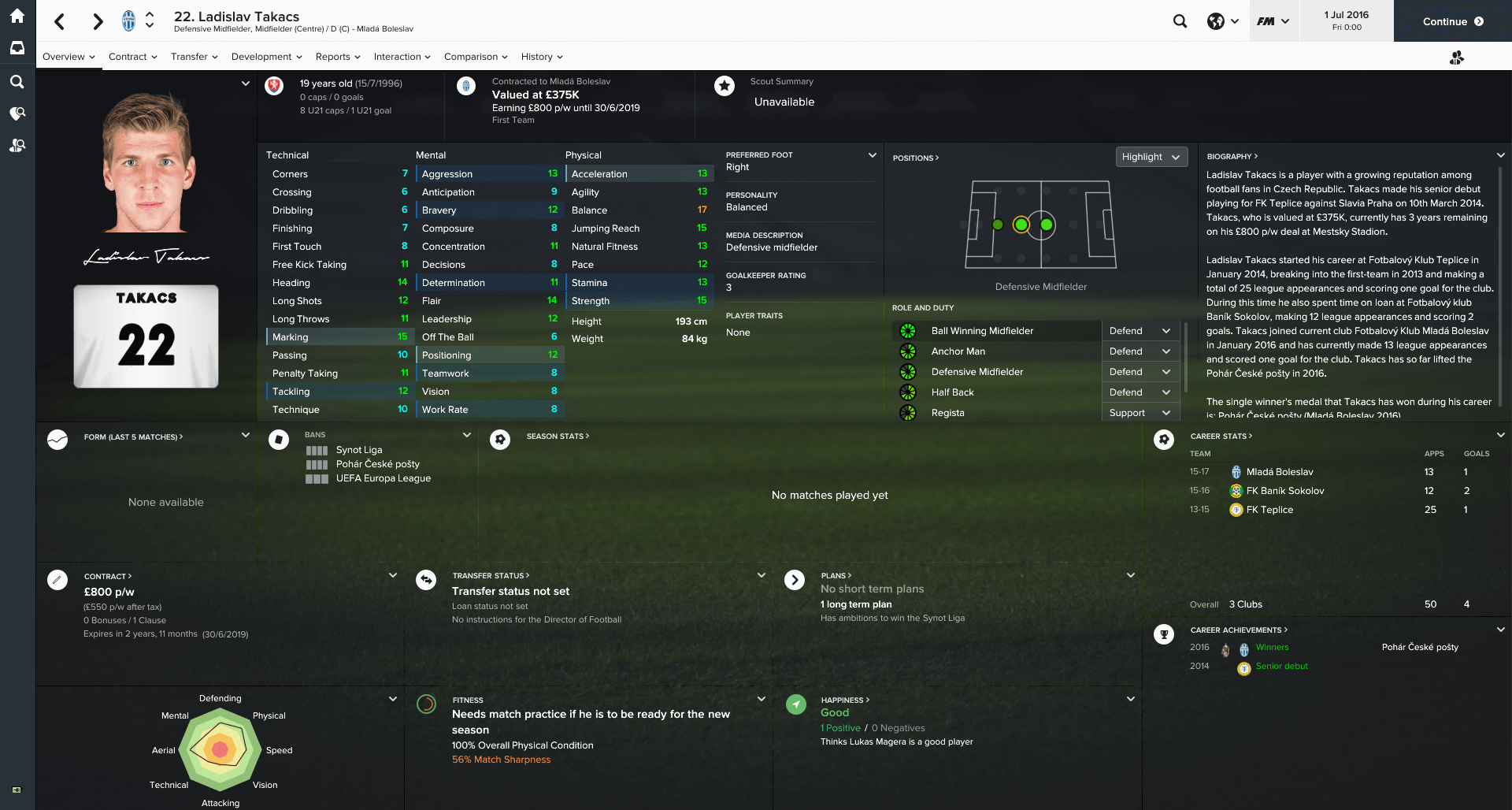 Thanks for reading and if you will buy some of these players let us know what do you think about them and how they develop in your saves. @KeysiRensie