A new start on our freshly laid foundations awaits. Feyenoord are in the Champions League; back in the big time! Well, for a bit, anyway. A summer of change left the squad looking quite a bit different after, predictably, the big boys swooped in. We did, however, make sure they got the gristle whilst we made away with the succulent leg.
Pre-season – Transfers: 
We began the summer waiting. The vultures were circling, with Atlético, Manchester City, Milan and Celta Vigo amongst the clubs on the prowl for our star players. Karsdorp, Van Beek and Vilhena were subject to the most interest. We ended the window with just 1 of the 3 at the club – and a potential £36m better off.
The two that left: Van Beek and Vilhena. Out of the 3 I mentioned, they are the ones I would have gotten rid of. Van Beek left for £23m to Atlético Madrid, whilst Vilhena joined him in Spain; he joined Celta Vigo for £12.75m.
So, what did we do with this new-found financial freedom? Frugally. As mentioned in the last post, I was eyeing Nathan of Chelsea to replace Vilhena and departed with a fee of £1.8m to land him. Fluent in Dutch, has played in the league before and offers something different to Gabriel Xavier – I'm happy with that. We then signed Joost van Aken and Fabricio to replace Van Beek; our new-found centre-back partnership setting us back £5.3m – over a quarter less than Van Beek's fee alone. Moneyballin'.
Elsewhere I paid £2.3m for Jordan Rossiter from Rangers. He adheres to my blueprint and adds great depth in midfield after we parted company with Karim El Ahmadi and Renato Tapia for a combined fee of £4m. Rossiter can play in Toornstra or Ajer's role, whilst Nathan, Xavier or Toornstra can fill in should any injuries Bentancur – sorry. We also signed Nemanja Antonov from Grasshoppers who's proven to be the Signing of the Season thus far. A very solid, rounded full-back, we now have our flanks covered by arguably the two best full-backs in the country. Lastly, I took a couple of punts on the first batch of regens: Richard Tetteh [£900k] and Darko Rasić [£350k].
Pre-season – other stuff:
Away from the air-conditioned, laptop infested room in the corner of the Sportcomplex Varkenoord, we played some games, recruited some staff and trained a bit.
Pre-season was a mistake. It was far too short; ultimately, leaving us far too short for our Champions League qualifier. We won our first two games, trained well, but the fitness levels certainly weren't up to scratch. Plus, I was still assembling my squad after the giants took their time to make their bids and fund my window – like they're short on money.
We recruited quite a few staff members; elevating our staffing quality to the best in the league. As mentioned in the last post, I was also going to start my scouting network. Just call me Varys – within a couple of days of having my scouting team set-up, I already had then 16-year-old Rasić on a plane from Bosnia.
Champions League:
As you can probably guess from my pre-season review, the Champions League was short-lived. Having drawn Porto – the hardest possible draw – we were always up against it. Nevermind whilst lacking fitness and having to deal with a possessed André Silva.
The striker was phenomenal; taking the ball from the halfway line out wide, before curling it in from 30-yards. They were just better than us, simple as that. We left the Dragão beaten, but with a sense of perspective. Holland has dramatically fell down the co-efficients ladder on my save, so regardless of our league position we'll have to deal with a similar proposition should we qualify next season, so we need to improve between then and now.
Eredivisie:
We initially continued our horrible form from the Champions League into the league campaign. A mixture of a lack of fitness and cohesion was to blame, I think. Back-to-back losses to Herenveen and Groningen had me wondering if last season was a fluke. The latter led to a fuck it moment; I made the full-backs in my 4-3-1-2 complete-full-backs and turn from pragmatist to idealist. From then on, I kept a consistent style of play; high intensity, attacking, attractive football.
This switch in philosophies saw us salvage our awful start, and saw us go on a record-breaking run of 18 games unbeaten; seeing us keep-up pace with the good ol' big two – yeah, PSV are relevant this year after they hired Jimmy-Floyd Hasselbaink. Richairo Zivković has started the gargantuan shoes of Dirk Kuyt, whist Lovely Lasagna has been lovely. Our defence, despite our more attacking nature, has been better – it seems as though that Van Beek money has been spent wisely thus far. We rank in 2nd goals conceded-wise; whilst ranking 4th at the other end – the opposite from our last, more pragmatic season.
Our top scorer so far this season is Kevin Lasagna with 22 goals – 10 in the league – whilst our best creator is Rick Karsdorp with 11 assists – 6 in the league. It seems as though our individual tallies have improved and the share of goals are monopolised. But, that's fine. The only concern would be if one of our strikers were to get injured – I just can't rely on Kuyt.
Despite 14 wins in 17 games, our poor finishing in big games still cost us; particularly, against PSV who beat us 1-0 at De Kuip. We drew at the Amsterdam ArenA, again – finishing letting us down, again. I haven't had many reasons to call Ajax bastards, though, as we currently sit atop the pile going into the international break.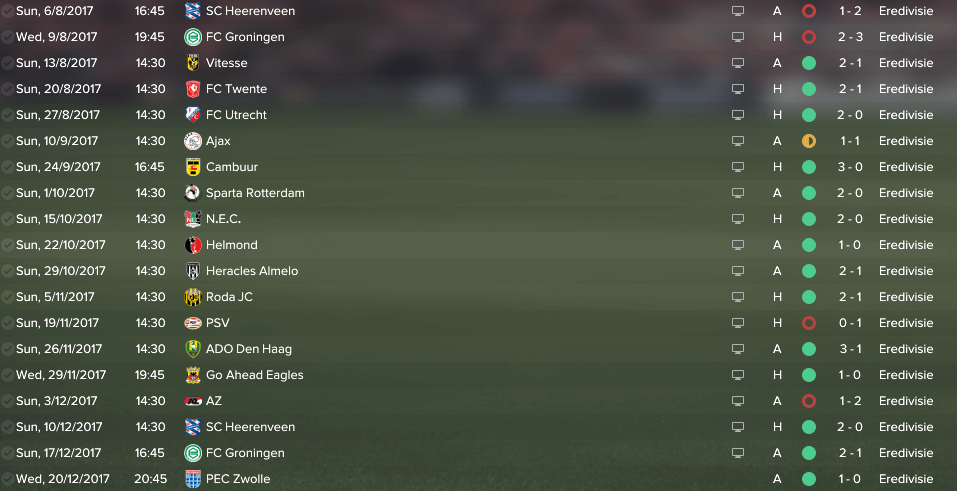 Europa League:
In the Europa League, we were drawn in a group that I thought we could qualify from, but not necessarily top. This, coming after a fairly comfortable two-legged victory over Chievo post tactical rethink.
We drew Luzern, Lokomotiv Moscow and Sevilla. The aim: finish behind Sevilla. We did that. For the international break, until we beat them in Seville, before preceding to go unbeaten; finishing on 16 points and beating Sevilla home and away.
It's great to see us building on last season in every facet – making statements on the European stage and topping the league table. Hell, we haven't even been knocked out of the cup yet.


Embed – Europa League fixtures and table
Next time:
The temperature is going to increase as the season goes on – both metaphorically and virtually. Hopefully we can nab a couple of bargains in January, and unearth some talent languishing in our U15s. We'll see how long our fight on all-fronts will go; we have Bordeaux in the Europa League and Dordrecht in the quarter-finals of the Dutch Cup. Hopefully, for once, Rotterdam will be partying.
====
Did you enjoy that?  Then never miss another post on Tempo!  Sign up to the newsletter NOW
Want to write for Tempo?  Contact us here!