Thank you for reading the follow up to the first part of my experiment. I intended this to be almost scientific more than a story, just to see how it plays out. Thanks to Anthony Haynes for his comment on the first post with questions about the physio and sports science aspects. Unfortunately I am running this on FM Touch and so many of these features are limited. I have only one physio, his starts are listed below and I saw no need to change him. I am only allowed one at the club but on the full game I would try it again and improve the staff. I have had a high number of long term injuries throughout, but it is unclear if this is staff or training work load. As I write this at the end of November game time, I will now reduce the training to see if this reduces injuries.
Results
August was three games, Everton (H), Watford (A) and Gillingham in the EFL cup. The squad is currently short of options and depth as we have only 20 players I want to use. It is also a little too young with 3 players under 30. I will add more before the window shuts after our cup game.
The Everton match started poorly, they lead 1-0 at half time and lone striker Pazzini had only 3 touches in their box. We direct the play to the wings and have defensive mid Kvist sit on Barley to stop their creativity. Everton gift us a goal from a keeper error and it finishes 1-1, though they should have won at the end. A good point to start but not a good performance.
Watford away was a 2-0 defeat. Defensively we were better than the Everton game and did not concede as many chances. The team is lacking support in attack and pace is an issue. The lone striker is too isolated and only has the option to shoot from range. Lack of pace and movement is an issue.
The experience shows in a 2-0 victory over Gillingham in the EFL cup but it is difficult to read much into this given the opposition. Eduardo is back on the right and it is his run and finish inside the full back to give us the lead after 9 minutes. Pazzini scores from the edge of the area to double the lead but the game fizzles out soon after. We are drawn away to United in the next round
Walters, Kvist, Fletcher and McAuley are all left out of their respective International squad which is odd given the game time they will get this season.
September brings Hull (H) before the international break, Palace (H), Swansea (A) and Stoke (A) with the EFL cup 3rd round at Old Trafford between.
The transfer window closes and we add more to the squad. All window long I tried to sign Simon Frances from Bournemouth at right back, finally getting him for 17 million. This was a lot more than I wanted to pay, but I believe he is the best quality available to me in the right age range. To bolster the defence I brought in Angelo Palombo from Sampdoria. The 34 year old ball playing defender hoping to add some quality at the back. Michael Kightly (Burnley) and Silvestre Varela (Porto) came in to give wide options, the latter there to play when Eduardo is out.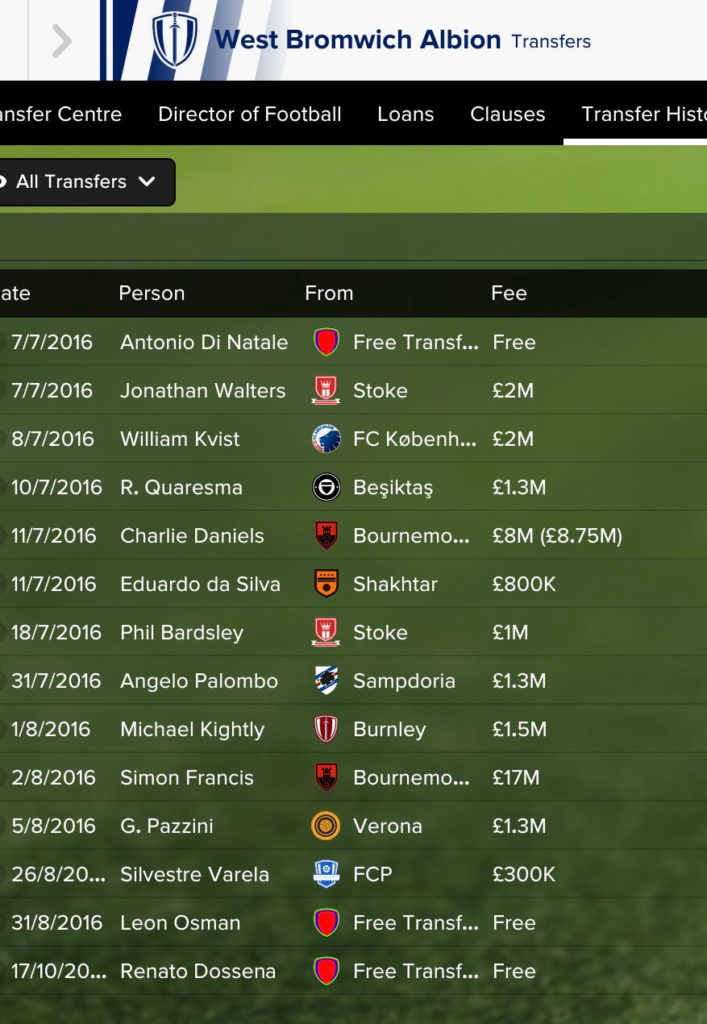 Hull beat us 1-0 with a goal after 25 seconds. We have a lot of the ball and are on the edge of their area, but with no penetration. It would be a few games until I realise the issues with the squad and tactics but the signs are starting to show in this game.
For Palace at home its 19th v 20th so a must win game already. Learning from the Hull match previously I opt to have a more considered and passing approach. By lowering the tempo and keeping the ball I attempt to give players the chance to join attacks and for it to build slowly. We lead following good build up play which draws a foul on the edge of the Palace area. Di Natale scores from the resulting free kick. After half time we have a good chance to counter quickly but with the open grass in front of him Eduardo turns his ankle and is out for 5 weeks. 64 minutes in and Kvist is caught in possession and Benteke latches onto a long ball over our centre backs. On 72 minutes the same thing is repeated and we lose the game 2-1.
There are signs of life with the tactic, but Kvist is a ball winner, not a creator so I will swap him to anchor and Fletcher will support from the centre of midfield. Palace scored twice from long balls over our slow defence, so I will instruct them to sit deeper to counter this.
We would go the next 4 games without scoring a goal. Euduardo, one of our more creative and forward thinking players would spend more time off with injury than playing. This leaves us short of options in front of goal lacking creative options. I bring in Leon Osmond on a free and for 20 minutes of his debut he looks to be the creative spark we lack. A broken leg during that game will end his career though. On a different game save he may prove useful for some, but now it is not an option.
Results from this run

Following the 0-2 loss away at Stoke I seek advice from the SI forum community for a tactic with no pace. Thanks to JWVG and beechy85 for their replies. This is where we identify the issues with the central midfield. I had been playing too cautious with the supportive player to the DLP. This was mainly due to player options, but Fletcher is identified as a possible supportive runner. His finishing is poor, but at least he is able to move forward and pass well.
Our play would improve just as the fixtures turn and our scoreless run continues. Arsenal (H), Man Utd (A) and Liverpool (A) are not games to truly test a new system. Ben Foster is also injured now so some of the results may be skewed slightly by this. I have a 21 year old third choice keeper from the reserves and he is killing my average age! I bring in Renato Dossena, a 29 year old free agent to act as cover.
At the end of this run we set a new record for not scoring in 7 games running. Roy Hodgson is on my back saying we should be better. It is quite difficult to maintain an experimental approach to this and keep an emotional distance.
Back to the SI community and following advice from jorgvandervloed I make slight adjustments to the fullback roles and turn them attacking. This makes Frances in particular a game winner. When we start to score it is his crosses into the area which make chances happen. I also set the lone striker as a deep lying forward but attacking. In the past games when using a poacher or AF, every highlight was an offside run. With a DLF(a) he would still occupy and push back their defence, but also offer more support.
Chris Brunt is back from injury to cover for the perennially injured Eduardo in time for the fixtures to turn back in our favour. Next three games are ones I target points. Now that we have a system which is improved and a settled team, I believe that if we can't get results here, we never will. Sunderland at home first, followed by West Ham and then Southampton Away to finish November.
We start the Sunderland match 9 points from safety but just one minute in we break our scoring drought, Chris Brunt finishing a nice passing move. From watching the match I can see the difference a quality striker can make. I believe that if we had Defoe from the start then we would have had more opportunities to score. He is creating a lot of chances and levels from 40 yards passed Myhill. We win 4-2 in the end, the next three goals coming from crosses into the box. Sunderland's second comes as a consolation after countering our own attacking corner. Panzzini scores his first goal in 8 hours of football and in the game we had 19 shots in total.
Simon Frances is suspended for the West Ham game so we are left without quality support out wide. Quaresma creates a lot in this game and we have a number of quality crosses. Pazzini hits the bar following one and out last minute equaliser will come from one. Di Natale now on a role with 2 goals in 2 games. He would finish the month as our top scorer. His stats have always been good for finishing and creating, but mobility is low. Now given the support he is able to finish the chances our wide men are creating.
Southampton away is an open game with many chances created for both sides. We win 3-2 in the end having gone behind early on from a corner. Di Natale levelled soon after, poking home from close range following a Frances cross. Three minutes after the same sinario happens again but Di Natale is denied by the bar. He gets his 5th of the season directly from a free kick on the edge of the area to put us 2-1 up. Southampton level with 20 minutes to go from a lobbed cross come shot from the touch line, think Ronaldiniho 2002. They brought on Shane long but to combat his pace we sit deeper. Our winner comes from recycling possession after a corner.
My tactic with corners for this save is to keep 3 men back to prevent counters. Might seem a little excessive, but we have not conceded a goal in this way since the Watford game. With the remaining players I position them in different areas around the box to win the second ball.
It is three games unbeaten and 8 goals scored, we are now 4 points from safety. Di Natale wins player of the month and I am the third best manager.

My summary so far for this 'experiment' is as follows…
This could be a viable way to run a club. Although no one should go to these extreme lengths, the last few performances have shown some promise. During the player overhaul I ignored finances, so if you are someone who takes care in this area, this would need to be addressed.
In the few victories we have had we have come back from behind, possibly showing our extra experience and high mental stats, although more results are needed.
Players of this age generally have very good mental stats, but are lacking in the physical area. Counter attacking and long balls are things to be cautious against.
Not all tactics will work and so it was a real challenge to try to find one to suit and get results.
Each player has some big strengths but also a lot of weaknesses which stand out. It is difficult to find complete players. I have found that using each player's strengths in this save has been similar to the money ball approach.
I really recommend trying something similar. Setting tight restrictions have made me enjoy the start to this save as any failure would not necessarily be due to my ability in the game. Restricting player choices has forced me to use players I would have ordinarily over looked. For sure I wouldn't have used Simon Frances in many saves this game but he would be a quality player for any mid table side. The same can be said for Darren Fletcher. In any ordinary West Brom save I may have replaced him, but he has been a solid player.
I will continue this save and will likely write again about it, but please do let me know if you try something similar. I started this as something different that I had not seen much of before and am interested to see other examples. @www.thehighertempopress.comaccordingtofm on twitter is where to find me.