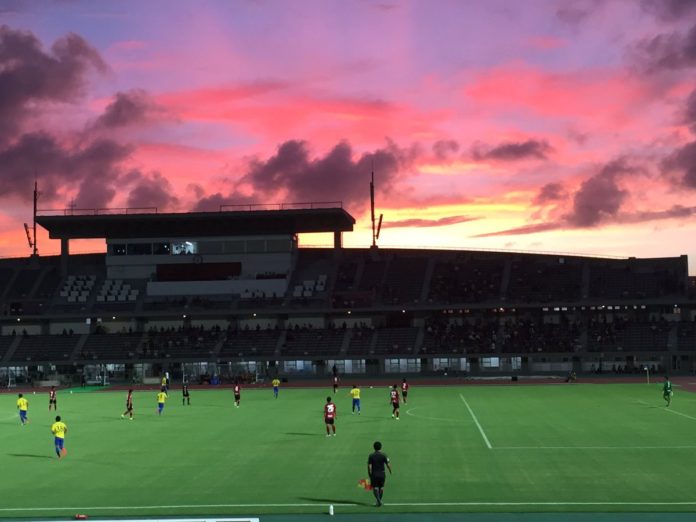 サッカーファンの皆様
Sakkāfan no minasama!
If you are reading this then I presume you have forgiven me for bringing "The Boys of Bilbao" to an end.  And what better way to replace it by starting a journey with a club you will have never, ever heard of before?  If I were a different kind of blogger I'd probably copy and paste some Wiki history into here for you, but I won't.  It's enough of a slog for you to read this, let alone that as well.
I've headed back to the Far East after having a lot of fun in Japan on FM16.  Again, I screwed it up over there by moving from Yokohama FC to Urawa Red Diamonds so I am determined NOT to be tempted by any job offers in this save.  
Thanks to sortitoutsi there is what appears to be a great Japan database out there which has even populated the correct players for the top division.  The things is, I won't be managing in the top division just yet as I have learned that the way for me to get really connected to a club is to start right down the bottom with them and evolve them into my kind of club.  But, it should help the Japanese market be a little more sensible than on FM16 where not every club in the land is involved in a bun fight over players and pushing the prices sky high.
Initially I fancied managing FC Honda in the 4th tier, but I wasn't convinced that the 4th tier winner gets promoted into the 3rd tier (J3) so decided not take that risk.  And then I found the club for me.
The islands of the Okinawa Prefecture have the Pacific Ocean to the east and the East China Sea to the west and, quite frankly, is beautiful.  If I'm going to base myself anywhere for the next virtual decade, it may as well be here.  FC Ryukyu are perennial J3 players and the only team based on the main island so this could be a lot of fun.
Oh, and we have cheerleaders.
Good enough reasons?  No?  Then what about this, looks nice hey?
Excellent, then we shall begin.
One of the reasons I wanted a J3 side was that I knew there would be no staff and no players, so I could immediately build the club in my image.  I have a long term plan, inspired by watching Kashima Antlers run Real Madrid a lot closer than the final score suggested in the World Club Final.  There's been a lot of China chat in the football world recently, but if you are a similar age to me you will remember when it was the J-League that was the new boy in town, waving it's cash around to entice those whose heads could be turned.  In the very early days Gary Lineker played a few games before that troublesome toe ended it all.  Zico, Dunga, Ramon Diaz, Guido Buchwald and Dragan Stojkovic all played in Japan in the early to mid-90's and it, obviously, was the breeding ground for famous Japanese players such as Kazu Miura, Shinji Ono and Junichi Inamoto.
Why am I referencing this?  Because the Antlers display made me want to take a Japanese team to the top and dominate Asia.  Like the USA and, I guess, China (though they have only just started to encourage clubs where groups of people socialise) Japan is one of those countries that would would assume would one day be successful at the beautiful game.  So I am aiming to go and make it happen.
In the next post, I will talk you through the process I used to recruit the FC Ryukyu squad for the 2016 season.  You won't be surprised to know, it has come together well within the wage budget.
さようなら
#Sayōnara