Well, here goes.
My Heerenveen save has become stale so I'm moving on. I've found that my time to be able to play the game has been limited, I've recently moved house and anyone that owns a house knows that there is always something that needs doing. The festive break has given me time to start on a new save properly and it's one that I didn't expect I'd be playing when FM17 was released.
I ended up not playing my Heerenveen save as I'd have liked, I think I was playing the game and tapping space bar rather than figuring the detail out. It took me from release day through to the end of December to play three seasons, updates on the blog were few and far between and it was still a beta version of the game. Over the the three seasons that I played almost all the talent had left the big three (Ajax, PSV & Feyenoord) the Eredivisie wasn't a big league, and the big three were easy to topple, easier than I'd hoped.
Let's hope I gain more points than Bob Bradley.
As you can probably tell by the title of this blog, I've decided to take over Swansea. Why Swansea? It's rare that you'll see me managing in Britain, it usually bores me. My recent saves include Heerenveen, Bordeaux and Atalanta, teams in the top tier of a European league with potential to grow the club and I feel that Swansea matches this description. In real life Swansea have been on a downward curve for a few years and it appears it's coming to a head now, it's my aim to change that.
I've started a save with a large database and included the top tier in France, Germany, Italy, Holland, Spain and Wales. In England I've loaded League Two and above. I've disabled the transfer budgets in the first window to give a fair representation of the squads during the first season.
The first thing I do when I take over any club is take a look at the players, come up with the tactical plan, the training and then the player recruitment/scouting around the tactical plan. With Swansea there is a good side, it's quite clear on how I need to setup initially and how the players naturally layout on the field.
With this two tactics are created, a standard 4–2–3–1 (2 MC's) as first choice and 4–2–1–3 (2 DMC's) with the simple aim of playing out from the back, transitioning quickly from defence to attack, usually via the wide men. There will be hopefully be alot of goals from crosses. Over time I want to build this into more of a passing tactic that we used to see from Swansea but for now, I'd like to keep it simple.

The Swansea side is well balanced and after a little bit of tinkering I have two players in each position. I promoted Alfie Mawson as a third choice centre half, which moves van der Hoorn to fourth choice, Stephen Kingsley is promoted as a second choice left back and Daniel James who can play on either wing but in my mind he'll mainly feature on the left is also promoted. With James coming in, I decided to loan out Modou Barrow, he went to Saint-Etienne and hopefully will go permanently in January. He looks nothing more than just pure pace.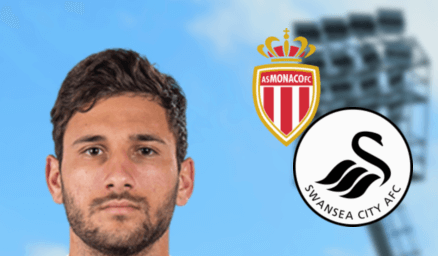 My only loan signing was Boschilia. The Brazilian joins on loan for the year as a backup to Gylfi Sigurdsson. If Gylfi gets injured then I need someone who is equally as competent, Boschilia fits that bill. I hope to sign him permantley depending on my January budget. I also offered Kingsley a new deal as I prepare him to be ready to take over Neil Taylor's first choice spot. He's being tutored by Rangel. Alfie Mawson is tutored by Neil Taylor and Daniel James by Glyfi.
My first choice XI reads like: Fabianski, Rangel, Amat, Fernandez, Taylor, Ki, Cork, Routledge, Gylfi, Montero, Borja.
A pre season training camp in America was already arranged but without any friendlies, I organised a couple against some poor opposition as none of the big teams were available. We brushed aside Atlanta United 7–0 and N.Y. Cosmos 5–1. I didn't take much away from these performances but it was a boost to morale if nothing else. We headed back home for games against Aldershot, Rangers and Roma. We performed well against Aldershot and won 5–1 with Montero and Routledge both looking good and scoring braces, but it was only Aldershot. Rangers would prove a different test but came away with another 5–1 win and we actually looked like a good side. We hosted Roma a week before we opened our Premier League account away at Manchester United. Good preparation. Fernando Llorente scored the only goal of the game in a 1–0 win against a good quality Roma side. That was pleasing.
As I mentioned, we go to Manchester United in our first league game and then we host Everton before travelling to Merseyside to Anfield to play Liverpool. Bournemouth and Watford at home complete our start to the season. Those first three games are quite tricky and we could easily come away with nothing but I'd like to pick up a couple of wins after five games and see what we can pick up against the bigger sides. My overall aim for this season is come away with a higher place than our media prediction of 13th. Top half would be great and I'm certainly not expecting miracles. A nice run in one of the cups would be nice but it's not a priority.