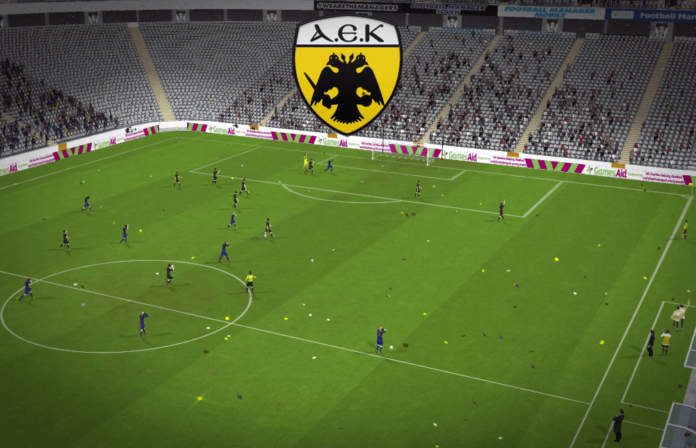 Hello everybody and welcome to my guest piece on The Higher Tempo Press. Maybe some of you know me and my blog so you know my main save in FM17 is the save with Reading FC. During recent three weeks I played this save less and I decided to try something new.
UPDATED 3/1/17 with the tactic download!
I wanted to try new tactic which I had in my head for some time and I decided to try it in FM Touch as this version of FM is faster. If you want to read some pros of FM Touch I recommend you this article from Thomas Paine.
Team selection was not important but I remembered that one of my friend in real life football plays for AEK Athens so I went there. The player is Tomáš Pekhart by the way.
Unfortunately Tomáš was injured a couple of weeks after the save started. But I don't want bore you with many details of results as I want to write about tactics and the storyline will be short.
Tactics
The idea was clear from the beginning. Despite early end of his career as AC Sparta Prague coach I wanted to try formation with three central defenders like Zdeněk Ščasný tried with Sparta or Panathinaikos in the past. Ščasný was only partially successful with this tactic due to some reasons but that's not so important.
So I set up this.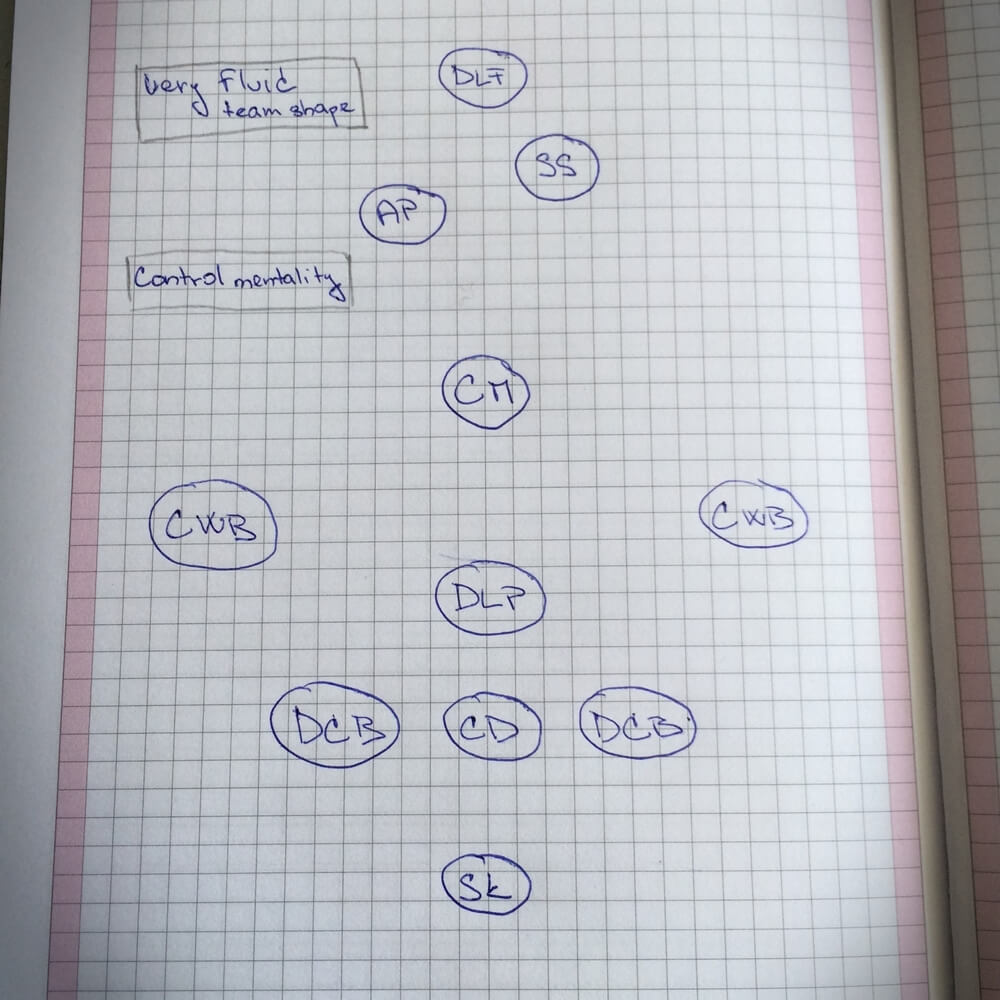 I recently asked on Twitter what player role would FM players combine with Advanced Playmaker and Shadow Striker. There were tips for False 9, Advanced Forward, Complete Forward…I decided to try it with Deep Lying Forward with Support duty.
Both of Complete Wing Backs have Support duty as well same as Central Midfielder. There i salso defensive midfielder with Deep Lying Plamaker role and defensive duty. Very important player there.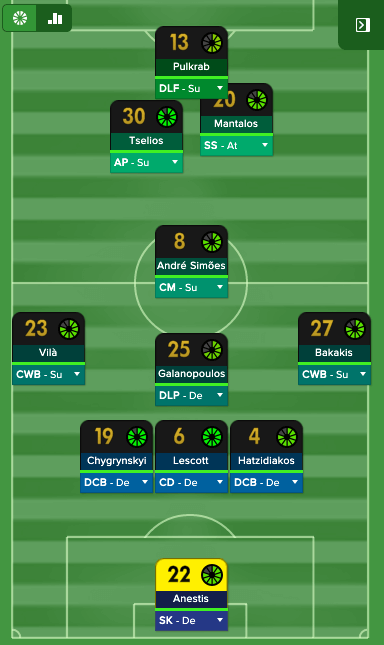 I really like Defensive Centre Back role and I use it also in my Reading save despite I play with 4 defenders there. You can take a look at the most important attributes for this role in Kolovetsios profile and the heat map and aerial challenges from single game.
I really like the Deep Lying Playmaker role for defensive midfielder and I found great player ther for this role – Jakob Johansson. I use this role during FM16 time in 4-1-4-1 formation and it was great decision. It was my first choice when I thought about roles.
Just one of the best example of his movement. One of our central defenders got a ball and after two or three passes DLP has the ball in the middle of the pitch. Wing Backs go up, CM and AP want the ball from DLP. The defensive trio have a width at the start of this play.

Thanks to a good offer from AP and CM there was a space for left wing back who received the ball and after his cross our DLF scored perfect goal. Just take a look at the second screen only one second before the finish how and when players moved from the original at the beginning of this action.
Defensive trio shorten the width, DLP continued to forward but not too much as he has to be able to defend. And he is still able to stop the bounce ball. Perfect.
And this is how it looks if you as show linked events…
In terms of instructions. I use Shorter Passing, Pass Into Space, Play Narrower, Push Higher Up, Close Down More, Higher Tempo and Prevent Short GK Distribution. Mentality is Control and Team Shape is Very Fluid.
There are also some individual player instructions like Distribute To Centre Backs for goalkeeper role or Mark Tigher for Deep Lying Playmaker. If you have some question, let me know.
Stats
If we check some stats after the season we can see that both of our wing backs from starting XI (our main wing backs) had 11 assists. The most assists (12) has Petros Mantalos who played mostly as Advanced Playmaker.
You can also check the goal & assists types and goal & assists locations. In 50 matches we scored 18 goals after corners and 11 goals after free kicks.
Season
How the season went? Well, pretty well. I did not want to make many transfers but I made some. As I wrote forward Tomáš Pekhart was injured during pre-season so I decided to sign young Matěj Pulkrab from Sparta Prague on loan.
I also brought young central defender Pantelis Hatzidiakos from AZ and during winter I bought midfielders Dimitris Kourbelis and Lukáš Mareček as I need replecaments for outgoing players.
After average friendlies I started the Europa League campaign with Maccabi Haifa and we were throught to the Play-off after 3-1 and 3-0 wins. In the Play-off we got West Ham and we reached the Group Stage thanks to away goal rule as we lost 2-1 away and won 1-0 at home.
The start of the domestic league was sheepish as we not won in the first three matches including defeat by Panathinaikos. But it has improved during next weeks and we moved in the table to the top three.
We also lost our first group stage match with Krasnodar but we beat Inter and then we lost to FC Kobenhavn. Thanks to win over Krasnodar at home and two draws with Kobenhavn and Inter we reached the second spot in the table and we were through to the 1st Knockout Round of the Europa League. Big success for AEK.
We were eliminated by Fiorentina in February but the glory was not in my mind. I wanted to the league title.
Just before Christmas we played with Panathinaikos (1st in the league) and the match ended with a 2-2 draw. Another draw was with Giannina but after this match we lost points only once until the end of the season.
We beat Olympiakos another title contender and we also advanced to the domestic cup final. After great performances and many goals by Matěj Pulkrab (who can develop in great player by the way, he was wanted by Manchester City for example after this season) we moved to the first place.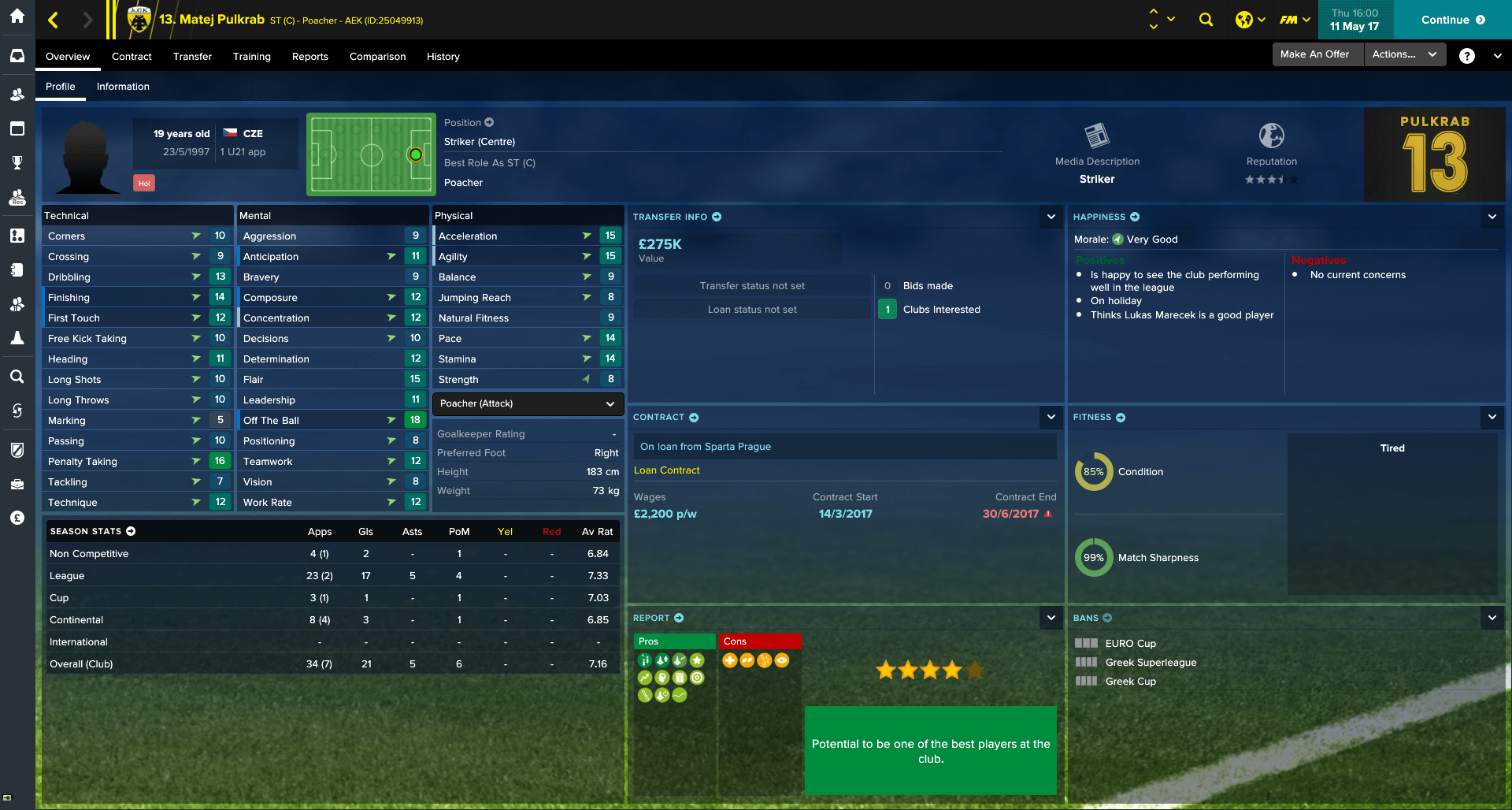 We were four points ahead of Panathinaikos six games before the end of the league season. They lost some points with other teams and we could celebrate league title after the game with Kerkyra two matches before the end.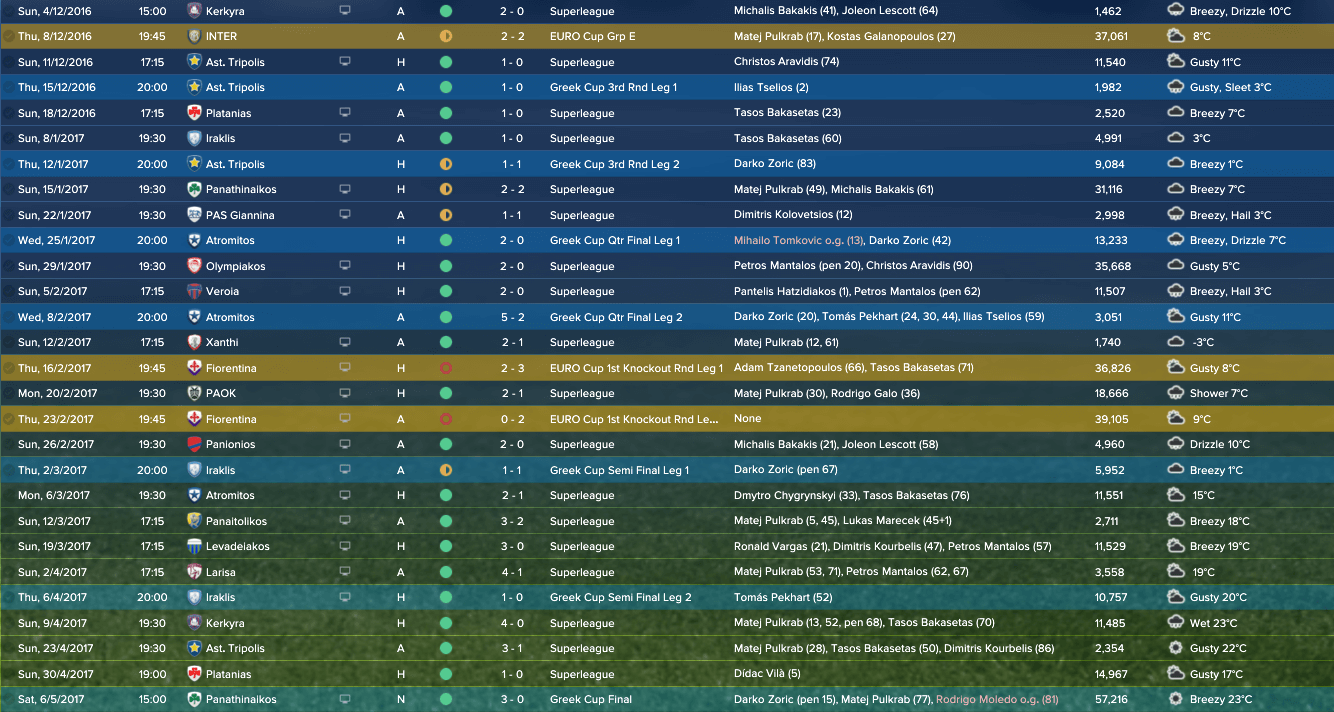 We beat Kerkyra 4-0 thanks to Pulkrab's hattrick and we also won the last two matches with Tripolis and Platanias.
The last match of the season was the Cup Final with Panathinaikos. It was clear-cut matter. We won 3-0 after goals by Zoric, Pulkrab and one own goal by Moledo. They had only one shot on target, we had 10 shots on target from 14 overall.
So we were able to celebrate Double!
So, Pulkrab became best league goalscorer with 17 goals. Vila and Mantalos had most assists in the league (both 10) and Vila with Pulkrab had the best average rating.
Conclusion
It was refreshing to try something new but I will not continue with this save. It was only one season experiment but I'm happy like it went and I will try this tactic maybe in the future with another team.
It's fun that eight players from this squad agreed terms with other clubs for next season as their contracts end at the end of this season. It would be very interesting challenge to build a new team here but I will leave it here. I have to say I miss the full version of FM. The FM Touch version is great for experiments like this but it missing something.
Well, this is the end of One hit wonder in Athens and I'm going back to my virtual world with Reading FC. If you interested in it don't forget to find my Twitter account or my blog mrkeysirensie.wordpress.com.
Oh, you want to download the tactic you say?  Go on then, it's here…
Take care everyone!