So, last time I updated you all on my Feyenoord progress, we were matching Ajax blow-for-blow as we fought in a Marvel-esque fight scene with Utrecht acting as the bewildered child watching out of his window as The Hulk and Spiderman have a scrap – or something like that. This was a common theme that continued throughout the rest of the season and peaked at the end. But, I guess you'll have to keep on reading to see who won! Or skip ahead, you bastards.
January – Transfers:
In keeping with my aforementioned blueprint, I have a few criteria that new signings need to match; they have to be able to work hard, in a team, and be relatively aggressive. This forms the foundations of what I'm looking for and everything else normally falls into place around that. I thought this was an especially fitting blueprint due to the blue collar nature of the club. I see us as a Dutch Borrussia Dortmund – I even have the virtual hipster glasses to boot.
With my blueprint in mind, I found a player – for £3m[!] – that ticked all of the boxes: Kristoffer Ajer. Seemingly surplus to requirements under Brendan Rodgers at Celtic, I swooped in to nab him. It was one of those signings that you know is a great signing. 17 teamwork, 15 work-rate, 12 bravery – could do with improving – and 14 aggression, coupled with great technical ability, physicality and fitness, all at 19, you can understand why I'm over-the-moon. This lad's either going to be our future captain, or he's going to make us a major profit.
A small investment was in Gabriel Xavier. I saw him as a low-cost Vilhena replacement that I could sign in January to learn the language, build relationships in the squad and adapt as a whole. He has the stats to be a solid goalscoring attacking midfielder. He got off to an understandable rocky start – moving from Cruzeiro to Feyenoord at the end of their season – before growing into the season. Maybe not the Vilhena replacement but certainly a solid option.
Our third and last piece of January business was a record fee. Richairo Zivkovic's potential has seemed to stagnate in recent years. Once one of the best wonderkids in the FM world, his potential has seemed to dwindle resulting in a loan move to Utrecht, where, he's spearheaded their title charge. For £5m, it's hardly an Earth shattering fee in the grand scheme of things – it's nothing to Ajax – but it is to this club. There's a lot of pressure on him; he's seen by me as the heir to Dirk Kuyt and swapped Ajax for Feyenoord. He's young, he's Dutch and he ticks all of the boxes; if we can sure-up his first touch and couple that with his speed and size, then he's going to be more-than worth the fee, I think.
Eredivisie:
"Amsterdam parties, whilst Rotterdam works." The saying I mentioned in my last post, prophesied the end of the season for us. The team worked, played brilliantly, to fall at the final hurdle. A 13 game unbeaten run – including 12 wins – resulted in us still being neck-and-neck with Ajax. We just couldn't shake them off our backs. Then, they lost to Zwolle. And, of course, we face the boggiest of bogey teams in Heracles – the only team to win at De Kuip under my reign. We lost, quite convincingly. We then went to Eindhoven and left with a very respectable draw from the Phillips Stadion; Ajax replicated our form and we went into the last day just 2 goals from the title. And then it all capitulated.
AZ came, they smashed, they grabbed. Brilliant finishing – and not so brilliant from our point-of-view – lost us the title. Two goals. Two. Ajax won the title on goal difference; they partied, I got annoyed, I holidayed. We did what Feyenoord do best: finish runners-up. I felt more like Bayer Leverkusen, than Borrussia Dortmund.
All-in-all it was a great season, in hindsight. We literally pushed Ajax to the very edge, on a comparatively far lesser budget and without a lauded generation of youth players. Kevin Lasagna performed brilliantly in the creating role of the two-forwards, whilst Dirk Kuyt continued to score scruffy goals. They formed a good partnership, but Kuyt will be slowly transitioned out of the first-team over the coming year.
Defensively we were good; finding our feet as the season went on. Karsdorp amassed double figures in assists, whilst Nelom added solid balance for the left-side. Van Beek, Botteghin and Ingason all impressed in the middle of the quartet. Kristoffer Ajer was easy on the eye, but his average rating may suggest otherwise. Tapia and El Ahmadi provided great balance on the left side of our trio, with Toornstra coming up clutch on many an occasion as our more advanced midfielder. Tonny Vilhena finished the season as our top scorer; playing as an AM[A], he exploited the space vacated by Lasagna and the two formed quite a tally over the season.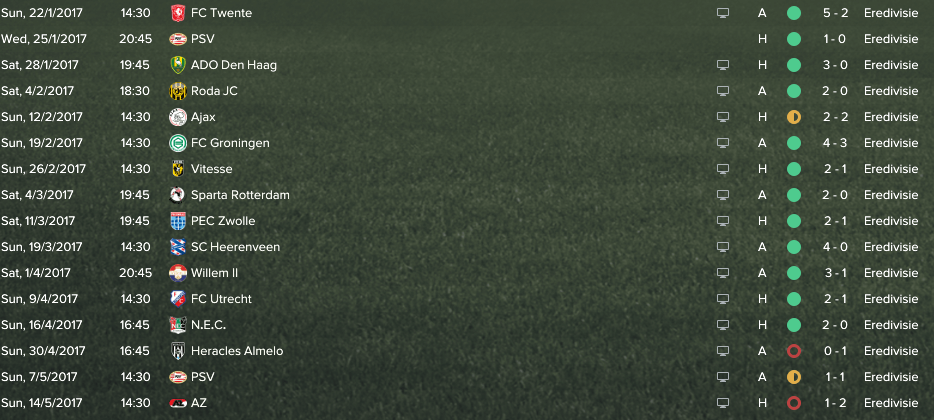 Cup Competitions:
I won't delve too deep into this, but we disappointed – especially in the Dutch Cup. A few days after mauling Den Haag, we were defeated 1-0 in a thoroughly dull affair. I think the fatigue of 3 competitions played a part, but regardless, we really should be winning those games.
After our impressive group-stage performance in the Europa League, we faced Shakhtar Donetsk. We won 2-1 at De Kuip for 10-men, before capitulating in Ukraine. This is partially, probably mostly, to do with my hunt for a reply, but we were countered like a hot knife through butter and walked away defeated. This performance went down as a positive, like the league performance; it shows we can push Champions League quality sides to the edge. Like the league, I think we should have won too.
Plans for Next Season:
Next season I'm anticipating a bit of a shake-up. We've got Europe's big boys circling around Karsdorp; whilst Vilhena and Van Beek are also attracting attention. In all honesty, I'd be willing to let them all go for the right price. I already have Chelsea loanee Nathan lined up, should Vilhena leave and I'm currently foraging under the European canopy for Van Beek and Karsdorp replacements. I'm hoping to raise around £30m in the summer; keep spending at a minimum and invest in facilities. With the boosted revenue via the Champions League, I'm hoping the propel the club to financial stability.
I'm going to spend time boosting my scouting network to my standards over the summer. I've already recruited a new Head of Youth Development who will suffice until our reputation grows. I'll also assess the coaching staff at youth level, to see if I can make any improvements there.
I've already made moves to improve my midfield. I'm going to make Toornstra more conservative as he's nearing his 30's. To replace him in the more adventurous role is Rodrigo Bentancur. For £2m, this is an absolute bargain. His agent may have shithoused a £15m release clause in there, but I'll take the season and profit rather than nothing. With Ajer, Toornsta and now Bentancur, I have a very solid trio in midfield.
Youth Intake:
Speaking of youth, I had my inaugural youth intake. I weren't expecting too much, and I weren't disappointed. The pick of the bunch: Kuijpers and Peters. They both have the potential to be possible first-team contenders; Karsdorp and Toornstra are ideal tutors for them and with the right training, I'm sure we can get them improving in no time.
Next time:
We'll be going through my preparations and subsequent results as the season kicks off. We'll see the ins and outs; who's stayed and who's gone. I'll also be showcasing the improvements to my recruitment set-up. As always, I hope you enjoyed the post and the insight into the way I play the game. If you enjoyed please share it!
=====
Never miss another post! Subscribe to the Tempo newsletter
Want to write for Tempo?  Then contact us with your idea