The Last King of Scotland
A Hibernian Tale: Part 2:3
Extract from the Managers diary:
'Take a seat, Garry.'
'Something up Gaffer?'
'I don't know how to say this… but I'm dying.'
Stunned silence.
'Dying to get this party started!' He pulls out a pair of maracas.
Garry shakes his head, his mouth agape.
Year two, part 3. The final countdown. After a dismal start and then finally some sign of form, things were looking up. But how strong could we finish this year? A year that has had more ups and downs than a Hilary Clinton presidential campaign. Would it end in disappointment, like many a woman's night when their overexcited partner has spoiled their undies? Or would we be as high as a prepubescent teen hitting their first blunt? There's only one way to find out.
Fixtures & Results:
So, the important part. Football games.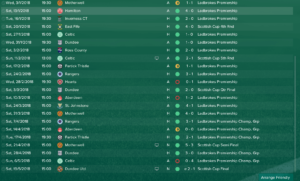 Last time out I left you with our comprehensive 4-0 victory over Hamilton in January. It was the start of a run I have been desperate for. Neigh. Craving. Like a crackhead lusting after his next high, I so desperately sought the winning streaks that came so easily in my first season. After Hamilton we dominated Inverness. After Inverness we beat East Fife to progress in the Scottish Cup to reach the 5th Round. After East Fife we arrived at Easter Road. Suddenly we are playing with a smile on our face and a fizz of sparkling confidence. Then come Celtic. These smug bastards are walking the league, trouncing everyone daft enough to stand in their way. I suspect this will be a tough game. But I've forgotten one thing. Hib's is managed by me. The greatest manager to ever grace this earth. Heh. Even still the gulf in class is apparent and my boys narrowly scrape a 1-0 win. Phew. Maybe I am the greatest manager in the world? *Twist an imaginary beard* This was further confirmed by victories at Dundee, Ross County and, yet again, Celtic in their own backyard in the 5th Round of the Scottish Cup. A disappointing draw to Patrick Thistle was swiftly forgotten with yet another pasting of Rangers. Rangers are a strange one. Every time I play them I seem to wipe the floor with them. I don't know why. Our conflicting styles must work in our favour. One more draw and three loses offset by eight wins finds us sitting comfortably in 2nd.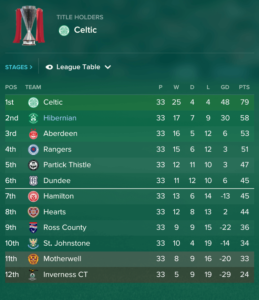 So clearly Celtic won the league. With their 79 points to our 58 it is quite a considerable margin. 21 to be precise. They are most definitely and definitively sitting pretty at the top. Their perch is so clearly far beyond the rest of us it is inconceivable that anyone will be able to topple them. In metaphorical terms, they are a giant surrounded by mere men. In footballing terms, they are basically much better than the rest of us. Why? Why are they so much better? I pondered that question for a few days. There are a few reasons I feel.
The first is our poor start. We couldn't buy a win when the season kicked off, Celtic however managed six victories and only one lose and one draw. 19 points to my initial 9 from August to the end of September, a point swing of 10 points. Wow.
Have a looksie:

The second reason why I suspect Celtic have created such a gulf: transfers. Now, don't get me wrong, a part of me really enjoys working with a shoe-string budget, there is a much stronger sense of achievement when things end well. However, over the first two years of my management, I spent £600k over the course of four transfer windows. Celtic, in the mean time, have spent a tea-splattering £20 million on players. Twenty-fucking-million. I mean, I thought this was Scotland, aren't all of the teams meant to be skint? Jesus. No wonder such a large gap has formed. Rangers, in contrast have spent £5,200,000. Even Rangers can not compete with anything near that type of finance. To put it into metaphorical terms: Celtic are partying in a 5* hotel surrounded by the most beautiful women in the world with white lines of Columbia's finest export; Rangers are taking home the hot stripper, whilst my boys are all taking turns making love to a cow.
But have no fear. Even though we may not be the prettiest girl at the dance, we certainly have our admirers.
We only went and made it into the Scottish Cup Final, didn't we? We were facing Dundee. A team we have beat on three occasions with an aggregate of 6-0. So naturally we were feeling confident. And rightly so. We ended our season with a 2-1 victory over our opposition. Two cups and a second place finish. A nice way to close our first year in the Premiership.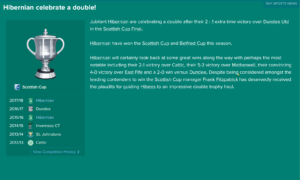 Performances:
A quick summation of some of our best players performances then.
Jose Sa: signed for £100k. After our poor start I wondered if I should look to replace him with the loan listed Zidane, but being the tactical master that I am, I didn't. Er hem. He's now worth a cool £1.5m. Sa also provided one of my favourite moments of the season with a goal kick that landed outside of the opposition goalkeepers box, right into the feet of one of my strikers. One kick up, one touch from the striker, one goal. Beautiful. I'm sorry for ever doubting you, buddy.
Adriano Russo: signed for Free. He came in aged 30, an experienced CB who would help with the tutelage of some of our younger lads. What a bargain he was. He's now valued at £800k, and I've been turning down bids of £1.5m for him.
Josh Meekings: also signed for Free. At 24 I knew he had enough experience to be an instant success and he ended up our best CB by far. Originally brought in with the intention of retraining him to be a HB but it made little sense when he was so effective in his natural position. Now valued at £1.5m.
Ben 'I don't want you to adopt me Gaffer' Sheaf. 11 goals/assists in 31 appearance, including the winning goal in the Scottish Cup. Not bad considering we snagged him on yet another free. At 20 years old, he's now valued at £2.4m. Good for you son. Papa loves you.
Harry Wilson: Loan. He became the player I so desperately needed. The guy who stood up when it counted. 32 Games: 16 goals, 16 assists, 11 MoM awards. Unbelievable. Even more unbelievable is that Liverpool didn't tie him down to a new deal. But more on that in the next article.

Ryan Hardie: second season. 40 games, 30 goals, 11 assists. Second in overall performances only to Harry. I said when I signed him the boy is a goal machine. His stats aren't the most impressive but he most certainly knows how to find the net. He's still only 21 so I expect a good few seasons from him still.
Jason Cummings: Not to be outdone by Hardie, Cummings had a respectable record of 36 games, 24 goals, 13 assists. Still only 22 as well. He had me cummings with some of his performances.
A grand total of 54 goals between my two main strikers in all competitions. It is easy to see why, collectively, we scored 76 goals in the Premiership over the course of the season. We conceded a disappointing 44, but a goal swing of 32 ain't bad. I'm hoping to improve that next year though. 20 wins, 8 draws and 10 loses simply wont win the league at the moment, Celtic are too good. I'm aiming to build a team capable of turning a lot of those loses into draws and some of those draws into wins. Hopefully that will bridge the gap.
Oh, and a bit of personal silverware to admire when in the toilet.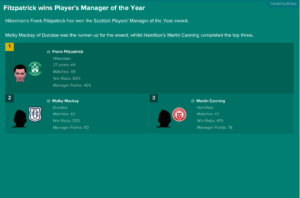 Thanks to anyone that voted for me, I love you all.
So then, after setting the target of cementing ourselves in the league, I think its fair to say we've achieved just that. Sure, Celtic won't be troubled yet, but our continued Cup success proves we aren't here to continue a tradition of finishing 2nd. We want to win everything. They may not be shaking in their boots now but we should be a lingering doubt in the back of their minds. Because next year we intend to usurp the King and crown a new one. Me. I mean, Hibernian… That mountainous region Celtic are currently perched upon now must surely be starting to feel slippery, because once you've reached the top, there's only one way left to go. Down. Therefore, from this point forth, the rest of Scotland should refer to us as the King Kong of the Scottish league, because, you see that Empire State [Celtic] currently look down upon us? We're about to scale this bitch.
Until next time.
Up the Hibees.
=====
If you enjoyed that you can make sure you never miss the next post – sign up to the daily email round up here.
Want to right for Tempo?  Get in touch!