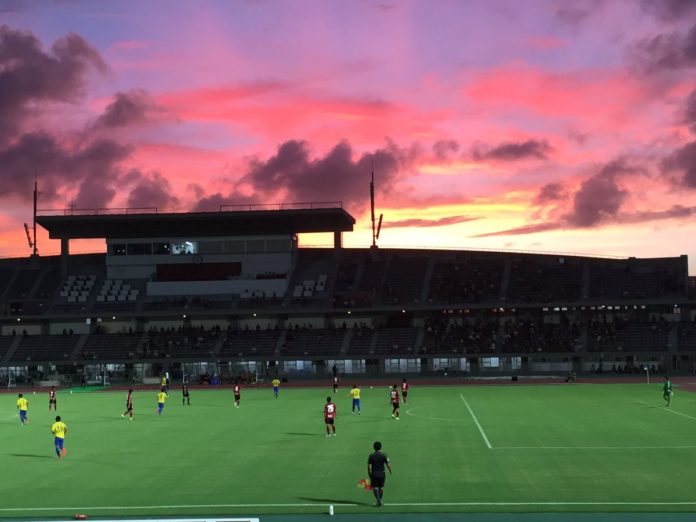 It's a bit of a two-parter this one folks.  As I said in the previous post, I wasn't too disappointed that we crashed and burned on the final day of the season.  Considering that I was playing with practically a youth team we did well to even be in the hunt, and I am predicting a strong 2017.
I felt that in this post we could have a look at some of the stars of the season and look at some of the kids coming through the Academy that I expect to feature soon.
Recruitment wise, I actually have nothing planned at this early stage so that's rather dull.  I need to be thinking about trimming the wage bill, not adding to it in any great way!
So, the few fans that we have have spoken!  To be fair, I cannot disagree with their choices.  Nagakawa became our star man in the middle of the park, and I hope he can continue his development next season.  If he does well, we can get ourselves right in the mix for promotion.  His goals to game ratio was pretty special, getting 58% of his 2.5 shots per game on target definitely helped.
Kazama was easily our better left back and, although his performance in training leaves a little to be desired, I would imagine he will be a key player again in 2017.  I'd like to see him get a few more crosses in for assists, match what we have achieved down the right hand side.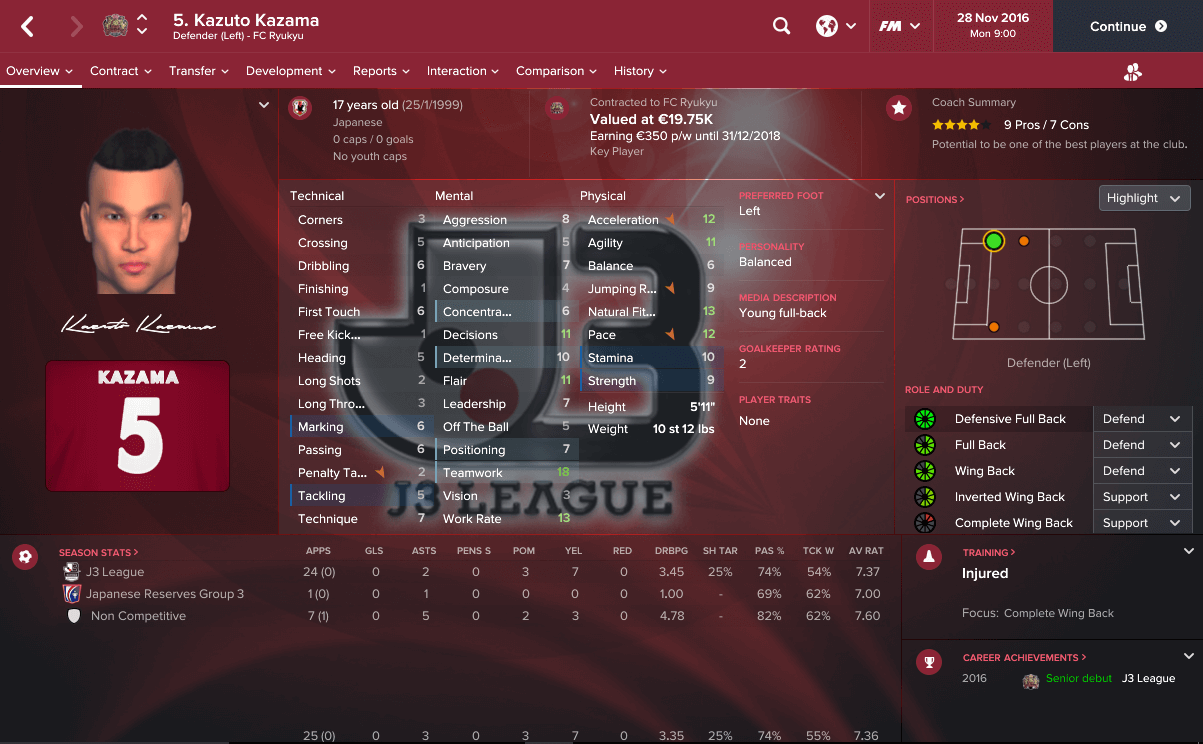 Suzuki eventually made the right hand side of the centre back pairing his own.  The kid is a giant over here, an improving giant.  He is another that should only get better and better, so fingers crossed I can continue to mould him.  He gives the ball away too much for my liking however, but then the CB's always have the lowest pass completion in this tactic – something I really should delve into.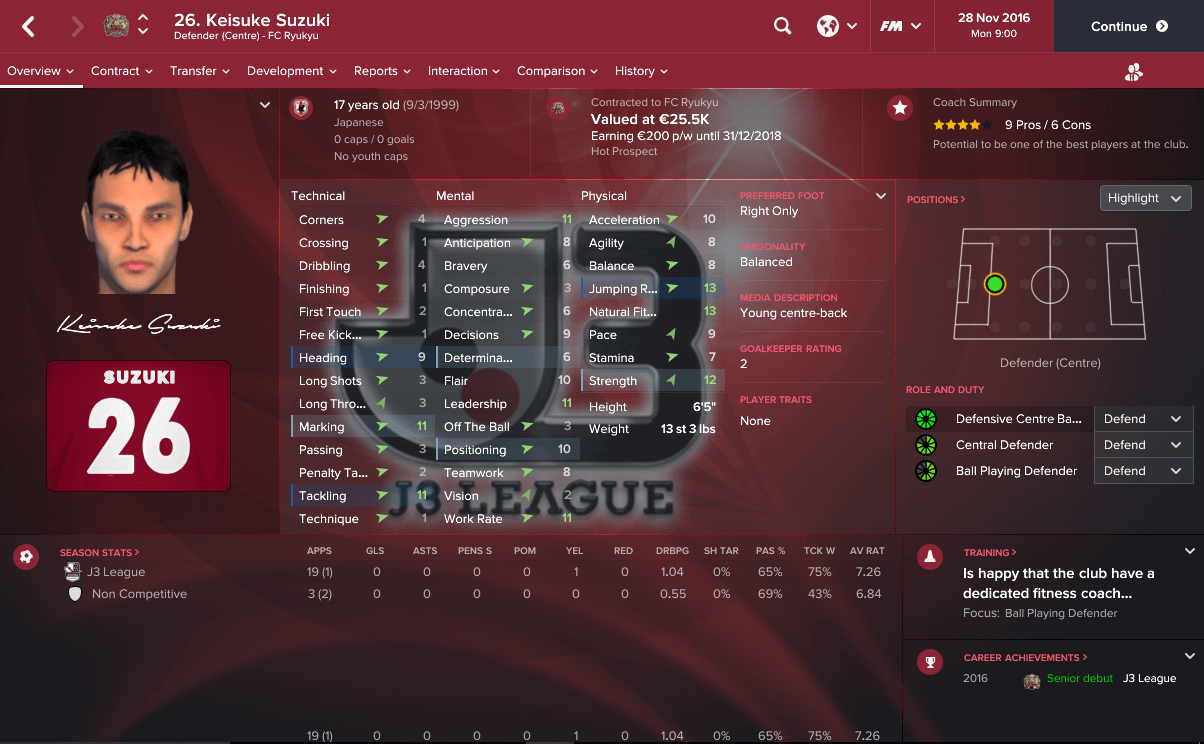 I have a decision to make over Takashi Nomoto – he is 36 and scored 11 times last season.  Is there another season in his legs?  His contract is up, so I need to decide.  He's the club captain, but I have a couple of talented academy players and, as I type this, have just snapped up a real prospect from China.  He is likely to go as I really do need to bring the wage spend down in 2017.  It's a shame though, he has led us well this season.
Let's have a look at some of the young talent coming through the two academy sides – I call the reserves the Academy and the U18's the Academy B for some reason.  I have no idea why.  


I would be a fool to believe that some of my players are not going to interest clubs at a higher level.  Fortunately, I am happy that I have enough talent in those Academy sides to cover any departures.
Anybody catch your eye from that lot?
==========
Every time, it happens every time.  I go into the close season thinking "cool, got a solid squad, no real changes need to happen" and then the bids started coming in.  Fortunately, it would appear that you can negotiate in Japan because some of the opening bids for my starlets were derisory.  But, offers were coming in from everywhere for everyone and I made my standard starting point of negotiation €100k plus add ons or we were not talking.  If a player was not likely to be in my starting XI next season or I had a more than adequate replacement then we could talk further.  The main interest in selling would be to reduce the wage bill, more than the actual money raised – I mean, I need to shift someone for €500k if I want to make a life changing difference to the club.  Refreshingly, each rejected bid didn't have a player's agent banging on the door demanding a new deal.  
We made progress, and eventually some offers were too good to turn down – especially when I had plenty of replacements lined up.
12 players sold for what will eventually be nearer €900k than the initial €725k.  That is clear profit as none of those players cost me a penny.  All this pretty much renders my Academy screen shots above totally pointless, as many of these are now in the first team squad to be joined at the club by the following signing.  But yeah, I've sold the three players the fans voted for in the end of season awards, our goalkeeper and two out of the three DM's that played each week.  Plus I released the four more experienced heads as I believed their work to be done….
I did replace the boys though.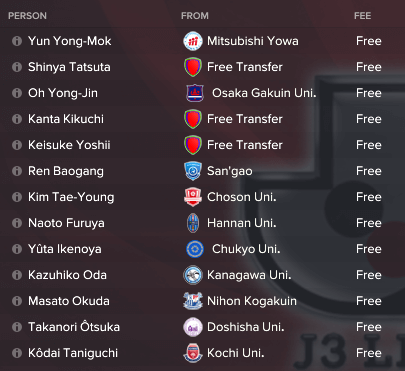 Of the new signings, these boys are likely to be straight into the starting XI.
I'm training him to be a left wing back.  Obviously, with his tackling of 1.  He's got the work rate though, so we shall see.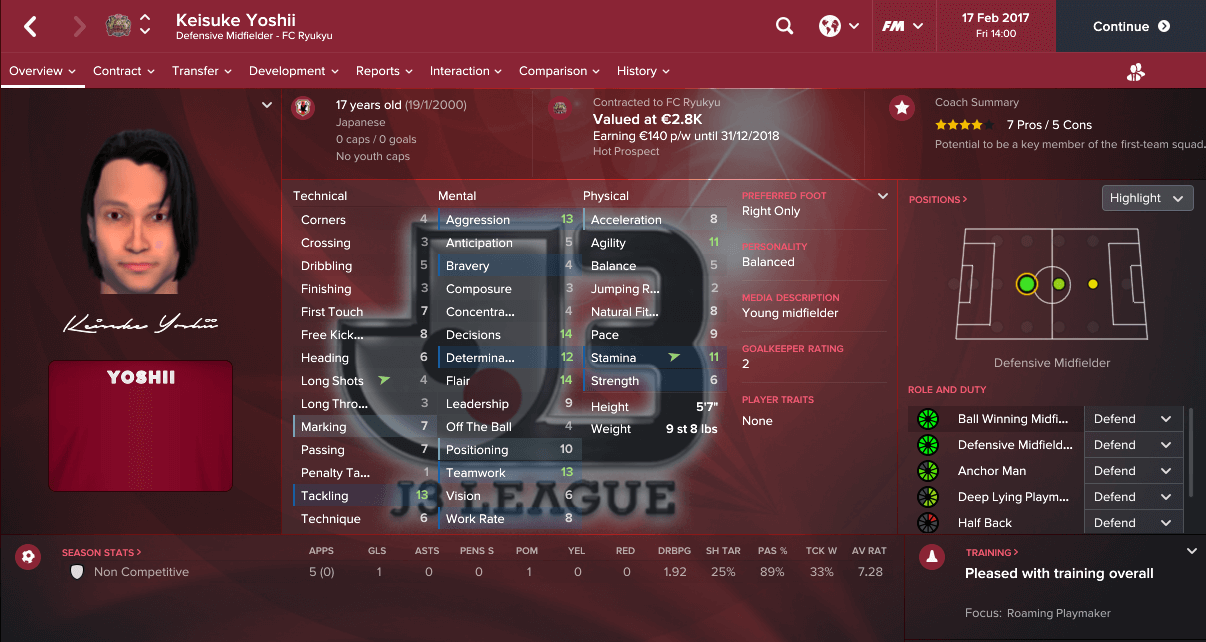 I'm kinda crow barring this guy into the RPM role to the right of my midfield DM3.  He's been doing ok in pre-season.
Kikuchi is going to play anchor.  He will never grab the headlines, but his free kicks might come in useful.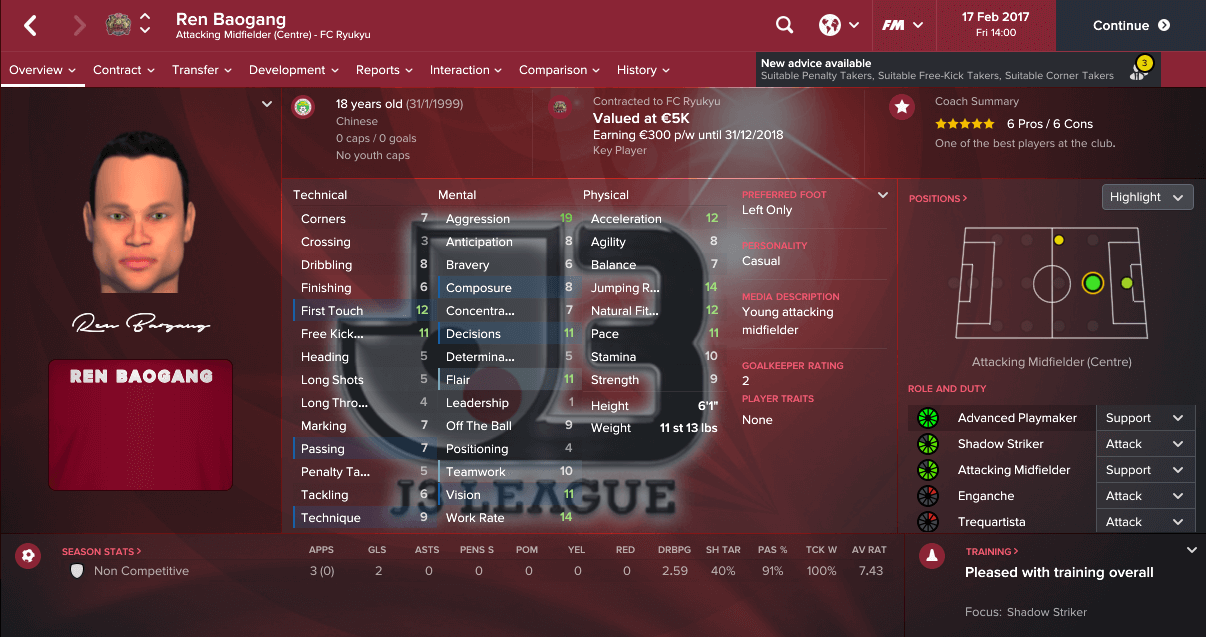 Ren could become a hero here.  He will replace last season's skipper Nomoto and play shadow striker.  Hopefully he can create a partnership with Talent!
These Academy players could well play an important part too…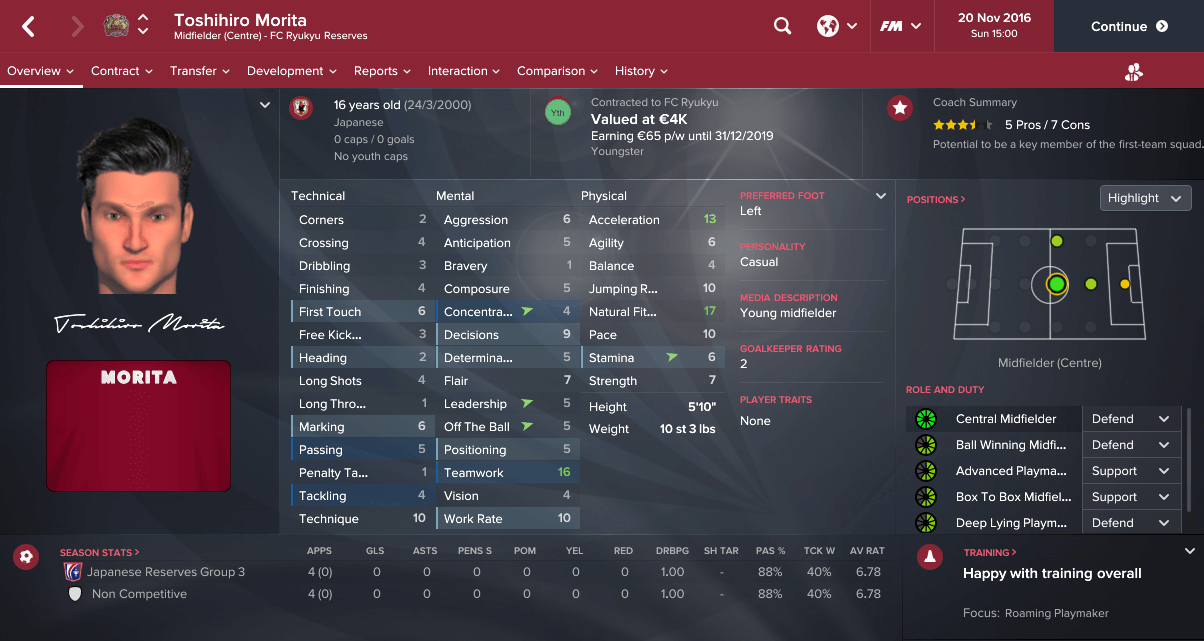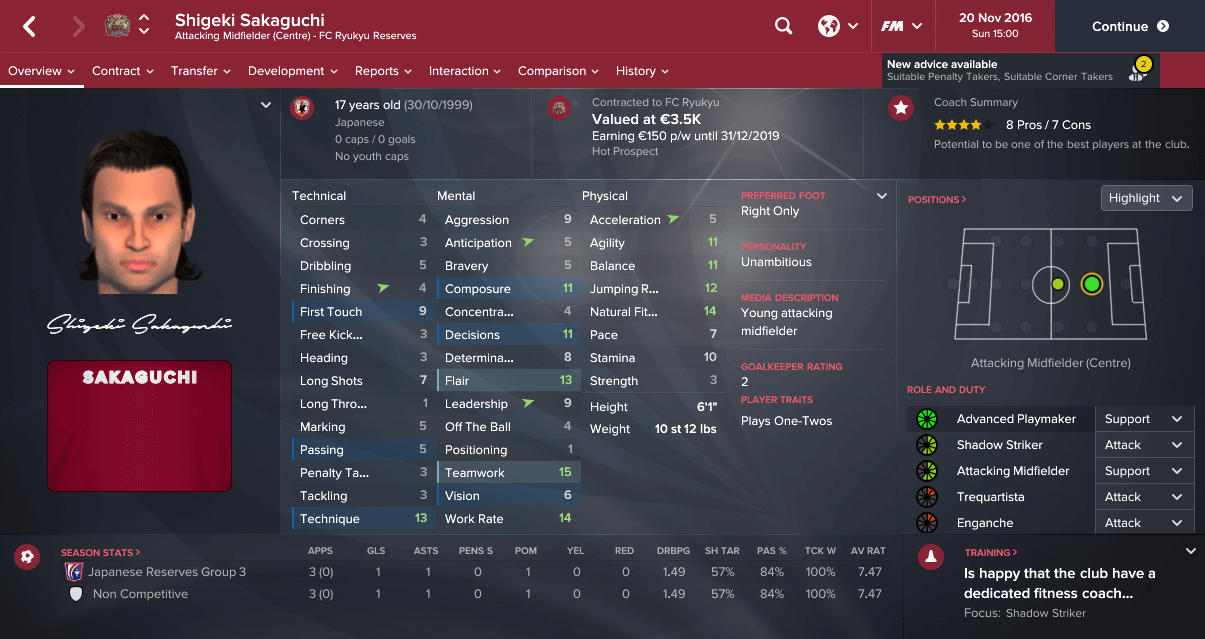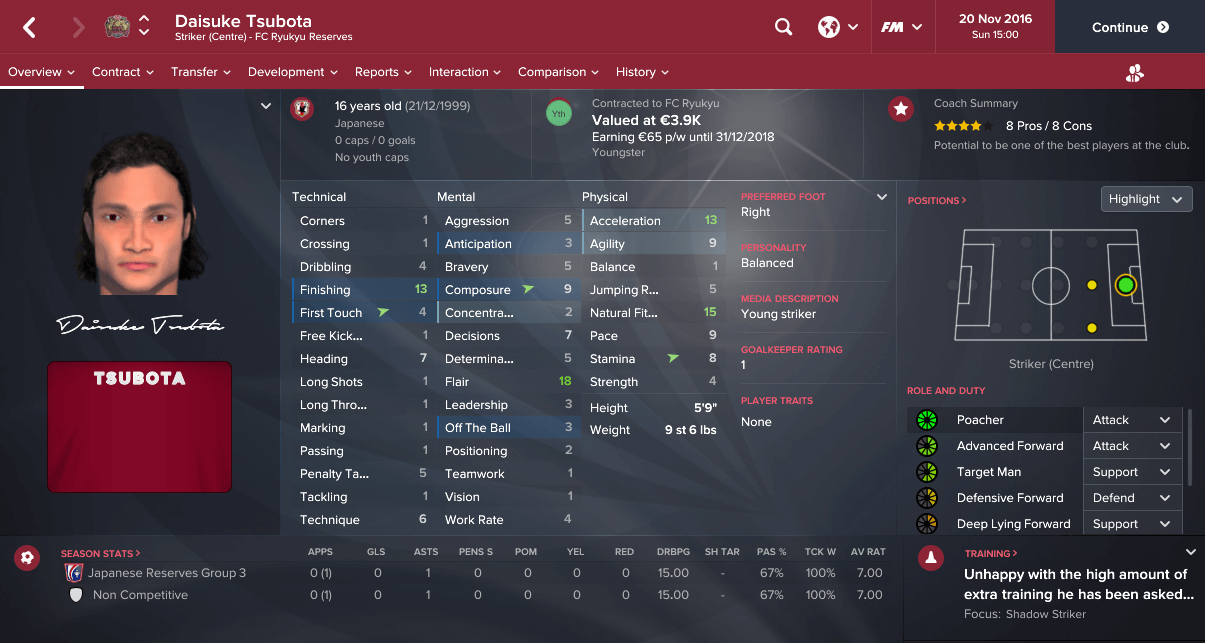 I'm relieved to see no further WNT signs over any of my players, so I am hoping I can use the remaining four pre-season games to cultivate a familiarity in the players.
This is how we look financially for the season.
That bit in red is smaller than it was last season, but also we have the buffer zone of all those player sales which is nice.  I might turn a profit this season after all.
So, I head towards my second season with an even less experienced side than last season.  Ok, that might not be strictly true.  I still have a keeper, a right back, a centre back, a regista and an enganche from the last campaign and, hopefully, they'll still be here by the time we speak again!
This came in just as I was signing off.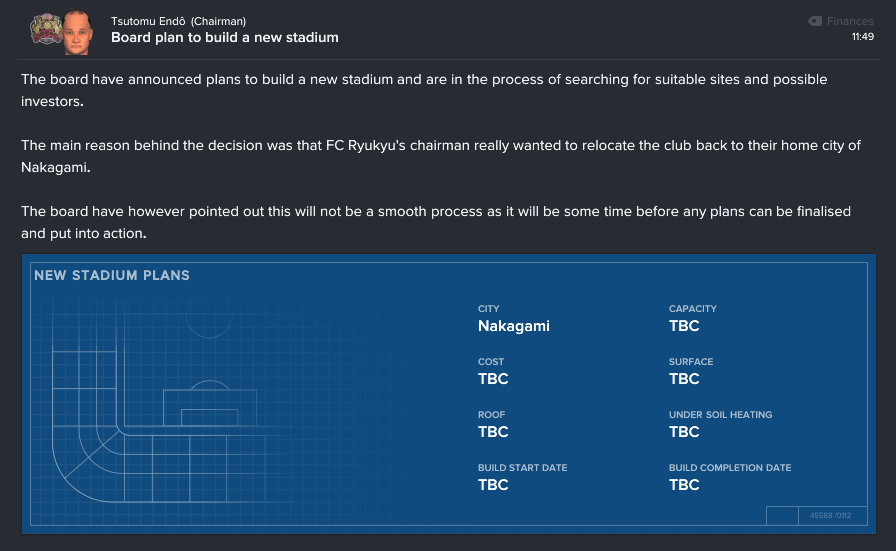 Firstly, nice to see the board be more sensible over wage budgets!  But look, plans for a new stadium!
I hope it is going to be smaller than 25,000 because we really, really don't need it to be that big.
Sayonara!