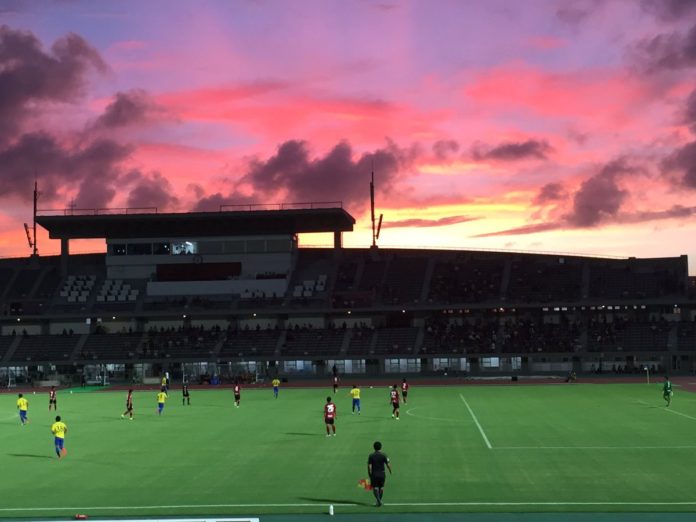 Greetings, or as they say in Japan, 挨拶 (Aisatsu).  I've achieved what I wanted to achieve in and around Christmas and that was to power through FC Ryukyu's first season under my stewardship.  As I said a couple of posts ago, it probably feels a little dry and lifeless at this early stage but trust me, emotion is starting to get involved and after the season we've had, I am very, very fired up for 2017.
The J3 season is 30 games long and the top team wins promotion.  The team that comes second plays the second to bottom team in J2, a promotion/relegation play off.  For reasons that will possibly never become clear, I have broken this post into four sections below to mark our progress without.  I probably won't be doing it this way again!
So, grab a coffee and join me on a whistlestop tour of 2016….
After 5 games
The early signs are promising – unbeaten and in a three way tie at the top of the table.  The first match may have set the tone for us, Shira coming off the bench and grabbing a very late equaliser from central midfield.  The tactic is bedding in, it's becoming clear which players are strongest at this early stage.  I'm happy with the start we have made and, considering we are tipped to finish bottom of the league by the bookmakers, we are in good nick.  Talent Ndlovu isn't living up to his name, yet.  Losing Nomora, our veteran skipper, hasn't caused us the problems I expected.  If you'd offered me unbeaten after five I'd have snapped your arm off.  The Samurai's out here do that.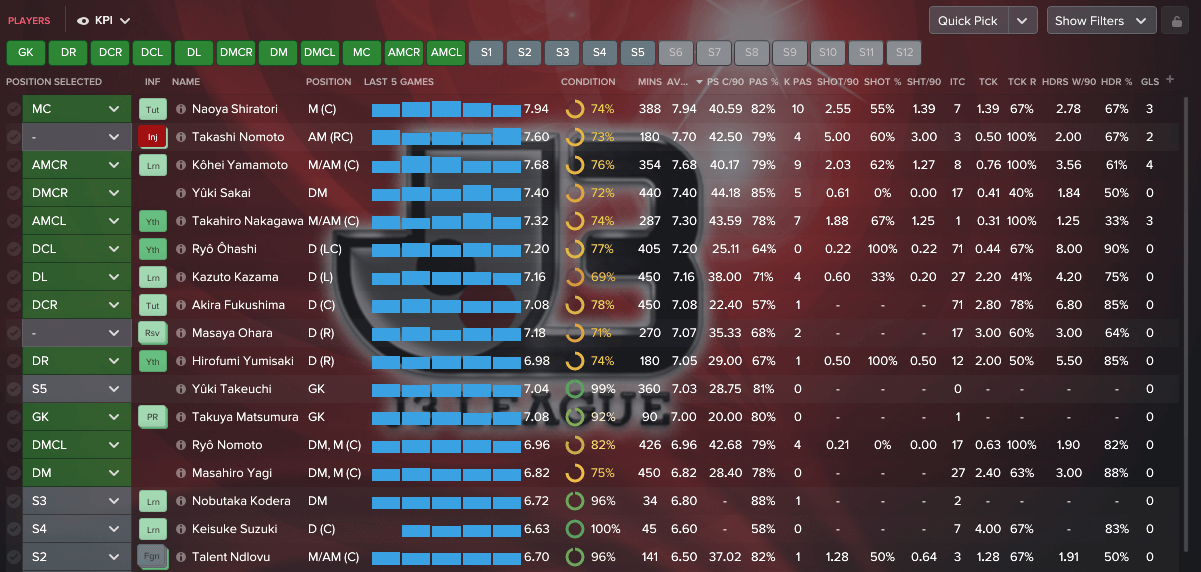 After 10 games
That was a tough five matches, goals were hard to come by!  It must have been hell watching us play – that said, not many actually come and watch us play.  Curiously, by reverting back to my second choice keeper Takeuchi we have played much better – no rhyme nor reason, just fact.  The league is crazily tight, we sit in 3rd but 17 points runs all the way down to 7th and 9th is only two points back.  Only Cerezo U23's are adrift from it all at the bottom.  We also battered Gamba, the leaders, 5-2.  Anything can happen in this division at the moment.  If you look at the squad after ten games, some players are standing out with their performances but, again curiously, recalling Talent Ndlovu who has been shocking so far led to us finally scoring some goals.  Who knows what it all means!  A better manager than I could probably tell you.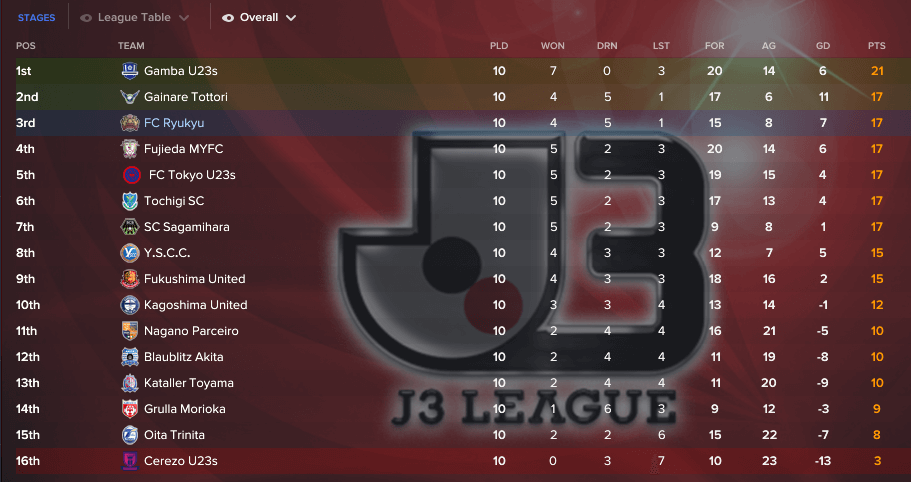 After 20 games
You know what, we could do this.  We have been brilliant to this point, and it was a silly mistake that cost us our unbeaten record when we lost 3-2 to Gainare.  We have to bounce back.  Goals are flowing, the kids are growing up fast and two of the three veterans are no longer in the starting XI.  I'd back us to finish in the top two from here.  Ten to go!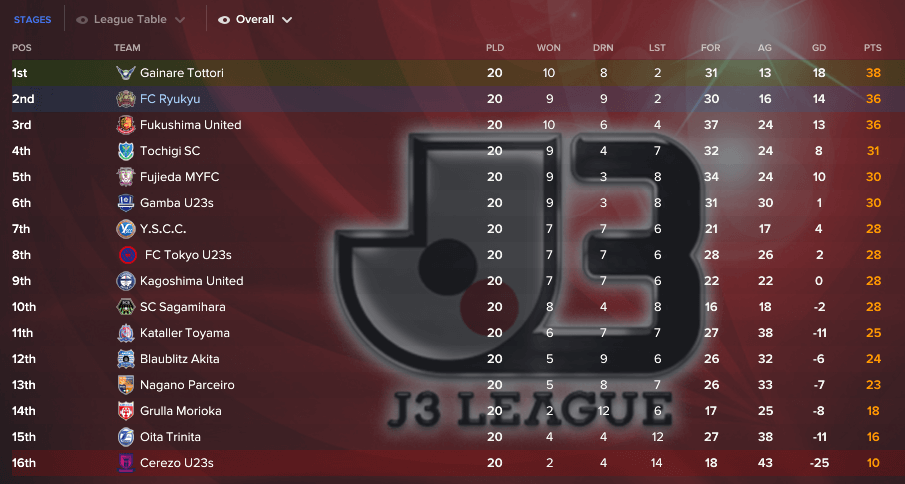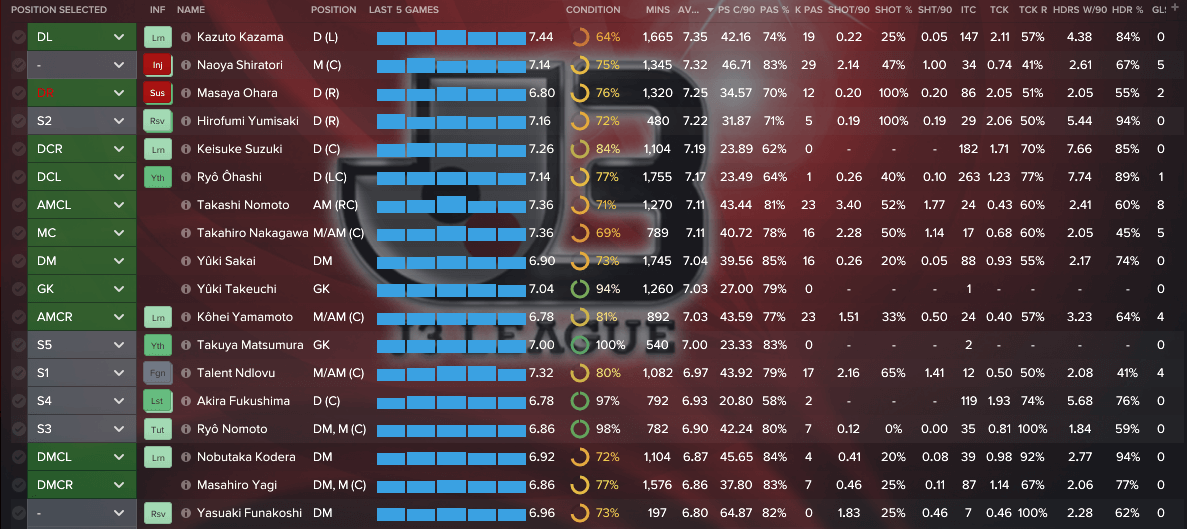 The final countdown….
Let's cut to the chase, shall we?  As we entered the final game of the season there were three teams in contention for the play off place and, yes, we were one of them.  We were all level on points and goal difference was going to be a factor.  But, we knew that if we won our match it was all sorted.  Fortunately, the other two were playing each other which I felt increased our chances of success.  If both matches ended in a draw, we were also good.
Our form had been up and down coming into the final round.  The inexperience of the lads had meant we had lost some games I wouldn't have expected to.  But, it was bloody exciting and the J3 has been a truly fantastic division to play in this season.  Only Fukushima ended up being the stand out team, and it took them a very long time to break away from the pack.  It could have been us, it could have been several other teams.
All we had to do was beat Tokyo's U23 team who started the day in 7th.  That's all we had to do.  Talent put us 1-0 up after half time, and the other game was still level.  Well, that was going to be that then!  Job done, no?  And how fitting that it was Talent who scored the goal.  Hmmmm.  Inexperience can be a bitch.  Five minutes later we were 2-1 down and sitting in 4th place, we had frozen.  Try as we might, there was no way back and the 630 or so people that had bothered to come and watch the biggest match of the season went home disappointed.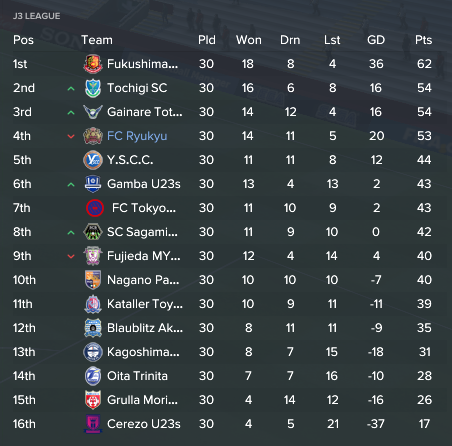 Now, an admission.  For the first time in my life I wasn't that bothered about not going up.  Sure, we could do with the extra cash but that alone wasn't going to be enough to sort us out financially, yet.  My gut feeling is that a second year in J3, where we should really win the thing, would be a much better use of our time and energy and I don't have to do any winter recruitment as the Youth Intake fairy has been very, very good to us (see below).
I'm happy, phase one is complete and we have the grounding for success next season.  Unless, of course, every team in the division was given wonderkids in their intake of course…
I would expect the next post to be a quick review of some of the stars of the season and an introduction to some of the talents we have in the Academy.
Feel free to comment below!
Sayonara!