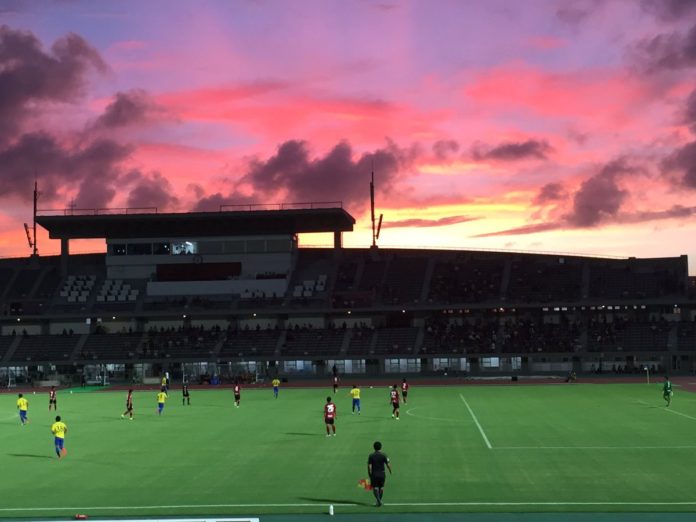 Welcome back to the second part in my new series, The Islanders.  You can catch part one, the introductory piece, here.
So as I rocked up on the island of Okinara I found what I expected.  A bit of sunshine, a nice big stadium and no players or staff.  Fortunately I had a couple of months to sort it all out before the J3 season started, but where to start?  Where I normally start in these situations to be honest, rejects and regens.  
There were well over 2000 Japanese players unattached and loads more playing as amateurs at other clubs, so the next move was pretty obvious.  Trials, trials and more trials.  That's how we recruited.  The first group I brought in were the tallest players available on a free in Japan.  Why?  Well, traditionally Japanese footballers are quite small so I figured that if I bring in a load of big lads, that is going to give us at least one advantage.  The next part of the plan was to have one hell of a load of matches to check these guys out in.  I planned to do a cut after every two matches played, until I was left with what I felt was a squad I could work with.  After each cut I would check in with the newly appointed scouts to see if there was anyone else I should be looking at in that position.  
It took time and plenty of eyeballs, but I ended up relatively happy with the 20 players that had been offered a contract.  Where possible I was hoping for height and pace, but that wasn't always possible.  With very little to choose between, I ended up following the coach reports alongside the pre-season friendly performances, ruling out anyone that it was claimed had consistency issues or was potentially made of paper.  Within the group there were 15 teenagers and 5 aged anything from 25 to 40.  The teenagers have potential, but it will be up to me to tap into that potential as fast as possible as the season progresses.  The "senior" players are not guaranteed starters by any means and even by the end of pre-season I was far from having a concrete starting XI in my head.  
I've created the squad view that I will use to monitor performance over the season.  I am building towards implementing the "Searching the Stats" recruitment model that I prefer to use when I am watching the pennies.  As you will learn in the the next post, the pennies are going to need careful watching at this club.  There is little point having a 25,000 seater stadium if you do not fill it.  And you don't fill it when you are playing J3.  You rarely fill it when you are playing J1, unless you are Urawa Reds.
The J3 rules tell me that the top team gets promoted automatically, and the second place team enters a play off against the team that finishes second bottom in J2.  I have no idea whatsoever how we are going to fare.  The bookies tip us to come bottom (16th), the predicted finish on the home screen when I chose Ryukyu suggested 12th but I have no idea other than I would be surprised if we finished bottom.
The #ArgSt17 has been used throughout pre-season and has been nice and solid – but we have been playing plenty of whipping boys to build familiarity in the tactic and the players in the hope that it gets us off to a confident start when the league season gets underway.  We haven't played anyone that should be capable of beating us at all, so it is not a fair gauge of where we are at all.
I will delve deeper in the next post, but I am financially curious as to how the figures work out here.  The €17k weekly wage budget adds up to the club going bust with some very speculative sums, but the squad has been assembled for a fraction of that so I will work out whether that means I have an upside.
The prize money for winning the league, yeah we can dream, is €40k so this is not the sort of place where I can just gamble on getting promoted and make back all the money spent at the end of the season.  This year needs careful planning and financial management – dull, I know, but it will be necessary.  I have a long term strategy in place for the club where we produce high quality players that can be sold on, whilst making sure we consistently move up the leagues and eventually into continental football.  Mind you, show me anyone that doesn't have that kind of aim for the LLM save.
So that's my squad for the 2016 season.  I'm excited by our prospects in goal, at full back and the marvellously named Talent Ndlovu who I have to admit has been signed mainly for his name and the fact there is an outside chance he is related to Peter Ndlovu.
Just to warn you, this series might start off a little dry as it grows.  I want to get the first season out of the way quickly, so it can grow some roots and characters can start to come to the fore.  It will incorporate the financial side of how I play FM as well as the scouting side of things, but I hope it will also become quite a good story as the seasons pass through.
As for the coming season, who knows.  Will it be all about survival or can we aim higher?  It is the complete unknown, just like the J3 league is to most of us!
The next post will be a financial piece, now there is something for you to look forward to!
Which players do you think look like my better prospects?  Comment below!