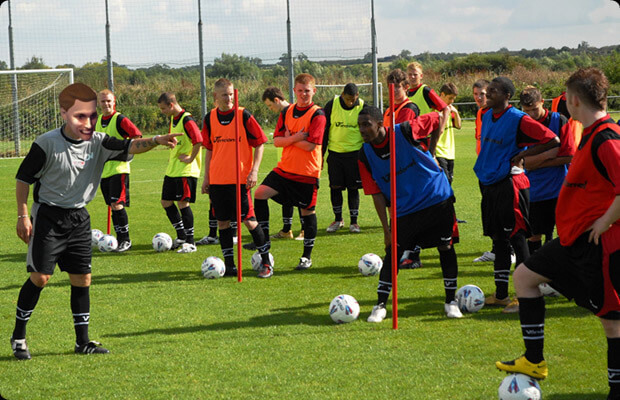 Previous instalments: 1.0   1.1   1.2   1.3
After running over the stats from our worryingly narrow victory over the development side, I come to one conclusion: we need more players. Better ones, ideally. I consult with John about the budgets.
"You've got £25k to play with," said the chairman.
"A week? That should be more than ample to rebuild. Perhaps bring in one or two marquee players."
I'm thinking Emile Heskey.
"No no, £25k for transfers. Just over two grand spare on wages."
Emile is out of our modest price range – and, for what it's worth, isn't particularly keen on ending his career in a blaze of glory at the One Call – so attention turns elsewhere in the free agent market.
Hundreds, possibly thousands, of out of contract chancers, desperate to get their foot in the door at a football club. Any football club. Some are bubblewrapped academy lads thrown out into the footballing wilderness to fend for themselves for the very first time. Others are looking to rebuild their stagnant careers, lurching from club to club on short-term contracts in the hope that the next one will be the right one. Many are simply after one final payday before settling into the retirement cycle of depression, alcoholism and stints in the Sporting Chance clinic.
I draw up a shortlist and summon my scouting team, which consists entirely of Scott Rickards. I send him to London to check out Palace 'keeper Kleton Perntreou, then up to Lincoln to assess Theo Robinson. Salford's Harry Worley and Everton's Connor Hunt are also worth a look, and while he's up north, Scott may as well undertake a root and branch evaluation of Blyth Spartans – former home of legendary Southampton hitman Ali Dia – for any more rough diamonds.
He tells me it'll take days, if not weeks; I sternly remind him that we don't have the luxury of time and send him on his merry way. Scott's lucky that he's also our under-18s coach, otherwise his contract would be mutually terminated (football's euphemistic way of firing staff).
It dawns on me that rather than scouring the land for talent, we could simply invite them all to the One Call for closer inspection. I consider calling Scott back, but he's already hurtling down the M1 in fear of his two jobs. I spend the entire morning calling up prospective players, luring them to Mansfield on trials.
"Good morning Dale / JJ / Sanchez / Richard / Valentin / Magnus / Hogan / Lateef / Calvin / Emmerson, it's Jim from Mansfield Town. We'd love to invite you to the club for a four-week trial. We know you've got immense potential / quality, but just want to check out your fitness levels in pre-season."
I rattle through the longlist like a manic telemarketer. We send out twenty-seven invites in total. Only aloof England husk Matt Upson and ex-Sheffield United full-back Bob Harris turn us down outright, while a handful of others respectfully decline our offer, having signed permanent terms elsewhere. That leaves twenty-one triallists coming through the door – enough to build an entirely new squad if need be. That's the message I'm putting out there. Get it right in July, or I'll give your place to Emmerson Boyce.
Fourteen minutes into our first proper pre-season game against Kidderminster Harriers, and it seems like the players have responded well – none moreso than Matt Green. Within a minute of kick-off, I'm wolfing down plenty of humble pie in the dugout, as the striker tucks away an early goal, then, after trialist Lauri Dalla Valle doubles the lead, he helps himself to a second before the quarter hour.
Three goals to the good, we're cruising. We've only tested out a trio of trialists – Dalla Valle, surprisingly ginger Richard Eckersley and former Bayern Munich wideman Dale Jennings – but it's our existing crop who are doing the business. Then, predictably, it starts to go pear-shaped. The Harriers – who ply their trade two entire divisions below us – hit back with two goals in three depressing minutes, before Mal Benning very kindly gifts Emmanuel Dieseruvwe an equaliser before half-time.
Richard recommends telling them how well they're doing, having conceded just three goals against the National League North's title favourites. I disregard his advice entirely – which is fast becoming the standard course of action – and demand more from the players. Jennings looks particularly non-plussed, just as he did before the game. His attitude scarcely improves when play resumes; this professional football lark clearly isn't for him. He gets the hook on the hour.
He's not the only one replaced as I throw on my entire bench, and it's another on probation, Calvin Zola, who clinches the win with a fine header ten minutes from time. Football365 say we produced a good display to see off Kidderminster. They must've been watching another game.
Against the trialists, we start well enough, but still need the ref's help to open the scoring. Green takes a dubious tumble in the box before putting away the penalty himself. Within thirty seconds, Trialist XI have restored a sense of justice, Hogan Ephraim prising the defence open and ex-Cov striker Elford-Alliyu burying the opportunity. My yellows snatch the lead back again through a close-range Green volley – I can feel Richard's glare from behind me, but refuse to turn around – and head into the break one goal to the good.
With a bit of encouragement over the half-time plums (we can't afford oranges in the summer months), we come out all guns blazing. Green, of all people, controls the ball on the edge of the area and lashes towards goal. It's nowhere near the top bin, but young Sam Guthrie is already on his way down to the deck. It hovers, almost despairingly, over the 'keeper's head and trickles in off the far post. There's a tap on the shoulder.
"That's five in three."
"Shut up, Richard."
To their credit, the trialists battled back, Elford-Alliyu and the impressive JJ O'Donnell linking up to lay a goal on a plate for Simon Gillett, but despite clawing to within a goal of parity, a third never looked forthcoming – even with Dalla Valle leading the line. 3-2 it remained, maintaining our 100% win record in pre-season. Yes, it does count.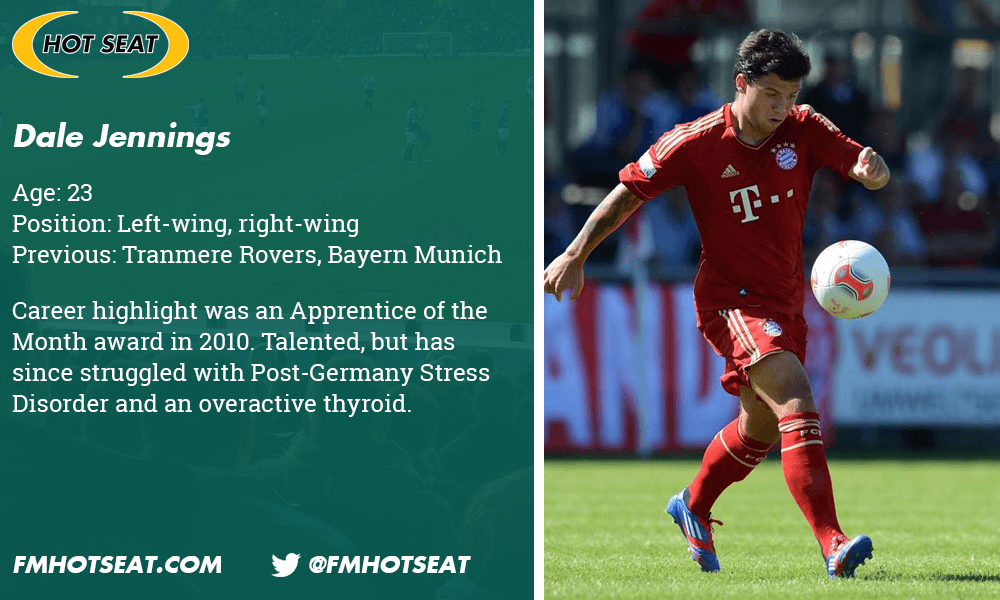 As for potential recruits? Jennings looks either nonchalant or stressed whenever anybody talks in his direction. The Scouser left Tranmere as a prodigious talent, but returned from Germany a broken shell of a man, suffering PTSD flashbacks of intense training drills, dressing room alienation and grim little white sausages. He's a definite no-go.
Of the rest, Gillett and Elford-Alliyu took their goals well, but only O'Donnell truly stood out. The former Gateshead playmaker ran the midfield, taking more touches and creating almost all of the "Under-18" chances, but I'm well aware of his previous injury troubles. He ended up serving as part of the Heed's backroom for the final months of his contract; perhaps we can negotiate a reduced player/kitman role.
Surprisingly, given his long rehab period and similarly lengthy search for a club, JJ has a list of demands. Reported interest from league rivals Newport County has made him brave. He wants a pay rise, a defined role of an attacking left-winger, and wants to be allowed to move on at the earliest opportunity.
I acquiesce with a smile, knowing that I'll go back on each and every one of those promises before Christmas.
Jennings and Ephraim are soon out the door, continuing their downward trajectories elsewhere at clubs like Newport County and Grimsby Town. Newport in particular are sniffing around a lot of our trialists. I'm sure they're intercepting my emails.
There'll be more faces coming and going as Mansfield's very own Hunger Games continues to play out in the background. JJ will likely be crowned the first winner in a press conference a few days from now, should he accept the rather paltry £400pw offer on the table.
It remains to be seen who'll be joining him in the victors' pantheon, but you can bet your bottom dollar it won't be Emmerson Boyce, the world's most talented bollard.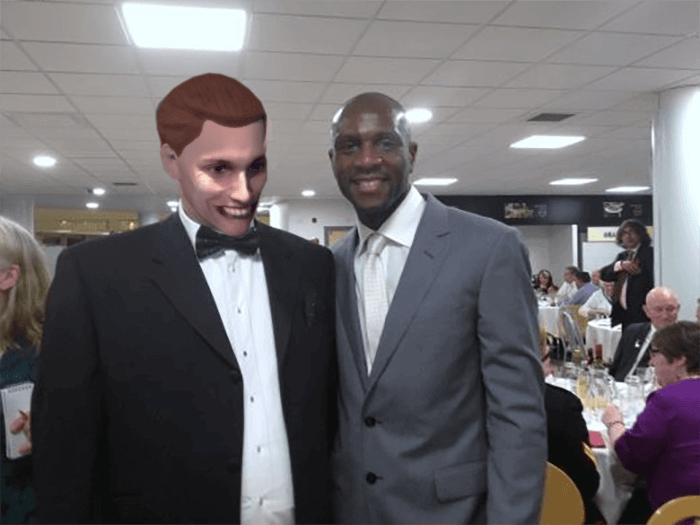 ====
If you enjoyed that, make sure you don't miss the next part by signing up to the newsletter!