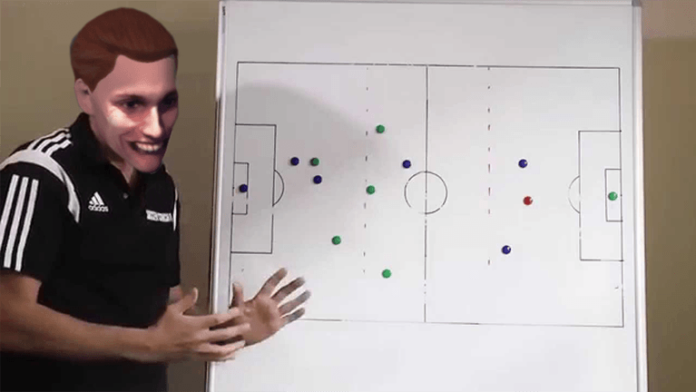 Looking around at some of the bloated, out of breath shapes occupying the dressing room cubicles, it's fairly evident that preseason hasn't kicked off just yet. Rhys Bennett has strained his wrist – a likely consequence of bringing his hand to his mouth once too often over the summer – and Darius' food baby, so well disguised by his dark tracksuit, is there for all to see in the unflattering yellow shirt.
Our programme doesn't start for another few days, but this afternoon represents an opportunity to run the rule over the players at my disposal. I keep it relatively simple; a straightforward 4-4-2, in the time-honoured tradition of Bassett brothers Dave and Mike. I don't waste time filling their head with nonsense about exploiting the flanks or where to stand on the pitch; I want to see how they play when left to their own devices.
"I don't want to see any of you holding back today. Control the game and get the goals. We should be pasting these kids."
Lewis Collins looks pensive. Drowning in a shirt two sizes too large, he looks about fourteen, but I'm reliably informed that he's almost twenty.
"But boss, aren't these our kids?"
They are indeed. Technically, it's our Under-23s, but in practice, only a handful can be considered men. The rest are still growing boys – and not particularly good ones, either, otherwise they'd belong with the first team. I'm from the Kevin Keegan school of thought when it comes to development sides; I'd rather scrap the entire academy and spend the cash on Emile Heskey. That, unfortunately, is beyond my control.
There's normally around three and a half thousand people here at the One Call, serenading the side or baying for blood depending on the scoreline. Today, there's a handful of coaches, a few physios and science types knocking about, and Brenda, the tea lady. John and his wife sit up in the box, miles from the pitch and the rest of civilisation. It's not your usual matchday atmosphere, that's for sure.
As expected, we're on top from kick-off, playing a game of keep-ball that wouldn't look out of place in the playground. It's worked down the right, James Baxendale stands up a cross towards the back stick, and Matt Green conspires to head down the throat of the goalkeeper from three yards. No matter; it's only been six minutes. There's plenty more to come.
We camp outside their eighteen-yard box, but still can't apply the finish. Baxendale is soon one of the guilty culprits, skewing across goal with his right when a left-foot shot was necessary. "Matt Green. Top scorer," says Richard, gesturing towards the forward as he goes through one on one. "Best finisher in the team, no question." Matt proceeds to thump the ball straight at Adam Hassan, and Richard sits back down.
At half-time, we're being held to a goalless stalemate by school leavers and sixth-formers. It's a lesson in mediocrity, and teacher's not happy.
"Well that was a bloody joke," I fume as the players stare at their feet. "Can we really not score a single goal against a bunch of teenagers?" I'm looking at Matt; he doesn't bat an eyelid. The lad has some nerve; just not where it counts today.
"Play time's over. Get out there, get some goals, win this sodding game. It's not rocket science."
I keep with the same team, but despite successfully geeing up three of the eleven players, there's little change in their attitude or performance. Chris Clements continues to carve out openings in the middle of the park, slipping Danny Rose clean in on goal. There's almost a wink to the dugout as he attempts a first-time chip into the top corner, but with just the one eye on goal, he manages to scoop a gilt-edged opportunity well clear of the bar. Danny keeps his chin burrowed into his chest as he jogs back into position.
At the other end, Alex Iacovitti also takes his eye off the ball, but recovers well enough to prevent the hesitant Hakeem from crossing for a teammate. It's enough to remind a few of that lads that the opposition are still actually in the game. Nevertheless, it is the seniors who make the breakthrough. Clements floats in a deep free kick, and Malvind Benning – our marauding left-back, who is also our best left-winger – gets away from his marker to nod in. It's straight from the training ground. Probably. I wouldn't know.
It's still one paltry goal in a full hour of football, so I ring all of the changes. Players stream on and off the field as though it were an ice hockey game. The second eleven fail to muster anything of note until ten minutes from time, when that wily old fox Darius diverts a header towards goal, only for replacement goalie Alex Roughton to get across and make the save.
Whether by one goal or ten, the victory was always going to be hollow, but winning by the narrowest of margins throws disappointment and embarrassment into the bargain. I'm already contemplating a stern debrief when a long ball is punted forward by the U23s, and whippersnapper Sam Grouse ghosts right past West Brom loanee Kyle Howkins.
He's in behind the defence. Streaking towards goal. Just dear old Brian Jensen – more than twice the age of the attacker – between Sam and the target. He can't miss. Being held to a draw by your own development team is the ultimate humiliation, and probably not the best way to kickstart a career.
I brace myself for the swish of the net and a dozen or so half-hearted handclaps. Instead, I peek through my fingers and watch Grouse shank it wide. So wide, in fact, that he instantly goes down in my estimations, and will quite possibly be shipped out on loan for a month to think about what he's done. Even if he does stay, there'll be no more shooting tips from Matt Green on the training ground.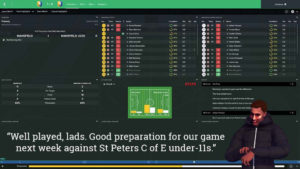 The seniors comfortably see out the final eight minutes and trudge off, a victory in scoreline only. I tear into them once they're back inside, showering them all with furious spittle and a slew of derogatory expletives. The majority of the players feed off my energy and are riled up themselves. Where was this fire during the game itself? Perhaps they all need to be sprayed with phlegm before the game to get the very best out of them.
Two players – Krystian Pearce and the error-maker Howkins – are not indulging in the angry post-match chest-beating. The pair are white as sheets; Kyle's legs are shaking uncontrollably. It's not the namby-pamby approach he's used to from the kiddie coaches at West Brom. Head physio Dan Kett proscribes a couple of Valium and an early night's kip. I'd prefer electroshock therapy.
All things considered, it's an underwhelming start. The lads think our next game is in a couple of weeks' time against the mighty Kidderminster Harriers, but I've got something else pencilled into the timetable. There'll be a few new kids in class, starting this Monday.
To paraphrase Socrates – the Greek, not the Brazilian – all I've learned is that there's an awful lot to learn.
=======
You can follow Jim's journey on The Higher Tempo Press or at fmhotseat.com. Be sure to keep an eye on Jim's day-to-day progress via his Twitter feed @fmhotseat.