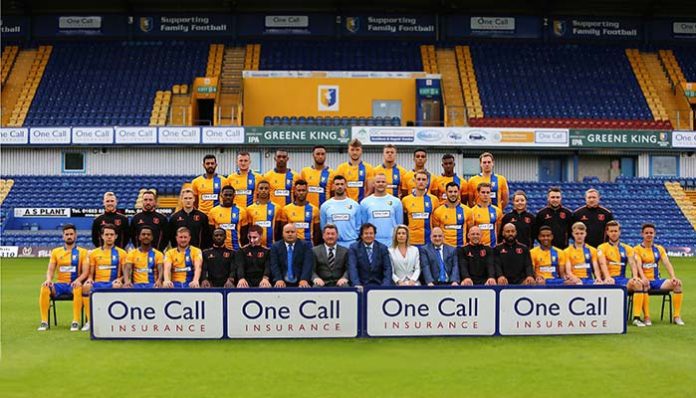 I fumble, bleary-eyed, in the darkness. The phone vibrates on the nightstand with the unwelcome intrusion of a pneumatic drill. 5.49am. Incoming call. Richard Cooper.
"I think now would be a good time to introduce yourself to the players and let them know what you expect of them."
Either I'm dreaming, or he is.
"What, right now? In my pants?"
"Yes, right now. The players have been called in. Get yourself dressed, boss. I'll be waiting for you outside."
I suspect he's been there all night.
Within a matter of minutes – Richard drives as one might expect – I'm standing in front of thirty-odd sleep-deprived husks, mouths ajar and red eyes rolling. Chris Clements is wearing his trademark open-collar flamingo shirt, generous applications of Hugo Boss mixing with, rather than masking, the Grey Goose vodka. Darius Henderson was already up, but still has his rollers in. Scott Shearer is asleep on his feet; it's a miracle he got here in one piece.
Nobody is quite sure why we're here at this ungodly hour on a Friday morning. We could've done it over breakfast, perhaps even brunch. God, I love brunch. And yet here we are, making acquaintances in the dim light of the streetlamps in the stadium car park. Cheers for that, Richard.
This side finished smack-bang in the middle of the table last time around – fourteen points off the play-offs, twenty-one ahead of the drop.
Should we simply aim for more of the same? Or should we dare to dream more than any of our forebears, slipping the bonds of League Two and reaching hitherto unchartered territory? Could this be the year we all carve our names into Mansfield Town folklore?
I deliver my speech, and Lee Collins is emboldened.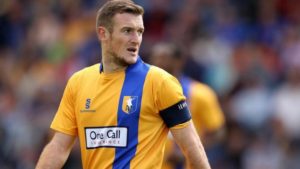 "That's exactly the kind of ambition I want to see from a manager, we'll secure a mid-table finish this season."
Nobody is conscious enough to disagree. I'd prepared a hardline riposte for any potential naysayers, but that'll be going in the shredder along with Richard's tactical dissertations.
Twelfth is once again considered a thoroughly achievable, realistic target. Nobody is yearning for the play-offs – which is a tad worrying in itself – but the players know they're too good to be drawn into a relegation battle. I'll keep my wildly ambitious promotion plans to myself.
I thank the players and send them all back to their beds, where their wives and/or mistresses await.
After a nineteen-hour power nap, I wake, disoriented and desperately hungry, in my office. By now, news of my appointment is all over Twitter. Most are cautiously optimistic, save for one solitary git.
"What are we playing at? Jimmerson of all people!" spits Richard Oyibo on social media. I print off his profile picture and tell my PA to sellotape it to the wall in the ticket office. She says I'm being petty; I consider it a morning well spent.
The press are here, too. I wipe the drool off my tie, ravenously wolf down a bag of Quavers and head into the function room, bracing myself for the flashing bulbs and thrusting microphones. Instead, I gaze out into a sea of mostly empty chairs. The three journalists who bother to turn up clearly have somewhere else to be, reeling off a short list of stock questions. Perhaps it'd be worthy of their time if I went rogue.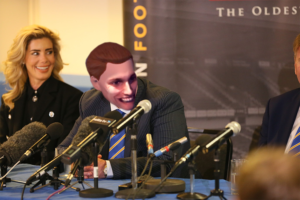 "No, me and the chairman have radically different ambitions. Actually, I hate the bastard."
"I'm going to sack the entire management team, as well as the groundsman, kitman and tea lady. I'll be bringing in my own people."
"I won't be signing any players whatsoever."
"The league is utterly pointless, isn't it? We'll be focusing all our efforts on the Trophy."
I'm not that brave. I calmly confirm their predetermined answers and they shuffle off to their respective editors. No controversy here, lads. Get yourselves down the road, where Forest are probably on the verge of sacking another manager, or a little further on to Derby, where the prodigal balding son has returned to preside over another post-Christmas collapse.
I'm not too fussed about the brevity of the conference, so long as I get a nice back page and spread in the Mansfield Chad. I've got pre-season to arrange, starting with the destination of our training camp. I've always wanted to see more of Austria, but I hear that Belgium is nice this time of year. I'm sure the players would benefit from it, too.
Dave Page, the club's Player Liaison Officer, is the latest through the door. He asks me which players I intend to take on our pre-season camp. There's room for thirty players – a very generous allocation, when the cost of flights and accommodation is taken into account. It soon becomes apparent why that is.
As I fill in the names on the sheet, I ask, "Do we need to remind the players to get travel insurance, or is that covered by the club?"
Dave looks a little sheepish. "I don't think that's really necessary in the circumstances, Jim."
I look down at the training camp form. The destination isn't Vienna or Ghent. It's not even Aberdeen or Dublin. From the ninth to the nineteenth of July, we'll be spending our time, rather vaguely, in England. During that time, we're booked in to play one friendly: Kidderminster Harriers on the sixteenth.
"Dave, is our training camp being held in Birmingham?"
"Not quite. It's in Leicester."
"An hour down the road? Why even bother calling it a camp? Are we going to set up tents on the pitch as a team-building exercise? Cook sausages on little camping stoves?"
It's not Dave's fault; in fact, it's not even the club's. I've probably set my sights a little high. Money is always tight at this level, after all. It's like a hard-up dad telling his kids, "Instead of going on holiday to Tenerife this year, we're going to sit in a field and stew in our own filth for a couple of weeks. I hope your hayfever doesn't flare up, Timmy."
We'll still get something out of it, I'm sure – team building, fitness, familiarity, all of the essentials.
Just not a suntan.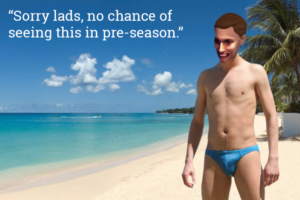 You can follow Jim's journey on The Higher Tempo Press or at fmhotseat.com. Be sure to keep an eye on Jim's day-to-day progress via his Twitter feed @fmhotseat. Note: the next posts actually feature some football!