The Halfway Point
When we last left our heroes from Celebest FC, they were ready to begin their first season in the top tier of Indonesian football, trepidatious after an indifferent pre-season and firm favourites to finish 18th out of 18. So, halfway through the season, how are they doing?
Indonesian Cup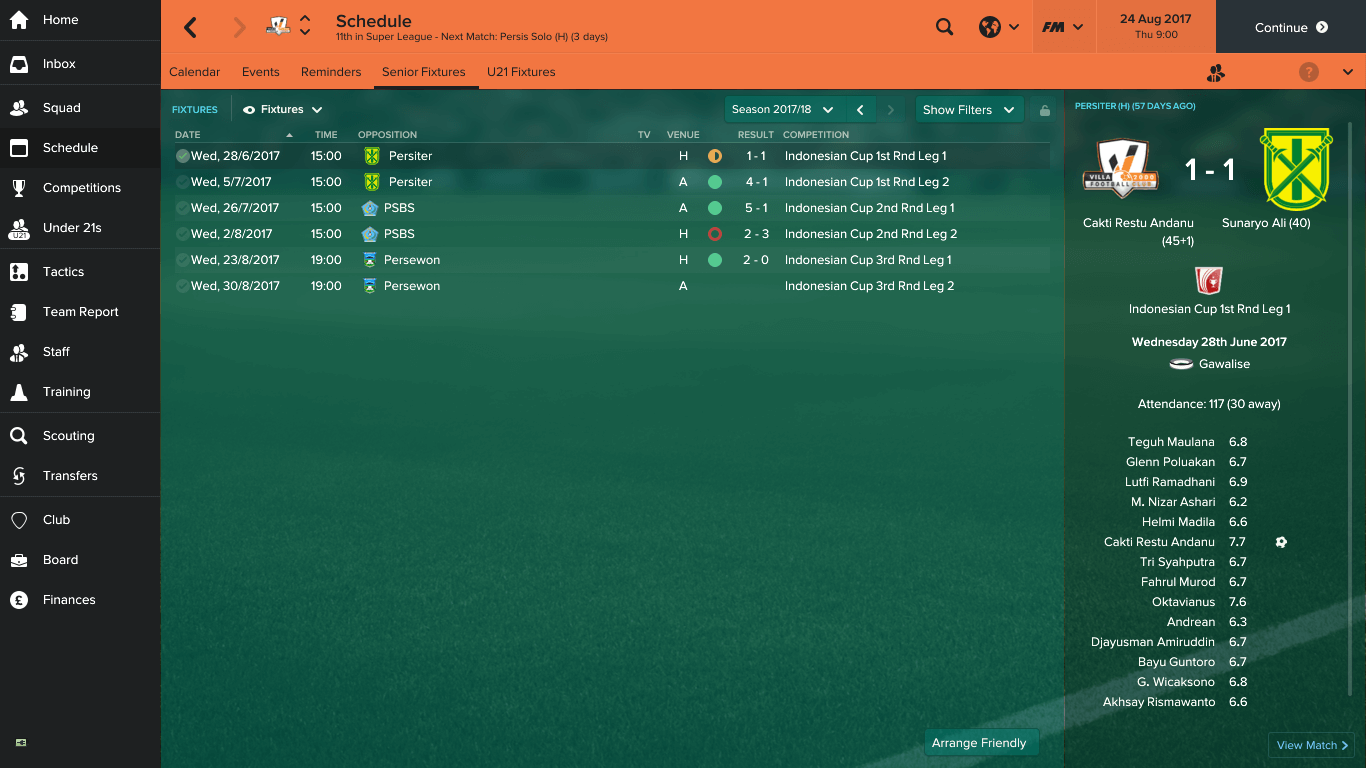 A reasonably kind run thus far sees Celebest poised to reach the last 16 of the cup. In the first round, third division Persiter proved worryingly stern opposition, only coming undone shortly before half time in the second leg.
Premier League PSBS looked to be a rollover after a thumping first leg win. However, at 1-3 down in the second leg, things were made more difficult than they should have been, until a late 2nd sealed the deal.
At the halfway point of the third round, an uninspiring but professional performance against third tier Persewon sees our protagonists poised to go into the latter reaches of the cup.
The First Seven League Games – The Pulis Years

Remember how I set out my stall to become a lean, mean, defensive machine? We started the season in a way that had me proud and concerned in equal measure. Proud because in seven games, we had conceded one measly goal and lost only once, to said goal. Concerned because our two wins saw the only two goals we scored – a poacher's effort from poacher Ardiansyah Ardi, and a thumping strike from star right back Glenn Poluakan. Being defensively brilliant was one thing, but if it mean absolutely no creativity at the other end, that portended disaster. Ardi had injured himself after the third game of the season, and Andrean was proving far from ready for the top league. When he then got injured, we swooped, in an emergency, for the loan signing of Akhsay Rismawanto from Premier Division PSIS – another player clearly not ready for Super League football, but desperate times.
The Next Six Games – The Implosion

You wait seven games to concede more than one goal, and five come at once. A dreadful, increasingly desperate performance against PSM at least had us scoring two goals, but only because as goal after goal went in our net, we became increasingly desperate, throwing players up front to try vainly to salvage anything.
Persipura are one of the better teams in the league, so I let myself hope a little when Djayusman Amiruddin put us 1-0 up before the half hour mark. It wasn't to be, though, and we were easily seen off, our good defensive record well and truly gone by now.
Amiruddin was again on the scoresheet, rescuing a point against a decent Semen Padang side. Helma Madila then broke his foot, my calculated gamble on having no backup to my left sided players not paying off. Oktavianus would need to deputise at left back, so young Gustimeus Wenda, a flying winger who can get past any player and then cannot do anything, would get an extended run. A poor draw against 17th placed Persib was followed up by a dreadful loss to rock bottom Persela – their first win of the season – and we're very much in trouble.
Four More Games and All Change
The Persela loss caused a lot of soul searching. Things were clearly not going well, and my attempt to change things, setting my wide players to attack to create some more chances, backfired with our full backs woefully exposed. We were also conceding a whole heap of goals from set pieces. So our match training was set to defending set pieces for the next few games and our formation changed to have two players screening the defence and both full backs set to defend to give a safer base for our attacking wingers to push on from. We were also finding our forwards to be woefully out of sorts in this league, so the lone striker was changed from a poacher to a defensive forward to try and stop him being a peripheral, lonely figure always running into walls and hopefully improve team play.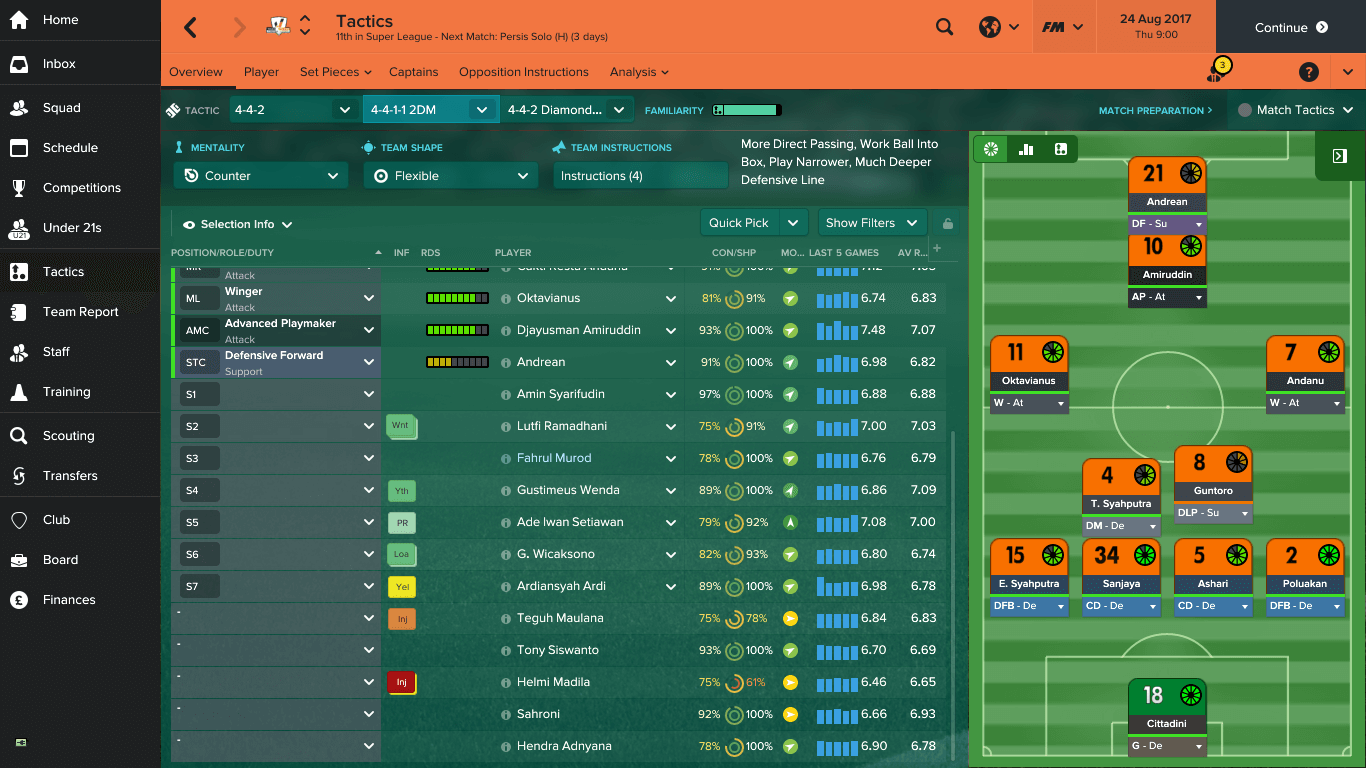 Immediately, it came so close to paying off. Sriwijaya were second in the league when they visited Gawalise, so I didn't have much hope, even when Fahrul Murod gave Celebest the lead in the first minute. The visitors pounded or goal with mostly long range efforts, but we held on heroically – until the 89th minute. Then a long shot smacked into another Sriwijaya player, wrongfooted Maulana in our goal and broke our hearts. And Maulana's finger. He would be out for the next month.
After nine winless league games, the streak was finally broken with a great performance against Persiraja Jakarta, this season's heroes Amiruddin and Bayu Guntoro opening the scoring, and Andrean finishing the job, much to his and our relief.
A tough loss in Borneo was followed up with a real horror of a match. 3-0 up and cruising after two early Amiruddin goals and a Wenda header, Gresik crept back into the game with two goals, and Glenn Poluakan then helpfully gave away a penalty. At 3-3, I looked to change the tactics, and saw the dreaded flashing of the screen as I looked away from the pitch. 3-4. Then 3-5. Andrean scored a great goal, but it was too little too late.
So it was a fine relief that we were able to follow it up with a highly professional, if hardly spectacular, win against Persiba Bantul – our first clean sheet in the league since the comparative glory days of the Pulis years.
Halfway through the season, we sit 11th on 19 points. As the media keep telling me 35 points is usually enough to stay up, I had targeted 20 points from the first half of the season, so this is a reasonable performance from a side that, realistically, were always going to struggle.
Transfers
Just some brief notes for those who stayed until the end. The situation on the left side got so desperate that we signed up the clearly substandard Eka Syahputra on a free transfer, just to have some bodies at left back. He immediately announced his decision to retire at the end of the season, but did come to us with a present, in the tip he had been given that a young Brazilian goalkeeper might be available and better than anything we had at the club. So it was to pass that Antonio Cittadini had a trial and signed on to step in as our new number 1.
@ytseliam