Indonesia is a hot mess.
I knew this, subconsciously, in the first season, but didn't bother to let the obvious oncoming problems get to me because I was having fun and things were going well. Now we're preparing for a season in the Super League, and the great unfolding morass of mess is becoming something I can't ignore.
What is the main reason for this mess? Contracts, dear reader, contracts. Most players have contracts that run up until the end of June or July. That's alright for a winter-summer schedule, but given the league runs from April to December, it means contracts run until a couple of months into the season, and then everything gets shifted around.
So I'm going into this season with a team that is clearly utterly substandard for the top league, and with no money to pay transfer fees so reliant on free transfers. Unfortunately, most of these free transfers won't be available before the season begins. With no anchoring point as to what level of player I should and could be looking at, and with our finances falling apart, I'll likely be starting the season with ageing, modest Premier League players and hoping I can turn the inevitable troubled start around.
In the real world, Indonesian football really has been a hot mess. The Super League was superseded between 2011 and 2013 by a rebel league, and already in the short term since its return to prominence it has suffered the ignominy of being abandoned after three matches due to government interference in 2015. What could possibly go wrong?
Squad, Transfers and Youth Intake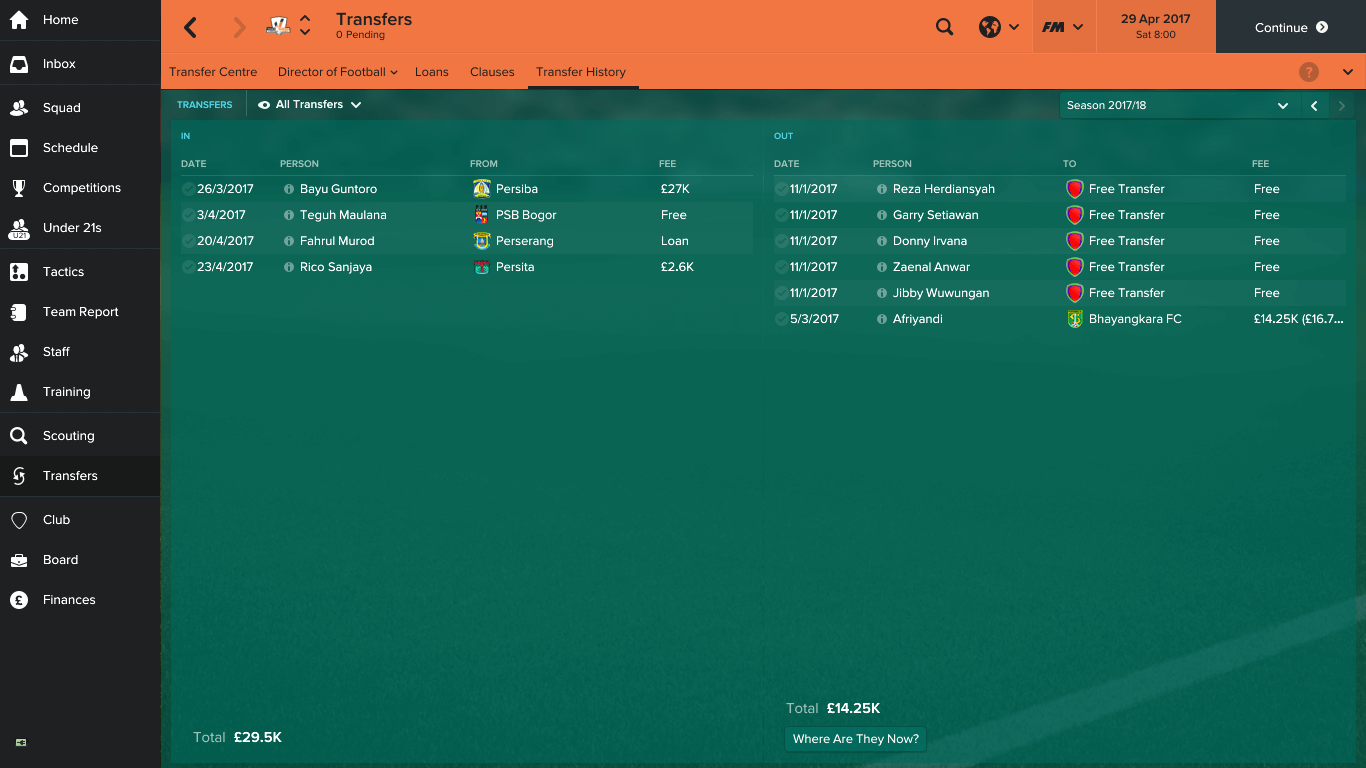 Some players I was happy to sign up for another year, others not so much. The contract date issue, however, meant I had no real choice but to sign up a few more players for another season who I suspected wouldn't cut it in the top league, just so I could have an actual squad going into the start of the season.
Having shuffled the budget around to get a bit of transfer money, I used a chunk of it to pay off a few players who were definitely not getting anywhere near the Super League – farewell, Jibby Wuwungan. I also set for release three players, Soni Adriansyah, Firman Usman and Abdul Gani Pelupessy, who could help with the transition into the league and then hopefully be upgraded upon with some out of contract players. Afriyandi also moved on, in spite of being a decent option in defence, because we got offered real money for him.
Incoming were goalkeeper Teguh Maulana as an upgrade in that position, Rico Sanjaya to add depth to the defence, Fahrul Murod on loan to replace the outgoing Pelupessy, and for more money than I ever anticipated spending cumulatively at Celebest, Bayu Guntoro, because we desperately needed a central midfielder and he was actually quite good.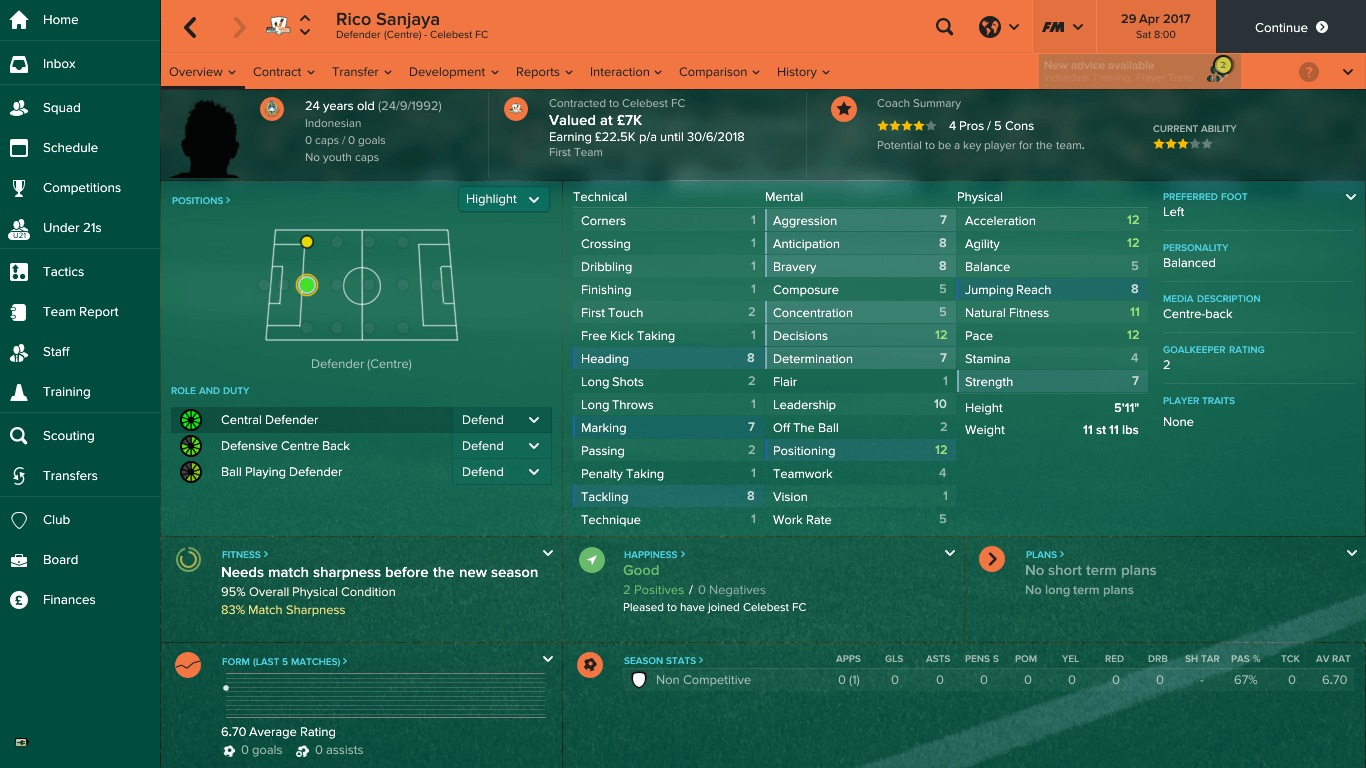 Our youth intake, surprisingly, saw a couple of pretty decent players come in. Djayusman Amiruddin will come straight into the first team squad and leapfrog poor Ginandaru Gesang Wicaksono as the starting attacking midfielder. Tri Syahputra also jumps the queue for the DM position, demoting Choirun Iswahyudi to the under 21s, but will rotate with Murod until he's ready to be a regular starter. Many props go to my HoYD, Gerson Gifelem, who then also refused to jump ship to a bigger club, choosing to remain on the Celebest express.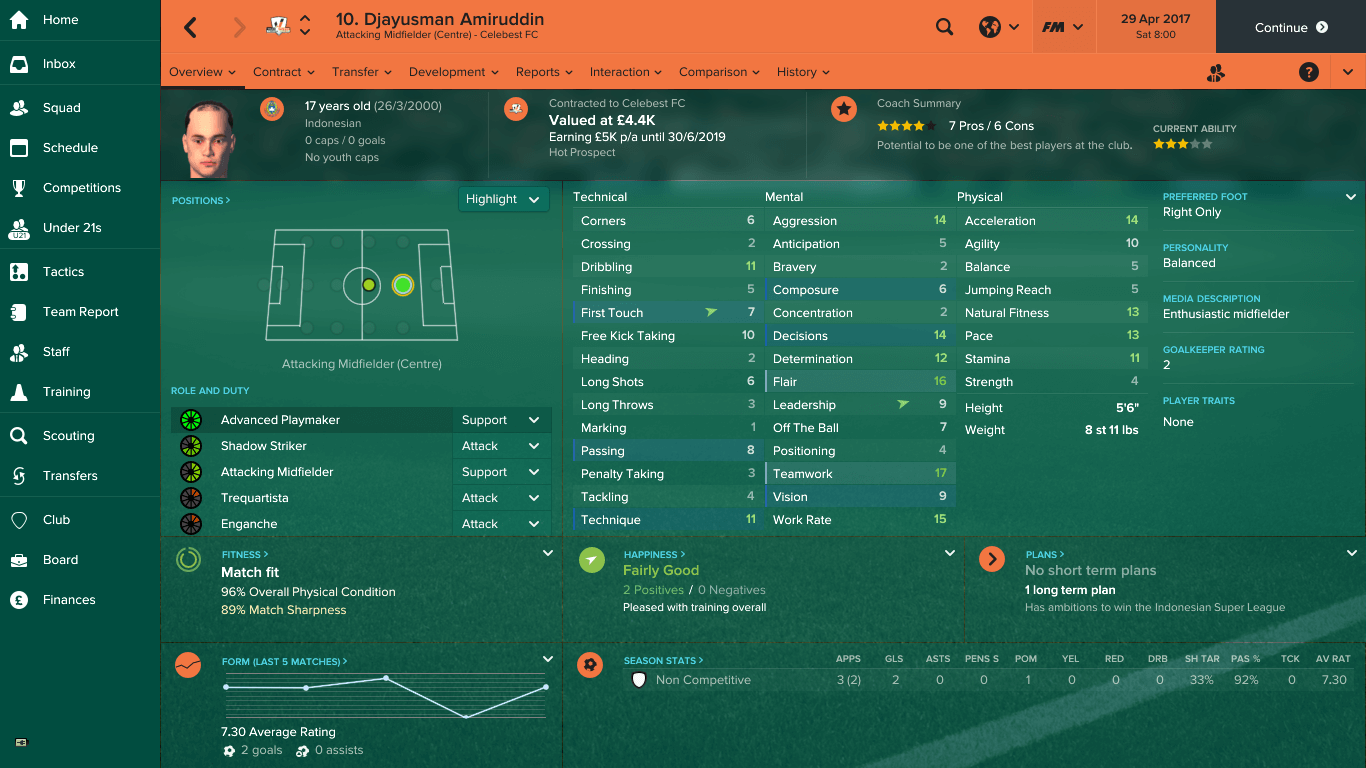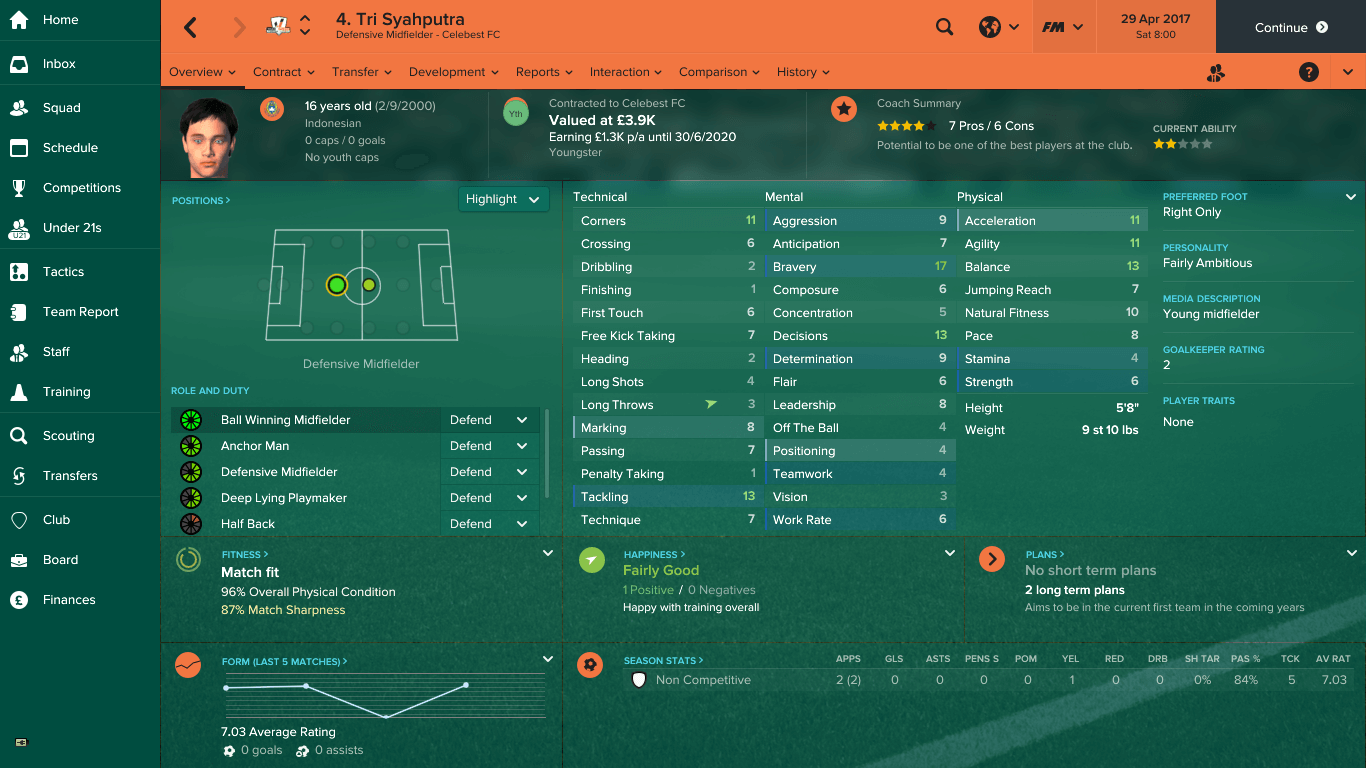 Pre-Season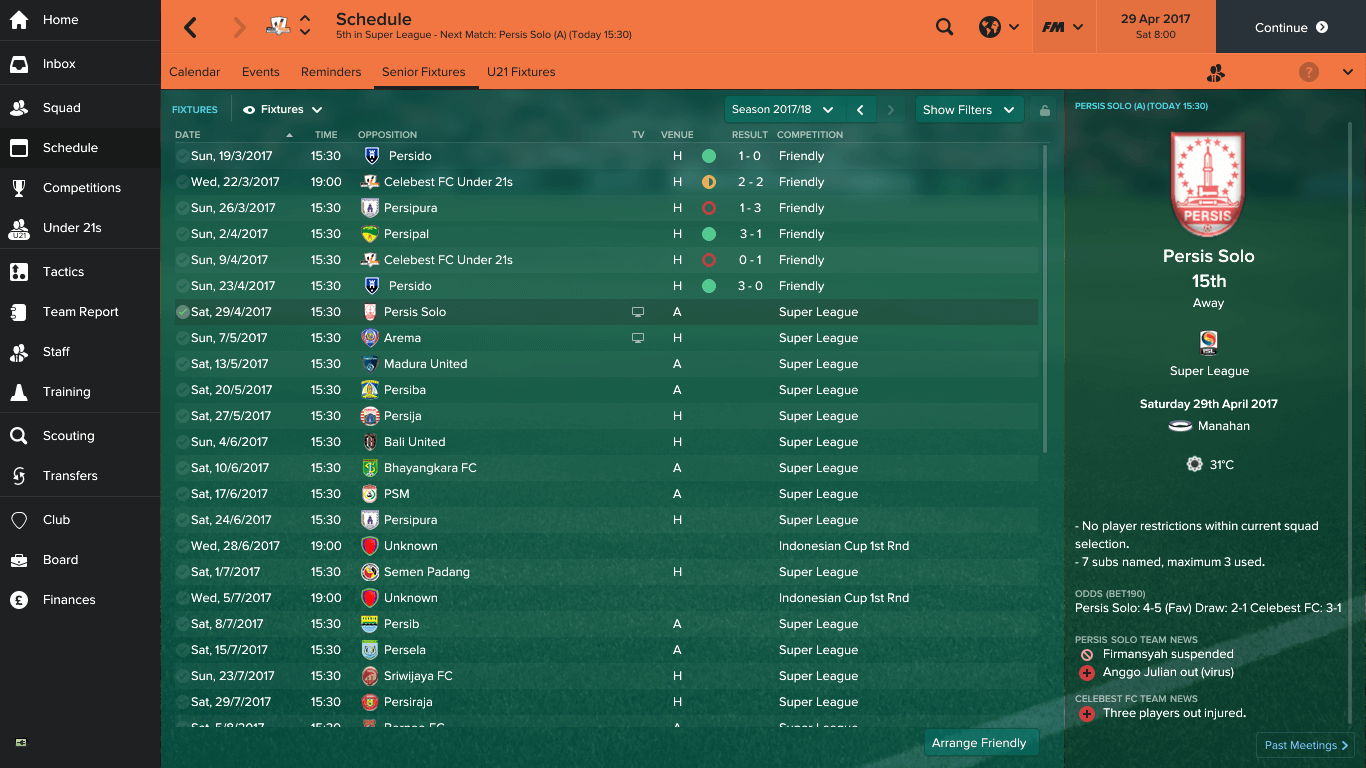 Remember how I said I don't like facing the under 21s? Yeah, that. It's a no-win situation – literally in this case. Perhaps I should be happy at the resilience of my young guns, but given their squad is mostly bolstered out with grey players, a loss and previously a draw to a team that had a player sent off after two minutes doesn't fill me with confidence.
Added to that, the one decent friendly I could get was against one of the best teams in the country, Persipura Jayapura. This would be a great acid test, I figured, to see how competitive we could be in this league. Well…we weren't great. Whilst they unlocked us with a belter of a drive and a set-piece goal, they were largely comfortable. But we weren't completely overrun and I don't expect us to be competing at that end of the table, so it didn't shatter the illusion that we could stay up. The players were pretty upset by it, mind you, and given most of them struggle in big games (see the league final last year), and most games this season are going to feel quite big, that's arguably not a great sign.
====
If you enjoyed this, make sure you never miss another post by following us on our Facebook, Twitter and daily newsletter!