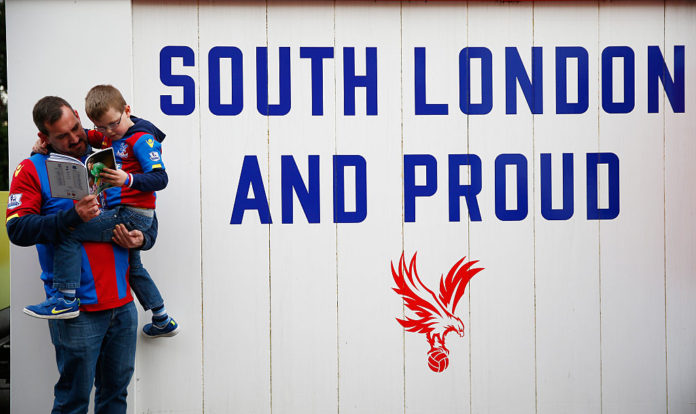 Last episode was a very good one as a tactical switch from 4-2-4 to 4-3-3 propelled us up the table as we recorded 3  straight victories which was tremendously exciting. Before we go back to the Premier League we have the EFL Cup to worry about against Sunderland. Conor Wickham will be starting up front in this one as surely he'll score against his old club. 
21st September – Sunderland (A) 
Tactics:
Line Ups:
Summary: 
After telling the team to continue the good run we are on the match gets underway

 

Defoe scores but it's offside. 3 minutes. 0-0

Conor Wickham picks up an injury and is subbed for Zaha at 10 minutes. 0-0

Sako heads just wide. 22 minutes 0-0

Hennessy saves a Defoe effort 33 minutes. 0-0

Goal! McNair scores for the home side. 34 minutes 1-0

Goal! Awful keeping from Hennessy and it's 2-0 at 45 minutes

Half Time: 2-0. Poor from Palace. This performance has been terrible

 

After giving the team a kicking we are back underway.

Ozan shoots way wide. 58 minutes 2-0.

Subs at 65 minutes: Flamini and Benteke for McArthur and Remy

 

Hennessy saves again. 81 minutes 2-0

Full Time. Really poor from us and I let the team know as much

 
Final Score: 2-0
Man of the Match: Jermaine Defoe
What an awful night. We're out of the cup and Conor Wickham is injured for 2-3 weeks. It doesn't get any easier because next up is Man United away. 
24th September – Manchester United (A)
Tactics:
Line Ups: N/A (seems that I cannot find the line ups for this game anywhere. Not very professional from me I'm afraid.)
Summary:
After encouraging the players to prove a point we are underway

Mkhi shoots well over. 3 minutes 0-0

Goal! Mata scores from close range. 12 minutes 1-0

Goal! This could get ugly. Rooney scores from a Mata cross. 19 minutes 2-0

Disallowed goal! Dann heads in a corner but apparently he fouled De Gea. 23 minutes still 2-0

Goal! Pogba from outside the box. 29 minutes. 3-0

Half Time: 3-0. We've been completely outclassed and mugged off.

I express my disappointment at half time as we get back underway.

De Gea saves a good effort from Ledley. 55 minutes 3-0

Subs at 59 minutes: Sako for Townsend (injury) and Remy for Ledley

 

Sub at 76 minutes: Tuzan for McArthur

Full Time. Another aggressive team talk.
Final Score: 3-0
Man of the Match: Juan Mata
Things go from bad to worse. We were poor and to make matters worse Andros Townsend is set for a 4 week spell on the side lines. Hopefully we can set things right with a win against Everton at home. This is the last match before another international break.
1st October – Everton (H)
Tactics:
Line Ups:
Summary:
After telling the team this is one for the fans we are underway

 

Mandanda tips over a Lukaku effort at 4 minutes. 0-0

Zaha heads wide. 9 minutes. 0-0

Goal! Zaha gets his third of the season! 16 minutes 1-0

Cabaye booked at 21 minutes

 

Lukaku heads just wide. 24 minutes 1-0

Ozan Tufan is booked at 44 minutes

Half Time: 1-0. Decent stuff from Palace.

 

After warning the players to avoid complacency we are underway.

 

Red Card! Souare is sent off in the 56th minute for a bad tackle.

 

Subs at 57 minutes: Kelly for Cabaye, McArthur for Tufan

Mandanda saves a Lukaku header at 76 minutes. 1-0

Sub at 77 minutes: Benteke for Remy

Bolasie misses the target in the 83rd minute. 1-0

Another big save from Mandanda. 89 minutes. 1-0

Full Time. I thank the team for the efforts.

 
Final Score: 1-0
Man of the Match: Flamini
A very tense second half as we had to defend well with 10 men but we got the result. Souare has been disappointing since coming back from injury. Flamini really impressed today though. 7 games into the season we've won 4 and lost 3 so not exactly consistent.
And on that bombshell it's the end of episode five! A follow on twitter would be great. You can follow me @cameroneyles and you can catch up on previous episodes here. Here's what's coming up next time:
How many injuries will we pick up over the International break?

Will Souare improve?

More Premier League Action
====
If you enjoyed this, make sure you never miss another post by following us on our Facebook, Twitter and daily newsletter!